If you have an iPhone 7, and you don't want to wear those tiny (begging to get lost) AirPods in your ears, then your best option is to go with a pair of wireless headphones. We've long been impressed with Plantronics products, and their latest BackBeat PRO 2 are a fantastic addition to the BackBeat headphone line.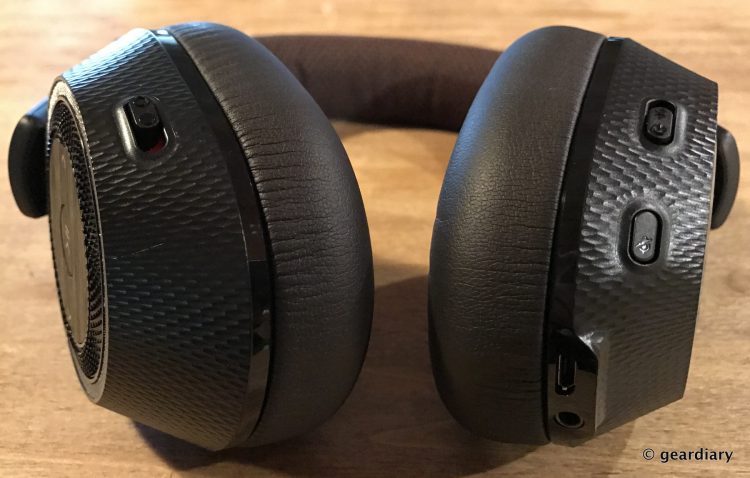 Opening the BackBeat PRO 2s was a little bit of a surprise — the tissue paper inside sealed with a PLT sticker reminded me of opening a gift. All of the included pieces were found inside the included travel bag.
The back has a zipper at the top and a zipper on the back; inside the back zipper I found a USB to microUSB cable for charging the headphone's noise canceling feature, a 3.5mm auxiliary cable, and a paper packet which included quick start guides in English and Spanish, safety instructions, and warranty information.
The zipper at the top of the travel pouch reveals the Plantronics BackBeat PRO 2 headphones folded flat for storage.
The BackBeat PRO 2 headphones are composed of a deep chocolate-brown matte plastic with brown PU leather padding on the ear cups and headband. There are flashes of texturized chrome circling the edges of the ear cups, and on the extenders on each side. A striated brown grain fills the center of each ear cup. The overall effect is classy and muted, not showy at all; I like it.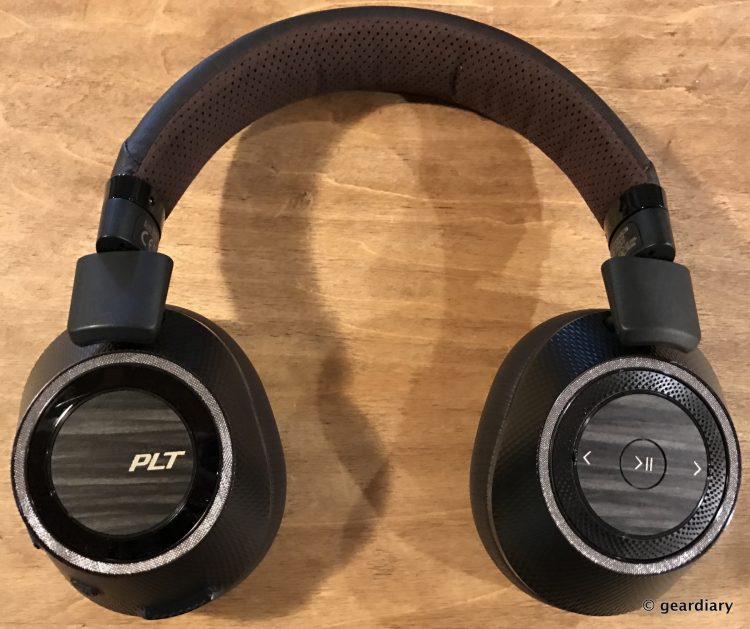 On the right ear cup, there are a number of controls to be explored. The center of the earcup, which is marked PLT, is actually a large button that when pressed allows you to answer an incoming call. There is a switch to turn Bluetooth on or off (slide and hold the power button towards the Bluetooth icon until the LEDs flash red and blue for pairing), and under that is a button to mute the microphone when in a call (when the microphone is muted, an alert will repeat every 15 minutes). At the bottom of the ear cup, there are ports: microUSB for charging and 3.5mm for wired listening.
When charging, the five blue LEDs at the bottom of the right ear cup will pulsate as each fifth is filled; when charging is complete the LEDs will no longer glow.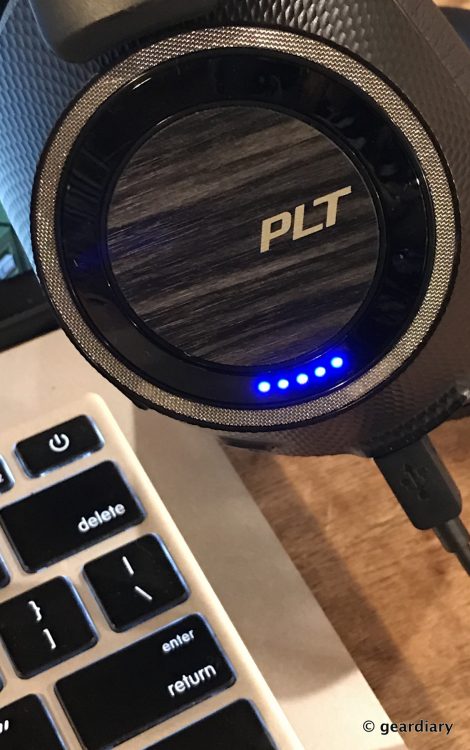 The left ear cup has the media controls; on the sides are the forward or reverse track buttons, and in the center is the play/pause button. The textured metal ring that circles the ear cup actually serves as a clever volume control; it's easy to grasp with a thumb and finger to push it forward for volume up or back for volume down. A button on the side flicks into several positions to turn on noise canceling, turn noise canceling off, open the mic, and close the mic; a female voice gently lets you know which setting you have just activated as you slide the button.
The headphones weigh 10.2 ounces: they are quite light and comfortable when worn, and because they can lay flat if you remove the headphones and wear them around your neck, you can fold the cups to lay against your chest. When you do this, the music will automatically pause; when you turn the cups and put them back on your ears, the music will start playing again.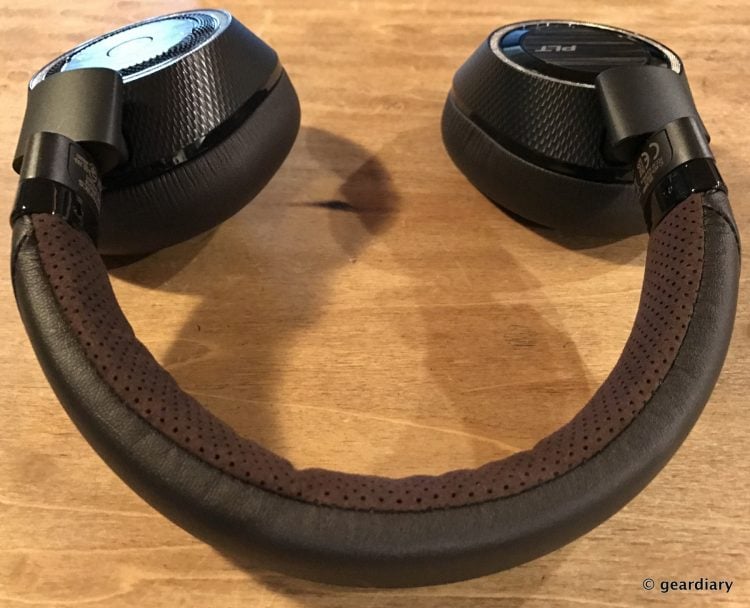 There's no chance of putting the headphones on the wrong ear as the cups are plainly marked R or L.
I like that all of the controls are found on the earphones; since they are wireless, it would make no sense to have to physically touch your phone to adjust volume, play/pause, or other settings.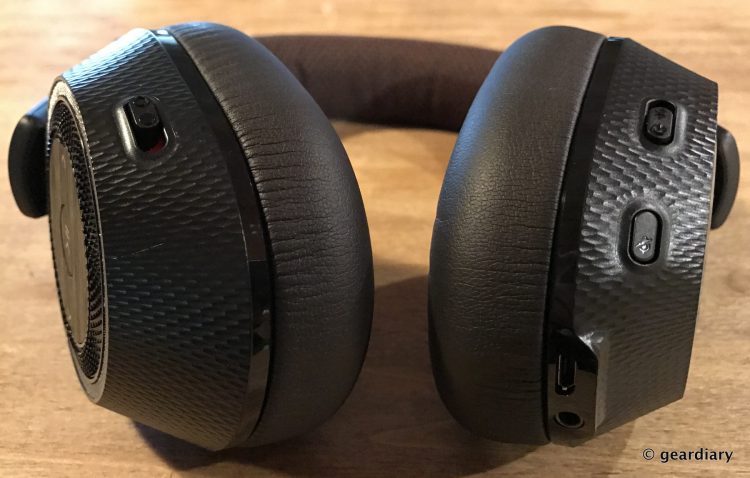 Plantronics has made a name for themselves with excellent sounding headphones, and the BackBeat PRO 2s do not disappoint. Their 40mm drivers produce immersive, high-resolution sound; music played through the BackBeat PRO 2s is rich and pure — the bass is strong without being overwhelming, high notes are clear and lovely, midrange is not muddy at all — it's all very natural. The Plantronics BackBeat PRO 2s sound is almost 3D; the long and short of it is that these headphones are exceptional.
Even if you aren't listening to music, the noise canceling feature is a great way to dull down all of the background noise when you are trying to rest or work in a noisy environment. You'll feel a slight difference in ear pressure when you slide the NC on from off (or vice versa), but it doesn't seem to be as drastic as what I've felt with other NC headphones. Because the BackBeat PRO 2s are so light and comfortable, they are easy to wear when trying to sleep on a plane, and that's a very good thing. The fact that the battery can last for up to 24 hours listening time makes these wonderful for international flights or long bus rides. The BackBeat PRO 2s take advantage of Plantronics extended wireless feature, which allows the headphones to work well past the standard 25-30 feet that usually kills other Bluetooth signals; these get up to 330 feet (I was able to get 150 feet through exterior house walls), which means you can walk around the office without having to carry your phone, or you could use the restroom on a plane without needing to remove the headphones. It may seem like a minor convenience, but it's a nice feature.
I like that the BackBeat PRO 2s have quiet announcements to alert you to connection status, noise cancellation status, incoming calls, and battery life; you can even update the firmware to use other languages if English is not your preference. In other words, these headphones succeed in making your listening experience pleasurable rather than confusing.
If you are looking for a solid pair of noise canceling headphones that have intuitive controls, an extended range, amazing battery life, that fold flat for travel, and that have fantastic audio playback, you should look no further than the Plantronics BackBeat PRO 2.
The Plantronics BackBeat PRO 2 Headphones retail for $199.99. Check them out here: Plantronics Headsets and Accessories
.
Source: Manufacturer supplied review sample
What I Like: Fold flat for travel and storage; Active Noise Cancelling; Extended wireless range; All controls are easy to understand and easy to operate from the ear cups; Up to 24 hours playback via Bluetooth; Music pauses or resumes when you remove or put on headphones; Open Listening mode allows you to hear what's going on around you without removing the headphones; Connect up to two devices for easy switching back and forth between sources
What Needs Improvement: Nothing — the Plantronics BackBeat PRO 2s work as promised, and they sound phenomenal
Want More? Follow Us Here!