As a member of a competitive BBQ team and lover of smoked meats, I do a lot of smoking in the summer. The big secret to great BBQ is correct temperatures and timing. ThermoWorks offers many products to make sure the temps are correct, and I recently had the opportunity to try their newest product, the $69 BlueDOT.
ThermoWorks is well-known in fine kitchens and by avid pit masters for their wide range of products to make sure temperatures are correct. I see them at all of the BBQ Cook-offs where my team, the V Bar Cookers, compete. This weekend, I smoked a brisket on my PITMAKER Safe using the BlueDOT Alarm Thermometer. As you will see, my family ate well!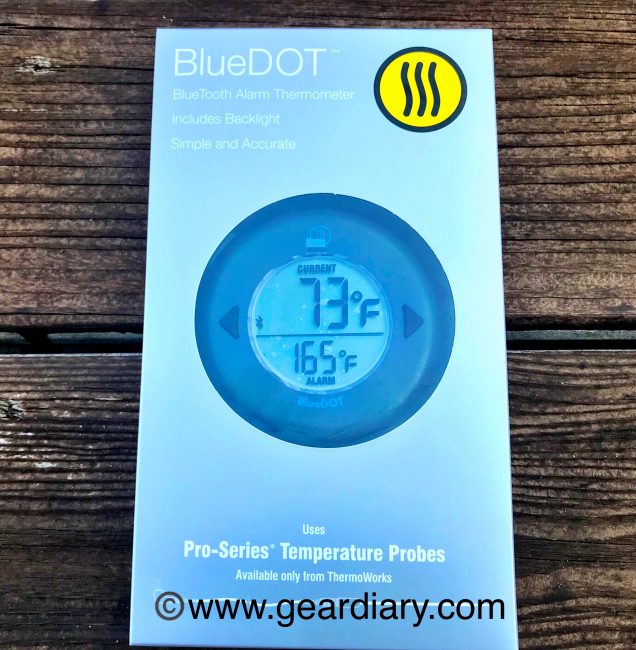 The BlueDOT is a simple to use thermometer that offers Bluetooth connectivity which will send alarms as well as graph your cook using the ThermoWorks mobile app. It is splashproof and durable and includes strong magnets to easily connect to your smoker. I found the product to be very well made and will last for many cook-offs and home use. Large digits on the display make it easy to glance at the current temps from a distance, and the Bluetooth connection works up to a 95-feet line of sight.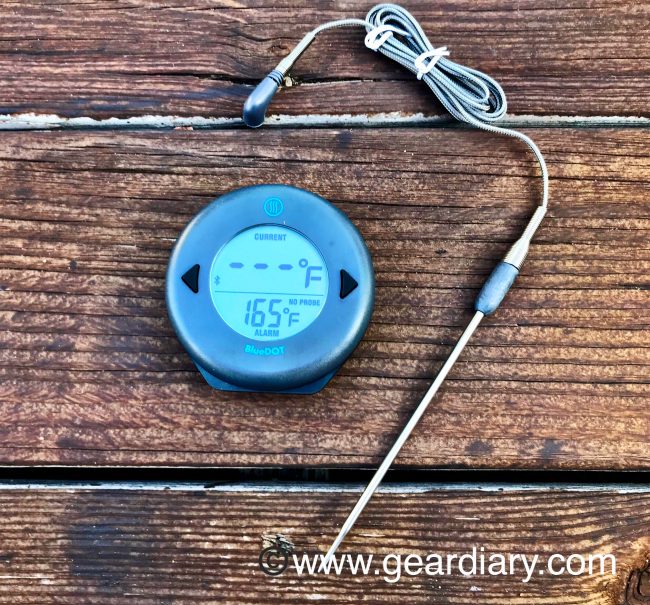 The BlueDOT comes ready to cook right out of the box. Simply turn it on, probe the meat and set the alarms and you are on the way to some great meat. The mobile app connects quickly and easily and alarms are simple to change. I set my high alarm at 160º which is where I usually wrap my brisket to help push it through the stall. Once I hit 160º, I quickly changed the temp to 200º using the app which is where I pull the meat and let it rest.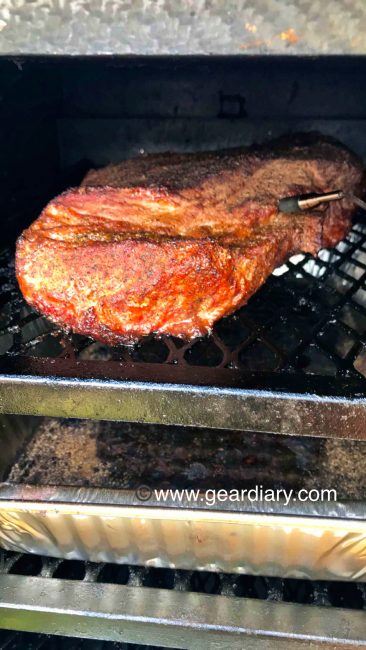 The probe and 48" cable are from the ThermoWorks Pro Series line, and it is the nicest probe I have used. The temperatures register almost instantly, and the cable is heavy-duty. I love the probe.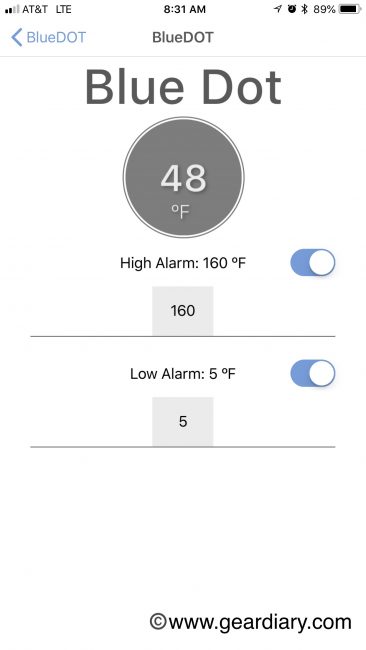 As the cook progresses, the ThermoWorks app graphs the temperatures on a timeline. Each graph is save-able and the app will handle multiple ThermoWorks products. This is perfect for cook-offs since we are cooking a minimum of three different meats in three different smokers at a time.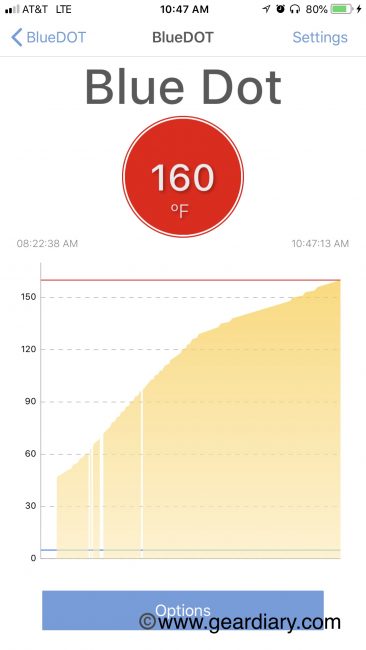 The Bluetooth connection is strong and stable, but do remember it is line of sight. I had to go in and out of the house prepping other items, and it would disconnect when I was too far away, but it would quickly reconnect as soon as I came back outside and continue to graph. For an all-day, outdoor cook, there will likely never be any disconnection if you stay within the 95-foot range.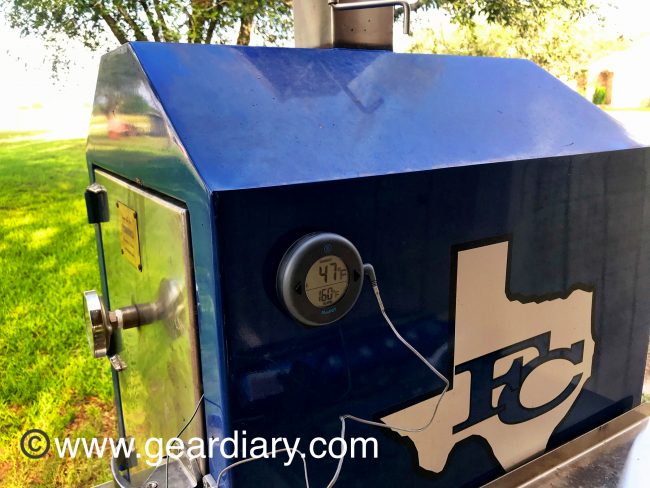 Once the alarm is set and the smoke is flowing, you can relax. Of course, pit temperature will need to be monitored, but the meat is in good hands and you never have to open and watch it cook. Just check your phone or the easy to read screen to follow along.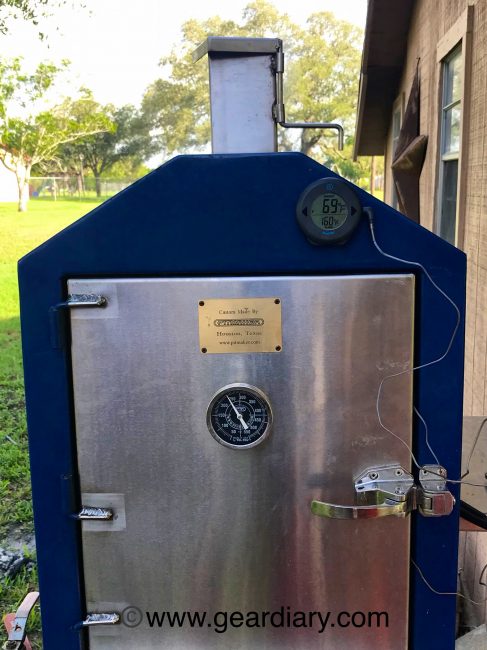 Ask 50 pitmasters the best way to smoke a brisket, and you will get 50 answers on everything except temperature. Meat and pit temps are really the secret recipe for great smoked meats. For this cook, I used a separate thermometer for the pit and kept temps between 225-250º. I brought the brisket temp to 160º then wrapped in foil and finished it to 200º. Once I pull the meat, I let it set in my BBQ box for at least 2 hours to rest. Having the advantage of temperature control and alarms for the temps I need lets me produce consistent smoked meats.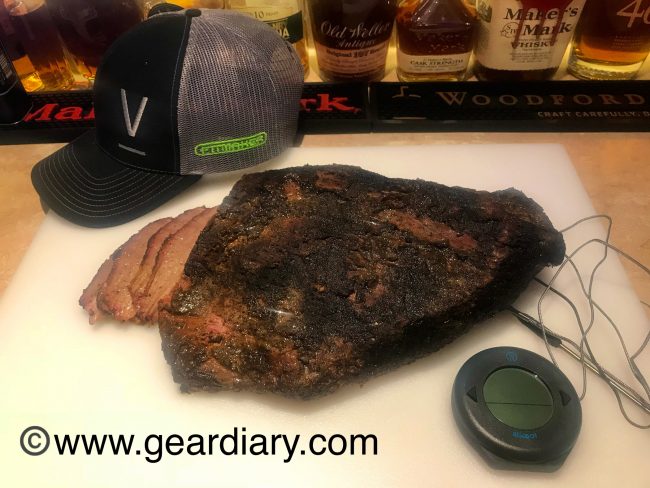 Want your smoked meats to come out perfect every time? You must find a way to harness the temperatures. ThermoWorks is the standard for cooking temperatures, and the BlueDOT will be a constant tool in my BBQ box for every cook both at home and in competition. The product is well designed, rugged and simple to use. Never guess when meat is done again! Get yourself the BlueDOT and become a pitmaster!
Source: Manufacturer supplied review unit
What I like: Simple, accurate and perfect way to manage meat temps while cooking
What can be improved: Nothing yet, this is a fantastic product
Want More? Follow Us Here!