The first hardware I ever reviewed was a set of Audioengine A2 speakers; they were small, powerful and sounded amazing. In fact, the only knock I had was their lack of wireless capabilities that required me to get a Bluetooth adapter. Now Audioengine has released the Audioengine A2+ Wireless Desktop Speakers, and all I can say is "wow!"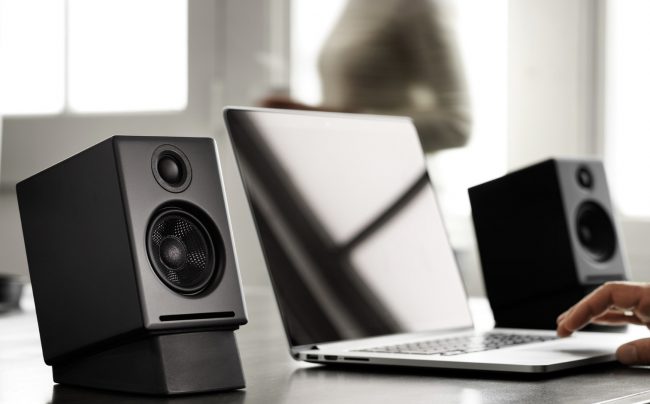 The original A2 speakers immediately turned me into a fan of Audioengine's. Since then I have reviewed numerous Audioengine products and have always been impressed. As I wrote in my news post when the A2+ speakers were first announced,
Despite being small, desktop speakers, they put out impressive sound. They immediately turned me into an Audioengine fan. The speakers were excellent but not without their shortcomings. The lack of Bluetooth meant the speakers had to be connected to your laptop or phone via cable. That wasn't an issue if most of your music was delivered from your computer but it certainly limited one's location and device options. In addition, they lacked the shielding that would keep a phone's cellular signal form interfering with the audio. In other words, if a phone was placed too close to the speakers you would still get the music you selected but it would come with an added buzzing sound. That was, of course, easily resolved by simply keeping phones away from the speakers. So, while the A2 were excellent, they weren't perfect.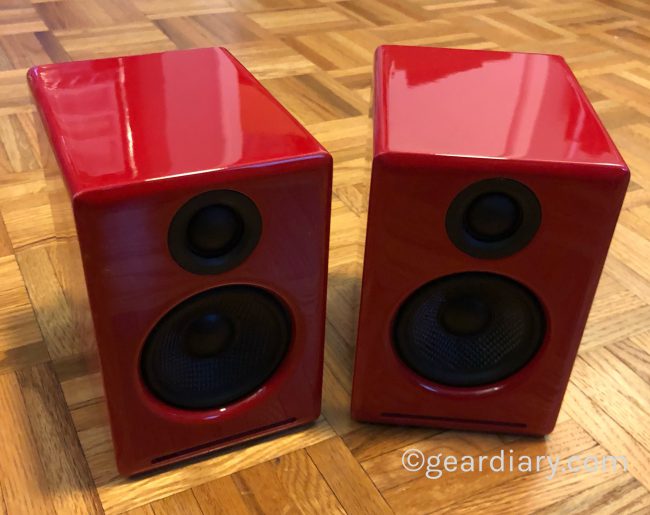 The A2+ has the same design and small footprint but are updated for 2019. They now feature Bluetooth 5.0 with a range of up to 100 feet and shielding so you can connect wirelessly and can place your phone nearby without encountering the annoying GSM buzz that plagued so many desktop speakers a few years ago.
A2+ Wireless Speakers provide clear, full stereo sound and can easily connect to all your music in seconds. Great for your desktop or smaller rooms. The perfect mini music system with wireless that works.
Our most-versatile wireless Bluetooth speakers. A2+ Wireless Computer Speakers work with all your apps, music, and devices so no matter how you listen, A2+ has you covered. The ultimate mini music system with wireless that works.
The speakers are small and approach what one might consider "tiny." Measuring 10.5" (H) x 15" (L) x 7" (W)) their small size hides the fact that each of the two speakers can push out 30W of sound. Now that I have a pair in hand that has had sufficient "burn in time," I can verify that these small speakers deliver an audio punch that makes them the worthy successors to the original A2 speakers and an excellent addition to the Audioengine lineup. In addition to Bluetooth 5.0, the A2+ speakers have analog inputs, a USB computer input, and they offer support for codecs such as aptX low latency, aptX, AAC, and SBC. The latter allows speakers to deliver excellent wireless sound that will fill your home or work office, or wherever you decide to use them. Constructed with custom Audioengine components such as 2.75″ aramid fiber woofers, 3/4" silk dome tweeters, and built-in power amps, Audioengine ties everything together in "precision-tuned, hand-crafted cabinets." Not to sound like a broken record, don't let the small size fool you, the audio the A2+ pump out is not only excellent but loud!!!
THE MUST-HAVE DESKTOP EXPERIENCE: The Audioengine A2+ Powered Speakers are the reference standard for desktop audio and these small but high-performance speakers are the perfect upgrade for all your music. Everyone knows the difference between custom-built, small batch products and the general disappointment of mass-produced products. The A2+ was designed and is hand-built with the goal of exceeding expectations of both value and performance. These small desktop speakers really pack a punch, making them the go-to system for desktop setups and smaller-room audio.
The $269 A2+ speakers are slightly smaller than the wonderful $349 HD3 speakers I reviewed some time ago, but they still pack a punch. They also offer aesthetics that are significantly different. For example, while the HD3 has a cloth grill that covers the speakers and, except for a small silver band at the bottom, makes for the front of the speakers, the A2+ offer no such grills. Instead, like the A5+ Wireless Speakers, the woofers and tweets are fully exposed. This gives them a more rugged or industrial design than the HD3. More accurately, it gives the black version a more industrial design. The red simply pop!
In addition, while the HD3 is available in black, white, cherry or walnut, the A2+ is available in black, white, or red. The review sample I was sent is the red version. They look great in their glossy, red finish although I tend to prefer less "bold" speakers than these. Still, I have them sitting on my desk and the splash of color is actually rather nice.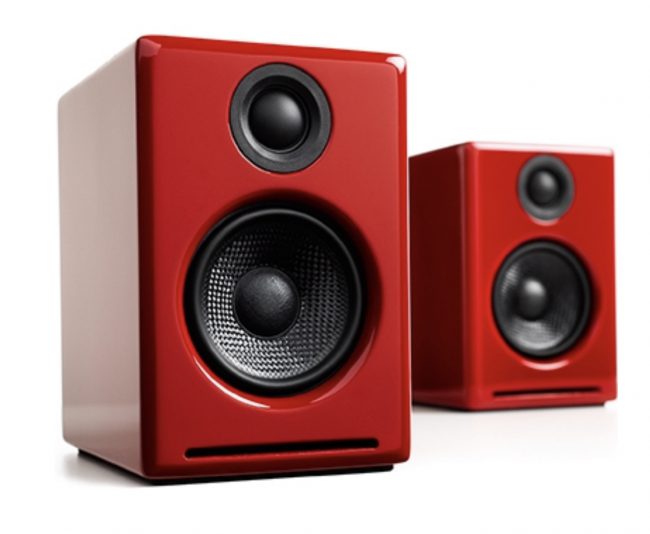 From the front, both the left and right speakers look the same. As previously mentioned, there is no grill so the woofer and tweeter of each are fully exposed.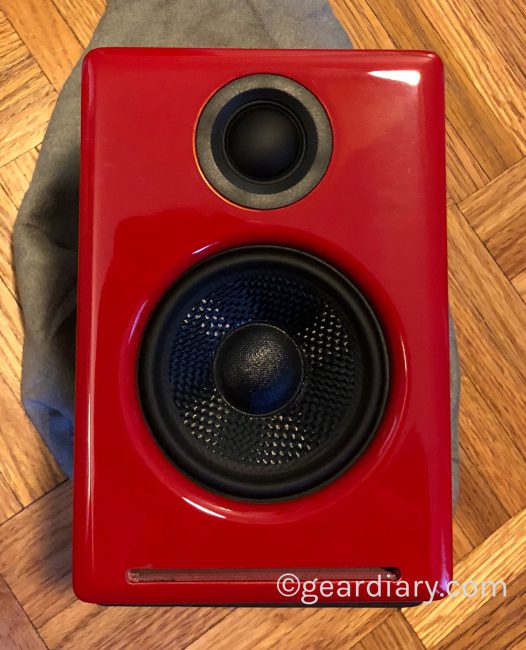 Unlike the HD3s, the A2+ does not have a volume control or 3.5mm headphone jack on the front. I never use the 3.5mm headphone jack so not having one is no biggie. I suspect you will agree once you start using the A2+.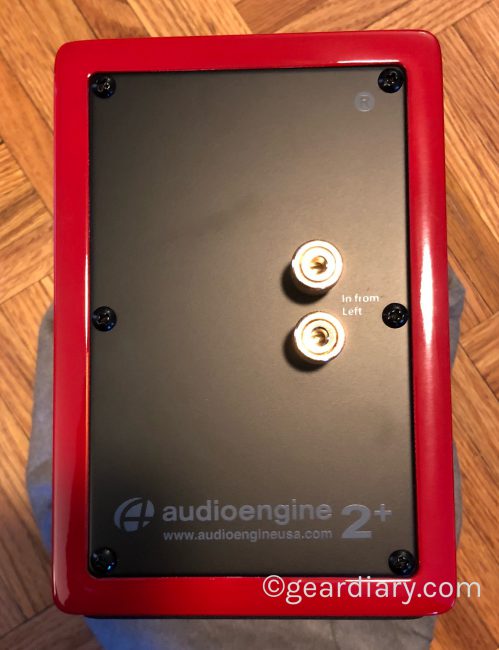 The right speaker is passive or, as I like to say, the "dummy" of the two. On the back are stereo cable connections and nothing else. As always, Audioengine equips the speakers with cable connections that can use either standard speaker wire or "plug and play" speaker cables that "plug" to the center of each of the two connectors. Interestingly, Audioengine only includes "traditional" speaker cable but do not include their $25 "upgraded speaker wire" which makes it even easier to set speakers up.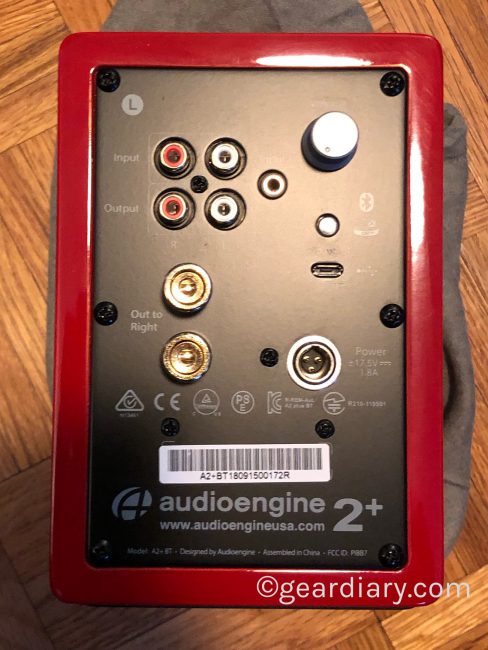 The left speaker houses all of the electronics and, on the rear, have all of the connections. These connections include stereo RCA inputs and outputs, a stereo mini-jack input, a Bluetooth pairing button, a USB input for a wired connection to your computer and a power input. It is on the back of this speaker that you will also find the inputs for connecting the left and right speakers and the volume/power not.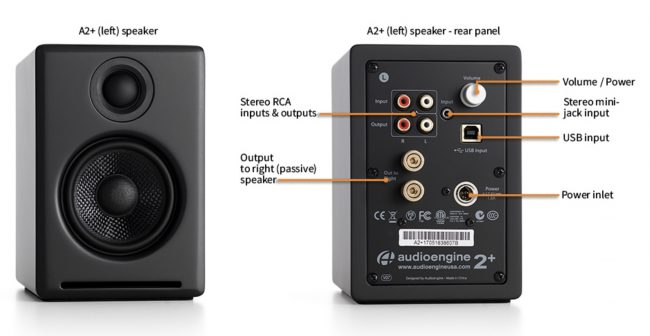 The combination of Bluetooth 5.0, Stereo RCA inputs and a USB input mean the A2+ offer a range of options when it comes to connectivity. Sadly, though, they do not have an optical input so you can't use the A2+ to upgrade the audio for your television. In fairness, the HD3 doesn't offer an optical connection either. If this is important to you, you will have to upgrade to the far larger, $699 HD6 wireless speakers.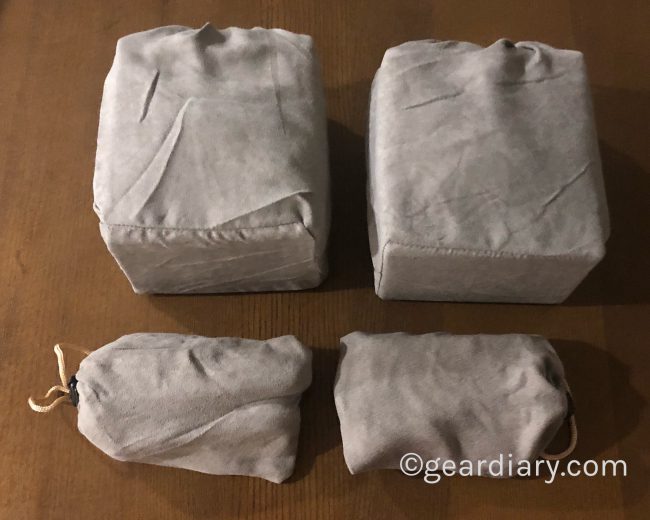 The Audioengine A2+ arrived in typical Audioengine packaging. Inside the box, there is some packaging to keep the speakers safe during transit. Lifting the top part of this packaging reveals a series of cloth bags. I love the fact that Audioengine protects their speakers and accessories this way, and I always find additional uses for the bags after the speakers are set up!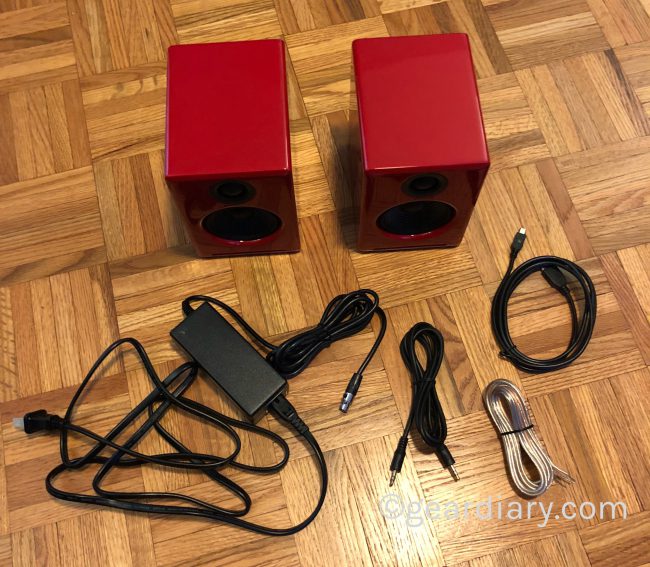 The two large bags protect the speakers, and a third bag held the power cable and adapter, a 3.5mm to 3.5mm cable, some traditional speaker wire and a USB to microUSB cable so you can connect the speakers to your computer. (Of course, that assumes you have a computer from a few years back that has a USB-A connector.)
I connected the speakers using the included speaker wire and then plugged the power adapter into the speakers and the wall. The A2+ was already in Bluetooth pairing mode so all I needed to do was go to the Bluetooth settings on my iPhone and select the A2+. From there it was off to the races.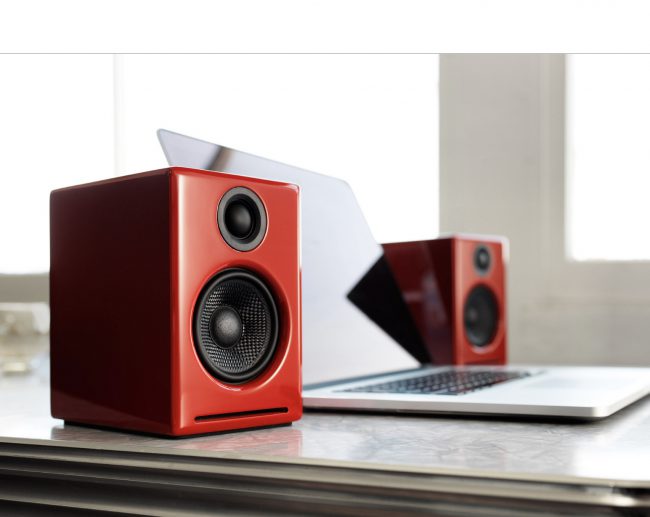 At the suggestion of Audioengine, I let the speakers "burn in" for more than 20 hours. I'm still not sure that "burning in" makes such a huge difference, but the suggestion was made and I wanted to do everything possible to get the best sound I could.
After the burn-in period was over, I decided to put the speakers through their paces. I played pop, electronica, classic rock and funk. It all sounded awesome. My home office is rather large and the A2+ more than filled the space long before needing to even consider going toward max volume. I'm honestly not quite sure how Audioengine is able to get such huge, crisp, full sound from speakers this small.
So yeah, to my mind (and ears) the A2+ is yet another winner from Audioengine. There are, however, some areas of critique that are worth mentioning. Not everyone is going to like the exploded speaker design. For them, the HD3 will be a better option. Not everyone will be happy that the speakers have neither a volume control nor a 3.5mm headphone jack on the front. Once again, the HD3 may be the better option. Some may want a speaker that has a built-in 24-bit DAC. Since the A2+ lack a DAC, for them, the HD3 is the better choice.
None of those "shortcomings" is an issue in my book. I only mention them since there's a choice to be made between the HD3 and the A2+. You can't go wrong with either one!
For me, however, the biggest shortcoming of the A2+ is actually a gripe I have with Audioengine's entire line. They have thus far opted not to include AirPlay 2. That is a bummer for me, since I use AirPlay 2 to create multi-room audio systems in those parts of my home that don't have Sonos.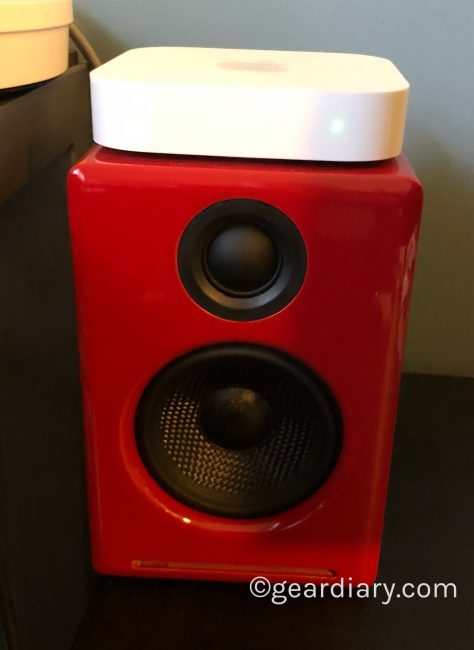 Fortunately, there is an easy solution in the form of my old Apple Airport Express. Even though I no longer use an Apple router at home I still have a few Airport Expresses lying around. I've reconfigured them for use as AirPlay 2 adapters and. Once I plugged one into the 3.5mm port in the back of the A2+, I was able to connect them with other AirPlay 2 speakers. It works great and I now have extended my multi-room setup to include my home office.
I love these speakers and can't say enough about them. Since, however, I need to bring this review to a close, I'll let the company have the last word:
SMALL SPEAKERS BIG SOUND: Clear, full and powerful audio ideal for your desktop and smaller rooms. The A2+ Desktop Speakers are constructed with custom Audioengine components: aramid fiber woofers, silk tweeters, and built-in power amps wrapped in precision tuned, hand-crafted cabinets. The bass was teased from the A2+ with some clever acoustic and electrical design without using any digital signal processing or fake bass boost circuits. To say the bass on the A2+ is substantial for their size may be an understatement, but you be the judge.
The Audioengine A2+ is available now in Black, Red or White for $269. We are hoping to get a pair for review but, in the meantime, you can learn more and order them here.
Source: Manufacturer supplied review sample of the Audioengine A2+ Wireless Speakers
What I Like: Small in size but big on sound; Wireless range of up to 100 feet; Equipped to handle a range of high fidelity audio codecs; Simple set up; Offer additional physical connections for times when you don't want Bluetooth
What Needs Improvement: Some may not like the more industrial design of these compared to the HD3; No optical connection; No included "upgraded speaker wire"; No ports or controls on the front; No AirPlay 2 support
Want More? Follow Us Here!