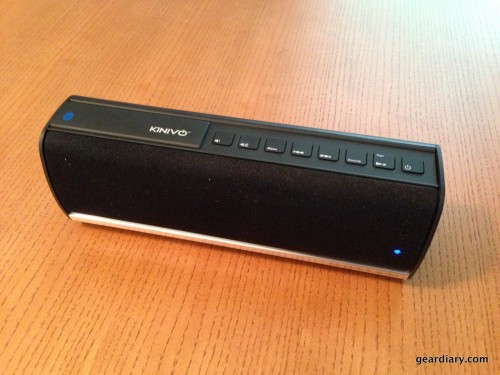 I'm a big fan of Bluetooth enabled, wireless speakers in this age of cell phones, tablets, and computers. We're always on the go, always have our mobile phones with us, and therefore, many of us carry our music collections with us as well. Even if you don't carry your MP3 collection on your cell phone, most of our phones can use Pandora, Spotify, or any number of mobile music apps. The market is ripe for great sounding, decently priced Bluetooth speakers. Unfortunately, the Kinivo BTX350 does not meet that first criterion.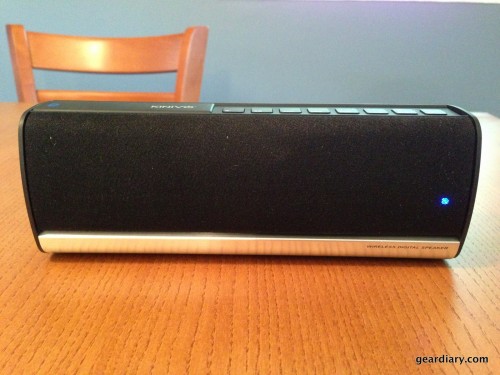 The Kinivo BTX350 does sound good, but the sound quality stops there. Unfortunately, it does not make the jump to great. However, with this speaker being normally priced at $69.99 and on sale for $39.99, it's tough to ask for great sound at the price point. The BTX350 makes the music it pumps out sound a bit tinny without much bass. Listening to Anna Begins by the Counting Crows, the bass drum does not come through like it should. While listening to Ben Folds Five's Song for the Dumped, all of the high-pitched instruments just seem to be a little muddled and do not come through clearly.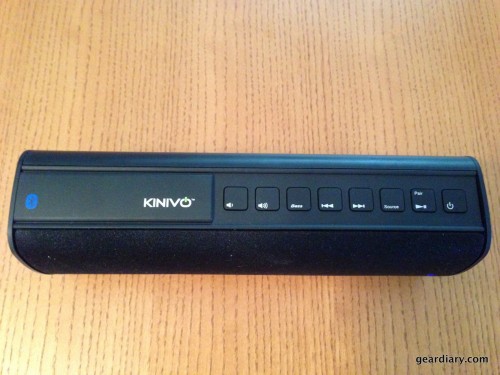 The speaker does have a button labeled "Bass" for bass enhancement, but unfortunately it does not seem to change much. Speaking of the buttons on the speaker, this brings me to something I like about this speaker. It has physical buttons along the top for volume control, bass enhancement, skip and rewind, source, play/pause, and power. While using the speaker, it's very easy to skip between tracks, change the volume, and pause and play your music. The skip button even works for Pandora, which is a big positive for me. The source button allows you to switch between the Bluetooth audio source and the aux-in jack in the back.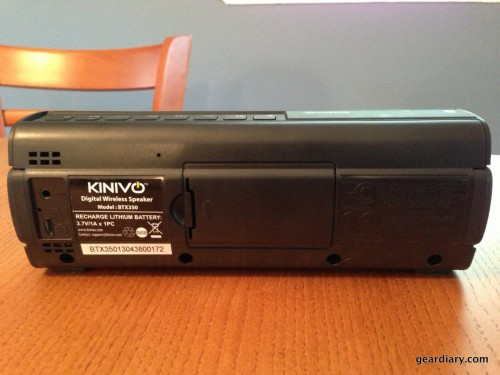 In the back of the speaker, you've got the previously mentioned aux-in jack, plus a micro-USB jack for charging the included lithium-ion battery. There's a red LED as well, to alert you when the battery is charging. Also in the back, is the compartment for the rechargeable battery, itself. The battery is rated for 5 hours use, per Kinivo. During my testing, the speaker is still going strong after 3 hours of use, so I would tend to trust Kinivo on their 5 hour battery life claim. On the bottom of the unit, you've got four rubber feet that keep the speaker firmly in place. The front of the speaker is mostly the fabric speaker cover with a silver band on the bottom. There's also a blue LED behind the fabric on the front to let you know the speaker is powered on. It is a pretty handsome speaker.
The BTX350 comes with a USB charging cable as well as a 3.5mm audio cable for devices that are not Bluetooth compatible. It measures 8 inches wide by 3 inches high by 2.25 inches deep and comes with a one year limited hardware warranty.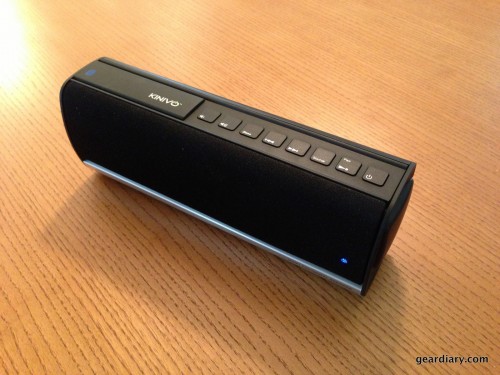 If you're looking for a speaker that's easy to use, for occasional casual listening, this speaker is a good option for you. If you're looking for something to play to a large room or you are looking for better sound quality, you probably want to look elsewhere. Overall though, if you can grab this speaker for $39.99, it's not a bad deal!
You can purchase the Kinivo BTX350 directly from the manufacturer, here.
MSRP: $69.99 normally, but on sale for $39.99
What I like: Nice looking speaker, all-in-one package without the need to connect two speakers together, easy to pair and use, decent battery life.
What Needs Improvement: The only downside to this speaker, although it's a big one, is that the sound quality is not fantastic.
Source: Manufacturer Supplied Review Sample
Want More? Follow Us Here!