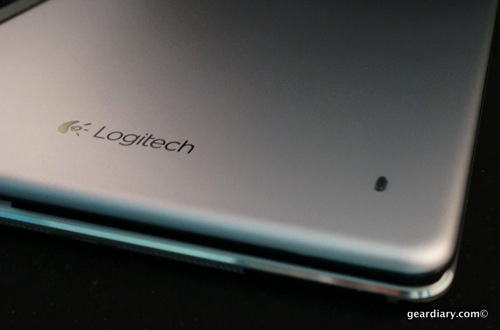 The other day we reviewed the ZAGGkeys Keyboard Folio. I was impressed. Before that, Mike took a look at the Belkin QODE Slim Style Keyboard Case. Today we are looking at the Logitech Ultrathin Keyboard Cover. The Logitech Ultrathin Keyboard Cover takes a different approach than the aforementioned iPad keyboards, because it isn't actually a case.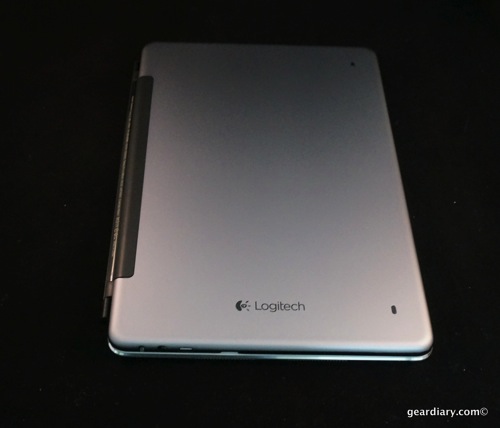 The Logitech Ultrathin Keyboard Cover is just under $100 and is available in Black, White, Silver and Purple. It measures just 9.45″ by 6.67″ by 0.29″ and weighs in at just under 3/4 of a pound. In the package you will find:
Ultrathin Keyboard Cover
USB cable for charging
Documentation
Logitech describes the Logitech Ultrathin Keyboard Cover for iPad Air as a thin, light Bluetooth keyboard that lets you "Enjoy an incredibly fast, fluid and comfortable typing experience with the reassuring "click" of real keys". It features:
Weighs only 330g (0.73 pounds) and measures just 7.3mm (0.29 inches) thick
Includes time-saving iOS shortcut keys for copy, paste, undo and more
Helps you type as quickly as on a standard keyboard
Frees up screen space on iPad
Touch screen protection
Ultrathin, aluminum design
Color options available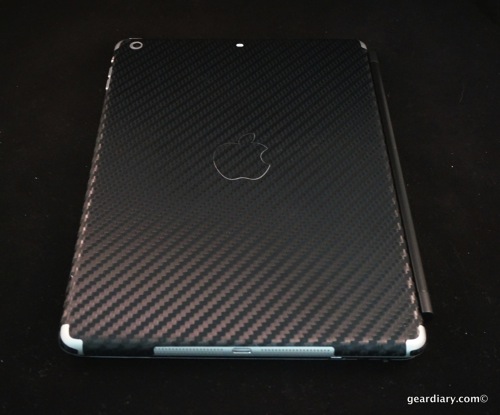 The Logitech Ultrathin Keyboard Cover is effectively a thick, rigid version of Apple's own SmartCover. It helps protect the iPad screen and serves as a stand for the iPad when it is placed in landscape orientation. Unlike the Apple SmartCover however, the Logitech Ultrathin Keyboard Cover doubles as a wireless keyboard. Pull it off, place the iPad in the slot that sits right behind the upper-most line of keys, and you get a decent laptop replacement.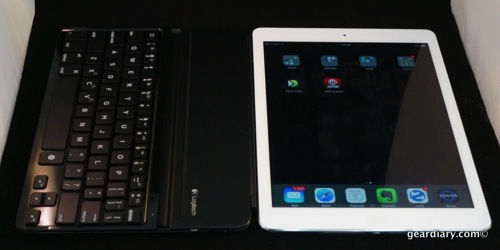 The Logitech Ultrathin Keyboard Cover is rechargeable, and it includes the necessary USB cable but no wall adapter. Logitech states that, based on an average of two hours of typing a day, one can expect to get up to three months of runtime per charge. That isn't surprising, and I have yet to charge the keyboard cover.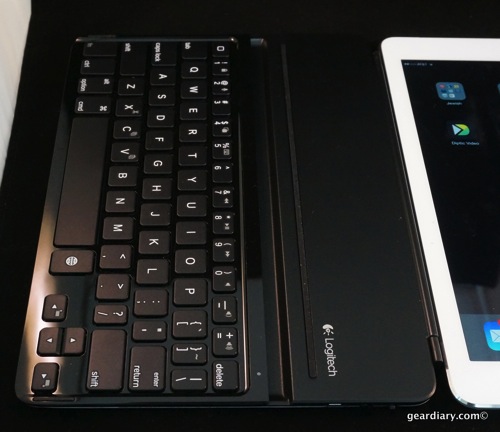 All of this comes together to offer "The perfect complement to your iPad". Having used ZAGG's offering, I do have to admit that I found myself missing the backlit illumination. I don't do a lot of typing without a good task light, but I like having the option to type even when other lighting is not available; that is not an option here unfortunately.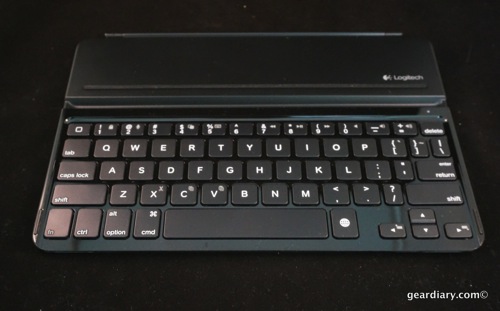 The stand functionality of the Logitech Ultrathin Keyboard Cover comes thanks to a magnetic groove that is located just behind the upper row of keys on the keyboard. It holds the iPad upright in a landscape orientation. The angle is good for typing, although the inability to adjust it, as well as the limitation that the magnetic groove only works with the iPad in landscape, may be a deal breaker for some. It is also worth noting that a misalignment of the keyboard cover and the iPad is also noticeable when the two are used together in this way. (More on that in a moment.)
Magnets play a big role in making the Logitech Ultrathin Keyboard Cover what it is. Not only does the Ultrathin Keyboard Cover securely attach to the iPad thanks to the magnets but they are strong enough to draw the iPad and cover together. Moreover, they are strong enough to keeps the cover in place on the go. I brought the Logitech Ultrathin Keyboard Cover with me on vacation to Aruba and didn't find the cover slipping off the iPad when I put it in or pulled it out of my bag. Unfortunately, I did find that my review sample failed to align the iPad and keyboard cover as precisely as I expected. I have no doubt this is simply the result of a misaligned magnet or two and that it will be resolved quickly… If not already. And while the alignment issue didn't leave the iPad exposed when closed, nor did it reduce the effectiveness of the keyboard when used with the iPad for typing, I did find it a bit bothersome that it wasn't "just right".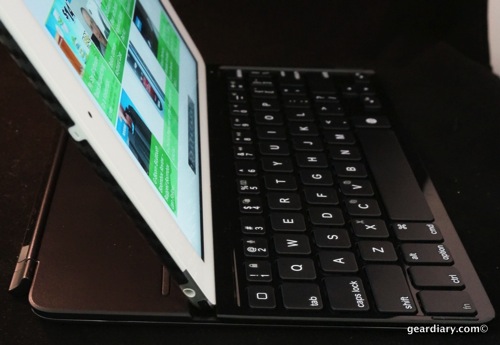 The island-style keys themselves are quite nice to type on. As the company notes:
Despite its smaller size, the key size has been maximized. Ultrathin Keyboard Cover keeps the same keys as on standard keyboards, so little learning curve is needed.
I found this to be true, and the experience of typing on the Logitech Ultrathin Keyboard Cover was quite pleasant. I still find using an Apple Bluetooth keyboard to be a better typing experience but as mobile keyboards go this is up there with the best of them.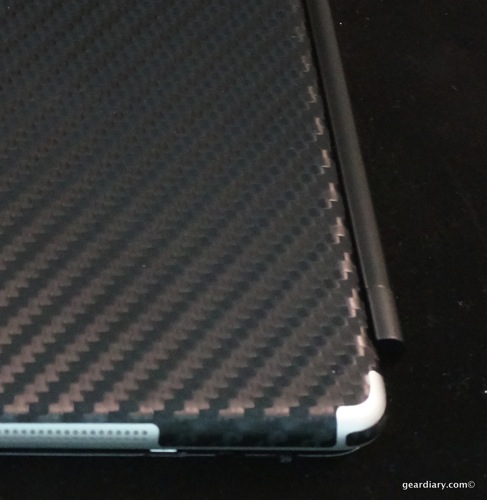 All in all, the Logitech Ultrathin Keyboard Cover is an interesting option for someone who isn't looking for a folio-style case, needs a good mobile keyboard and wants the ability to quickly and easily use the iPad Air in its thinnest and lightest form. If you are looking for the best of both worlds — thin and light AND keyboard productivity functionality — then this is a great options. Be warned however, that the keyboard and iPad don't align perfectly in the REV1 version of this product. Learn more here.
MSRP: $99.99
What I Like: Protects the screen; Magnets hold the keyboard cover in place quite well; A very nice typing experience
What Needs Improvement: Magnets on review sample not perfectly aligned; Only protects screen when in place; Only usable with iPad in landscape; Keyboard not backlit
Source: Manufacturer supplied review sample
Want More? Follow Us Here!