Over the past few years I have come to appreciate the fact that great industrial design and quality audio are not mutually exclusive. One of the companies that consistently proves it possible to have speakers (or headphones) that look gorgeous and sound great is Harman Kardon. The Harman Kardon Esquire Bluetooth Speaker is the perfect example.Most Bluetooth speakers these days seem to follow the JamBox model; they are long and low. This design allows them to offer a tiny bit of speaker separation. The Esquire takes this approach and is as high as it is wide. This design, combined with the silver accents around the edges, gives it a striking appearance that screams "Classy". And while the name splashed across the front in silver might be tacky on some speakers, I think the silver Harman Kardon name on the Esquire adds to the premium look that gives it a dramatic appearance that will surely get it noticed despite its relatively small size.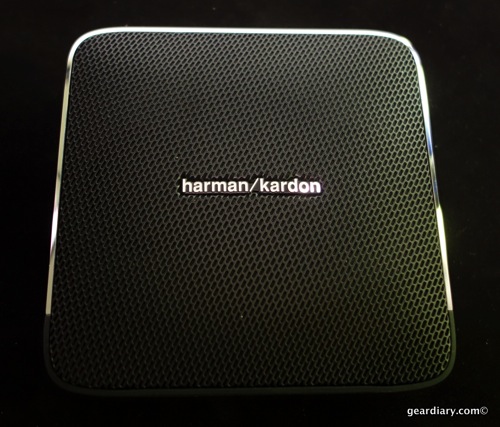 From an industrial design perspective, the Harman Kardon Esquire is a top quality speaker. Premium materials and superb build quality combine to create a speaker that is reminiscent of fine jewelry. This stands in stark contrast to the likes of the JawBone JamBox which, when put up against the Esquire, looks and feels more like a toy than a premium audio device. Even its weight, which is surprisingly heavy, speaks to the quality of this speaker. The solid construction and premium leather back of the Esquire do quite a bit to help justify the $250 price tag.
In the box
1 Harman Kardon Esquire
Wireless speaker/conferencing system
1 3-port USB adapter
Quick start guide
1 Premium carrying pouch
1 USB cable
Video Review of the Harman Kardon Esquire Bluetooth Speaker
Buttons along the top of the speaker allow you to control many of the functions. That includes the speakerphone, which is significant since Harman Kardon promotes this speaker as offering, "quality sound in a portable conferencing system with wireless connectivity." In other words, while the JawBone Jambox and speakers of its ilk are promoted as portable speakers for casual use, Harman Kardon has positioned the Esquire as the professional's Bluetooth speaker. Their message seems to be, "Sure it offers wireless sound, but it also doubles as a quality conference phone so you can get work done." It certainly doesn't hurt that the speaker offers a dual-microphone system and "smart orientation" that lets the user point the speaker vertically for 1-to-1 conversations and horizontally if you have an entire group getting in on the call.
As previously mentioned, a silver badge with the Harman Kardon name is splashed across the front speaker. This is immediately reminiscent of the Harman Kardon Onyx Studio we reviewed a few weeks ago. I love the fact that the same design language is used across multiple products and, as a result, HK's offerings are immediately identifiable as HK products.
According to Harman Kardon, the Esquire offers "Hi-Fi Harman Kardon Sound." The 2-way speaker system pushes out ten watts of power per channel. The built-in bass port adds a sense of depth and "punch" to the sound. Speaking of sound, I have been impressed by the sound put out by such a small speaker. No, the Harman Kardon Esquire doesn't have the bass or stereo separation of a quality home audio system but, then again, this speaker is under $250, and it is meant to be taken with you. So long as you are in front of speaker, the soundstage is surprisingly good. The audio does suffer as you move to the side or back of it, but none of that comes as a surprise. Don't get me wrong, the Esquire will do quite well if you are at home or work and want to listen to music, but this is first and foremost a portable speaker; trade-offs needed to be made, but they were strikingly few.
The Harman Kardon Esquire is designed for use on the road. That is not only clear from the 8-10 hours of battery life it offers (it takes 5 hours to charge), but from the included accessories as well. In the box is a carrying case that snuggly wraps around the speaker. It isn't of the highest quality, and it does not make room for the wall adapter, but it does get the job done.
Speaking of the wall adapter, the Esquire includes something I have never seen offered with a Bluetooth speaker — a true travel charger. Yes, while most Bluetooth speakers ship with a USB to microUSB cable and a single US 110v adapter for charging it the adapter that comes with the Esquire has three different ports. Icons next to each port suggest their use — one displays the Esquire, a second displays a tablet and a third displays a smartphone. In other words, the adapter that comes with this speaker will simultaneously charge all your portable electronics. That's impressive, and it's an added bonus for anyone purchasing the Harman Kardon Esquire. It also speaks to how the company is positioning this speaker as a business person's Bluetooth speaker, rather than something you would purchase for a kid.
This slideshow requires JavaScript.
There are a few additional aspects of the speaker that are notable. In addition to Bluetooth, it can be used via a cable thanks to a 3.5mm Aux-In port. And while pairing can be done the traditional way, the Esquire also has NFC for quick, one-touch pairing with NFC-enabled devices.
The Harman Kardon Esquire is all business, all style, and all about the music. In short, this ain't your teenager's Bluetooth speaker — and that's a good thing. You can learn more about the Esquire and see all three colors here. Personally, I think the black and silver looks the best! You can order yours here, through our Amazon Affiliate Store
.
MSRP: $249.95
What I Like: Small but powerful; Offers very good sound; Solid build; Good speakerphone functionality; Wall adapter offers multiple charging ports; Good battery life; Easy to control; NFC for easy pairing; Looks fantastic
What Needs Improvement: Protective case does not hold charging cable and wall adapter; Case is a bit chintzy
Source: Manufacturer supplied review sample of the Harman Kardon Esquire
Want More? Follow Us Here!