I will never forget the moment I popped my first Sleater-Kinney CD into my stereo and heard the opening chords of "Dig Me Out". From that sound forward my musical tastes were fixed in a specific hierarchy: Sleater-Kinney, and everyone else a distant second. I was heartbroken when they disbanded in 2006, but today they've announced a surprise reunion and album!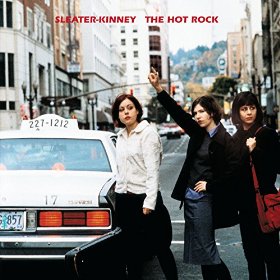 If you don't know Sleater-Kinney, they're an astoundingly great group of women from the Pacific Northwest; you may recognize one of them as Carrie Brownstein, one of the stars of IFC's Portlandia. But before she was cracking everyone up as one-half of the feminist bookstore workers at "Women and Women First", she was rocking out as one-third of Sleater-Kinney. I've seen many bands perform over the years, but no one can rock out like Carrie Brownstein.
All gushing aside, it seems like the time off has been good for the band. They've released their first single/video, and it's awesome. Check it out below, along with a few other favorites of mine! Get excited!!! The greatest female rockers of the 21st century are back and better than ever! And if you can't wait for the new album, don't forget they have a box set coming out for the holiday season!
Bury Our Friends (new single):
Jumpers (The Woods):
Entertain (The Woods):
You're No Rock n Roll Fun (All Hands on the Bad One)
Dig Me Out (Dig Me Out)
Call the Doctor (Call the Doctor):
Get Up (The Hot Rock)
Want More? Follow Us Here!