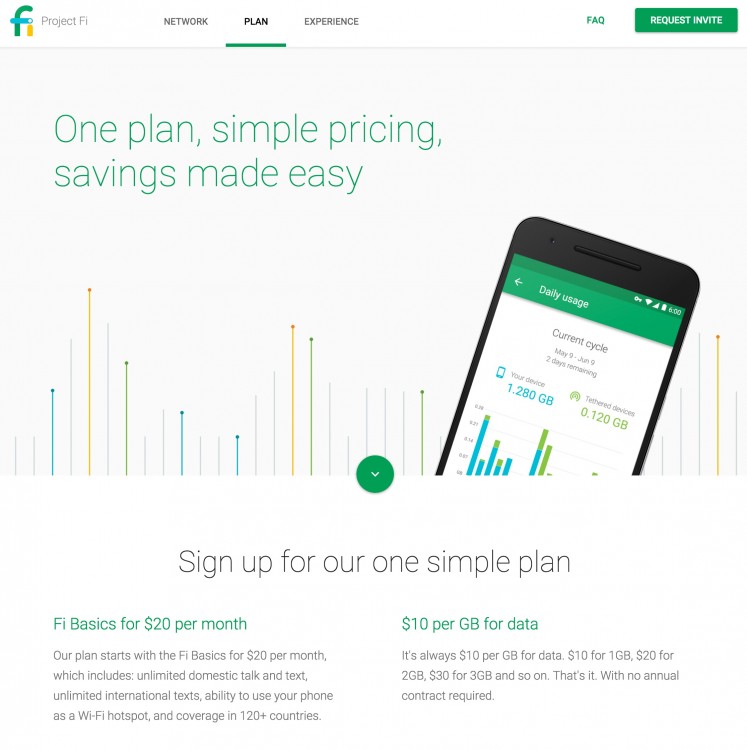 I joined Project Fi in August of this year. Project Fi is essentially a prepaid phone service for which Google acts as an MVNO (Mobile Virtual Network Operator). This is just a fancy term for a company which doesn't own the cellular towers but merely purchases a bulk block of service from the carrier(s) and resells it.
In addition to Fi, I have another line with cell service on T-Mobile. I find this is pretty good so I joined more out of curiosity. The allure of the pay-as-you-go method of paying for an additional line was attractive. Project Fi only works with Nexus phones. I joined with my Nexus 6. Later I upgraded to a Nexus 6P ($50 off through 12/31/15). Last night I ported my phone away from Project Fi and back to Verizon. Not because Fi is terrible – but because it wasn't compelling enough to keep me on the service.
Here's the good and the not so good (meh) that I found in my four months using Project Fi. Your situation and needs will be different than mine. Take my observations, mix them with your own good judgement and make a decision on whether you think Fi would be a good choice for you as a cellular provider.
The Good
Simple to setup – Project Fi ships you a SIM card with a paper clip (to open the door of your device which holds the SIM card). Almost everything about the setup is done on-screen and on your device. This experience left me feeling that Project Fi's most innovative feature was the ease with which I could setup the phone and eventually port a number into Fi. Virtually all configuration happens using the Fi App. No trips to a phone store while I waited for someone to pay their bill using a roll of pennies. No tedious attempts by a salesman to sell me a case, insurance, and glass protector. I only made one call to customer service and that was to have them reset the Fi App so I could port my number into Fi. Easy simple and great overall experience: A+
Fair billing – Project Fi charges $20 per month for service (voice and SMS) plus $10 per GB of data. You pick a plan ahead of time (I chose 3 GB/mo) and pay at the start of the month. If you have any data remaining at the end of the month you get a credit on your next month's bill. Super easy. Yes, better deals exist on a per GB basis. Project Fi clearly is not designed with the heavy data user in mind. However it does offer super fair pricing that's easy to understand: A+
Want More? Follow Us Here!