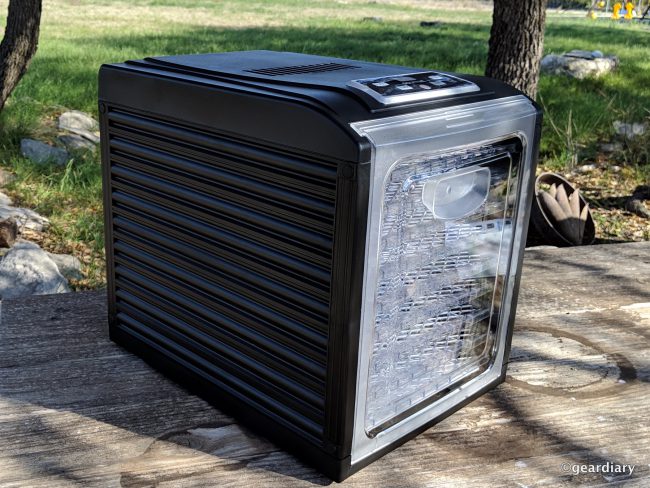 I am learning that there are certain kitchen gadgets that I've never given a second thought to, but that once used become nearly indispensable. Examples include the Gourmia Air Fryer I reviewed last year (that I still use all the time), and the Gourmia GFD 1950 9-Tray Dehydrator we'll be looking at today.
When I used to think of food dehydrators (which admittedly was seldom, if ever), I'd get a mental image of someone with a garden, someone who would dry out fruits and vegetables like a good little end-of-the-world prepper. Okay … laugh all you want, because I couldn't have been more wrong about who would need or use a food dehydrator; I was misinformed and under-educated, but a dehydrator is something I now think no well-equipped kitchen should be without.
You can use a food dehydrator to create dried foods including chips, crackers, granola, trail nut mixes, herbs, fruit rolls, and yes — jerky. The biggest selling point to making any of these items in your own kitchen is that you'll know exactly what goes into them (no chemicals or additives), and you can control or modify the ingredients to suit your taste and diet.
Gourmia makes many sizes of food dehydrators, and since I have no experience with using one I figured bigger must be better. Well, in this case, bigger was certainly BIGGER. I wasn't thinking about where I would store this thing when it wasn't being used, and I didn't stop and consider whether it would even fit on my countertop much less under my cabinets. Oops. So yes, the Gourmia GFD 1950 9-Tray Dehydrator is a beast, which means it is perfect for larger dehydrating jobs. It measures approximately 17.75″ deep by 16″ tall by 13.5″ wide. Included in the box are the dehydrator, 9 drying trays, one protective food sheet (for foods that are super fragile or very thinly sliced), and a drip pan that goes in the bottom of the dehydrator. There is also a recipe book to get you started, a quick start guide, and a user manual.
Before using, you'll need to remove the cardboard in front and in the back of the dehydrator (by the fan); that second piece of cardboard is behind the trays, but since you need to wash them in hot soapy water before using the dehydrator for the first time, that's okay.
The control panel at the top is very simple: there is an increase button, a timer button, a power button, a temp button, a decrease button, and a simple numeric LED display at the top. There's a large, clear slide-in door on the front which allows you to see how things are doing inside without opening the door.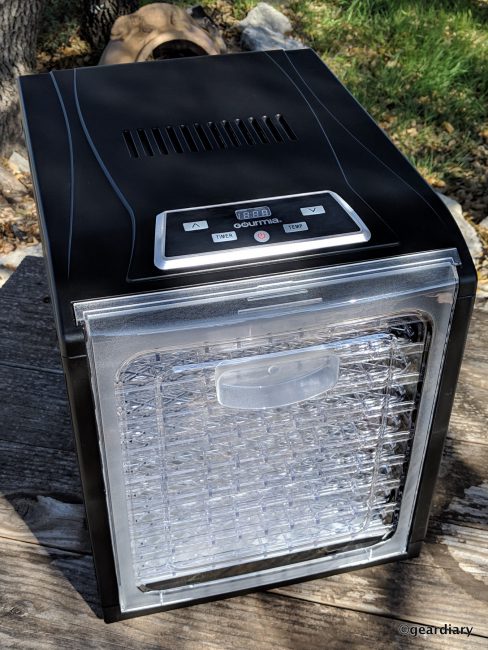 The drying fan makes up the entire back-end of the dehydrator; it will circulate the warm air when you are actively dehydrating something.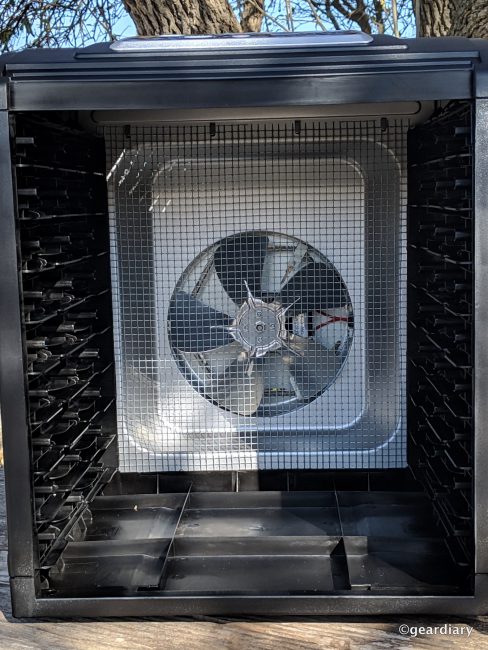 Gourmia mentions that it is important to make sure that the top air vent and the back air intake are never obstructed or covered when you are using the dehydrator or while it is cooling down after use.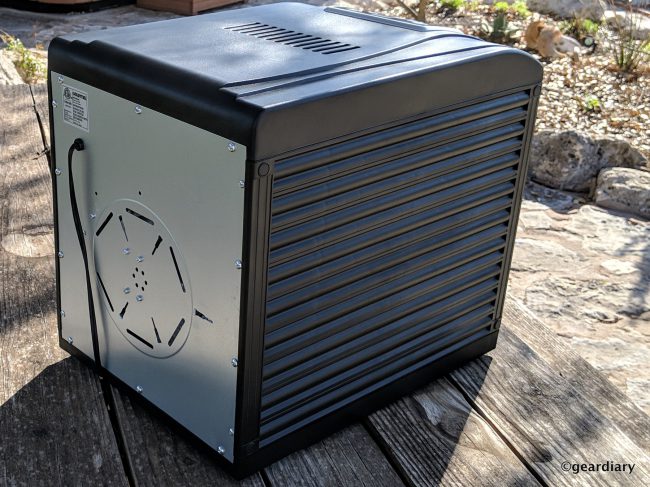 To use the dehydrator (after you've washed the trays), you'll first want to place the drip tray in the bottom first. Depending upon what you are making, there may or may not be anything that will drip onto the tray, but having it in place will make for much easier cleanup.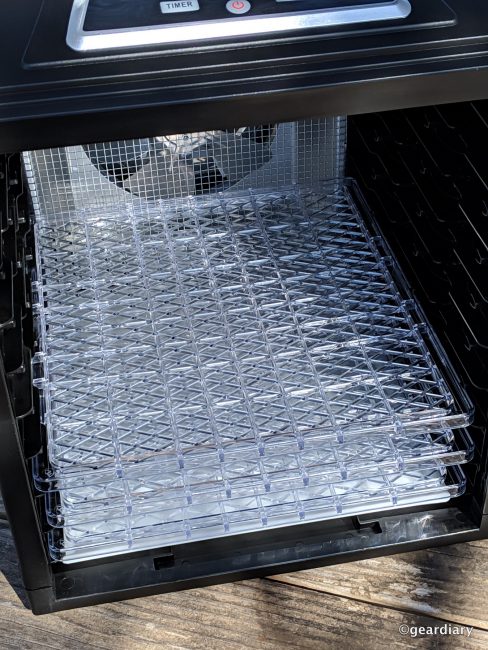 Although the holes on the regular trays are not very large, there is a protective food sheet included with even smaller holes for fragile foods; Gourmia says it is the tray you should always use when making fruit leather or roll-ups. If you plan on making a lot of those at once, you might need to order more.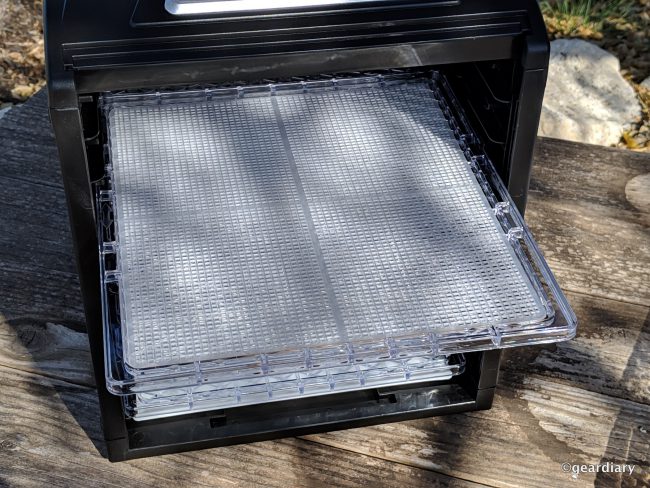 In case you hadn't guessed, my main purpose for owning a dehydrator was to make beef jerky. After doing a bit of research online, I found that the best cuts of meat to use for jerky are also some of the cheapest. You want a well-trimmed cut of meat that doesn't have a lot of external fat or extensive marbling, so that cuts out the more expensive steaks.
There's absolutely no reason to buy Prime or Choice because any extra fat will only make your jerky spoil that much quicker (and make your jerky fatty and gross). As you can see below, I purchased two USDA Select Sirloin Tip Roasts; it's a cut of meat that would be a fantastic pot-roast (because it would be cooked slowly and low heat), but it might be a bit tougher without massive tenderizing. Less marbling means it's perfect for beef jerky.
Some other good cuts to consider include Bottom Round, Top Round, Eye of Round, and Flank Steak, but depending on where you live flank steak might be kind of expensive. I live in Texas, where Flank Steak is marketed for making fajitas; in other words, what used to be a tough, unremarkable piece of meat now sells for a premium, so I didn't even bother with it.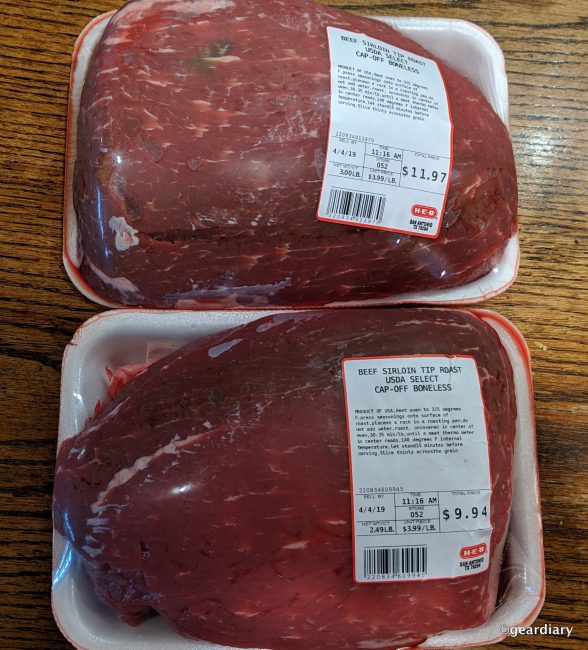 The day before we planned on actually making the jerky, I chose two recipes from the excellent Jerkyholic site recipe catalog. I like spicy and flavorful jerky, so I chose their Chili Garlic recipe (super low sugar) and their Spicy Sweet recipe (which has vague Asian undertones with the ginger and sesame oil).
I made some personal preference modifications to both recipes (including using lower-sodium soy sauce in both, chopped garlic along with the garlic powder, no curing salts, and chopped up ginger versus ground ginger powder to name a few of my modifications); everything turned out just fine. I love that nothing about this needs to be stressful or too precise. Find a recipe with flavors you like, and go to town!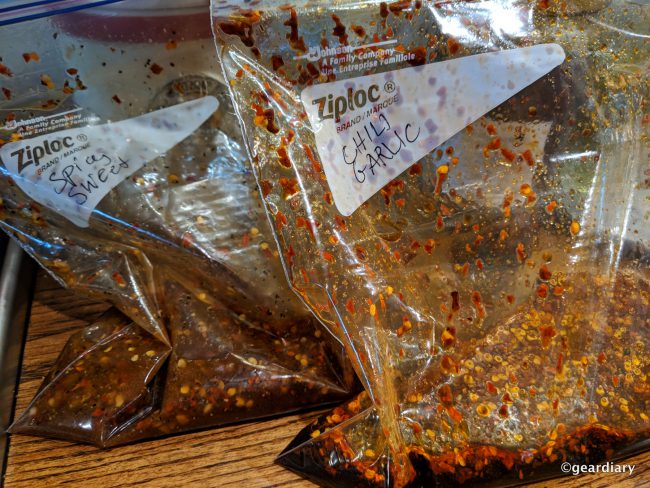 Just about every jerky recipe out there will tell you to put the meat in the freezer for an hour or two before slicing it, as it makes the meat easier to handle. Kev gave me a hand with cutting the meat; we knew we wanted thicker slices of jerky, which would affect cooking time a bit, but we weren't quite sure how wide the pieces should be and we were likely over thinking everything, as it was our first time. That's okay.
The most important thing to remember when cutting the meat is that if you cut against the grain, the jerky will be more tender; cutting with the grain will make it tougher, so we did some of each. Kev cut the pieces about 1/8″ to 1/4″  thick; some were as much as 3″ across, but the average was probably under 2″. Again, there is no need to over think everything; it will all cook just fine.
As each Sirloin Tip Roast was cut, it went into one of two Ziploc bags I'd already put the separate marinades in.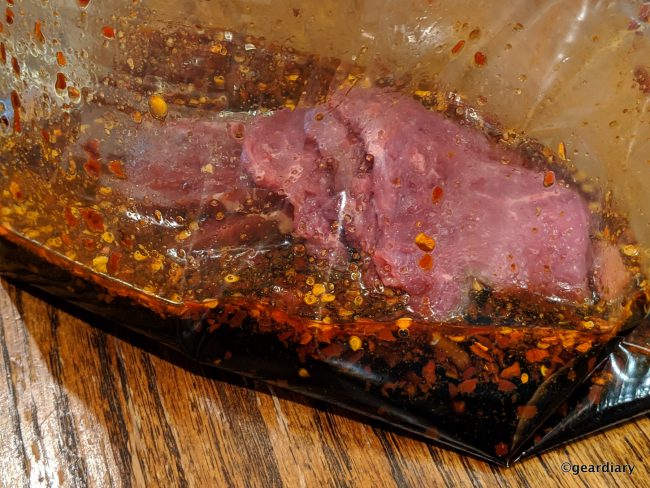 Here are the two bags ready to go in the fridge for 20-24 hours. I made sure that the marinade was well-distributed throughout the sliced meats, and I checked the bags and moved the marinade around the meat once or twice during the marinade period.
The next day, we were ready to make some jerky! I dumped the first bag into a colander over a bowl, gave it a couple of shakes, and let it drain. Kev decided to try a small piece of the raw, marinated meat from each batch; he said they tasted amazing, which only got me more excited for the finished product!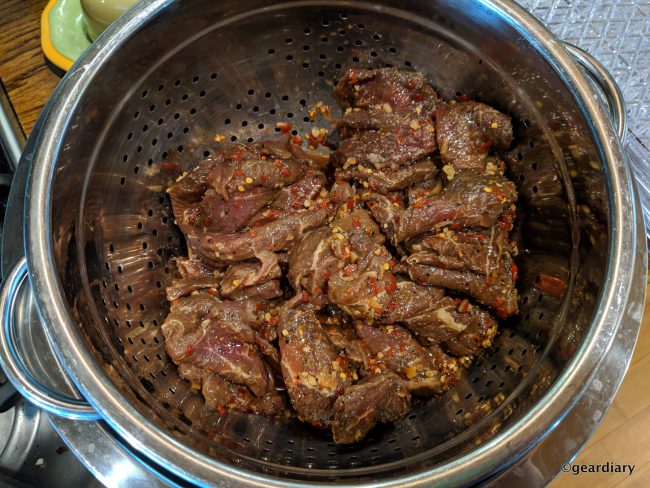 I had a layer of paper towels laid out in a pan to briefly blot the bottom side of the meat on. You don't want to pat the meat completely dry or lose any of the goodie (yes, that's a technical term) that's stuck to the meat — you just want to make sure the marinated meat isn't sopping wet, as doing so will help cut down on cleanup later.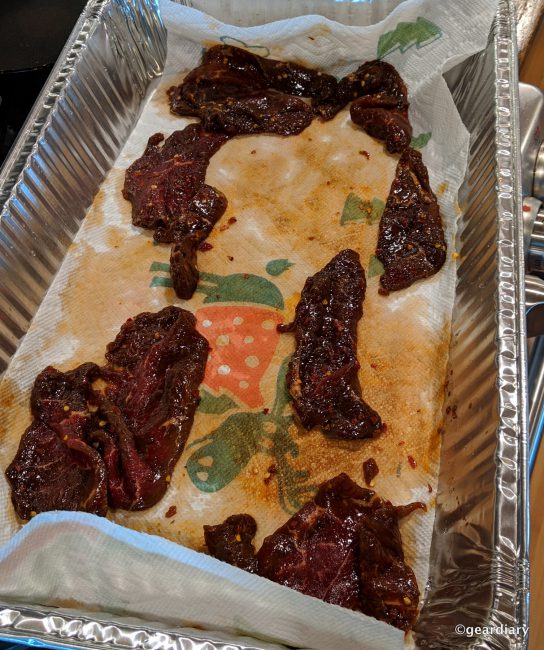 I placed a dish towel on the counter to catch any juice that might ooze out of the meat and through the tray, but I was surprised that there really wasn't much. The meat on the left is the Spicy Sweet; the meat on the right is the Chili Garlic. It's really important when placing whatever you are about to dehydrate on the drying racks that you place the items in single layers with some room in between pieces. They shouldn't be touching in any way, and you want there to be plenty of room for the air to circulate and work in between the items drying.
Here's the loaded dehydrator; we have almost 6 pounds of meat in there!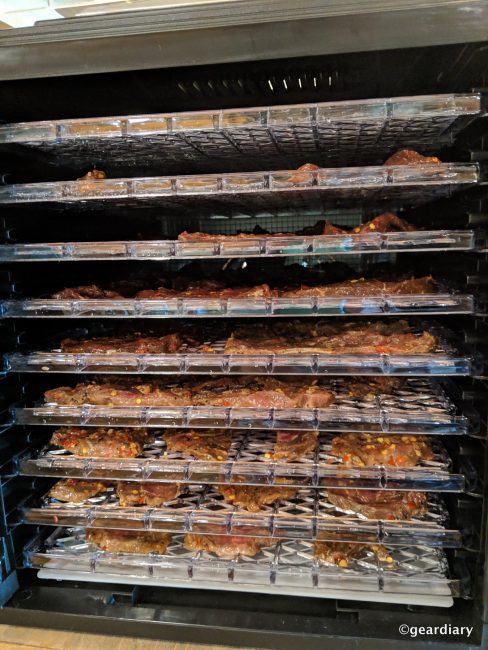 All that was left to do was put the EasyVue Door on, and set the time and temperature! You'll note that we are having to use the dehydrator on our dining room table; that's because it was too tall to go under our cabinet on the countertop. Again, oops.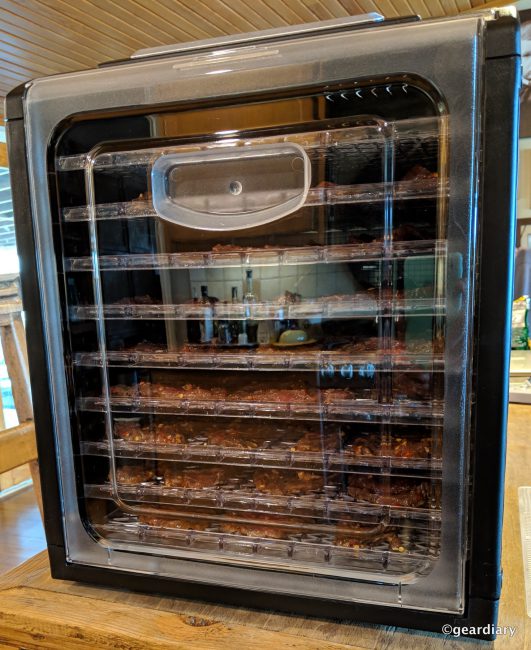 The Gourmia Gourmia GFD 1950 9-Tray Dehydrator only goes to 158ºF, so if your recipe calls for a higher temp you can still use it — you'll just have to cook for a bit longer.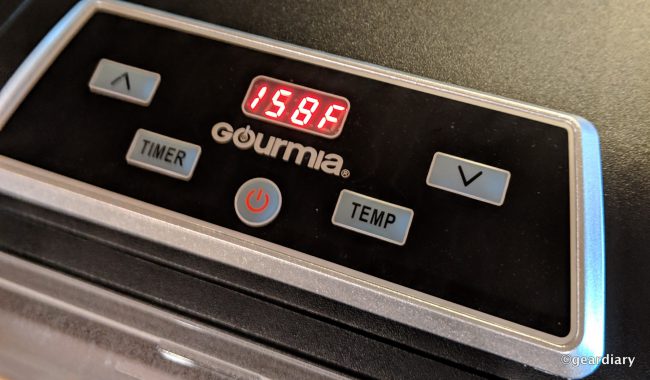 I set the timer for 4.5 hours, but I knew that probably wouldn't be enough because of the thickness of our meat and the lower cooking temp. We actually wound up going closer to 6 hours. It's very easy to adjust the temperature or the timer while the dehydrator is going; you just press the up or down button to adjust the time, or you press the temp button and then the up or down buttons to adjust the temperature.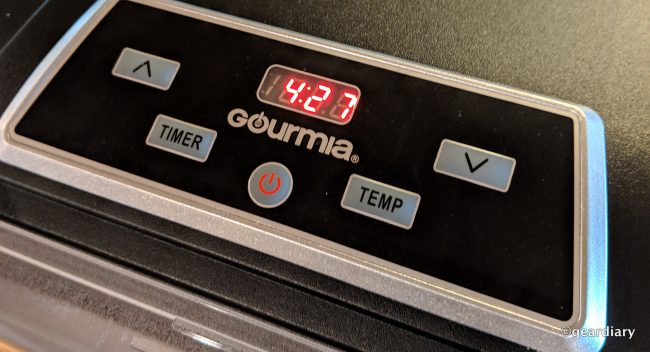 Some observations while using the dehydrator: it does put out a little bit of heat, so if you are using it in the height of summer, it might be better to run it in your garage or on your back porch. The dehydrator is not very noisy, but you will hear its fan working. Also worth noting: whatever room you are dehydrating your jerky in will smell amazing.
And here are our two types of jerky! The Spicy Sweet is on the right, and the Chili Garlic is on the left.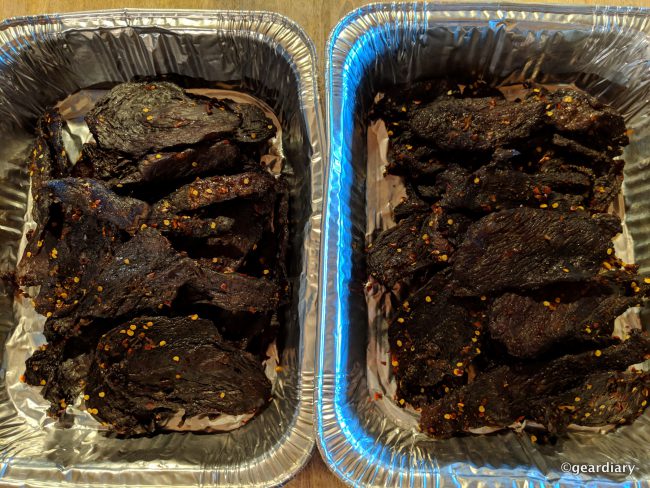 You'll know your jerky is done when it bends and cracks but doesn't break when you fold it. If you accidentally over-dry your jerky, I'm guessing it would still be edible, it just might be tougher. Ours came out absolutely perfect!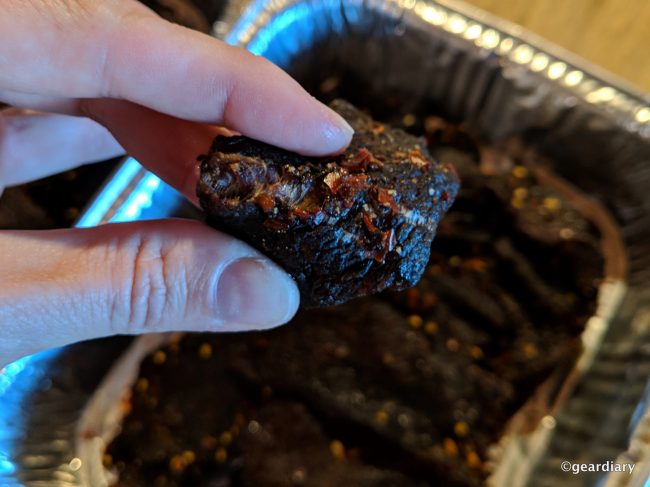 In case you were wondering: You can expect to lose about half the weight of the beef you started with during the drying process, but if you let your jerky get really dry, you can lose as much as two-thirds of its weight; don't do that.
Now that I've figured out how to make my own beef jerky, I plan on tackling some of the other recipes in the included recipe book. For instance, there's one for sweet potato chips! Do you know how much money I've spent on buying those over the years? And they're always loaded with more sugar, salt, and other preservatives than I would like. I'm also interested in making granola and dry-herbed tomatoes from the recipe book. But why stop there? Banana and strawberry chips are easy to make and delicious. I like okra and green bean chips (which are basically the whole dehydrated veggie with some seasoning). All of these dried fruits and veggies are generally pretty expensive to buy as a finished product, but now I can make my own versions of those, too. I'm also looking forward to making dried chicken jerky for our dog, Otis! Not having to worry about preservatives and sub-par chicken meat going into our pet's belly makes me happy.
If you do a little Googling, you'll find that there are tons of recipes out there for all kinds of things you can do with a dehydrator; that's why I am so excited about finally having one. You just have to be flexible about cooking times; realize that there will be variations depending on how thickly you've sliced your items to dry, and you'll be fine.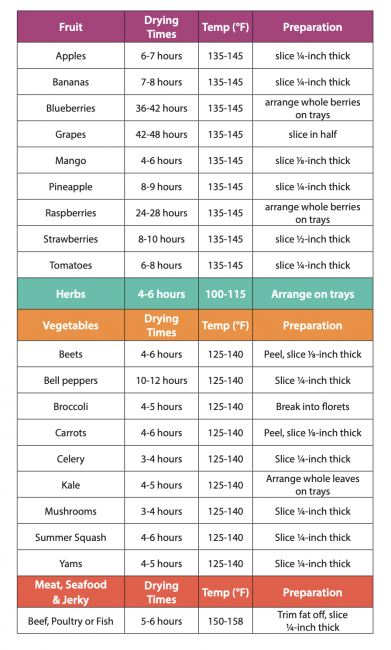 Cleanup was much easier than I'd expected. Nothing got on the sides of the dehydrator, so that simply required a wipe down with a damp cloth. The trays (including the bottom drip tray) got soaked in hot, soapy water for a couple of hours and then they cleaned right up.
If I had to pick a dehydrator model to review again, I would likely go for one just a little bit smaller. While I loved being able to do so much at once, this particular dehydrator is a bit large for our kitchen and storage space. But if you have the room, and you plan on doing large batches of whatever you plan on making, I can whole-heartedly recommend the Gourmia GFD 1950 9-Tray Dehydrator. It is so easy to use, and it does a great job!
The Gourmia GFD 1950 9-Tray Dehydrator retails for $109.99; you can read more about it here, and it is available from Amazon [affiliate link].
Source: Manufacturer supplied review sample
What I Like: Simple to use; Easy to clean; Tons of room for dehydrating a lot of jerky (or whatever you are making) all at once; Included recipe book, but you can also find so many more great recipes all over the web; Included protective food sheet for more delicate items and fruit leather; Fan does an excellent job of evenly spreading the warm air — there are no hot or cold spots requiring rotating trays around; You can use it to make food that has exactly what you want it in — fewer sugars, no preservatives or chemicals — it's pretty liberating!
What Needs Improvement: Make sure that you can fit this dehydrator in your kitchen and under your cabinets — it's large; 158ºF is the top temperature, so while you may have to cook your jerky a little longer than usual, being able to make such a big batch will make up for it