So where should we begin? This certainly isn't the first couples toy that I've reviewed, but the We-Vibe Sync is certainly one that we've always wanted to test out. But when it came down to actually reviewing the product, I felt it would only be right to ask my wife questions about how she enjoyed the product. So let's start from the top.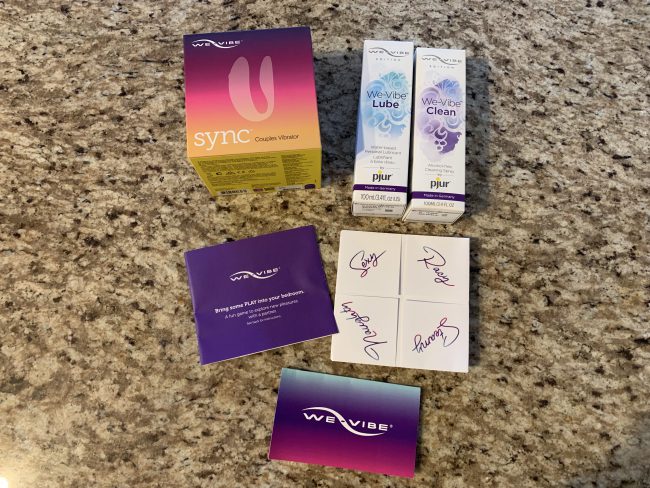 The We-Vibe Sync Adjustable Couples Vibrator is just that: An adult sex toy that focuses on the pleasure of the woman before the man, and honestly, I'm completely fine with that. We've both tested couples vibrators before, but there's always been an issue with them either being weak to my wife, to honestly just being a nuisance that we abandoned after fidgeting with them momentarily. We-Vibe already has a few products on the shelves of your favorite adult toy shops including the We-Vibe 4 Plus, but after reading such rave reviews about the We-Vibe Sync, it was only right to check it out. A flexible toy with hinges instead of just a toy that flexes already made the product jump to the top of our must-have list.
The Sync somehow charges "wirelessly" in a discreet case that will look inconspicuous in luggage and even more so next to your toothbrush in the bathroom. While the physical case is kind of big, the Sync itself is very discreet, even with the purple colorway that I received.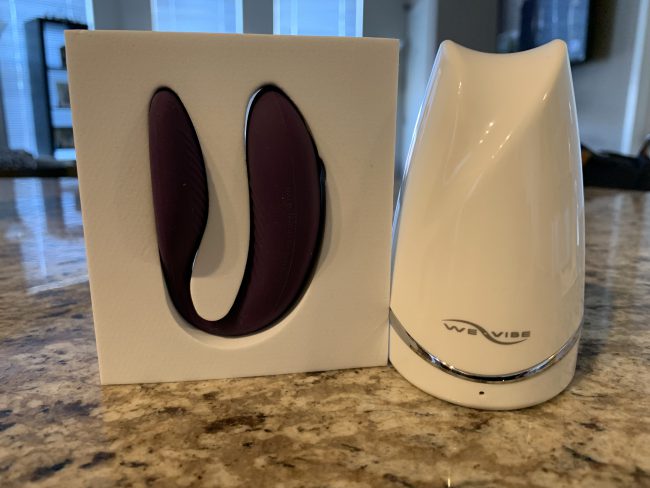 Made of silicone, the We-Vibe Sync is made of a safe silicone that's entire premise is being able to be worn during sex by the woman, and stimulating her in the places she desires the most. The company states that it is one of the few that is designed for g-spot O's, and to my wife's delight, the Sync does add to the intenseness of normal adult natured content. Paired with a We-Vibe app, you can use the We-Vibe Sync to pair to your favorite music or tunes, as you're doing things that adults do, the Sync will pulse to the beat, allowing you to use during intercourse. So much so, I found myself wondering if others have decided to use the functionality in private, or in public as the discreet nature of the Sync allows you (or a partner) to wear it, while they (or the both of you) control it no matter where you are. That could definitely add a bit of spice to your life.
There are three mode settings on the We-Vibe that get stronger as you press, but truth be told, the strongest mode is the only one worth considering.
Here's what my wife and I discussed regarding the rechargeable & waterproof adult toy:
Husband: What were two things that you enjoyed about the We-Vibe?
Wife: The ability to be used by the iPhone was pretty nice outside of having to look at your phone. Also, the sensor on the We-Vibe was nice although I thought it should be a bit easier to find in the act. Luckily there's a companion remote though, but they are honestly the same.
Husband: Is there anything that you would potentially improve on it?
Wife: Well, it is a bit noisy, and rumbles similar to a joystick controller, which wouldn't be ideal in quiet settings if someone were to wear it in a setting that's not loud or have ambient noise.
Husband: How does it work with playing music noises?
Wife: That's just a gimmick. Who's listening to the vibrations of music at that moment?
At this point, she flipped it on me and asked how I felt being on the opposite end of the adult toy —
Wife: Does the We-Vibe Sync help you at all?
Husband: I feel like it somewhat disturbs thrusting, so the more moving you actually end up doing, the more it may move around making it not the most comfortable to partner with. Also, I feel like the vibration is a bit weak at least for my end.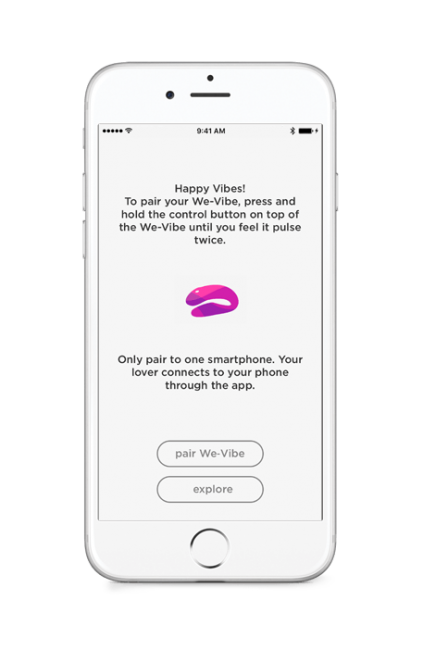 Overall though, we both seemingly enjoy the We-Vibe Sync, along with its quirks. A "weak" vibration for me, actually ended up being a strong vibration for her, and the fact I could use my hands in other ways freed me from over-focusing on things that otherwise should be handled by the Sync. I've read other reviews with similar thoughts we've both had, but one HUGE improvement that I think should be implemented is changing the location of the controls on the Sync itself. It's in a really bad position that doesn't allow for much friction without the controls changing. Aside from that, it's a great product that's worth the money if you don't go for the gimmicks and focus more on the pleasure.
If you'd like to learn more or purchase the We-Vibe Sync, head over to their site.
Source: Manufacturer supplied review unit
What I Like: Very nice casing with onboard controls; Very soft silicone
What Needs Improvement: Placement of the Syncs button; a bit of a nuisance for the man
Want More? Follow Us Here!