Most flagship phones offer wireless charging, which is hugely convenient when you want to set your phone down for a top-off. We've reviewed plenty of upright wireless charging bases, which are great for keeping at your desk, but the Pitaka Air Tray serves a dual purpose that makes it perfect for placing on a desk, bedside table, or in your home's entryway.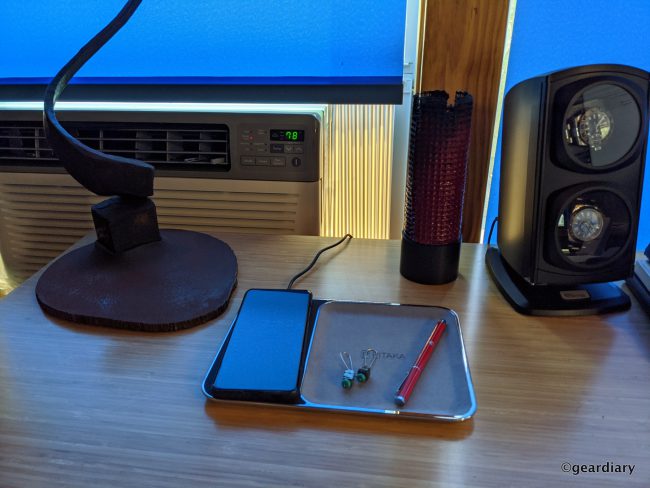 The Pitaka Air Tray support 10W fast charging for Samsung phones and 7.5W fast charging for iPhones on its left side. On the right side, it has a generously-sized tray that can serve as a catch-all for your keys, coins, wallet, jewelry, or any of the other small things you carry every day. The Air Tray is available in Obsidian Black or Crystal Silver. In the box, you'll find the Air Tray, a Type-C to Type-C charging cable, a Type-C wall charger, a microfiber cloth, a quick guide, an FCC warning (because it is wireless), and a card that when scanned doubles the warranty and priority customer support period to a total of two years.
The Pitaka Air Tray measures approximately 9.4″ wide by 6.75″ deep by 0.5″ thick, and it weighs a substantial one pound, 2.7 ounces. The woven black aramid side measures ~6.75″ tall by 3.5″ wide; the plush microfiber cloth-lined tray measures 6.75″ tall by 5.75″ wide with gently sloped sides ending in about a 0.4″ deep well. The tactile difference between the two sides is such that even in the dark, you'll be able to tell what goes where. The microfiber dampens any rattling or clanking that might occur otherwise when dropping your gear into it. The design is such that it won't look out of place in even the most stylishly decorated home.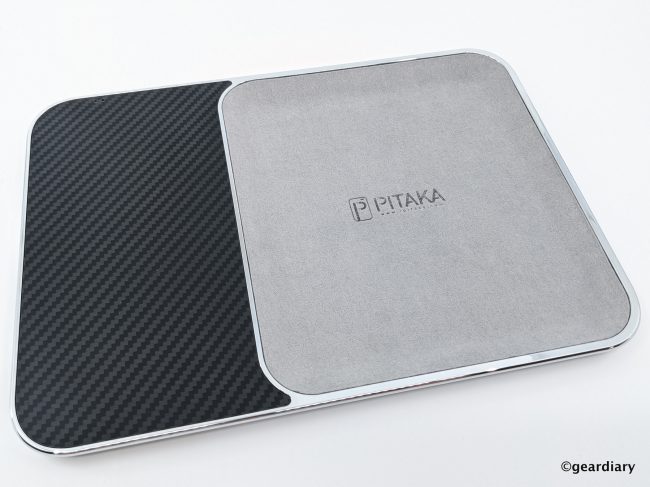 The sides are elegantly smooth, with a single Type-C port on the back of the tray.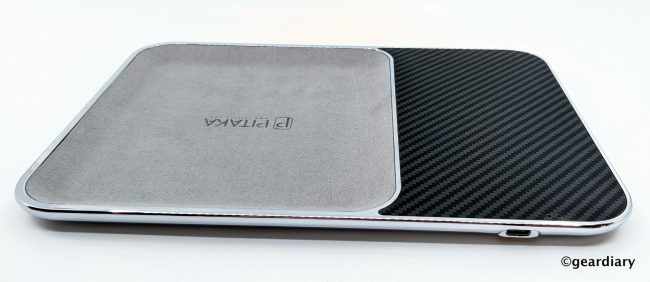 There are four elongated rubber feet on the bottom that will keep the Air Tray from sliding when it is set on a smooth surface. The base of the Air Tray is composed of a single piece of aerospace-grade aluminum. It will show fingerprints pretty easily, but a swipe from the included microfiber cloth quickly takes care of them.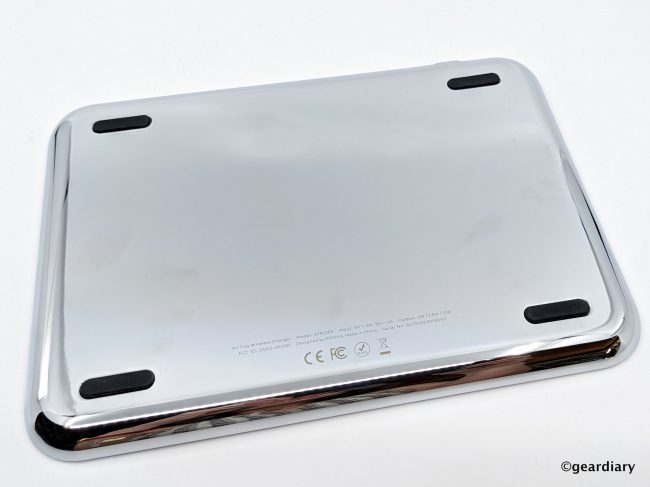 The Pitaka Air Tray utilizes Chain-Coil Technology, so you can drop your phone just about anywhere (or in any direction), and still get a solid fast-charge. Pitaka notes that "all the electronic parts are set up on a metal plate to provide better heat dissipation, assuring reliability and longer life." There are two small LED lights at the top of the Aramid charging pad; the one on them will glow white when the Air Tray is plugged in. The same LED will blink white while your device is charging. When your device is fully charged, the LED on the left will glow red, and the LED on the right will glow white.
If you accidentally drop something that isn't meant to be placed on the charging pad, one of the LEDs will glow red, and charging will stop. When the Air Tray has had a moment to reset itself, one of the LEDs will glow solid white again. It's not possible to dim the LEDs, but I've been keeping the Air Tray by my bed and haven't found the white LED to be obnoxious.
Whether you keep it by your front door, on the coffee table, at your desk, on a side table, or by your bed, the Pitaka Air Tray is the perfect catch-all for your phone and all of the things you carry in your pocket. The Pitaka Air Tray is beautifully made, convenient, and very useful.
The Pitaka Air Tray is available in Obsidian Black ($129) or Crystal Silver ($139); it is available directly from the manufacturer and other retailers, including Amazon [affiliate link].
Source: Manufacturer supplied review sample
What I Like: Elegant charging and catch-all tray that will look great anywhere you place it; Generously-sized aramid charging area that features Chain-Coil Technology so that your device will charge even when randomly placed; Microfiber-lined tray side won't scratch items placed in it and dampens the sound when the items are dropped on it; Works perfectly with any Qi-enabled device
What Needs Improvement: Nothing — it works as promised, and it looks beautiful
Want More? Follow Us Here!