I've been testing the OnePlus 8T for well over a month, and although it showed up at a time when I had four other different phones on my desk to review, it soon won me over and became my daily driver. Yes, there are a few caveats, but for someone like me who wants a brilliant, large display with a high refresh rate, fantastic battery life, an even better than expected camera, and almost all of the bells and whistles, it is a great choice.
Pricewise, at $749 the OnePlus 8T fits between the OnePlus 8 (which started at $699) and the OnePlus 8 Pro (which started at $899), that I reviewed in July. Specs-wise, the 8T comes loaded with pleasant surprises starting with its lovely flat 6.55″ FHD+, 2.5D Corning Gorilla Glass display that has a 120Hz screen refresh rate. The 8T ships with Android 11 installed along with OnePlus's latest OxygenOS 11 user interface overlay, and it also sports the top-of-the-line Qualcomm Snapdragon 865 5G Mobile Platform. The OnePlus 8T has two 2,250mAh connected internal batteries for a total of 4500mAh, and it's the first OnePlus phone to include Warp Charge 65 which takes just about 40 minutes to completely charge from empty. It's also got a quad-camera system on the back. But before we dig into all of that, let's start at the beginning.
The OnePlus 8T is available in Lunar Silver or Aquamarine Green; I was sent the silver. Included in the box are the phone, a red Warp Charge USB Type-C to Type-C charging cable, the new Warp Charge 65 wall charger (that's also powerful enough to fast charge many laptops), a quick start guide, safety information, the OnePlus welcome letter, a SIM tool, and a sheet of OnePlus and 8T-themed stickers. A vinyl screen protector comes pre-installed on the 8T, which I always appreciate. I received the 8T model that has 12GB RAM and 256GB user memory, but it is also available in an 8GB RAM with 128GB user memory configuration in some locations.
One OnePlus 8T measures approximately 6.3″ long by 2.9″ wide by 0.35″ thick, and it weighs 6.6 ounces. A punch hole 16-megapixel camera is located on the upper left of the display, and there is an ear speaker centered just above the top of the display. The 8T has a highly responsive and accurate in-screen fingerprint reader, and it also has facial recognition.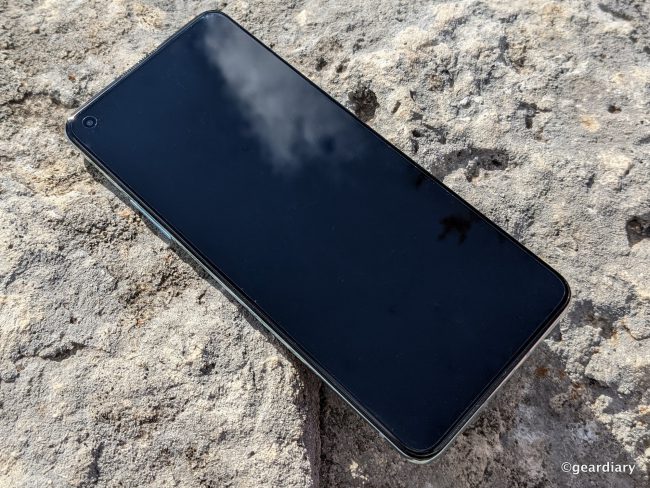 I'm going to interject for just a moment and talk about how much I love the flat display on this phone. Whether reading, playing games, editing photos, or scrolling through my social feeds, the colors are sharp, accurate, and immersive. The scrolling action is remarkably fluid thanks to the 120Hz display, and the gorgeous 2400 x 1080 pixels (402 ppi) have a brightness of 1,100 nits. I love that there are no overly curved sides to deal with; I'm such a huge fan of the flat display. In hand, the phone is large but it feels quite balanced and light, and for the most part, I can handle everything one-handed. The phone is solidly built, and it absolutely feels like a premium device. Back to our walk-around …
On top of the 8T, there is a microphone.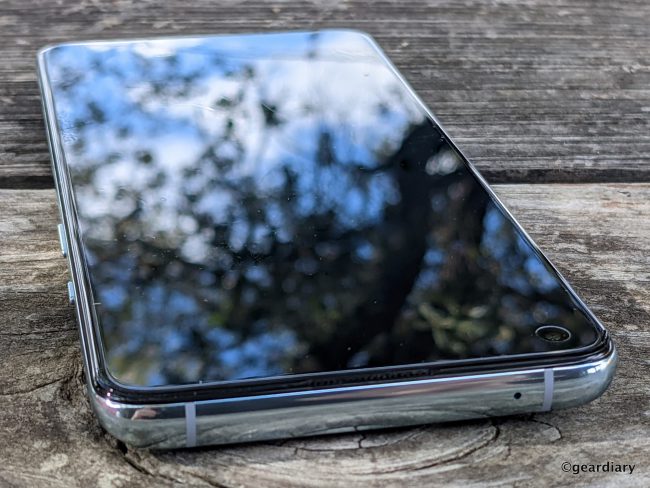 On the right side, there is a power/wake button and OnePlus usual three-stop ring, vibrate, and mute alert slider. The OnePlus slider has ridges cut into it so you can differentiate it from the power button, even when it is in your pocket.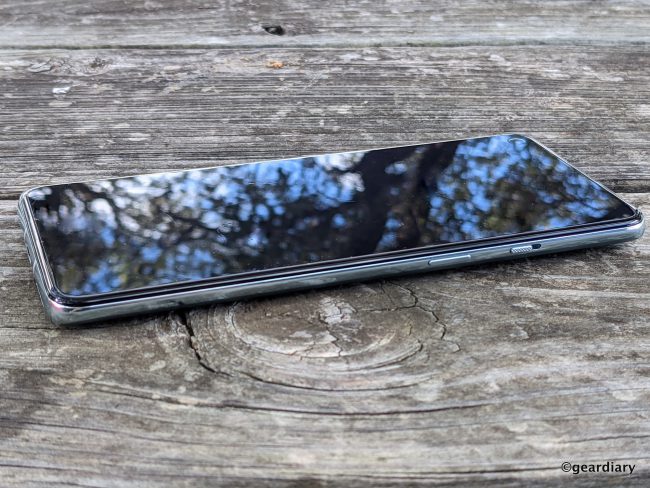 On the left side, there is a volume rocker.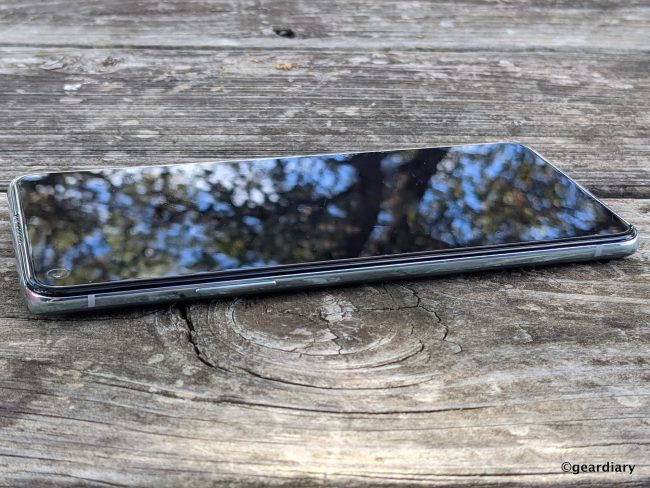 On the bottom, there is a dual nanoSIM tray (no memory card slot, alas), a USB Type-C port, and a speaker. There is no headphone jack on the 8T, which I am pointing out as a matter of course, but it's honestly more remarkable when a phone actually has one anymore.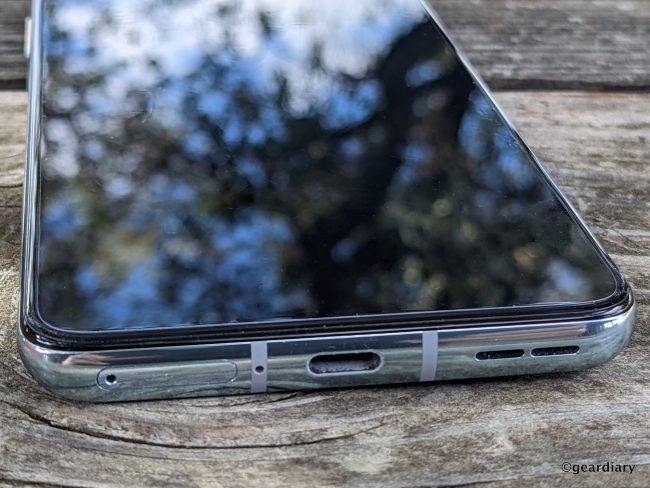 The 8T's back is made of 3D Gorilla Glass with a contrasting, slightly raised black rectangular glass camera array in the upper left corner.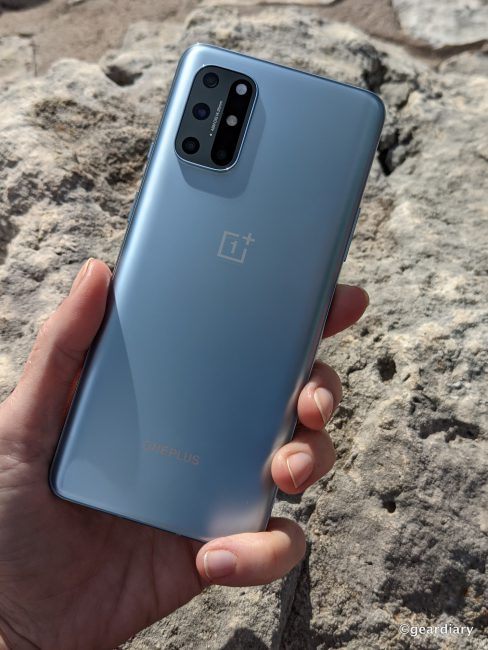 In the array are a 16-megapixel ultra-wide-angle camera lens, the Sony IMX586 48-megapixel main camera with OIS and EIS, a 5-megapixel macro lens, and a 2-megapixel monochrome lens; there are also two LED flashes.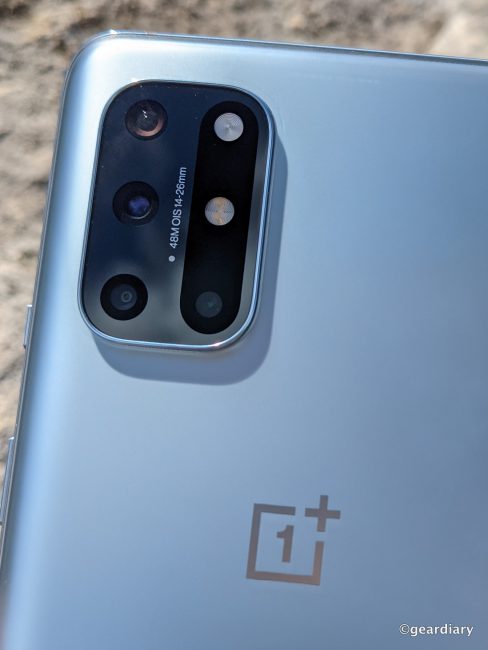 Photos Taken with the OnePlus 8T
One of the main tests that determine whether a phone can be my daily driver or not is how well it does taking product photos as well as life as it happens. The OnePlus 8T has surpassed my expectations; I don't take a lot of macro photos, but knowing that it can do so well has been a big bonus – it comes in handy when something is written so small that I can barely read it. In good light and poor, the camera has done a better than expected job. It's not perfect every time, especially on moving objects, but I generally take more than one picture at a time, and one of them is usually exactly what I was hoping for.
Battery, Speed, and Day-to-Day Use
Battery life is one area where the 8T has blown me away. I generally get to noon before I notice that the battery has fallen to 75% or so, and when I've forced myself to not recharge it at every opportunity, I've found that I can make it about 13 hours before range anxiety gets the best of me. I generally keep the screen on 120Hz (you can opt to lower it to 60Hz, but I haven't felt the need or desire to), and I keep the brightness on auto, which adjusts as needed based on the light wherever I am. I have zero complaints about battery life, but I especially like how quickly the 8T can recharge. Warp Charge 65 is no joke — it can take the phone from 0 to 42% in about 10 minutes, or it can fully charge the phone from zero to full in about 40 minutes. It's lovely to know that I can make it through most days without carrying an extra battery pack, but I appreciate Warp Charge 65 when I need to top-off quickly. Even so, I generally plug the 8T in at night with a regular cable on a 5A charger, so while I don't always need those blistering charging speeds, it's great to have them when I do. Sadly, there is no wireless charging. I can't tell you how many times I have set the 8T in my OnePlus wireless charger, and then had to remind myself "oh yeah, not this one." When I start traveling again, I know I'll appreciate Warp Charge 65's speeds, but as I'm basically homebound these days, I do wish it could wirelessly charge. Ah well.
Like the OnePlus 8 and OnePlus Pro I reviewed, the 8T also has the top-of-the-line Qualcomm Snapdragon 865 5G chipset. I have seen zero lags and zero stutters, and the 8T has been able to handle everything I've thrown at it. It even feels faster than the Google Pixel 5 (which has the Qualcomm Snapdragon 765 5G chipset). I didn't think the processor would make that big of a difference, but I also chalk part of that up to my 8T having 12GB RAM versus the Pixel 5's 8GB RAM. The 8T has 5G (but not mmWave 5G), but I have not been able to test 5G speeds since I am still holing up at home in the sticks, and I haven't recently ventured anywhere that offers anything faster than 4G LTE. It is what it is; we are still in a pandemic.
AT&T users will still find Wi-Fi assisted calling missing on this model; that is still a bitter pill to swallow for those of us who live in the sticks, but I'm learning to work around it. As I have mentioned before, this isn't OnePlus's fault, it's totally AT&T's. We have a cellular signal booster in our home, but it doesn't quite reach my office which is built into the south corner of our back porch. When I need to make a call, I generally go outside (where the 4G LTE signal isn't rebuffed by our metal roof) or inside our house (where the booster benefits are in full effect, even with the metal roof).
As with the OnePlus 8, there is no stated IP dust or water resistance on the unlocked OnePlus 8T, but the T-Mobile OnePlus 8T comes with an IP68 rating. I don't generally get in our hot tub with my phone (like Kev does with his), so this isn't a dealbreaker for me.
One of the things I love most about OnePlus phones is that they give you a nearly stock Android experience. Out of the box and without having to update, the OnePlus 8T comes with Android 11. It also comes with OnePlus's OxygenOS 11 overlay, which I like because it is as close to a Google Pixel-like experience as possible without using a Pixel. The only complaint I might have made is that since I use Google Photos as my main gallery, I didn't like clicking the gallery icon in the camera and being taken to OnePlu's Gallery. It was easy enough to fix this, though, by pulling up the OnePlus Gallery app in search, pressing on it until the pop-up menu shoed, and then hitting Disable. After a warning about the end of the world and everything that might go wrong going wrong, the phone will allow you to disable the stock gallery. At that point, going into the camera app and hitting the last photo shown on the right will auto-magically pull up Google Photos. It works perfectly, and there haven't been any ill side effects. If I ever want the OnePlus native gallery again, I can just enable it in the app's settings. Mission accomplished!
Dan and I both bought the OnePlus One when it came out in 2014, and over the years I have owned many of their later models. I've watched the OnePlus's devices become even better over time, and while there's been a big price shift from the $299 that the original OnePlus One sold for to the nearly $1000 that their latest phones have cost, for the most part, I've felt it was justified. Where in the not too distant past, I might have loved the hardware but hates the camera, OnePlus has really stepped up. OnePlus continues to offer better features, faster speeds, larger RAM, and glorious displays with some of the fastest refresh rates available at any price. I can manage without wireless charging and Wi-Fi calling, but if those features were ever available on this device, I would call it perfect.
The OnePlus 8T sells for $749 unlocked; it is available directly from the manufacturer, T-Mobile, and from other retailers including Amazon [affiliate link].
Source: Manufacturer supplied review sample
What I Like: The gloriously vivid, large, and flat 6.55″ display; Cameras are very good; 120Hz refresh rate; Solid premium build and design; Highly responsive and accurate in-screen fingerprint readers and facial recognition; Top-of-the-line Qualcomm Snapdragon 865 and the Snapdragon Modem X55 5G modem; Dual nanoSIM slots; Excellent battery life; Warp Charge 65 is blazing fast!
What Needs Improvement: There's no wireless charging available; There is no IP rating on the unlocked version; No option for Wi-Fi calling if you are an AT&T customer (but that's not OnePlus's fault)
Want More? Follow Us Here!