Bargain basement Android smartphones have been around for years now, but the Kogan Agora Smartphone looks to change the landscape.
Many cheap models are available for under $200, but they all eschew large screens and fast processors to keep their prices down. The Kogan Agora Smartphone is just AU$149, unlocked and free of contracts. That's a good price on its own, but the spec sheet could easily be mistaken for phones costing over $100 more.
Starting with the display, a 5.0" IPS panel, by far the largest in this price bracket. The 800 x 480 resolution doesn't get close to the 720p and 1080p displays gracing the latest-and-greatest, but it really wasn't that long ago that the Samsung Galaxy S II, a very popular phone, was touting the same number of pixels.
Pixel density isn't super high on the Agora Smartphone, but at a normal distance it's not especially noticeable. Since it's not AMOLED, there is no Pentile matrix to worry about. The IPS panel offers good brightness levels, though viewing angles aren't quite as good at the Kogan Agora 8 Tablet we reviewed recently. Using the Agora Smartphone outside didn't pose any major issues.
The other highlight is the 1Ghz Dual-Core CPU, which makes the mostly clean version of Android 4.0.4 run smoothly.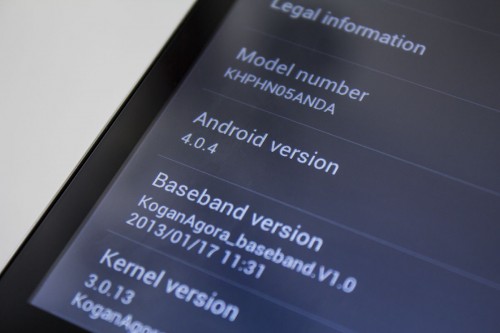 The 512MB of RAM is reasonable, though the 4GB of integrated storage will send you hunting for the maximum supported 32GB microSD card rather quickly. The body of the Kogan Agora Smartphone is all plastic, and very reminiscent of some previous-generation Samsung phones (notably the Galaxy S II and Galaxy Nexus).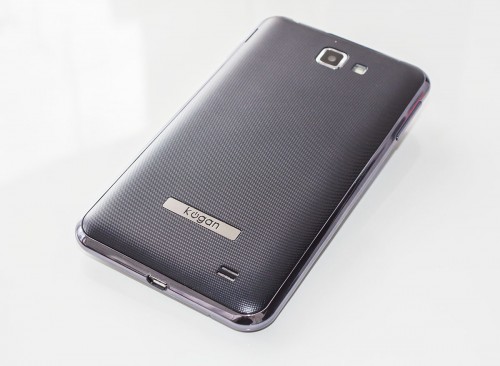 Thanks to it's overly-generous display size, the Kogan Agora Smartphone is quite large, and the bezels around the display preclude one-handed use for those with all but the largest hands.
The 180g weight is surprising too, given the phone's plastic build. Despite all the plastic, the Kogan Agora Smartphone feels quite solid, and not at all what you'd expect given the specs and price. That said, I wouldn't want to drop it as its hefty weight bearing down on the large glass display could end in tears. Still, you could buy a new one for less than a screen replacement for an iPhone.
Around the back is a 5 megapixel camera, and one area where the Agora Smartphone is showing its price tag. It's decent in good light, but don't expect the quality you get from leading smartphones. Considering most photos captured on people's smartphones are unlikely to make it past their virtual walls, it's hardly a deal breaker.
The battery cover is a plastic snap-on-snap-off affair, with a rather classy brushed-chrome Kogan badge adorning the rear. Pealing it off reveals the removable 2000mAh battery, microSD slot and dual SIM slots.
The first SIM slot is compatible with 3G networks, while the second is limited to 2G only. The thinking behind the dual-SIM capability is for better utilizing the deals offered by different networks. If you have friends on a particular network that offers unlimited SMS or calls between others on the same network, having two may save you money.
The included version of Android 4.0.4 has several useful additions, as well as a few annoying quirks.
The notification shade has its share of both. Up top you'll find a very useful set of scrollable toggles for things like WiFi, Bluetooth, Auto-Rotation and customisable ringer profiles. These are similar to widgets included by Samsung (see a pattern here?), and a welcome inclusion.
What isn't welcome is the constant pestering about not utilising the second SIM slot if you happen to have your life organised with just one carrier.
There is no way to disable the warnings nor message on the lock screen, which simply looks untidy and is completely unnecessary. Why the ROM designers thought this was acceptable is a genuine mystery.
Odd software quirks aside, the Kogan Agora Smartphone is very easy to live with.
Since the 2000mAh battery doesn't have to deal with 1080p displays and quad-core processors, the Kogan Agora Smartphone will easily last over a day of moderate usage.
With the display on full brightness, 3G radio on (with one SIM) and Bluetooth on standby, watching 90 minutes of video off a microSD card dropped the battery from 100% to 76%.
As with the Kogan Agora Mini 8 Tablet I tested recently, I'm very impressed by the smart balance of specifications, quality and price that Kogan has managed to achieve. Huawei's recently announced Ascend Mate (we covered the Australian launch last week) offers and even larger, higher-resolution screen at 6.1-inches and 720p, but it's nearly three times the price.
If you're looking for a smartphone with a large display, good battery life, and a very low price, the Kogan Agora Smartphone is worth your attention.
The Kogan Agora Smartphone can be purchased directly from the manufacturer.
Price: $149 (unlocked)
What I Like: Decent build quality, battery life, performance, price
What Needs Improvement: Dual-SIM prompts that can't be turned off
Source: Manufacturer supplied review unit
Want More? Follow Us Here!