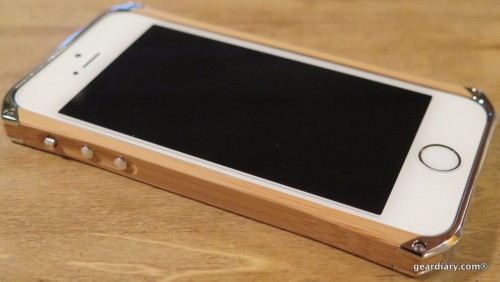 We've covered plenty of Element Cases on Gear Diary, but the Ronin Bamboo is by the far their most refined yet. Composed of hand-finished bamboo and machined aircraft grade aluminum, the Ronin is one incredibly light, protective, and beautiful iPhone 5 case.
Unwrapping a Ronin is like opening a bento box; there are layers upon layers of goodies — things you might or might not want to use, and tools to make everything work well together.
This slideshow requires JavaScript.
Installing the case is very easy — just use the special wrench to remove the two screws at the top of the case; once the metal bar has been freed, you can slide the iPhone 5 into the two side rails and down into the bottom metal rail. It's up to you about whether to install the included rash guards or not; I didn't.
The Ronin Bamboo has
CNC machined 6061 aircraft grade aluminum crowns with polished nickel finish
CNC machined, hand finished natural bamboo rails
CNC machined aluminum controls which cover the power button, volume buttons, and the mute switch
Once the Ronin Bamboo has been installed on the iPhone, it adds very little weight to the device and next to no bulk. The wood rails looks spectacular with the aluminum controls, and the screws on each corner along with the way that the bamboo dovetails into the aluminum … it's just a gorgeous effect, and one that you'll find yourself admiring as you use the case.
After using mine for several weeks, I have managed to find one con — that you can't use most after-market sync/charge cables with the Ronin. Element Case made the port cutout only a couple of millimeters wider than the Apple cable on each side, so if you have an extensive collection of aftermarket charging cables, as I do, you may be a bit bothered. Even so, I have several Apple cables that I keep around for charging, so it's not too big of a deal — but I would love it if the bottom had been left open so that any cable could be used. Ah well; it's just a minor quibble.
I've just returned from CES, and although I put the Ronin Bamboo on my iPhone the day before I left, I also packed the special tool in my backpack so I could remove the case if I decided it wasn't working for me. I think it says a lot about the case that not only was I never tempted to remove the iPhone from it while I was in Vegas, I'm home now, and the case is staying on my iPhone.
The Ronin Bamboo gets compliments, even from other reviewers that I know … and believe me, we are a jaded lot when it comes to device cases. The Ronin adds sufficient corner protection so that I am not overly worried about drops, and it even has a slight overhang for face and back protection. If you are looking for a protective case that is extremely refined and that won't add much weight or bulk to your iPhone, then you owe it to yourself to check out the Element Case Ronin Bamboo for iPhone 5/5S.
The Element Case Ronin Bamboo for iPhone 5/5S is available directly rom the manufacturer.
MSRP: $179.95
What I Like: Gorgeous wood and aluminum case that offers corner drop protection; includes screen protector and back protection; includes two extra screws in case you lose any; absolute refinement — it is like jewelry for your iPhone
What Needs Improvement: Be aware that the port at the bottom is only big enough for the Apple sync/charge cable and others that are similarly sized
Source: Manufacturer supplied review sample
Want More? Follow Us Here!