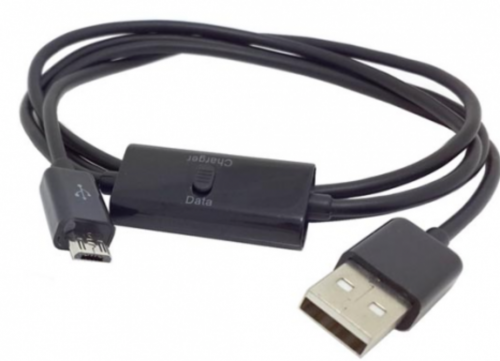 There's been plenty written about the possible consequences of using a charging/sync cable to connect your smartphone to an unknown power source while on the road. Security-conscious travelers fear their cable could be used for illicit purposes by a jerry-rigged charging port which secretly pulls data from their phone while it is charging. Enter the Data Sync Blocker.
Data Sync Blocker – USB A Male to Micro USB Male cable for Android Smartphones is a $3.99 cable which allows you to turn off sync capabilities with the flick of a switch. Because synchronization relies on only certain of the 5 pins found in a Micro USB A cord, this device disconnects the synchronization while maintaining the ability to charge your device.
Unsure about how trustworthy that public USB charging port is? Simply slide the connector to "charge" before you plug in and this cord will protect your device from giving up any data.

If you are at home, you naturally will sync (and charge your Android smartphone with your PC, however, if were out or at your office, you may just want to charge your Android smartphone, if you plug your smartphone with other computer, of course, it has no problems, just that it may have some little disturbances to you.

Here we have this cable for you to manage your smartphone. This cable is designed to have 1 button in the middle, one side is as any other ordinary Dock cable for smartphone – to sync with and charge your smartphone; if you just want to charge your smartphone, you may switch the button to another side, then no matter which PC / laptop that you are connecting to, it will just let the power to go thru from the computer to charge your smartphone, will not sync with and will not occasionally prompt you a signal to remind you.

This is specially useful for travellers and for using at office!
FEATURE(S)
Every Android smartphone (smartphones, e.g. Nokia phones) user needs one to ease their worries and problems with charging and / or syncing with their computer.
39 inches (or 1 meter approx.) long sync and charge cable makes this portable and easy to take along
Safely charge your Android smartphone from any computer without the hassles
Protects your music from being overwritten and erased
Plug and Play with no more warning messages
Works with Android smartphone power adapters, so this cable is the solution
2 Modes: charging mode, or sync & charge mode
Light Weight, compact, stylish, convenience
Synchronization and battery charging at the same time or separately through USB port.
No need to bring AC Adapter and cradle during travel.
1 Sync-Charger for 2 separate functions, save space for your home and office.
USB to micro USB for Android smartphone Connector
Compact and lightweight
This accessory is compatible with:
Samsung Galaxy S4 / siv / i9500 / i9505
Samsung Galaxy S3 / siii / i9300
Samsung Galaxy S2 / sii / i9100
Samsung Galaxy S1 / si / i9000
Samsung Galaxy Mega 5.8 / Mega 6.3
Samsung Galaxy Note II / Note 2 (N7100)
Samsung Galaxy Note (N7000)
Nokia Lumia 920
The New HTC One M7
LG Nexus 4
LG Optimus 3D
Any smartphone using Micro USB port to sync and charge
Colors Available:
– Black
Notes:
– Please select your desired mode BEFORE connecting your smartphone to your computer for use.
– All brand names and trademarks are properties of their respective holders and are referred to here for descriptive purpose only.
– Photo attached is for reference only, it may be slightly varied in items of colour, shape from the actual item delivered from time to time)
Specifications
– Length: 100cm (or 39 inches), approximately
– Net Weight: 59g approximately
Package Includes:
– Data Sync Blocker – USB to micro USB cable for Android smartphones x 1
Data Sync Blocker – Micro USB A Cord
Want More? Follow Us Here!