The Martian Notifier is my favorite kind of watch. Not only does it serve it's true purpose well, telling the time, it also can notify you when you have new alerts on your phone. It's a device that does what it's meant to and not much more…and that's what makes it great. You can purchase the Notifier for $129.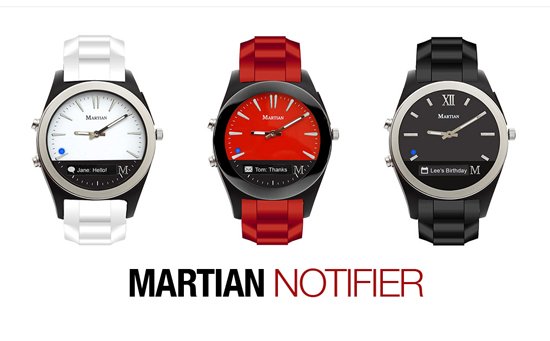 On it's surface, the Notifier looks like a nice analog watch, not some geeky technological device that's strapped to your wrist. The only difference, aesthetically, between the Martian Notifier and your normal, everyday watch is that the Notifier has a small OLED screen towards the bottom of the watch face. That OLED screen is used to display your new alerts, whether it's a new comment on Facebook, or a new text message.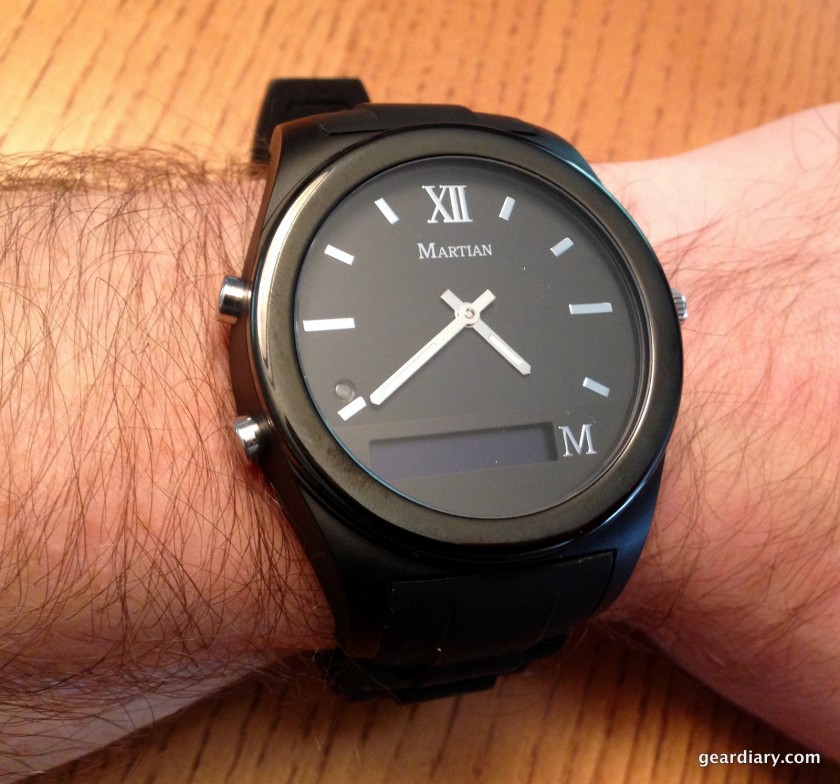 As I mentioned earlier, the Martian Notifier is made to notify you of new alerts on your phone via Bluetooth, whether it's an iPhone or Android device. It will vibrate to get your attention and then scroll through the first few words of the alert so you can decide whether or not you want to pick up your phone to view it. The watch is connected to your phone with a Martian Notifier app, which is very customizable. You can choose which apps you want to be notified about and you can even change the vibration pattern for different types of alerts, so you can tell what the alert is before even looking at the watch.
The Martian Notifier is NOT made to display entire text messages or emails, have apps installed on it, or have customizable watch faces like some of the other smart watches out there. The Notifier is designed for a select few features, and it's very good at what it does.
Other than custom app notifications, you can also use the Martian Notifier to locate your phone if you've lost it as long as you're within Bluetooth range. You can also initiate voice commands on your phone with one of the Notifier's buttons, whether its Siri or Google Now or S Voice. Another nice feature of the Notifier is the ability to use the watch to remotely trigger your phone's camera shutter. Plus, there's the ability to view the local weather on the watch, use silent alarms, or use it as a world clock.
Aesthetically, the Martian Notifier is very attractive to me. It's a sleek looking analog watch with a roman numeral XII at 12 o'clock and a Martian "M" logo at 5 o'clock. The black OLED screen blends into the black watch face most of the time, unless there's an alert scrolling along the screen. There's also a multi-colored LED alert light just above 8 o-clock, which flashes when you get an alert.
There are two buttons on the left of the watch and a watch crown on the right. When pulled out, you spin the watch crown to set or change the time of the analog watch. The bottom button on the left is used to turn the watch on and off with a long press. If you quick press the bottom button, you will display the current time in digital format on the OLED screen followed by battery status, Bluetooth status, day of the week, calendar day, and finally the weather. If you press the top button on the left, you activate your phone's voice commands. Did you know that the watch glass is also a button? You can tap the watch glass to dismiss a current notification or recall the last notification up to 5 minutes after the notification was received.
Above the watch crown is the charging port cover. The Martian Notifier is charged using a special microUSB cord with a longer microUSB tip that comes with the watch. This is unfortunate because if you lose it, you can't just use any microUSB cord you have lying around. The watch band that comes with the Notifier is made of a soft, comfortable silicone material. It is also removable, so you can purchase new watch bands directly from Martian.
Something that I was thrilled about was that the battery lasted a full week before needing to be recharged in my testing. And I would estimate that I receive over a hundred alerts every day. That's a great battery life, since you do not want to be recharging your watch every other day. Martian kept the analog watch battery and smart watch battery separate, so that when the smart watch battery runs out, you don't need to reset the time on the analog watch. It was a very smart decision by Martian, which should not go unnoticed.
Overall, I've been very happy with the Martian Notifier in my testing. It's a nice watch so you can wear it just about anywhere, but it also gives you discreet notifications with it's vibration motor and OLED screen so you don't have to take out your phone all the time to check for alerts. It also helps if you are somewhere loud because it's difficult to ignore a vibration directly on your wrist, but it's easy to miss a chime or vibration coming from your phone in your pocket.
Although it does not have the functionality of some of the other smart watches on the market, the Martian Notifier does what it does really well. If you aren't looking for a super space-aged smart watch, but still want a nice watch with some alert notifications, the Notifier is a fantastic option for your daily life.
You can purchase the Martian Notifier directly from the manufacturer.
Source: The Martian Notifier was provided to me as a review sample by the manufacturer.
MSRP: $129
What I Like: Beautiful analog watch; Nice vibration motor; Clear screen; Simple notifications; Comfortable watch band; Customizable notifications
What Needs Improvement: It would be much better if it used a normal microUSB charging cable
Want More? Follow Us Here!