WARNING: The products discussed may contain or use nicotine. Nicotine is an addictive chemical; in many cities and a few states, you must be 21 to purchase vaping products and/or products containing nicotine. Please familiarize yourself with and obey the law in your location.
In my 20s, I was the girl who'd have a drink in one hand and a clove cigarette in the other when out on Saturday nights. I was, as I referred to myself at the time, a "social smoker".
To be honest, I didn't even know how to inhale, but I liked the temporary buzz that I got while doing my little drink and cigarette juggling act on the dance floor.
These days, it's almost a shooting offense to light up — whether from habit or for occasional pleasure. There are very real health issues to consider — not only for those who smoke but also for those who are around smokers. And let's face it — tobacco cigarettes smell bad.
So … what's the solution if you're over the legal age and you want to inhale without being shot down by the smoke patrol? A product like the V2 Pro Vaporizer.

Measuring about 5." long and 0.5″ wide, the V2 Pro is a 3-in-1 vaporizer that can handle e-liquids, essential oils, and loose leaf tobacco depending upon which cartridge is inserted. The V2 Pro is able to recognize each type of cartridge when installed, and that allows it to perform accordingly.
I was set up with a blue V2 Pro Vaporizer and a plethora of tobacco and tobacco-free flavored oils. I'm not going to lie; the selection was a bit overwhelming. The V2 Pro comes with a liquid cartridge installed, and mine included a loose leaf cartridge as well.
The electronic cigarette refill liquids all contain Propylene glycol as their first ingredient — that gave me pause — because "Propylene glycol is used by the chemical, food, and pharmaceutical industries as an antifreeze when leakage might lead to contact with food." Even so, the "Food and Drug Administration (FDA) has classified propylene glycol as an additive that is "generally recognized as safe" for use in food," so there is that.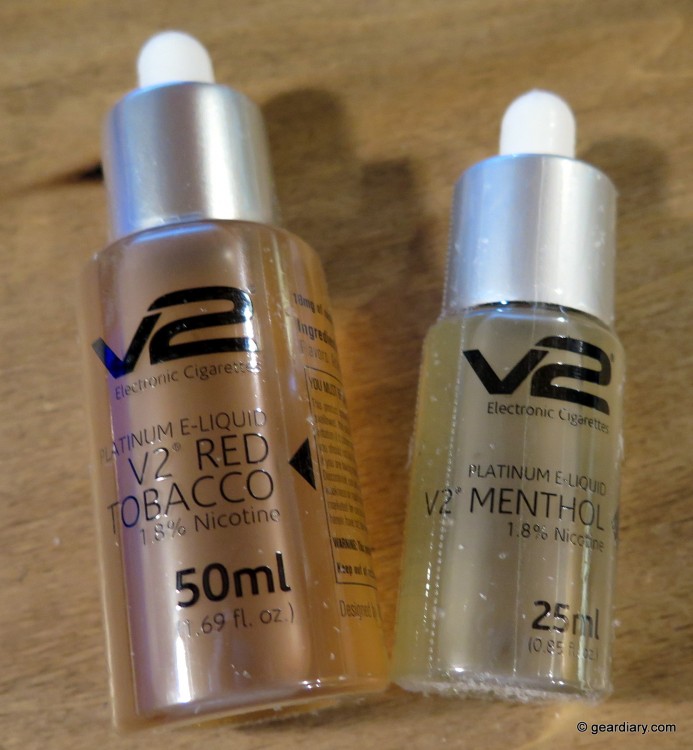 The next ingredients are vegetable glycerin, natural flavors and artificial flavors. If the refill liquid has nicotine in it, that ingredient comes in between the vegetable glycerin and the natural flavors. Boxes with refill liquid that contain nicotine include the health warning that "This product contains a chemical known to the state of California to cause birth defects and other reproductive harm."
My kit also included the loose leaf cartridge for those who are too lazy to roll their own cigarettes, but that aren't ready to give up on natural leaf products. The loose leaf cartridge includes cleaning tools — a pick for removing particles of used loose leaf, and a brush for cleaning debris.
The V2 Pro Vaporizer is not disposable; its body is made of painted aluminum, and it is intended to be used and reused, which is why it includes a USB charger.
I couldn't help but think that the magnet attachment on the bottom was pretty ingenious. When you plug the USB charger in and snap it to the bottom of the V2, an LED will glow red as the vaporizer charges.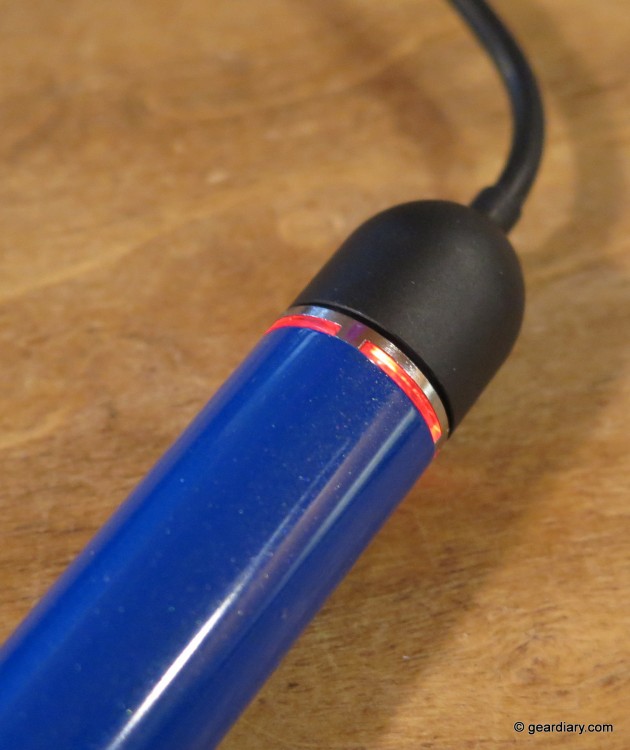 Once charging is complete, the end of the vaporizer will glow green.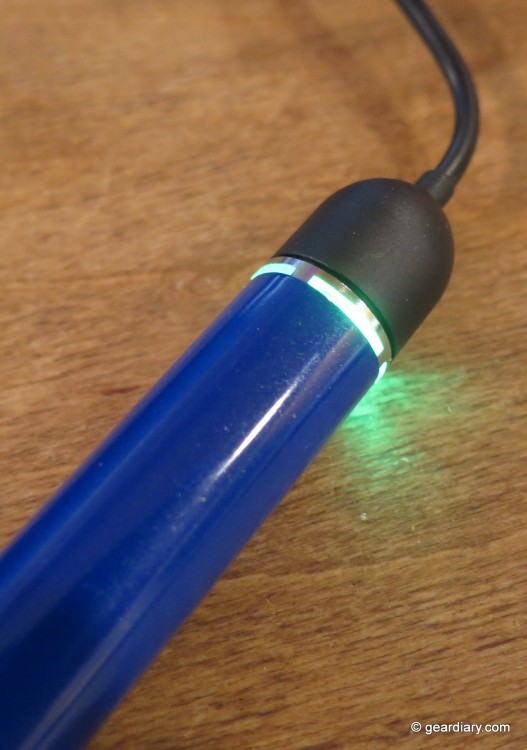 In order to fill the e-liquid cartridge with the refill liquid, you have to follow these directions …
Pull the rubber mouthpiece end out of the vaporizer
Unscrew the rubber mouthpiece cap
Open the V2 juice bottle (breaking the safety seal).
Carefully add the refill liquid to your cartridge — tilting it to the side to make sure you don't get refill liquid in the center pole of the cartridge.
It's recommended that after you fill the cartridge, you allow it to sit for 30 minutes before you use it the first time.
Similar to the way a reusable butane lighter will let you see what's going on, there is a long skinny window on the front and back sides of the V2 Pro Vaporizer's body; through that window, you can check your levels without pulling out the liquid cartridge.
There is a lock of sorts to make sure that a kid can't just pick up your V2 and start puffing away; to turn it on or off you have to press the large round button three times quickly. Then you'll just press the button again each time you are ready to take a puff. You turn it off by pressing the
Here's where things get crazy; you'll hear a little sizzle like something is burning (it's not). The LED ring around the silver button and on the bottom of the vaporizer will glow white .. and when you take a draw on the rubber mouthpiece — which I did for science, y'all! — a tremendous vapor cloud will come out of your mouth when you exhale. Well!
I have to admit that the V2 Red Tobacco 1.8% nicotine refill juice tastes kind of decent (all things considered, including the fact that I can no longer classify myself as even a social smoker), but if I were still a social smoker, I would be all over this — especially if there happened to be a clove flavor! Thank goodness there's not; I checked. I'm a little bit glad that V2 didn't include a chocolate refill, though, as I might have liked that. =P
The V2 Pro Vaporizer feels nice in your hand; it's about the thickness of a cigar, and when you use it you don't smell like you've been rolling in an ashtray; your fingers, teeth, and hair aren't going to turn yellow. There's something to be said for that.
Here's another thing that's cool about the whole setup: Let's say that you are a smoker, and you want to quit — or at least cut down — but you like having something to puff on, and you aren't quite ready to give up on your favorite oral fixation. The refill liquid bottles are available in 25ML or 50ML sizes, and they come in nicotine dosages of 2.4%, 1.8%, 1.2%, 0.6%, and 0%; in other words, by using the V2 Pro Vaporizer, you could actually eventually wean yourself off of nicotine.
That's perhaps one of the greatest reasons I can see to give the V2 Pro a try.
The V2 Pro Vaporizer kit is $69.99, and it is available directly from the manufacturer in black, silver, or blue, and you can buy additional liquid cartridges for $7.79 each. The loose leaf cartridge is an additional $24.99.
Source: Manufacturer provided review unit
What I Like: Refill liquids are available in 25ml (0.85 fluid ounce) and 50ml (1.69 fluid ounce) sizes; refill liquids are available in various flavors including menthol, cola, and chocolate and they come in various nicotine strengths; extremely easy to operate; satisfying vapor puffs
What Needs Improvement: Nothing — it seems to me that if you're going to smoke, this is a pretty ideal way to do it