Lifting the laptop's lid reveals a ThinkShutter switch at the top which covers the lens for the front-facing camera (it will show a red dot when the camera is covered); this is a great security feature for those of us who saw Snowden and were left (justifiably) freaked out. I like that the camera is where I expect it to be; all of the new keyboard pop-up cameras we are seeing are cool, but they aren't flattering when you are video chatting — just sayin'!
Underneath the switch are the ambient light sensor, the front-facing camera, and a microphone. The fingerprint sensor is to the right of the touchpad; I found it to be fast and responsive.
With Cortana Premium, you can speak commands to your ThinkPad X1 Yoga from 4 meters / 13 feet. The integrated 360-degree far field microphones ensure your voice is heard across the room. Wake your device with a simple phrase. Quickly and easily find files and calendar events. Even put your system into Modern Standby mode, which improves battery performance. So go ahead and speak your mind and boost your productivity at the same time.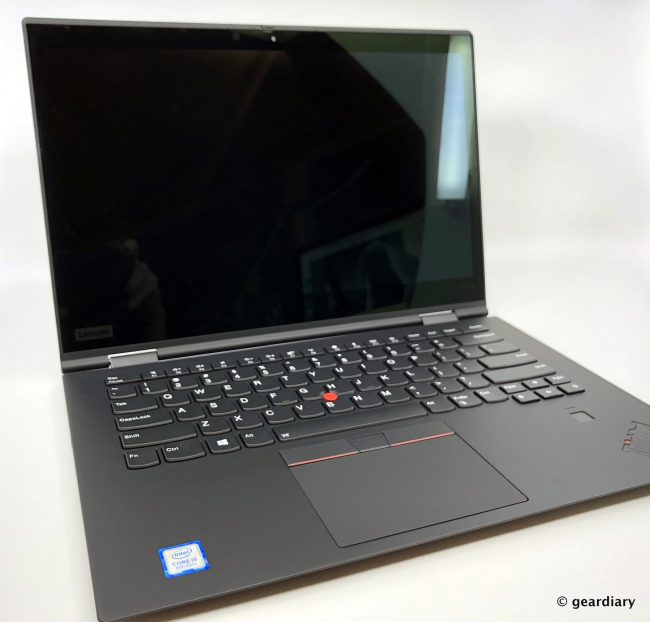 In the center of the G, H, and B keys, there is a red rubber TrackPoint pointing stick. The smooth glass trackpad measures ~4 wide by 2.5″ tall, and it has built-in right and left TrackPoint buttons. The trackpad is fully responsive and you can use it as you would any other trackpad, so you might wonder why there are physical buttons across its top: those are so that you can use the TrackPoint pointing stick as a proper mouse. You'll navigate around with the little joystick, and the buttons are in a natural position for right-click, left-click, and lock. This is handy for anyone who prefers using a mouse to using a trackpad, as there is no need for an extra peripheral.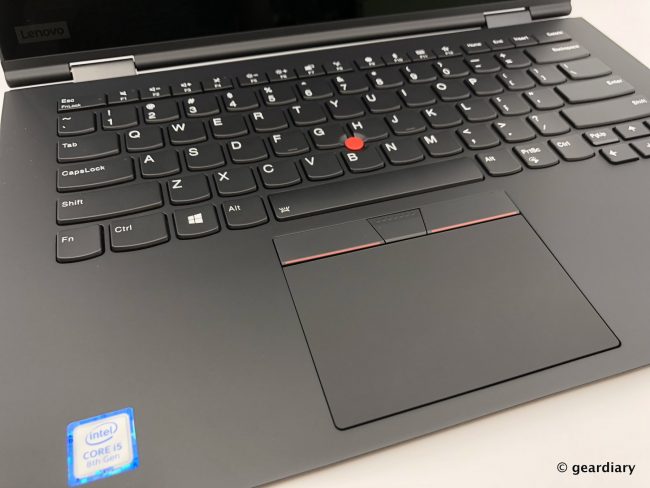 The backlit keyboard has lovely center-concave buttons with large printed letters. As I have mentioned countless times, I am more of an eight-finger typist versus being a touch-typist, but I loved using this full-size keyboard. The keys are higher than those on my MacBooks; they have excellent travel, and unless you are whaling away on them, they are exceptionally quiet.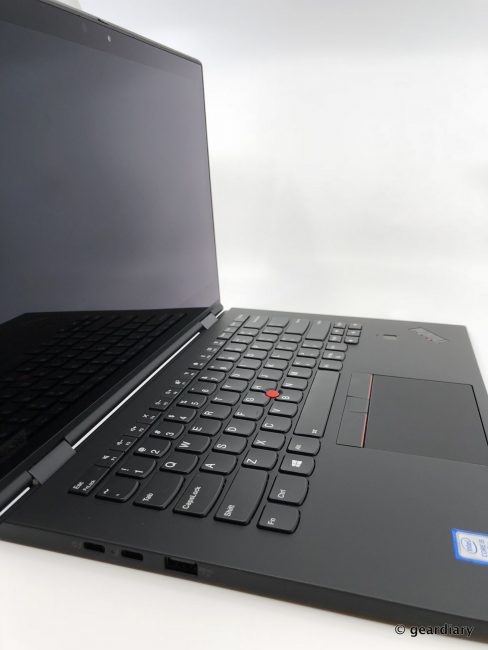 Worth noting is that the keyboard's keys retract when you rotate the screen; you start seeing them pull in as you swing the screen around, and by the time the Yoga is in tent mode, the keys are fully retracted.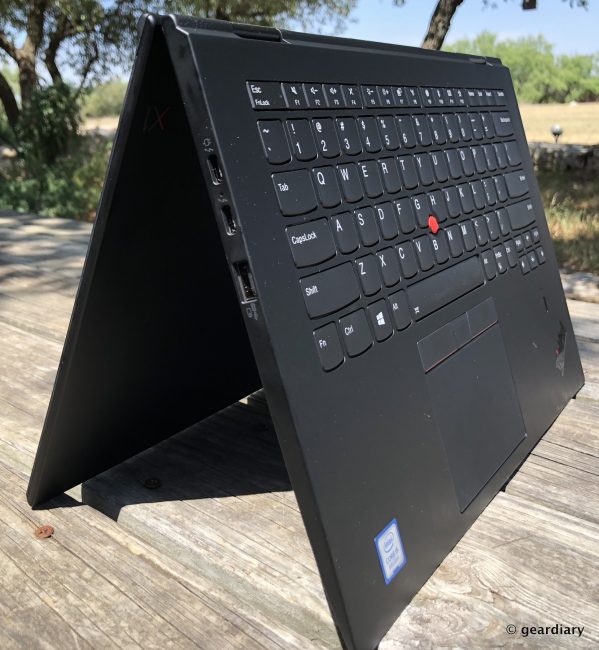 The retracted keys are most noticed (and appreciated) when the Lenovo ThinkPad X1 Yoga is in tablet mode; you don't have to worry about accidentally hitting any keys, and the back is smooth against your arm. In tablet mode, the Yoga is responsive and a joy to use.
The Lenovo ThinkPad X1 Yoga provides an excellent user experience. The combo of the SSD and processor gives you enough power to play games, work with power-intensive programs, and have a multitude of programs opened at the same time without stuttering or lags. Battery life is rated at 15 hours; I always have the screen set too bright to get this, but I have consistently got around 9 hours without changing my usual way of working; when it's time to top off, the laptop's RapidCharge technology provides 80% capacity in just one hour.
The Lenovo ThinkPad X1 Yogas has Cortana built-in, but it is also one of the laptops that will work properly with Alexa. This isn't available quite yet, but once it's out — you'll be ready.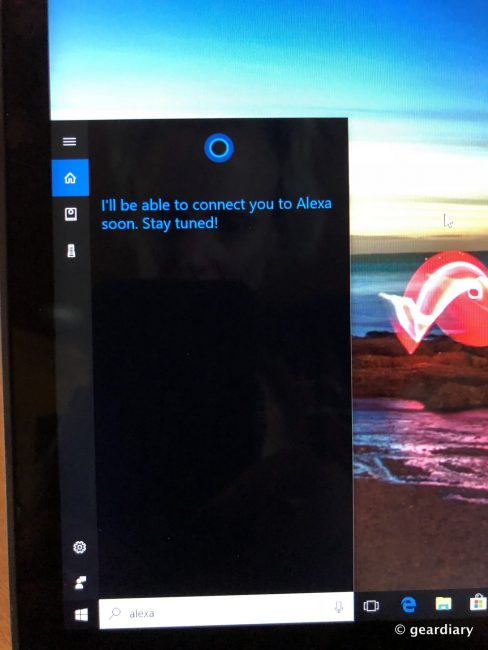 While I wasn't sent the model with a top-of-the-line screen, the 14″ FHD (1920 x 1080) IPS (300 nits) display is still vivid and bright whether you are surfing the web or streaming videos; I think you'll be pleased with it. The speakers are located on the bottom; they sound crisp and they can get quite loud; in other words, the Yoga X1 is excellent for creating or consuming media.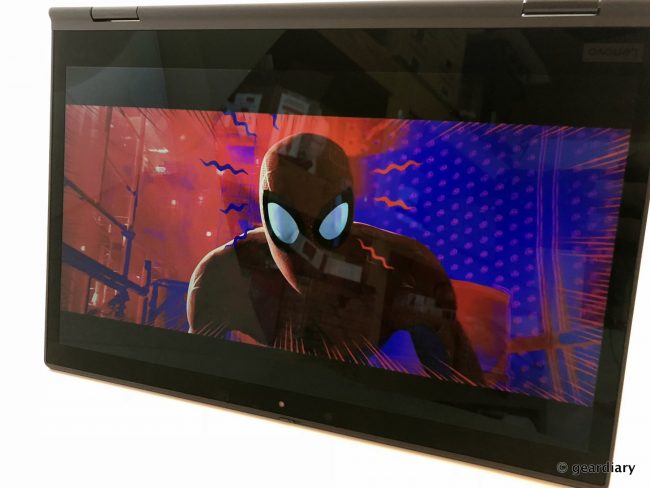 While the ThinkPad line has long been associated with business users and road warriors, the Lenovo ThinkPad X1 Yoga is a laptop that anyone would be thrilled to use. It is light, fast, responsive, and secure. While the price is a bit higher than most parents might want to spend on a college student's laptop, it would be a great investment that could see a student through college and into their first years on the job. The fact that the Yoga is so light makes it comfortable for daily carry.
The Lenovo ThinkPad X1 Yoga Convertible Laptop starts at $1503.90 ($1740.60 as tested), and it is available directly from the manufacturer and from other retailers.
Source: Manufacturer supplied review sample on loan
What I Like: Light yet sturdy; Bright display; It's fast and powerful; Excellent for business and personal use; Built-in rechargeable pen; Can be used as a laptop, tablet, or in tent mode for presentations; Amazon Alexa capability coming; All the ports you might ever need; Built-in camera cover
What Needs Improvement: Expensive