The Lowdown
The Escort MAXcam 360c does an excellent job detecting radar and laser on the road, and it has proven to be a more than capable dashcam solution. Other than being a bit pricy, I can't say enough good about the device itself.
The Drive Smarter app, on the other hand? I get what Escort was trying to do with it, and it would be great if it worked! But in its current form, the app is absolute trash.
The Drive Smarter app, on the other hand? I get what Escort was trying to do with it, and it's a great idea! But in its current form, the app is absolute trash.
Pros
Fewer false alerts than with most radar detectors
Can detect radar from a mile or more away
Simple in-vehicle setup
I like the new EZ Mag Mount
Voice and beep prompts to get your attention when there is a radar or laser event
Plenty of ways to customize the radar detector's settings to your specifications, and all are accessible through the PRG button on the detector itself
The built-in dashcam takes clear videos and is very useful
Includes a 16GB MicroSD card for the dashcam
Cons
The Drive Smarter app is buggy, laggy, and prone to crashing
Without the Drive Smarter app or a vehicle hot spot, the radar detector can't display the posted speed limit next to the speed you are currently driving
Radar detector is large and easily spotted when on the windshield
It's expensive
My first Escort radar detector was a boxy black contraption that had a volume dial, analog radar signal strength meter, highway/city toggle switch, and an alert light on its front … and that's it. Thirty-six years later, I've got the Escort MAXcam 360c in for review. This current generation Escort may still be a bit of a boxy black contraption, but it offers useful features above and beyond simply detecting police radar that can help improve a driver's situational awareness and safety, both on the road and in some cases, even when their vehicle is parked.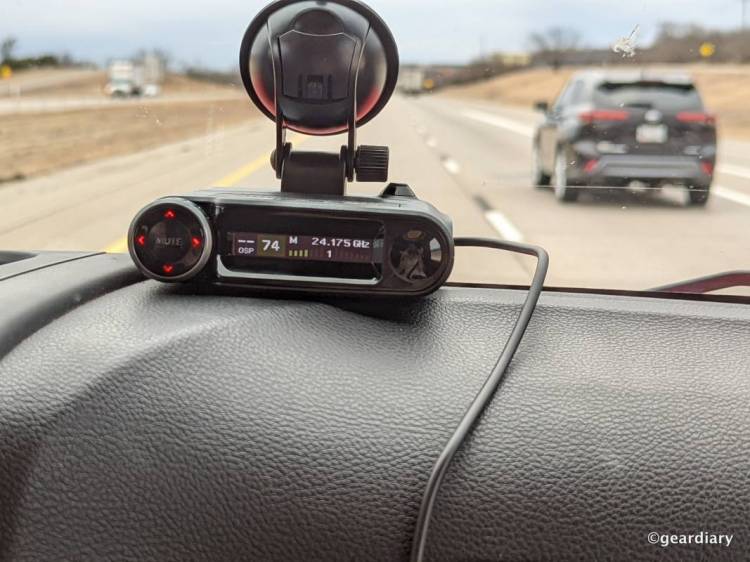 I've owned quite a few radar detectors since 1986, predominantly Escorts, Passports, and K40s. My Jeep Wrangler Unlimited has a custom installed K40 RL360i, and my husband Kev and I have an Escort Passport MAX that we shuffle between our family wagon and his work trucks.
Kev and I prefer driving vehicles equipped with radar detectors because they keep us aware of our speed and surroundings, and using them ultimately saves us money. More often than not, when one of our detectors goes off, it's because an officer has popped someone ahead of us who's entered an area where the posted speed limit has dropped. Hearing the detector's alert over a mile away from where an officer is actively radaring passing vehicles is a gentle reminder to check our speed, slow down a bit if needed, and avoid the hassle and expense of getting a speeding ticket.
That brings us to the Escort MAXcam 360c; it's the latest Escort device, and it's the brand's first radar detector with an integrated dashcam.
Why would you want a dashcam? Perhaps the number one reason is that the minute your vehicle starts, the camera starts recording when you have one. If you get into an accident, witness a hit-and-run, or some other bizarre thing that happens while you're behind the wheel, a dashcam can provide you with unimpeachable evidence of what really happened.
Here's an example of how having video proof can remove the "your word against mine" element in a freak accident.
How many times have you seen something absolutely crazy happen right in front of you as you were driving? Having a dashcam record everything not only eliminates any doubt about what you saw, but the video can also back up your story when you inevitably share it later.
Combining a radar detector and a dashcam into one integrated unit seems like the perfect convergent device, but only if the result is an excellent radar detector that also happens to be a superb dashcam. Is that the case with the Escort MAXcam 360c? Let's find out.
The Escort MAXcam 360c
The MAXcam 360c's features include:
Quick and accurate alerts are reported sooner than with other detectors, using directional awareness arrows that provide you with location information so you can drive smarter and safer.
An updatable IVT Filter that automatically reduces false alerts from moving In-Vehicle Technology sources such as collision avoidance systems and adaptive cruise control.
A customizable display that intuitively displays relevant information and device status at a glance.
Access to the DEFENDER Database, which warns you of verified speed traps, speed cameras, and red-light cameras.
Built-in WiFi and Bluetooth connectivity that connects you to the Drive Smarter app and community, with which you can receive over 100 million shared alerts a year and access local speed limit data for over-speed alerts.
The Escort MAXcam 360c uses the same Blackfin 706 DSP and SDR AD 9363 chips as their flagship detector, the Redline 360c. Escort says that the MAXcam 360c "performs slightly less than the Redline 360c," but the filtering is comparable.
The box includes the MAXcam 360c, a SmartCord USB, a mini USB Cable, an EZ Mag Mount, a 16GB MicroSD card, a quick start guide, and a carry case.
If you prefer a clean install without any dangling or visible wires, or if you want to enable the Parking Mode features on the dashcam (but your DC port doesn't have power when your vehicle is turned off), there's an optional direct wire that you can purchase.
At its widest points, the Escort MAXcam 360c measures approximately 5.3″ long by 4.3″ wide by 1.4″ thick, and it weighs 11.9 ounces.
On the top of the radar detector, there's an EZ Mag Mount area at the center closest to the windshield with a rear laser lens standing up next to it. In the center, there's a speaker, the Mark button for noting speed traps and other radar events, the Power button, and the Program button, which can be pressed and held to record emergency videos.
The Sensitivity button allows you to adjust the X and K band radar detection sensitivity/range. The BRT button enables you to set the LCD's brightness from Auto to Full Dark, Minimum, Medium, and Maximum brightness. You can access all other settings through the PRG button.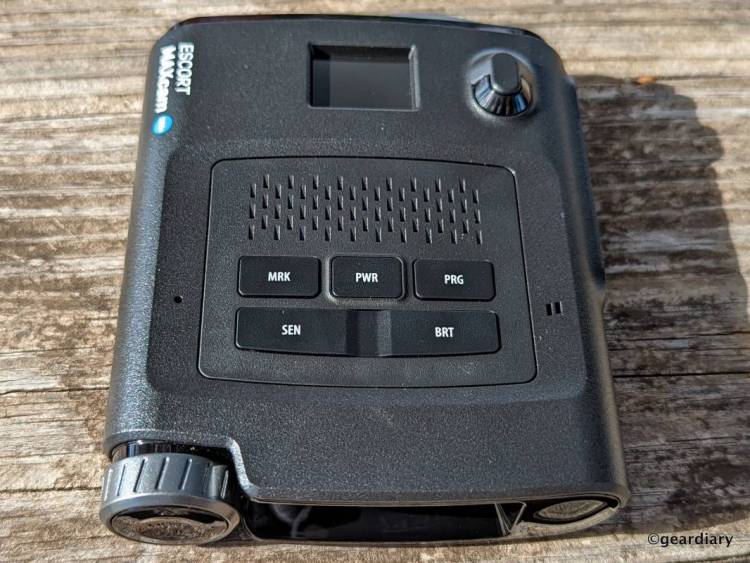 On the front of the Escort MAXcam 360c, there is a multi-function rotary volume dial with a Mute/Select button in its center with a 1.85″ long by 0.35″ tall LCD to the right.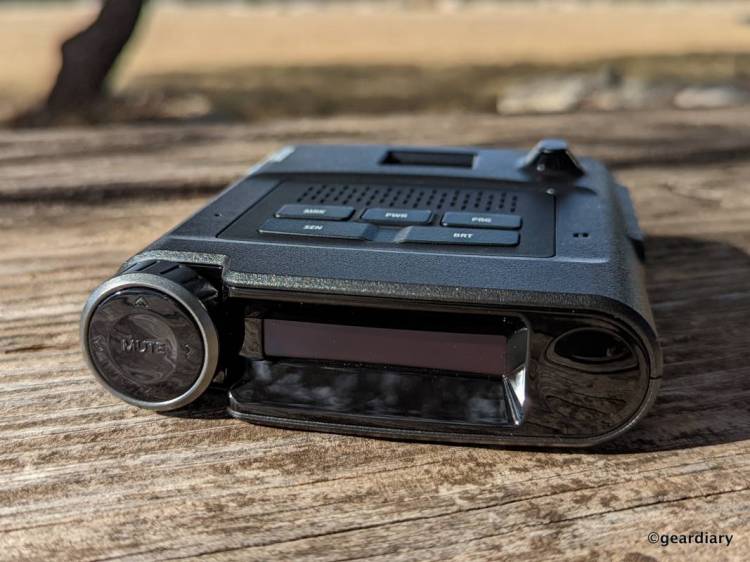 There are no buttons or ports on the left side.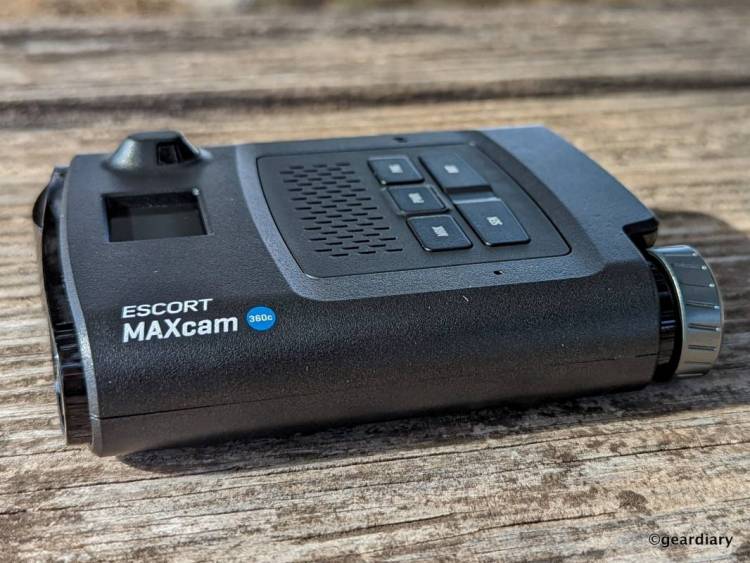 The back has a laser lens and the camera lens.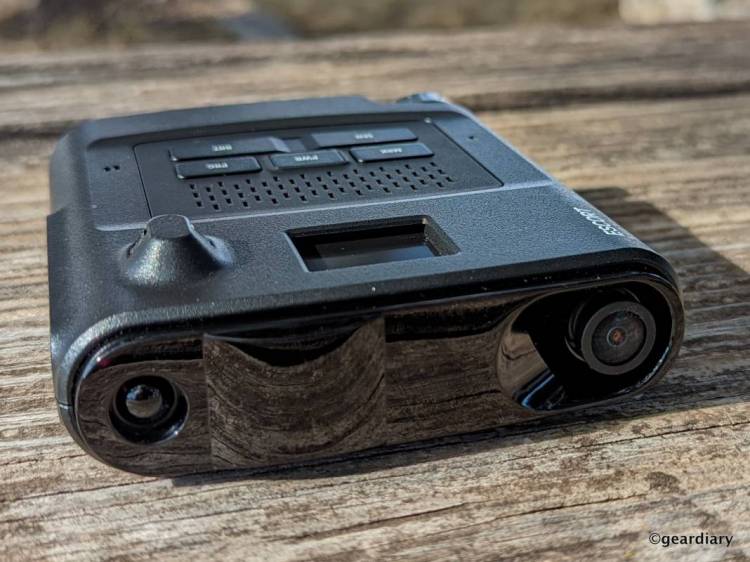 On the right side, there is a MicroSD slot, a mini USB port, a 12V power port, and a rubber plug that covers a 3.5mm headphone jack.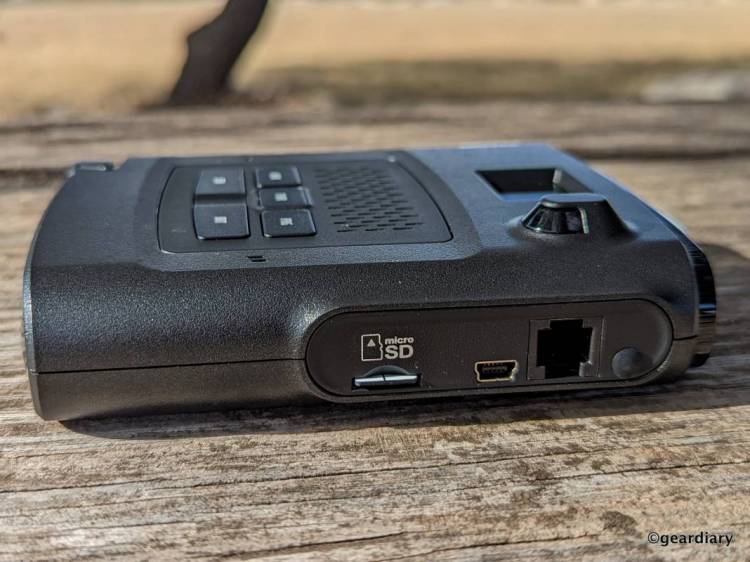 The SmartCord USB has a 20″ long straight cable section with a 10″ coiled cable section; on the DC end of the plug, there are Power and Alert LEDs, a 2A USB Type-A port, and a Mute button.
Before using the MAXcam 360c for the first time, you'll need to download the Drive Smarter app, available for iOS and Android. If you don't already have a Drive Smarter account, the app will invite you to set one up. Once you have a Drive Smarter account, you can add your vehicle and your new radar detector/dashcam.
You can follow the setup process by clicking the first photo to open a slideshow.
The Escort MAXcam 360c has both Bluetooth and WiFi; if your garage or carport has WiFi coverage or your vehicle has a WiFi hotspot, you'll want to set the MAXcam 360c to receive over the air updates. Firmware and database updates come regularly, so it's nice to have this OTA option versus regularly bringing the radar detector inside to connect with a computer via the miniUSB port.
Now it's time to install the radar detector inside your vehicle.
Instead of using a clamping method or slide-in system to attach the Escort MAXcam 360c to your windshield, this radar detector uses Escort's new EZ Mag Mount.
The EZ Mag Mount has a sticky suction ring that attaches to the glass and secures with a flip of the locking clamp.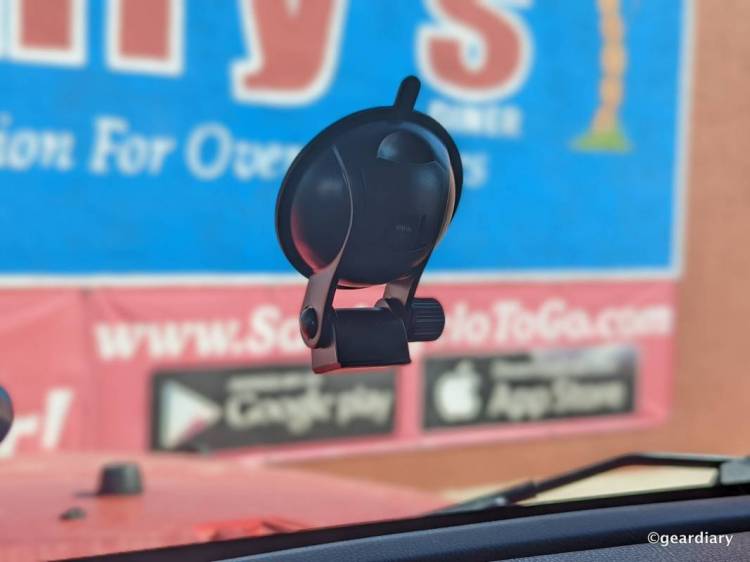 This mount makes it easy to attach or remove the MAXcam 360c from the windshield, as a simple tilting motion will lock everything in place or allow you to detach the radar detector from the mount.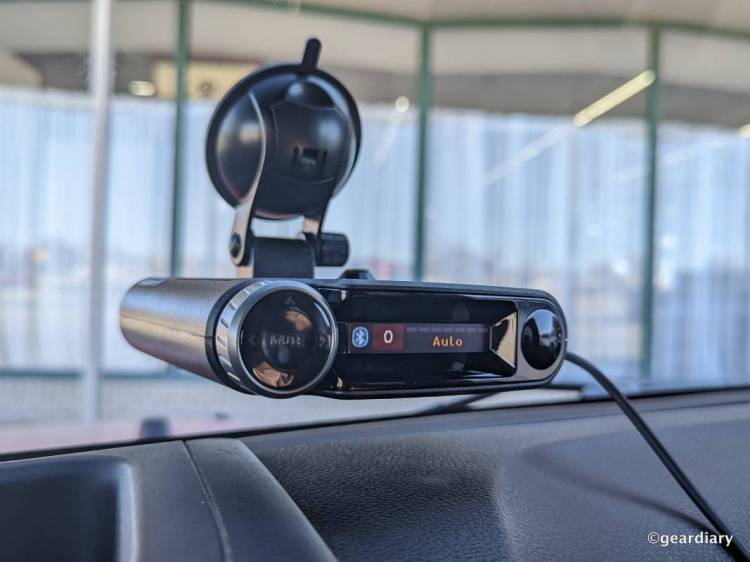 When you have the MAXcam 360c connected to the Drive Smarter app on your smartphone or to your vehicle's hot spot, if speed information is available for the road you are on, it will display next to your vehicle's current speed.
If you aren't connected to the Drive Smarter app or your vehicle's hot spot, that spot will show an Over Speed (OSP) alert if you have set one. Otherwise, it will show a pair of blank lines instead of the posted speed limit if you're connected to the Drive Smarter app or WiFi, but no speed limit is known for that particular road.
It was a bit confusing that I would often get the blank lines indicating that there was no known posted speed limit, especially on highways as busy as the one below. I chalk it to poor communication between the Drive Smarter app and the radar detector, which I soon realized would be a reoccurring theme.
With the MAXcam 360c connected to the Drive Smarter app, you'll see your current driving speed to the right of the current posted speed limit on the app's home screen; that area will be highlighted in red if you are speeding.
Seeing the two speeds side by side in the app is a great visual reminder, especially since the app seems able to display the posted speed limit even when the MAXcam 360c won't, but it's not super practical. To use this app while you're driving means that you need to have a portrait-oriented car mount, as the map screen will not rotate.
The map in the Drive Smarter app seems a bit superfluous anyway because it isn't there to help you navigate to your destination — it's used to make a note of any spots where you come across a speed trap or other hazard — and it works in a couple of ways.
The first is by clicking the Home screen icon with the exclamation point, which pulls up this screen.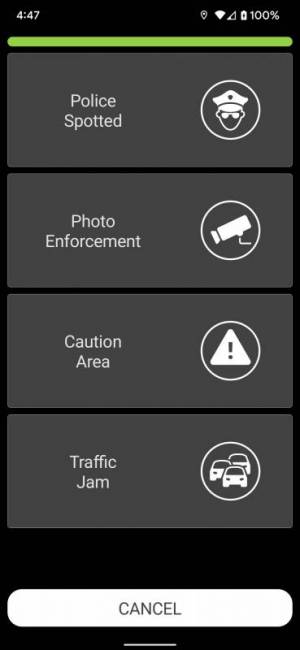 This screen has large buttons that you can use to indicate where police officers actively radaring are spotted, where photo enforcement is present, if an area you're driving through requires caution, and so you can make a note of encountered traffic jams — all information being shuttled to paying Defender Database customers. I'd ignore this particular distraction unless you have a willing co-pilot.
Side note: When you buy an Escort radar detector, you'll get three months of access to the Defender Database for free.
The other way the map comes into play is under the Dash tab on the Home screen. Here, you can see a list of detected threats, which are also shared with the Defender Database.
A quick look through the very detailed user manual shows that there are plenty of radar detector settings to fiddle with if you are so inclined. One of the features I like best is being able to select how to have detected radar displayed from these options:
Standard

Displays primary alert band with front signal strength bar graph

Standard FR*

Displays primary alert band and signal counter with front and rear signal strength bar graphs

Spec

Displays primary alert band with numeric frequency and only front signal strength bar graph

Spec FR

Displays primary alert band, numeric frequency, and signal counter with front and rear signal strength bar graphs

Expert FR

Displays up to four alert bands with front and rear signal strength bar graphs for each

Simple

Simple messages replace alert band and signal strength bar graphs: Caution (if traveling below Cruise Alert limit) and Slow Down (if traveling above Cruise Alert limit)
I appreciate that radar detector alerts don't go off randomly, and the mute kicks in quickly when alerts do sound. Most importantly, the detector quickly picks up legit radar signals — sometimes even a second or so before my K40.
But this Escort radar detector is also a dashcam, so let's take a look at how it performs.
The Escort MAXcam 360c as a Dashcam
When you have the radar detector plugged in, it will constantly take 1, 3, or 5-minute long video clips of what's happening in front of your vehicle in 1440p resolution with 143º diagonal and 120º horizontal fields of view.
The MAXcam 360c comes with a 16GB microSD card, and it will overwrite the oldest videos with newer videos as it fills up. The 16GB doesn't go very far, so if you have a larger MicroSD card, it's a good idea to use that instead; I have a 400GB MicroSD card installed, and it works just fine.
With the Drive Smarter app connected to the MAXcam 360c, you'll be able to see your recorded video clips from inside the app under the Gallery tab. You can also view all of your captured videos by removing the microSD card from the radar detector and plugging it into a reader on your computer.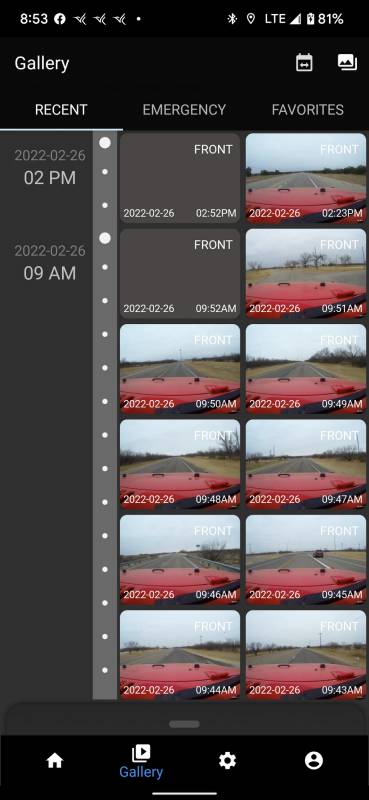 Here are some (thankfully rather uneventful) representative videos taken when I was driving at night and during the day. I figured you didn't need (or want) to listen to my audiobook, the news, or me singing along with the radio (you're welcome), so bear in mind that we've removed the audio that would usually be present in any captured videos.
The Escort MAXcam 360c's dashcam includes a built-in G-sensor, which can help the device determine if your vehicle has been in a collision. When a collision is detected, the dashcam will automatically lock the recording made at the time of the accident.
You can set the G-sensor to high sensitivity at level 1, medium sensitivity at level 2, and low sensitivity at level 3. I live down a bumpy ranch road, so after collecting serval erroneous "Emergency" event recordings with the G-sensor set to level 1, I've since set it to level 2, and that seems to have solved that issue. You can also turn the G-sensor off completely if you'd prefer.
If your vehicle has an always-on DC port or if you have the MAXcam 360c hard-wired into your fuse box, you can enable Parking Mode and Motion Detection. The idea here is that when you are parked, the dashcam will be "sleeping," but it will also be monitoring your vehicle's surroundings for motion and G-Sensor impacts. The unit will wake up and start recording if the dashcam detects motion or an impact.
Parking Mode might be a pretty cool feature if you have the radar detector mounted somewhere that isn't easy to spot from outside your vehicle, but unless you live in the boonies, leaving the detector plugged in overnight seems like an invitation for a thief to break into your car.
Let's Talk About the Elephant in the Room, the Drive Smarter App
In the Escort MAXcam 360c user manual, the Drive Smarter app is talked up as a place to 'receive crowd-sourced alerts, software updates, view, edit, and share camera footage. If the app worked reliably, that might be so; unfortunately, it does not.
In fact, my only issue with the Escort MAXcam 360c has to do with the Drive Smarter app because the app and the device don't always play nicely together.
It can take a minute or more for them to recognize each other and connect, and sometimes that connection won't happen at all. More often than not, when I am trying to connect, I'll get a notification that the MAXcam 360c is out of range — even when it is turned on and my phone is less than three feet away!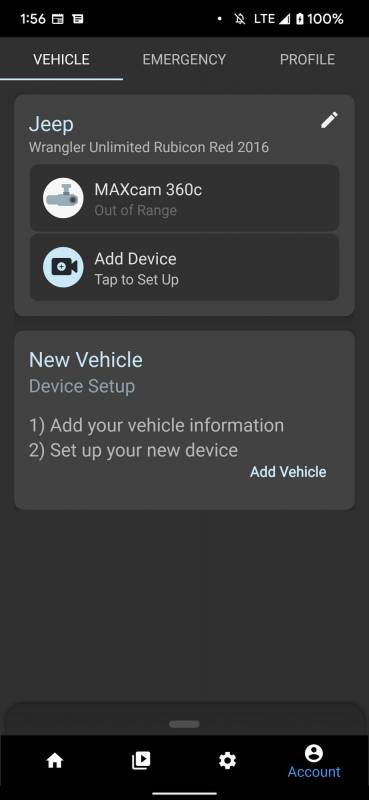 When I can connect, the Drive Smarter app quickly proves to be laggy and buggy; it frequently crashes, which is very frustrating.
Cue the smartphone resets, the plugging and unplugging of the radar detection, and on and on it goes; 8 times out of ten, it's a terrible experience.
When I can connect without the app crashing, the Gallery section will consistently show the wrong time with random blank video clip thumbnails.
If you select and open a video clip from the gallery, the correct location where the video was filmed will not display. Forget perusing videos through the app because they will pixellate and distort on replay; if you want to download a video, assuming the app doesn't crash, you can expect it to take up to 15 minutes.
If there is a video that I want to check out or retrieve from the microSD card, I've found that it makes more sense to just plug the card into a reader attached to my laptop and look through the videos that way.
I can't speak to the iOS version (although it has similar terrible reviews), but the Android version of the Drive Smarter app (which is currently at v2.12.0.4) is a hot mess.
Escort expects you to connect your radar detector to the Drive Smarter app on your smartphone for the MAXcam 360c to show posted speed limits and to get the other Drive Smarter "benefits" when you don't have an in-vehicle hot spot.
Ensuring that I am connected to the app means I have to sit in my car and fiddle with the app and radar detector any time I want to go somewhere. There is generally a powering down and then a repowering of the radar detector, a closing and reopening of the app, and sometimes a soft reset of my phone before I can get a connection which is not a good user experience at all.
Much of the time, the app refuses to connect; when it does connect, the app randomly crashes. Again, it's frustrating!
The only reason I even try to connect the app to the radar detector before driving anymore is with the hope that I'll see the posted speed limit displayed next to the speed I am traveling … which seems silly because I have a navigation system in my Jeep that will do the same thing.
Dealing with the Drive Smarter app is a disappointing experience; thankfully, both the radar detector and the dashcam work just fine without it.
The Escort MAXcam 360c does an excellent job detecting radar and laser on the road, and it has proven to be a more than capable dashcam solution. Other than being a bit pricy, I can't say enough good about the device itself.
The Drive Smarter app, on the other hand? I get what Escort was trying to do with it, and it would be great if it worked! But in its current form, the app is absolute trash.
The Escort MAXcam 360c Complete Driver Alert System retails for $849.95; it is available directly from the manufacturer and other retailers, including Best Buy.
Source: Manufacturer supplied review sample
What I Like: Fewer false alerts than with most radar detectors; Can detect radar from a mile or more away; Simple in-vehicle setup; I like the new EZ Mag Mount; Voice and beep prompts to get your attention when there is a radar or laser event; Plenty of ways to customize the radar detector's settings to your specifications, and all are accessible through the PRG button on the detector itself; The built-in dashcam takes clear videos and is very useful; Includes a 16GB MicroSD card for the dashcam
What Needs Improvement: The Drive Smarter app is buggy, laggy, and prone to crashing; Without the Drive Smarter app or a vehicle hot spot, the radar detector can't display the posted speed limit next to the speed you are currently driving; Radar detector is large and easily spotted when on the windshield; It's expensive