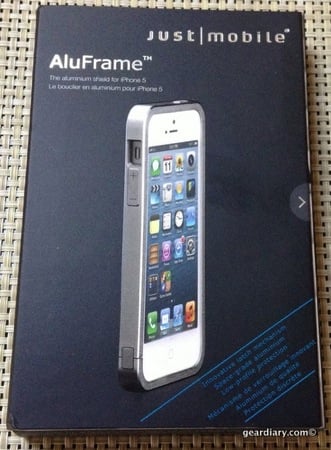 Leave it to our friends at Just Mobile to get the aluminum bumper frame for the iPhone 5 just right. Yes, Just Mobile AluFrame for the iPhone 5 is an aluminum bumper that makes all the right moves. It's gorgeous and refined, protects the sides and edges of the iPhone admirably, and, perhaps best of all, I'm not seeing any signal degradation when I use it. That last point is particularly striking considering the fact that this aluminum frame doesn't have any cuts or openings in it. (Many companies looking to create an aluminum frame without signal degradation resorted to open places that allowed the signal to freely flow.)
Yes, if you are looking for an aluminum frame bumper for your iPhone, then this is a great option. At under $70, it's significantly cheaper than many of the other metal bumpers on the market. As the company notes, "Just Mobile AluFrame is the high-design aluminum armour for iPhone 5. It wraps around your phone's vulnerable edges, encasing them in protective layers of rubber and metal – shielding your phone from scratches and chips without spoiling its design or significantly increasing its bulk."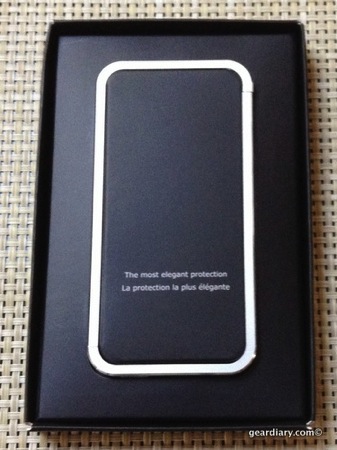 One of my biggest issues with most of the aluminum bumper frames for the iPhone that we have reviewed has been the challenge of getting it on or off. Early versions of this kind of case came as four different pieces that were individually screwed together to wrap around the iPhone. If you were planning on putting on the case and leaving it there you wouldn't have an issue, but if like Judie and me you are constantly changing up the case you use, it could get annoying as it took a good few minutes to unscrew all of the contact points and free your iPhone. It addition, if you were missing the small tool that shipped with those cases, then you had an even bigger issue because you wouldn't be able to remove your iPhone at all. With this case, Just Mobile has solved that issue entirely – well almost entirely.
Features:
Aerospace-grade aluminium construction

Low-profile protection from scratches and bumps

Innovative catch mechanism for quick removal

Compatible with iPhone 5

Protects from chips and scratches

Screen Protector (Front and back coverage) included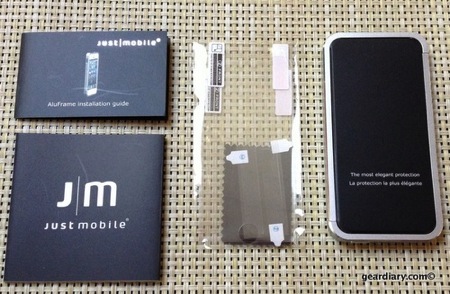 The Just Mobile AluFrame for iPhone 5 is a metal frame that is hinged at one corner and opens at another position. Open the case up and you can easily slide your iPhone inside or remove it. And once the iPhone is in place, you simply bring the two pieces of the case together and this innovative locking mechanism does the rest. It's a terrific system and it holds the case closed perfectly.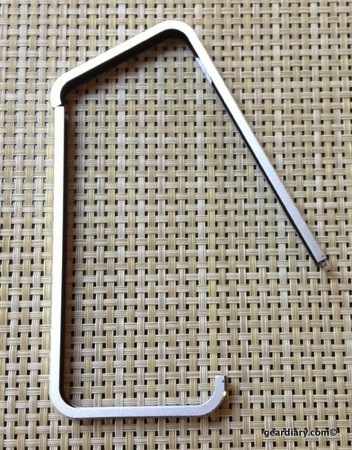 The company notes, "With its innovative catch mechanism, AluFrame can be attached or removed in less than a second with no need for tools or screws. And the high-quality aluminium construction means that AluFrame can keep protecting your phone for years."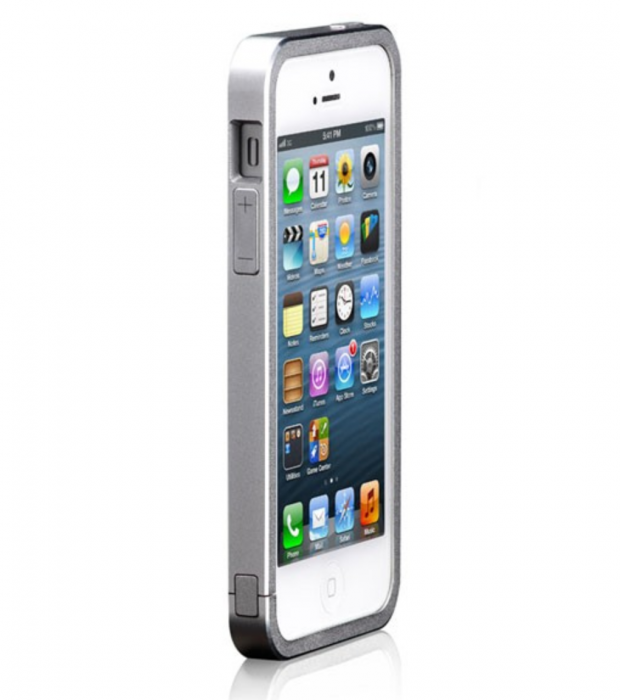 The issue enters the situation if you are someone with short fingernails. The latch needs to be pressed in order to free the case and remove your phone, and people with large fingers and short fingernails like me aren't going to be able to release it unless we have something to place into the open portion of the case latch. The good news is that the tip of a pen or a paperclip or something of similar size is all you need to release the latch and get your phone out.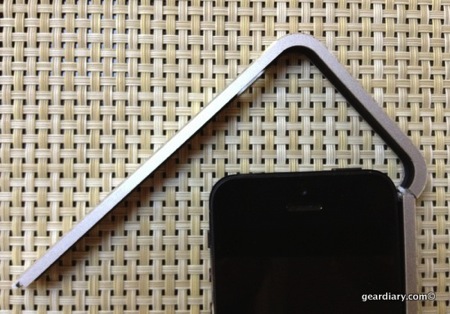 The inside of the metal frame is covered with a soft protective material. This serves to not only protect the iPhone from scratches, but it also adds a bit of pump protection since it should be able to absorb some of the impact for you to drop your phone. Whether this layer of material contributes to the signal strength being maintained or not is an open question for me, but it being their guarantees your iPhone will never be coming into contact with the metal of the frame – so long as you are careful when putting the case on of course.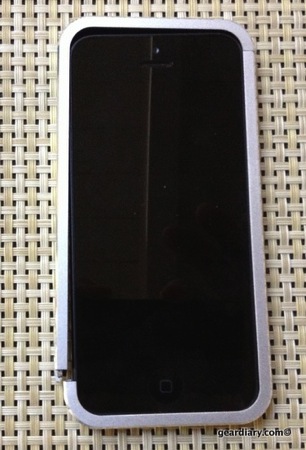 Since this is a bumper case, Just Mobile included both screen and back protection. The screen protection is a simple clear protector, while the back protection comes in the form of three pieces of film – one for the main body of the device and one each for the upper and lower segments of the back. Why they took this approach rather than simply having a full sheet for the back is anyone's guess but at least there is complete protection if you want it.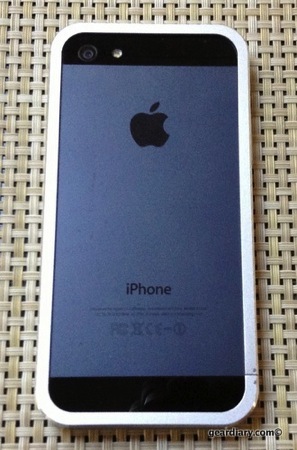 Once the case is on the phone, the look and feel is phenomenal. The metal frame is sleek, classy, and is consistent around the device. While some metal bumper cases take the approach of using segments that are reminiscent of the rattlesnakes rattle, and as a result they look fairly industrial, this case has cleaned and polished lines. It feels fantastic in the hand, and while it does add to the width and thickness of the iPhone, it maintains the integrity of the current iPhone's clean lines.
This slideshow requires JavaScript.
I'm impressed with this case and see it as a great option if you want to protect your iPhone, love the look and feel of aluminum, and if you want to maintain the refinement of the phone itself. At under $70 it's not cheap, but it's also less expensive than many other metal frame cases. You can learn more and order yours on the product page.
MSRP: $69.95
What I Like: Sleek; Refined; Easy to put on and take off; I'm not seeing any signal degradation; Under $70; Screen and back protectors
What Needs Improvement: If you want a refined bumper-style case for your iPhone 5 there's really nothing I can fault
Source: Manufacturer supplied review sample
Want More? Follow Us Here!