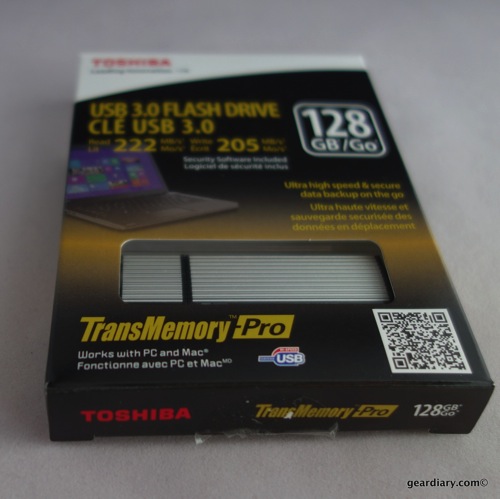 When I think back on how much I spent on small amounts of slow flash storage just a few years ago, I cannot help but shake my head. Who could have imagined there would be flash drives offering 128GB of USB 3.0 storage? That, however, is exactly what you get with the new Toshiba TransMemory Pro USB 3.0 Flash Drive.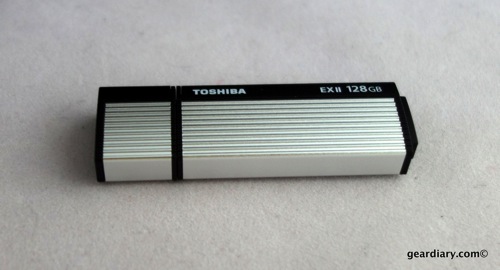 The Toshiba's TransMemory Pro USB 3.0 Flash Drive 128GB USB 3.0 flash drive (also available in a 64GB version) looks like your standard stick flash drive, but it packs a huge amount of storage speeds that will blow your mind. The company reports that you can get read speeds up to 222 Mb per second and write speeds of up to 205 Mb per second. In my tests, that wasn't far off from reality. In addition, the flash drive ships with security software that will help you create the files you keep on the drive so you can be confident that everything is safe and secure. Well that's almost accurate. I'll explain that moment.
In the Box you will find the Toshiba TransMemory Pro USB 3.0 Flash Drive, Built-in "EX II Pad Locker" security software and paperwork describing the 5-year Standard Limited Warranty.
The drive is advertised as working with Windows XP, Windows Vista, Windows 7, Windows 8, Mac OS 10.0.2 and above (USB 2.0 only). That's almost true. Again… I'll explain in a moment.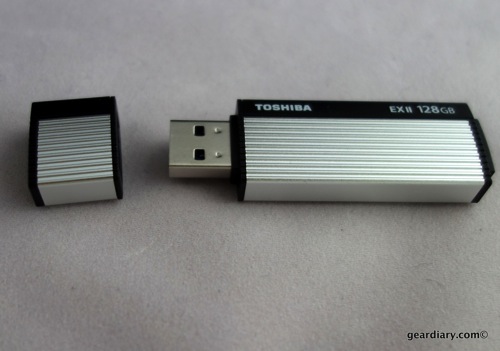 As Toshiba explains,
High Performance, Security, and Ultra Portability: Toshiba's TransMemory Pro USB 3.0 Flash Drive offers the ultra high-speed data transfer rate and large capacity storage that's perfect for mobile business executives, sales professionals, photographers and advanced users who need secure and convenient mobile storage solution for all their confidential documents, data and digital content.
Product Features:
Simple plug-and-play operation, works with any computer system with a USB 2.0 or 3.0 portsup>3.
Compatible with both Windows and Mac operating systems. Preformatted in FAT32, this Flash Drive works with both PCs and Mac® computers right out of the box.
Compatible with USB 3.0 & USB 2.0
Sleek compact design promotes easy data sharing and transport.
Solid functional design features an aluminum casing for added durability and removable cap that fits in the back of the enclosure.
Built-in security software (for Windows PCs) with password encryption protects data against theft or loss.
Create your own private and public partitions, which are password protected for safeguarding.
USB bus power means no external power is required.
5-year standard limited warranty2 delivers peace of mind.
Toshiba TransMemory Pro 128GB USB 3.0 Flash Drive Speed Test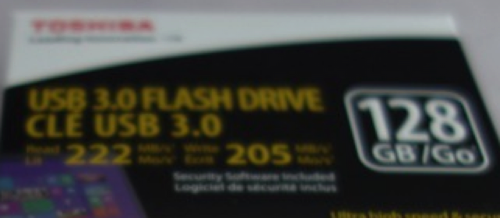 I tested the drive and found speeds that came close to the advertised Read 222 MB/s and Writes 205MB/s.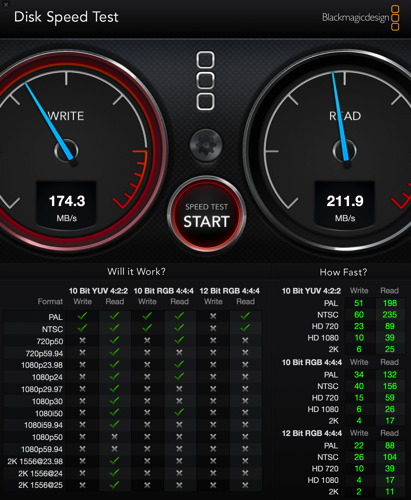 I would say that's plenty zippy for most of us!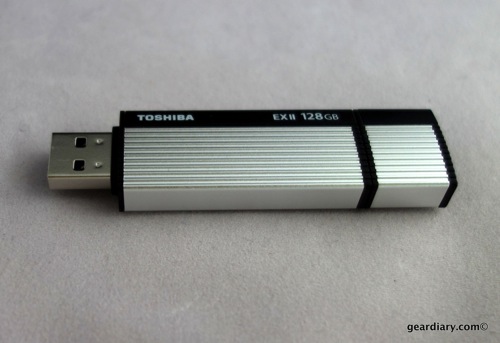 The aluminum body looks great. It is so thin and light that I initially thought it was silver-colored plastic, but I was pleased to discover that it is indeed aluminum. That speaks well to it enduring the bumps and bruises that comes with being thrown into a gear bag.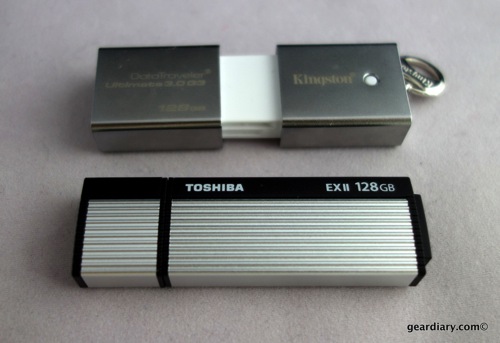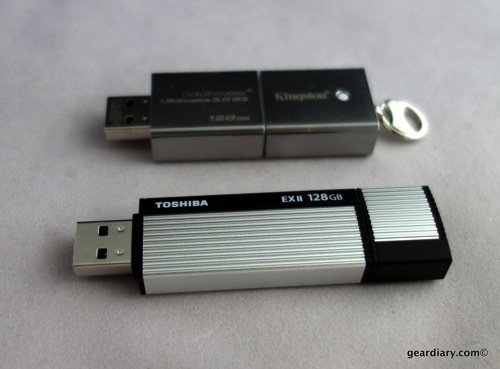 Strikingly, it has the same capacity as this Kingston DataTravelor Ultimate 3.0 G3 but is far smaller and lighter. I do have to admit that I prefer the heft of the larger drive. Still, there is something very nice about a drive that is as thin and light as the Toshiba drive while also offering a large amount of storage and fast USB 3.0 speeds.
All of which leads me to my biggest issue with the Toshiba TransMemory Pro 128GB USB 3.0 Flash Drive — compatibility. The drive is advertised as being compatible with both Windows and Mac OS X. The box even says, "Works with PC and Mac." That's true. The box also says "Security Software Included." That's true as well. The issue is that one or the other statement is true, but both are not true simultaneously.
You see, the security software is PC only; it doesn't work with a Mac. So I opened the drive expecting to be able to create a 128GB encrypted flash drive I could carry, only to discover that it works fine as a flash drive but doesn't offer security if you use a Mac. And while I know the product page does include the words, "Built-in security software (for Windows PCs) with password encryption protects data against theft or loss," the actual packaging does not make that clear. We'll have a followup post by Carly who is going to test and writeup the security aspect of this drive.
The Toshiba TransMemory Pro 128GB USB 3.0 Flash Drive is backed by a 5-year standard limited warranty, and it is quite fast. At $200 it is rather pricey, but fast large capacity drives are always premium products. I expect the price to come down rather quickly; I just wish there was Mac security software included as well.
Until March 31, 2014 you can save $30 when purchasing direct from Toshiba.
MSRP: $199.99
What I Like: Huge capacity so you can take tons of files with you; Fast USB 3.0 speeds; Solid aluminum design; Thin and light; Encryption software for Windows
What Needs Improvement: Encryption software is for Windows only
Source: Manufacturer supplied review sample of the Toshiba TransMemory Pro
Want More? Follow Us Here!