When I first purchased my Apple Watch, one of the last things that I thought I would need for it was some dock to make it sit up nice and pretty. Honestly though, why couldn't it just sit on my nightstand like my phone does?
Then three nights later I simply could not stand the clutter, or the fact there was a long white cord just dangling from the nightstand. So I got myself a dock that although great, and fully functional, the one thing that it didn't do is hide Apple's charging cable from my sight and just me enjoy just the watch, and the dock.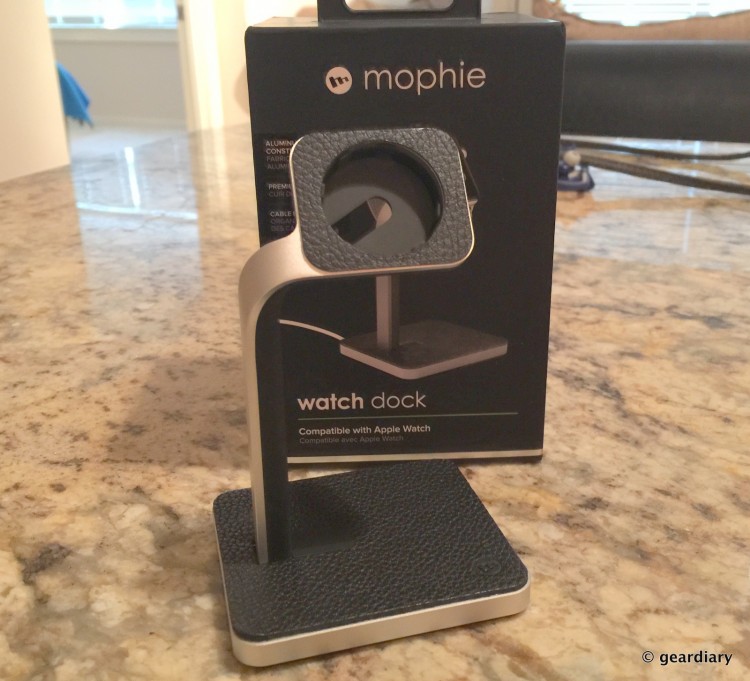 So when Mophie sent me over their Apple Watch Dock, I was actually pretty surprised. The $60 watch dock stand certainly isn't the cheapest dock out there on the market, but you know my motto is, you get what you pay for. Just like all of the other docks on the market, the popular charging case maker opted to elevate your watch and show off all its glory, separately. Most of the docks on the market try to make combination docks that dock your phone and watch, but in all honesty, I've yet to see one that does one in a classy manner, so I appreciate that Mophie stuck to just making a dock for Apple Watch and leaving you to your own devices on what to do with your smartphone.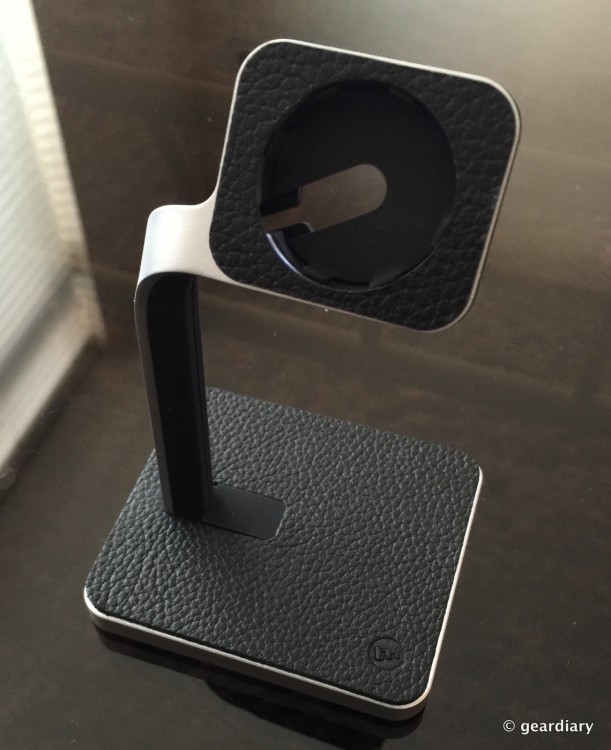 The case itself is leather and gunmetal aluminum which to me looks great on all night stands. If you've ever used Mophie's battery cases, you'll know that familiar look, minus the leather. The material to hold particular things in place are a black rubber material, such as the rubber that hides the cable cord on the arm of the Watch Dock, as well as the base of the device but we will get into that in a bit.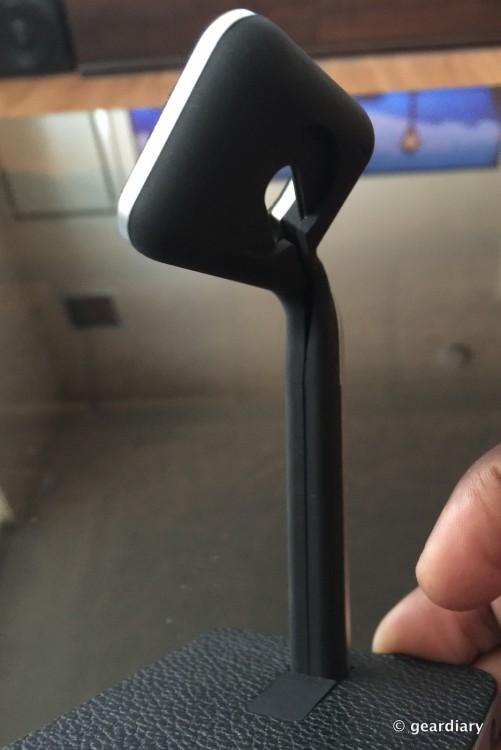 Where most cases literally just have a round docking that your charging connector fits in, Sophie's attention to detail shines bright as they house your entire cable's circular head into it's own holder, which is covered back, front and sides so it won't slip out when you need to take it with you on a trip or such. This to me is great because my last Apple Watch dock, although nice, the circular portion of the cable would fall out if maneuvered too quickly.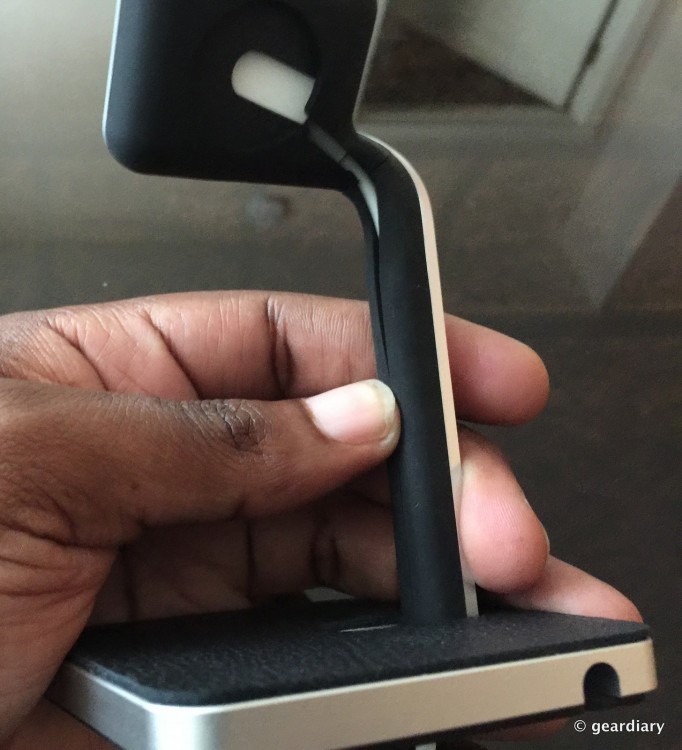 There is a cradle to the left of where you physically dock your watch that acts as a housing for your cable. The way this works is as you slip the cable into the leather, it runs along the inside of it, which is about four and a half inches in height.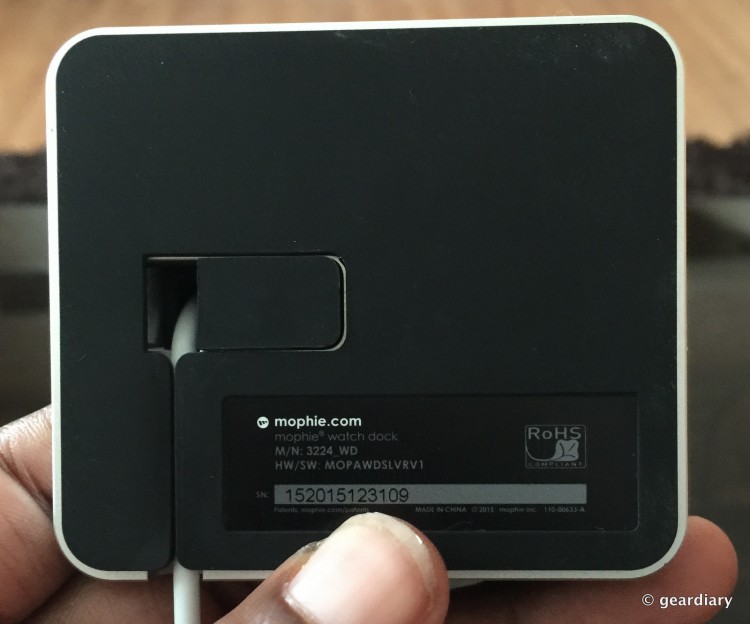 The bottom of the cable actually end up running through the awkwardly colored rubber piece that we talked about earlier, but the good part is that it the bottom of the dock is elevated so the cable sits underneath the rubber channel of the Mophie which was forward thinking on their part.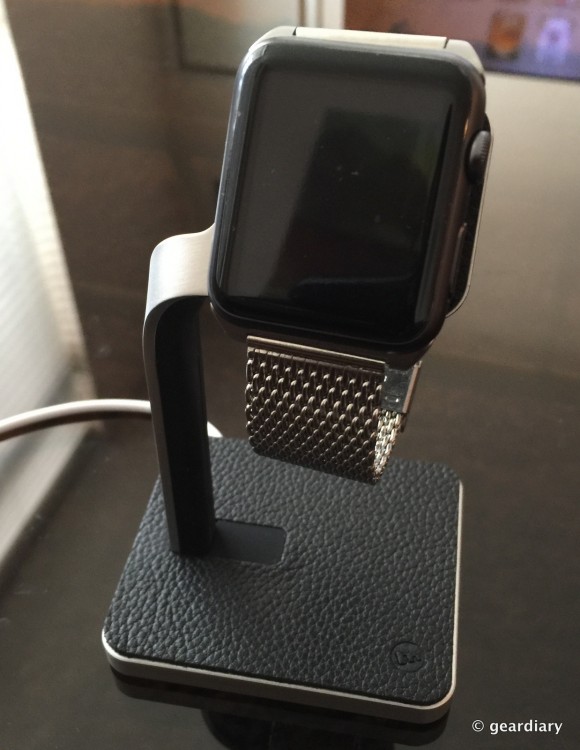 One thing that I cannot fault Mophie on is the fact they did not include their own circular magnet for your Apple Watch, because Apple only recently started allowing their third-party accessory program to be implemented, which means eventually you will see a few of these docks that won't require you to tote around your home dock on those business trips. I'm counting down until those days.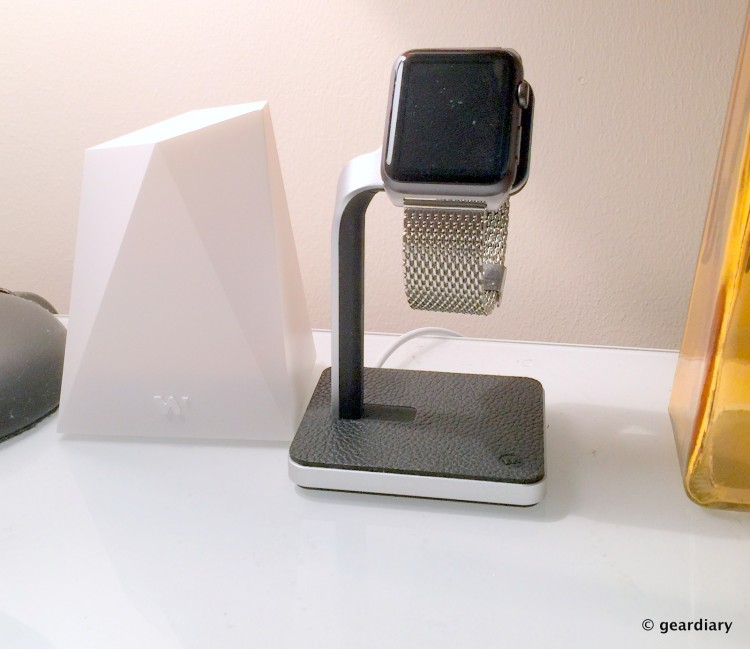 Overall, I like the Mophie best over the majority of the docks that I've seen, including the Nomad stand which implements the same "hidden cord" concept, but in a less stylish fashion than the leather approach Sophie's taken with the Watch Dock. Who knows, maybe when Apple lets up on the gas and allows other companies to catch up to them, Mophie will probably be the first — like they always seem to be.
Available now, you can purchase the Watch Dock for $59.99.
Source: Manufacturer supplied review unit
What I Like: Leather texture makes this stand out versus the competition
What Needs Improvement: Maybe more color options
Want More? Follow Us Here!