I've been shooting more video for personal enjoyment and for my church. It's for this reason I bought a GoPro Hero 4 Black a few months ago; it has since become my favorite camera. When given the opportunity to take a look at Pyle's new Compact ACTION! Cam, I thought: Cold this possibly be as good as a more expensive GoPro?
The answer is maybe.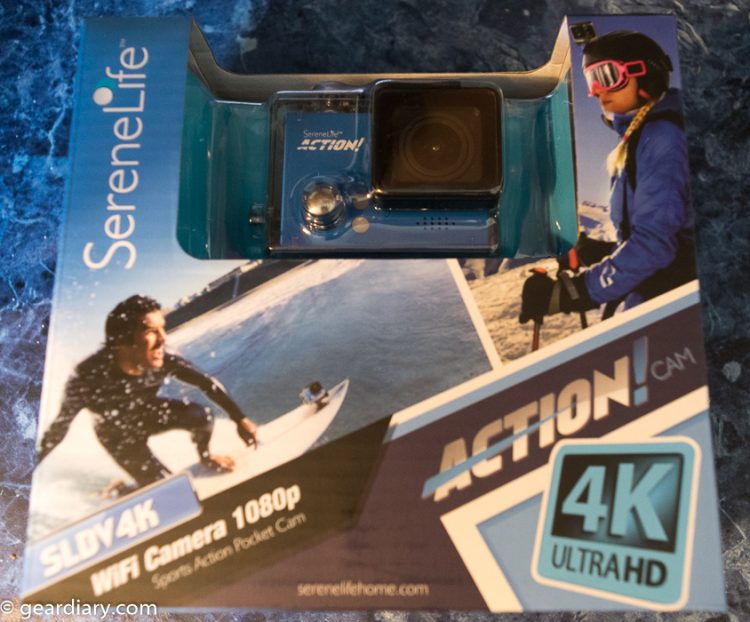 Pyle has become a lot like Polaroid has in the last view years, by putting their name on various products including this Action Camera. The actual model number is SLDV4KBL. This action camera promises 4K video just like my GoPro. It has time-lapse features as well as the ability to go where no other camera can go, thanks to its waterproof case just like the GoPro. My GoPro cost around $500 when I bought it, but this little camera promises much of what GoPro does, but it only costs $60.
One thing that is a bit confusing is that when looking for this on the web, Pyle's name is not anywhere on it. In many places, it's called the SereneLife Action Cam; that doesn't matter as it's the same camera.

This cam looks almost exactly like a GoPro with some minor differences in dimensions. Unlike my GoPro Hero 4 black, this camera comes with a screen on the back of it; with the Hero 4, you have to purchase a Bacpac to add a screen to the camera. That's hardly a reason to buy this over the GoPro, but it's also a plus for such an inexpensive camera.
This camera is so much like the GoPro that many of the accessories that work with GoPro will work with this camera including the buckle mounts. So from the standpoint of mounts available, it's similar to the GoPro and can use a lot of those mounts. This is a good thing, as it doesn't come with very many options and the ones it does come with are not very well made. The camera also comes with a remote that I could not get to work for some reason, but I find it easier to set up the shot and start it with the app.
The software is where there's a huge divergence. GoPro's Capture app controls EVERY aspect of the GoPro and it's actually easier to use the app to set up shots than it is to use the minuscule LCD on the front of the GoPro or the LCD BacPac. The Pyle camera is no different, except for the quality of the app. The Pyle Camera uses an application called XDV. While it does do the job, I've had it crash more than once when trying to set up a shot, and it just feels poorly done. In contrast, the Capture app is stable and pretty much always works. So this is one area where the GoPro wins hands down.
Finally, there is the quality. The video you see above is one I created using some footage from both the GoPro and the Pyle. For most basic stuff, the Pyle did pretty well! The video above is un-retouched, and I didn't even do the normal editing to remove the fish-eye effect in the GoPro footage. The Pyle video is a bit brighter than the GoPro, but I am happy with both. If you don't have a GoPro, but want something similar, then this might fit the bill. But if you'd like to take advantage of some of the Capture app features that the GoPro uses, then I would opt for the GoPro. GoPro did release the Hero 5 Black, and that's a very good alternative to either of the above cams.
If you want to get a little cam that can shot 4K in a pinch, this will do okay. Don't expect miracles. However, at lower resolutions like 1080p, this should do nicely, plus the time-lapse features are really cool. However, if you are looking at using this for professional videos, I'd go with a GoPro.
The Pyle Compact ACTION! Cam is $56.99 on Amazon.
What I Like: Waterproof camera that's ALMOST (but not quite) as good as a GoPro
What Needs Improvement: Sub-par software and cheap accessories
Want More? Follow Us Here!