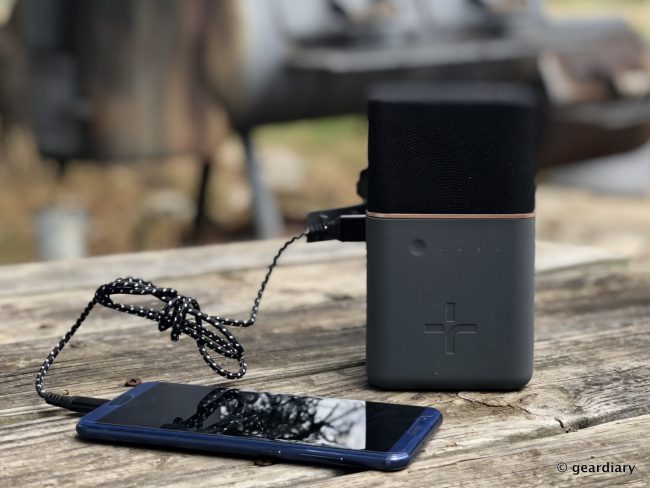 Summer is all about spending time by the pool, hanging out on the back deck, travel, and camping. The TYLT Block Party gives you a way to stay charged while outdoors while enjoying your favorite music. The Block Party is a combo portable Bluetooth speaker and 20,000mAh battery that can charge up to four devices at the same time.
It looks nice enough that you'll want to bring it inside, too.
The packaging consists of multiple layers of cardboard and some number 1 plastic; all can go straight into the recycling bin, and I like that.
Included in the box are the TYLT Block Party speaker and battery combo, a two-pronged charging cable, warranty information, and a user guide. The Block Party measures 6″ tall by 3.25″ wide and 3.25″ deep; the body of the battery is composed of what appears to be gray rubber over a gold aluminum, while the speaker top is largely a black plastic cube covered in black fabric mesh with rubber accents. The Block Party assembled weighs a substantial 2 pounds 1.7 ounces; the speaker by itself is 8.1 ounces and the battery base by itself weighs 1 pound 9.6 ounces.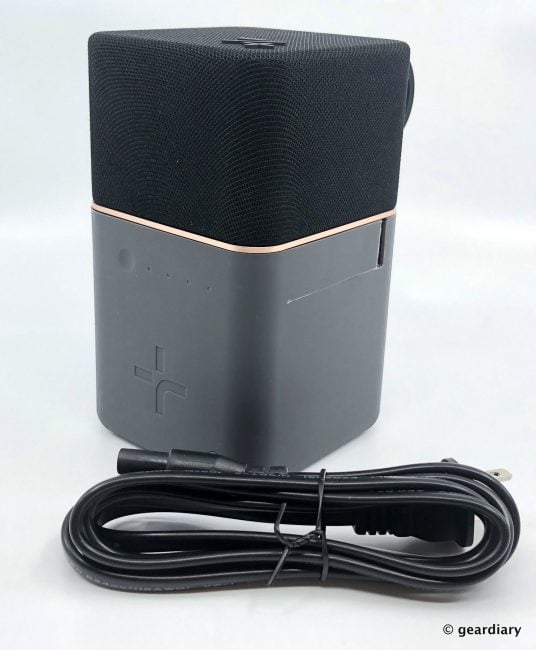 TYLT Block Party Features
Charging Station
• 20,000 mAh battery charges a smartphone up to 6 times.
• 4 USB ports can each charge devices at 2A simultaneously.
• Less than 8 hours to recharge internal battery.
• LED battery capacity indicator.
Bluetooth Speaker
• 4 hours of music playback.
• Up to 72 hours of music playback when docked on base.
• Conveniently recharges by placing on charging station base.
• Speakerphone for clear calls.
The Block Party is attractive enough to use inside or outdoors; the speaker is IP64 rated, which means it is dust and water-resistant, but should not be tossed in the pool. On the front of the battery, there is a button that when pressed will indicate the remaining charge in 25% increments.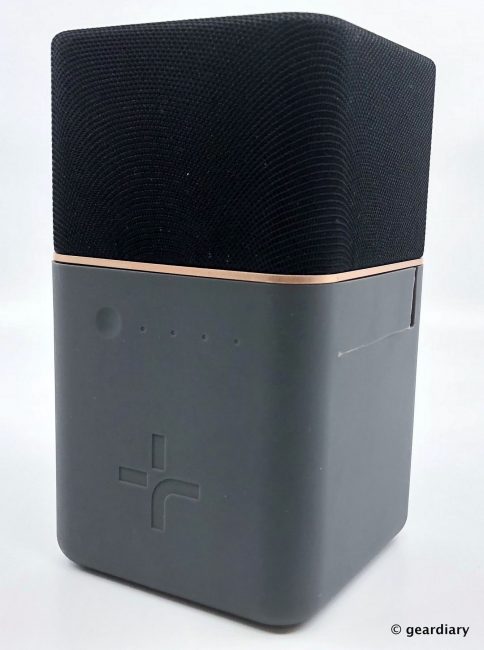 On each side of the battery, there is a rubber flap that pulls back to reveal two 2A USB Type-A ports for a total of four. When not in use, rubber tabs keep the flap tucked into the USB ports for dust and moisture protection. On the back, there is a rubber flap that covers the two-prong charging port. A 0.75″ loop handle makes for an easy grab-spot for transporting the Block Party.
The speaker is held to the battery base with a magnet; when the speaker is attached, it draws power and charges from the battery base.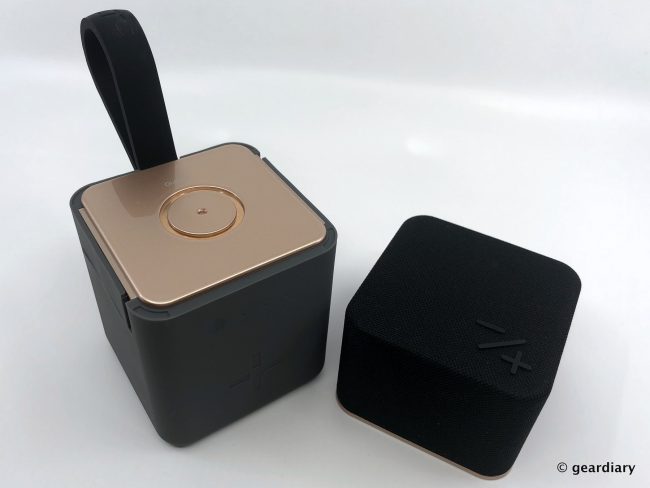 The speaker can be pulled from the battery base and used separately; it has rubber volume up and down buttons on the top, and on the back, there is a power button, a 3.5mm aux-in port, a microUSB charging port (for when it's being used separately from the battery base), and a Bluetooth pairing button. The speaker will automatically enter pairing mode the first time it is turned on, but if you need to add additional devices later, the BT pairing button is handy. If you are using the speaker without the battery base, you can expect up to 4 hours of playback, but if you set the speaker back on the base, it will recharge while playing.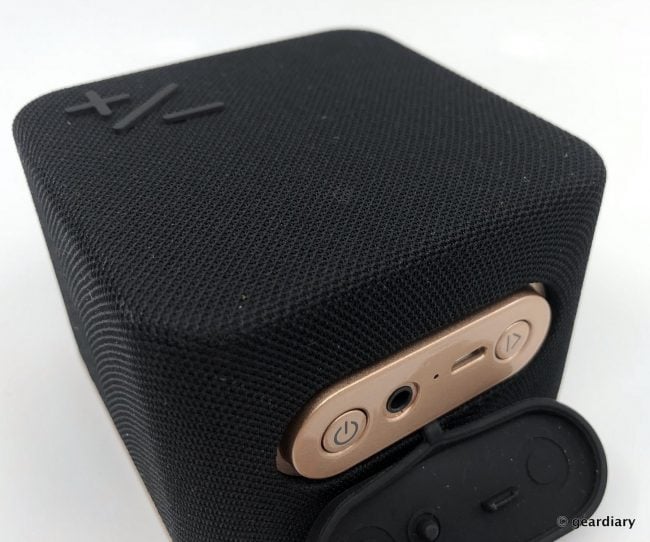 As mentioned in the specifications, it takes about 8 hours to fully charge the 20,000mAh battery base; if you have the TYLT Block Party set up in your home as a charging station, you can keep it plugged in and power other devices from the USB ports as needed. When using it away from home, the battery is large enough that you can enjoy days worth of music through the speaker, or a full day while charging other devices.
The speaker itself is small — just 2.25″ tall by 3.25″ wide by 3.25″ deep, but it is quite powerful. Bass is decent, but the speaker is not bass-heavy; the sound is clear, and the speaker is certainly loud enough for tabletop or poolside music. Inside, the speaker is loud enough to fill a small room without needing to be turned to max volume. At max volume on bass-heavy songs there is some bottoming out, but for the most part, it sounds very good and is a highly capable little party speaker.
The TYLT Block party combines a powerful 20,000mAh battery for charging up to four of your devices at once with an excellent yet compact speaker. The Black Party is highly portable, convenient, and water-resistant; you can safely bring it outside without worrying. It will be great for the next time you're at the pool, camping, or sitting on your deck.
The TYLT Block Party retails for $129.99, and it is available directly from the manufacturer and from other retailers.
Source: Manufacturer supplied review sample
What I Like: Attractive design; 20,000mAh battery with ports to charge up to four devices at once; The small, detachable speaker is powerful, and it puts out; Great for use indoors or outside
What Needs Improvement: There is some bottoming out on bass-heavy songs at top volume — which should be expected from a speaker of this size
Want More? Follow Us Here!