NuHeara IQ2 Buds aim to be more than just wireless earbuds; they also want to enhance your hearing, allowing you to hear what's going on around you more clearly. They'll provide you with a way to rock out to music, but also be able to hear more easily in a crowded restaurant. In theory, great. In practice…well, read on.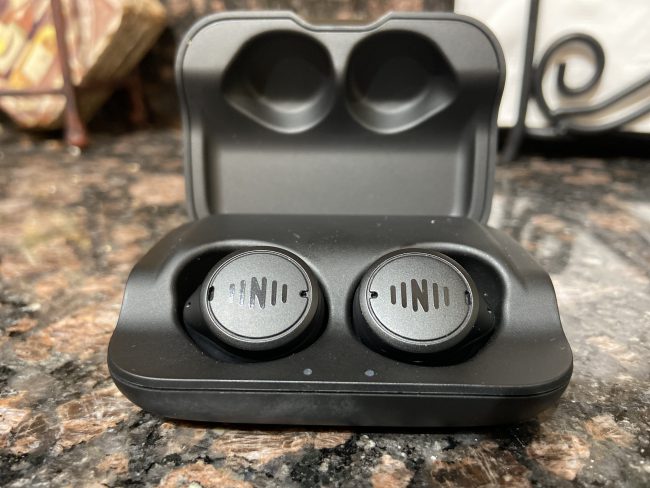 Let's start with the earbuds themselves. They're pretty typical wireless earbuds-their case also charges them, and they have multiple tips for fit. NuHeara says you can expect 5 hours of music playing and 8 hours of just EarID (which allows you to hear your surroundings more clearly). The case charges the earbuds back up in about 90 minutes and can be charged using a micro USB cable.
The sound quality is very good, and the included app gives you a lot of control over the headphones' ins and outs. First, you personalize the experience by determining your EarID. As you can see from mine, apparently, I have slightly worse hearing in a few areas in my left ear than my right. I noticed nothing dramatic, but I was straining to hear the testing tone on the 10-minute long setup. You do need a quiet room to get this test rolling, of course.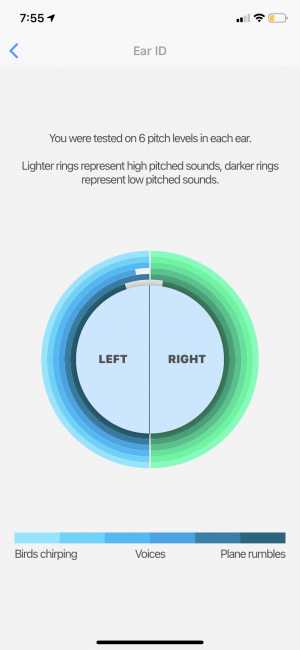 Once you've done the Ear ID, you can control several settings. You can turn "world mode" on and off, which allows you to hear more of what's around you. This is helpful if you're trying to write a paper and your child is watching the 10,000 Minecraft video of the day. Alternately, you can tweak how the world mode hearing is filtered, whether for all sound or speech in particular, as well as tuning it to pick up sounds in front of you specifically. NuHeara also offers IQstream TV, which allows you to pair the IQ2 Buds with a television streamer that lets you turn the tv volume way up without waking up half the house. We didn't test that, but I'd imagine it would be useful if you're all-in on the IQ ecosystem. Listening to music is pleasant on the IQbuds, and the few phone calls I made and received all reported the sound quality was good.
So if all that sounds good, why am I on the fence about them? Well, it's for two reasons, and they are both fairly personal, so they may or may not matter to you. First, I didn't find the IQ buds comfortable. They hurt my ears no matter which tips I tried, and in my ears, they just felt big and heavy. Admittedly, I often have some difficulty fitting earbuds to my ears well, but the IQ buds just felt extra awkward. It's worth noting the IQ buds are objectively heavy, or at least heavier than my preferred headphones. I still use the Hypersonics I reviewed over the summer, and they clock in at 9.7g, while the IQ Buds are 16.3g. That's a significant difference in weight; for reference, a nickel weighs 5g, so while it's not a huge amount of weight, it's noticeable.
The second issue where I struggle is the value proposition the hearing boost offers. It's certainly more affordable than hearing aids, and I'll even admit that as someone with minor hearing loss, I can hear a difference wearing the IQ Buds. But I can't walk around wearing them all day, both because the batteries would die and because they're not comfortable in my ears. Another factor is that wearing them in social settings would require me to constantly explain that "no, I'm not wearing giant chunky earbuds that tune out the world; I'm wearing giant chunky earbuds to listen to the world." They worked great, in that I could pop them in my ears and hear what my son was up to across the room. However, it was still hard to imagine I'd do the same in a noisy restaurant or other areas where I have hearing issues due to the social stigma of looking like I was rocking headphones instead of participating.
This issue is 100% personal — if I had longer hair and could hide the earbuds, or if they were smaller, or if I had more substantive hearing issues, I might feel differently. This is the kind of thing that's extremely personal because someone else might try these earbuds and be delighted with the immense amount of sound control the software offers, the sound quality, and the ability to enhance your hearing as well. The best advice I can give is to weigh your current earbuds and get a sense of whether you're comfortable with heavy (or heavier) earbuds, and determine how badly you want (or need) hearing-boosting earbuds. Maybe you'll find they work better for you than they did for me! But at $399 normally ($319 currently), they're a little too pricey for something that doesn't fit my needs perfectly.
The NuHeara IQ2 Buds sell for $399 (currently on sale for $319 on the NuHeara site); they are available directly from the manufacturer and from other retailers, including Amazon [affiliate link].
Source: Manufacturer provided review sample on loan
What I Liked: Excellent build quality; fast charging in the case; software lets you fine-tune the listening and hearing experience.
What Needs Improvement: Heavy earbuds; not comfortable for my ears; hard to figure out the value proposition.
Want More? Follow Us Here!