What's worse than being stuck at a desk for hours in an uncomfortable chair? Nothing. Autonomous is here to fix your aching back with their ErgoChair 2. The ErgoChair 2 is perfect for desk work, video gaming, and more when you'll be sitting for hours at a time. The ErgoChair 2 is made of quality, long-lasting materials and is selling now for $319.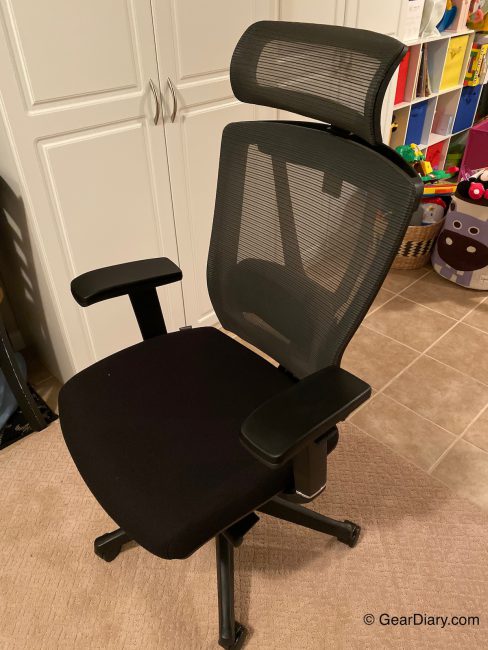 Autonomous' ErgoChair 2 is built to reduce fatigue by providing full-body support. The ErgoChair 2 puts your body in the best position for back and spine health, which also makes the sitting position much more comfortable. The back of the chair is made of a soft, breathable Korean mesh that hugs your back. The seat is made of a soft yet supportive foam that will hold its shape over time while still being breathable. The ErgoChair 2 is futuristic-looking, reminiscent of the original Herman Miller Aeron chair that revolutionized the design of task chairs.
Aside from cost-efficiency, the beauty of the ErgoChair 2 is the number of adjustments available to you to make the chair fit any body type thanks to Autonomous' mechanisms. You can adjust the lumbar support, the location of the armrests on the X and Y axes, the location of the seat front to back as well as the tilt of the seat, the height and tilt of the headrest, as well as the recline of the back. The ErgoChair 2 is certified by BIFMA (Business and Institutional Furniture Manufacturers Association) which is an organization that promotes safety and performance standard for consumer products, so you know Autonomous isn't some fly by night company.
Assembly of the ErgoChair 2 was very easy and was completed within 30 minutes using the tools that Autonomous provided. We were surprised to find that the included wrench was really helpful and we actually plan to hold on to it for future use. Our initial thoughts about the chair post-assembly were "what does this lever do? What does this switch do?" Once we figured out what all of the controls did, we were delighted to find how it was able to support our bodies comfortably for long periods of sitting. While the adjustments can appear daunting at first, the ErgoChair 2 lives up to its name.
You can tell that Autonomous designed a value-priced task chair with the ErgoChair 2, it doesn't stand out as a high-quality chair when compared to more expensive chairs by office furniture companies like Knoll or Allsteel. It has great features and is very comfortable, but it may not last as long as some of the other task chairs on the market under heavy use. The ErgoChair 2 lacks higher-end finishes like chrome as well as heavy-duty casters, but that's not to say that it doesn't have a place in your office or game room.
While I can't see myself recommending the ErgoChair 2 in corporate settings where they would get beaten up under heavy use for years, I can see the value in the ErgoChair 2 for home office or gaming use. The chair is certainly comfortable and is adjustable to fit any body, and the mesh and seat are breathable to allow for long-lasting sessions without getting to warm. Assembly was easy, the chair looks nice yet futuristic, and it is designed to hold up to 350 pounds while the chair itself weighs less than 50 pounds.
You can get your Autonomous ErgoChair 2 directly from Autonomous.ai.
Source: Manufacturer supplied review sample
What I Like: Easy to assemble; Comfortable mesh back and foam seat; Breathable material; Seemingly infinite adjustments to fit any body; Great price point
What Needs Improvement: Doesn't feel like it would last years under heavy use; The number of adjustments can be daunting
Want More? Follow Us Here!