Comments Rating
( reviews)
One of my favorite hobbies is smoking meats, and in Texas, we do it all year long. I have used several pellet grills, but all of them are in a traditional grill layout. Pit Boss recently gave me the opportunity to try one of their upright smokers. The $379 Pit Boss Pro Series-4 Vertical Pellet Smoker is my first upright experience.
The Pit Boss Pro Series-4 smoker packs 1,322 inches of cooking space on five porcelain-coated racks in a relatively portable size. The smoker is built on four easy to maneuver wheels, making it easy to use and store wherever it is convenient. The 5-in-1 cooking system has a temperature range from 150°F-420°F which should cover any cooking situation.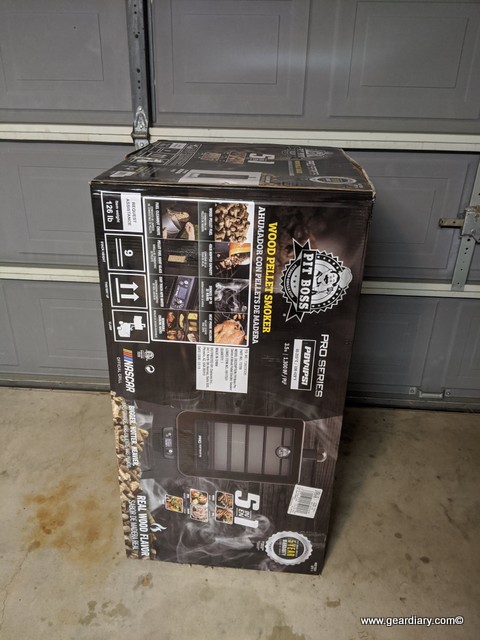 Assembly of the Pro Series 4 is straight forward and easy to follow. If you have skills with a screwdriver there should be no problems. The entire process took me just under 45 minutes, and I was following instructions carefully and not getting in a hurry.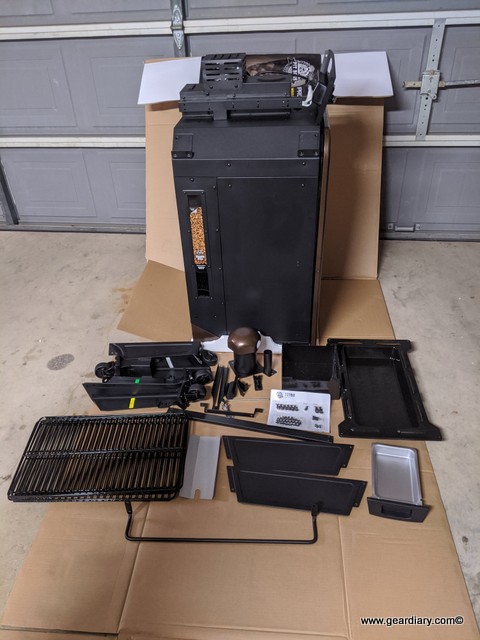 Most of the assembly involves getting the bottom of the smoker put together and is quite simple to do.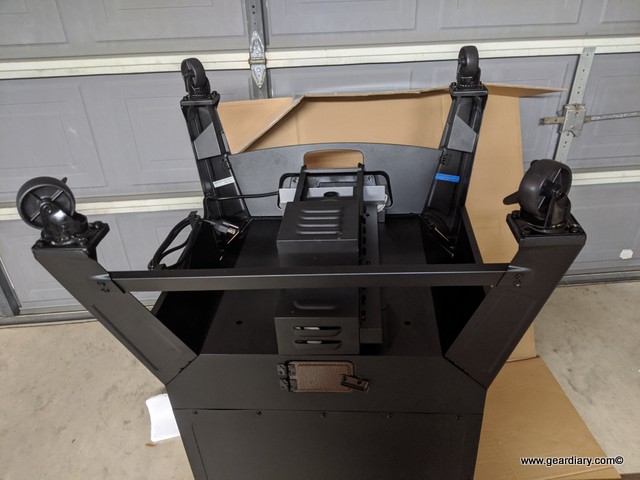 Once assembled, take off all stickers and tape and follow the instructions to prime the pellets and do the initial burn-in. The instructions are easy to follow.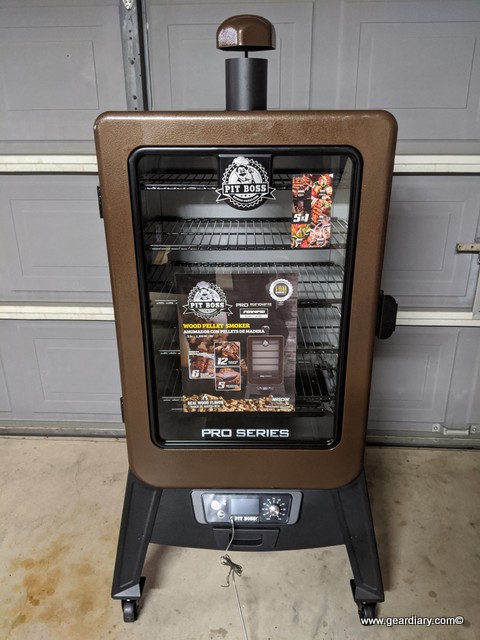 As stated above, this smoker has a huge amount of cooking space. The racks can be removed and moved around to fit just about anything. I plan on doing several briskets next month, and the Pro Series-4 will be perfect.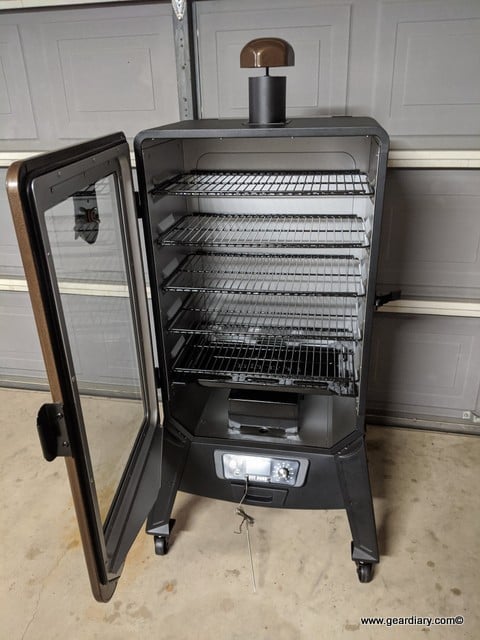 The hopper holds a whopping 45 lbs of pellets which should allow for 50 hours of smoking at 250°. I cannot imagine what I could smoke that would take 50 hours, but the capacity is nice to have. As you can see, there is a window to check pellet levels, and you can also see that I did not have a full 45 lbs available to fill it up.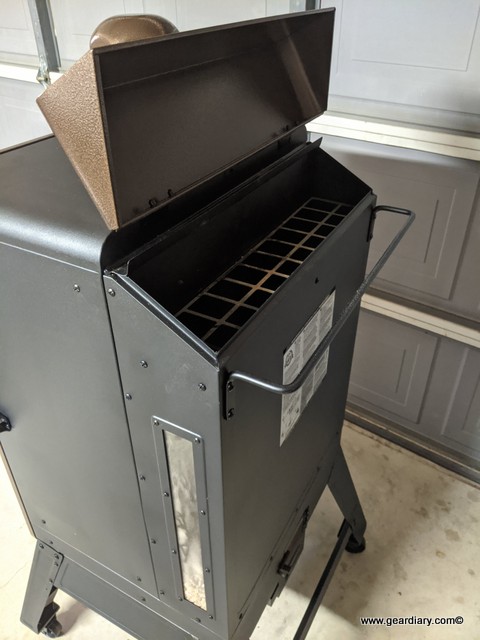 Once the initial burn-in is complete and the smoker cools, it is ready to go. The instructions included will walk you through start-up, but it is pretty simple. Always start the smoker with the door open. You will hear a fan and pellets dropping into the burn pot. Smoke will begin to appear after a couple of minutes then will really pick up. At this point, the fan will begin to race, and the smoke will kind of blow out. Now you can close the door and let the smoker reach the desired temperature. Make sure to add water in the pan above the heat source. From what I read, it will produce some steam that will circulate through the cooking chamber and help regulate temperatures.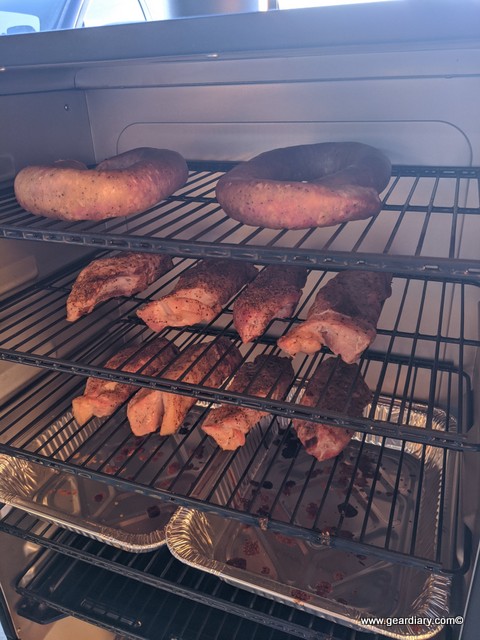 I did two cooks first day to run the Pro Series-4 through its paces. First up was some pork country style ribs and Pollok's Polish sausage. I followed that up with a beef shoulder roast which went for about six hours.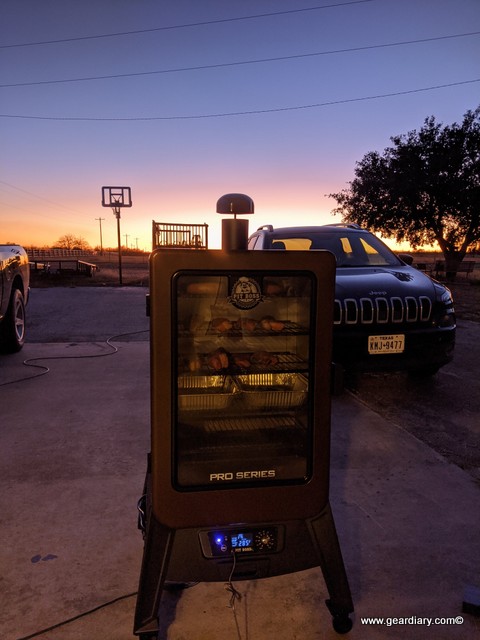 After the first cook, I did clean the grill grates and vacuumed the burn pot. I have to say that the nature of the vertical smoker makes for quick and easy cleanup. I generally clean the ashes and burn pot out between every cook to make sure there are no issues. The digital controller is super easy to use and see, and the provided temperature probe ensured my meat temps were perfect.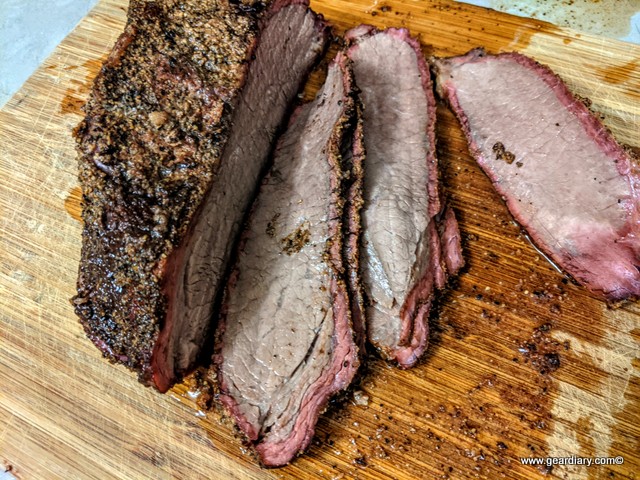 The Pit Boss Pro Series-4 Vertical Pellet Smoker is a lot of bang for your buck. The 1,322 square inches of cooking space is more than enough to take care of a large family or a party. My family raved about the final meat products; the meats were cooked to perfection, juicy, and had a great smoke ring. I love the small footprint and the wheels, as does my wife when I store it in the garage. The Pro Series-4 is a welcomed member of my outdoor cooking lineup. Check Lowe's for current prices and availability.
Source: Manufacturer supplied review sample
What I like: A large amount of cooking space for the price; Small footprint, yet mobile; Hopper holds a huge amount of pellets
What could be improved: I would like to be able to connect over WiFi to manage temperatures
Want More? Follow Us Here!