If you've got a youngling in your life, you are likely searching for holiday gifts that will excite, entertain, and possibly teach. We've got a great selection of gifts that the youngsters of all ages (as well as the young at heart) in your life would love to receive, and that you can feel great about giving.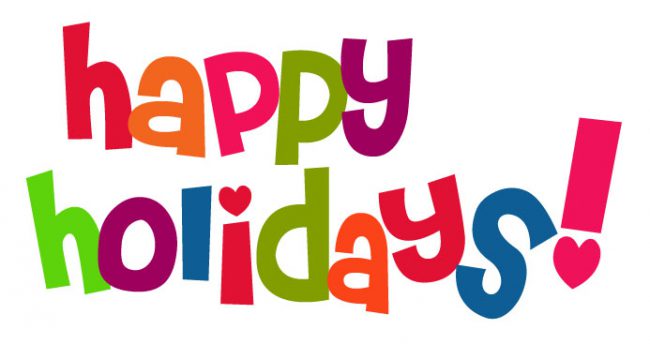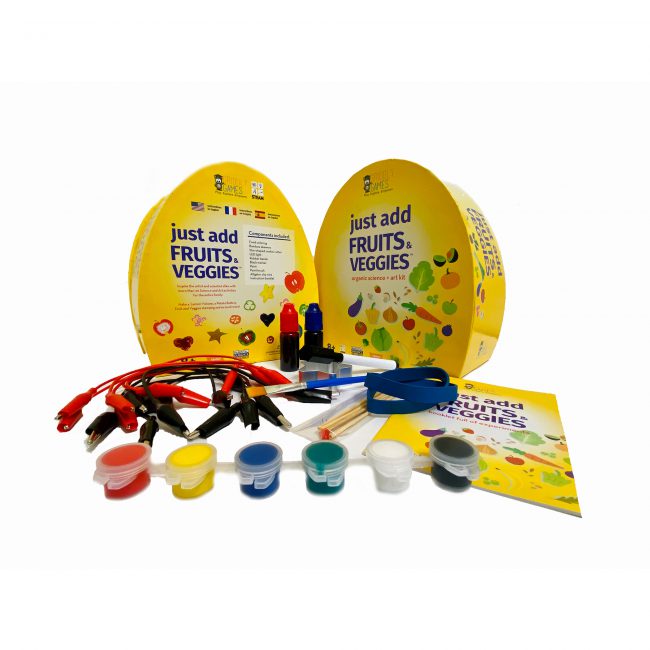 Just Add Fruits & Veggies is a $22.95 science and art kit aimed at kids aged 8 and up. It shows how old fruit or vegetables can be recycled into experiments and crafts to "produce" a crop of crafts rather than throwing them out. This new kit offers 20 fun science and art activities for hours of exploration, creativity, learning, and enjoyment while kids learn about chemical reactions, osmosis, germination, and the study of electricity. Check out the other kits in the series, including Just Add Egg ($24.95 for ages 5 and up), Just Add Milk ($16.95 for ages 5 and up), Just Add Sun ($28.95 for ages 8 and up), Just Add Glue ($24.95 for ages 8 and up), and Just Add Sugar ($24.95 for ages 8 and up), too!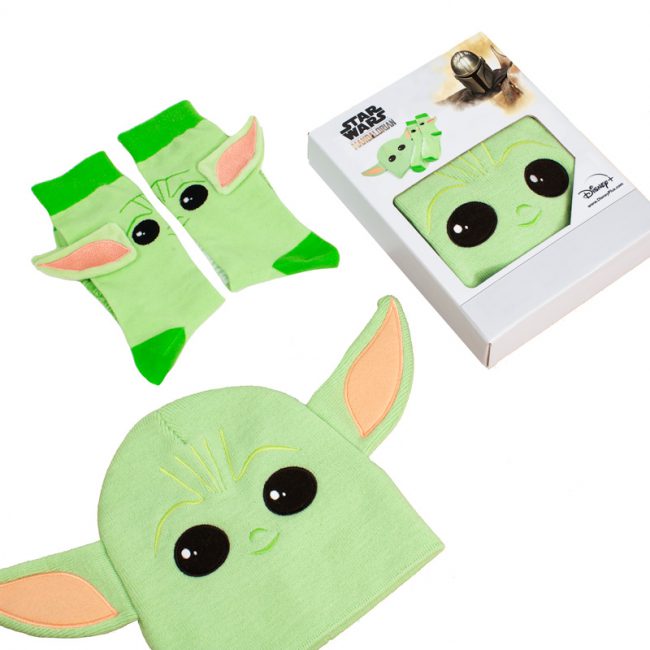 Treat a fellow Mando fan, even better treat yourself, to this exclusive $19.99 The Mandalorian Gift Set, which features super cute and super bright Baby Yoda Beanie and matching socks.
Kids love to read … if the books are engaging, relevant, and easy to understand. A Kids Book About started with one book written by co-founder and CEO Jelani Memory. A Black father with a blended family, racism was an inevitable topic of conversation. Jelani wanted to find a way to talk to his kids about racism in an honest way that would connect with them. That's how A Kids Book About Racism came to be. "He thought he'd only print one copy, but it turns out, this was a conversation many parents were struggling to have with their kids. That one book turned into several thousand, and soon he realized that there were so many more conversations to be had that parents could use a little help with."
Aimed at kids between the ages of 5-9, the A Kids Book About series tackles tough to talk about things like death, empathy, anxiety, bullying, money, sexual abuse, and cancer — along with other topics like creativity, adventure, technology, and so many other issues that aren't always easy to open a discussion about — but kids are curious about them, and they want to understand.
You can buy each book for $19.95, or you can opt for a subscription plan where books are delivered to your child every one, two, or three months. You can choose the one-book plan at $16.95, the two-book plan for $29.95, or the three-book plan for $39.95.
My grands, Kitty and Camie, received the A Kids Book About Creativity and A Kids Book about Adventure books, and they loved them! These books talk to kids, not down to them, and they get through sometimes tough subjects in a way that they can understand and talk about with the adults who love them. A Kids Book About has the mission to "help kids and their grownups have honest conversations by making books about challenging, empowering, and important topics told by diverse authors who know that topic first-hand. Because kids are ready."
I can't recommend them highly enough.
As one of the most anticipated STEM toys of 2020, Circuit Explorer is built to not only teach kids how to complete simple circuits in a fun, safe way; it also doesn't forget the best part of playtime, imagination!
Kids can build their own space adventure with three-separate playsets while completing circuits to create light, motion, and sound. Where creativity really comes alive is when kids put their new circuit knowledge to the test to mix and match various pieces to bring their own creations to life. Circuit Explorer kits are priced at $29.99, $39.99, and $59.99.
Camie will have the Circuit Explorer Rocket kit under her Christmas tree, and I can't wait to see her reaction! 🙂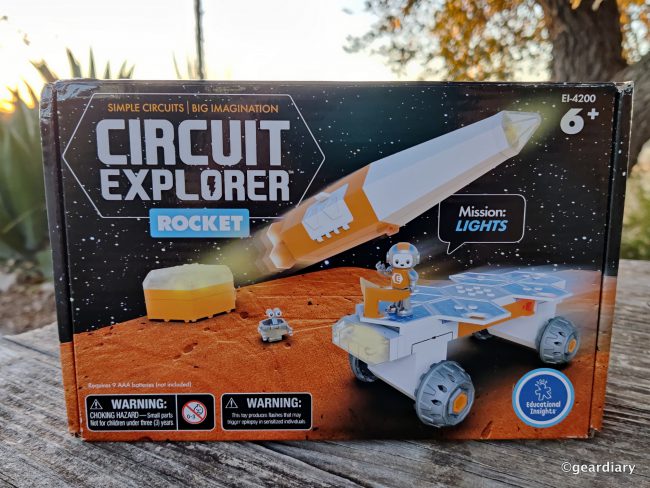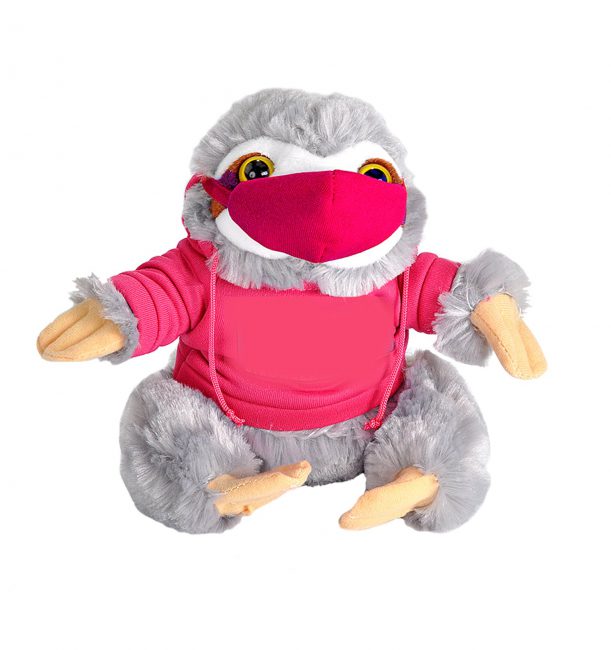 Wild Republic Comfortkins Mask Buddies plush animals wear face masks to help engage children in play while highlighting the importance of wearing a mask in a fun and new way — by giving them a buddy who is also wearing one. The $19.99 Mask Buddies line features several cute and cuddly animals that each come with two fun designed masks: one for the gift recipient and a matching one for their plush friend. The fill of each 9″ Mask Buddy is made of spun recycled water bottles, and their hoodies and masks are removable.
A symbol of Puerto Rico worldwide, the coquí is a tiny frog endemic to the nature-rich Island El Yunque National Forest, the only tropical rainforest in the U.S. National Forest Service, and heartfully named for the sound they make. With a donation of $25 (of which, 100% of proceeds go to Conservación ConCiencia, an Island environmental research, and conservation non-profit), Adopt a Coquí gift recipients will receive a digital, keepsake adoption certificate with their name on it as a memory of this special gesture.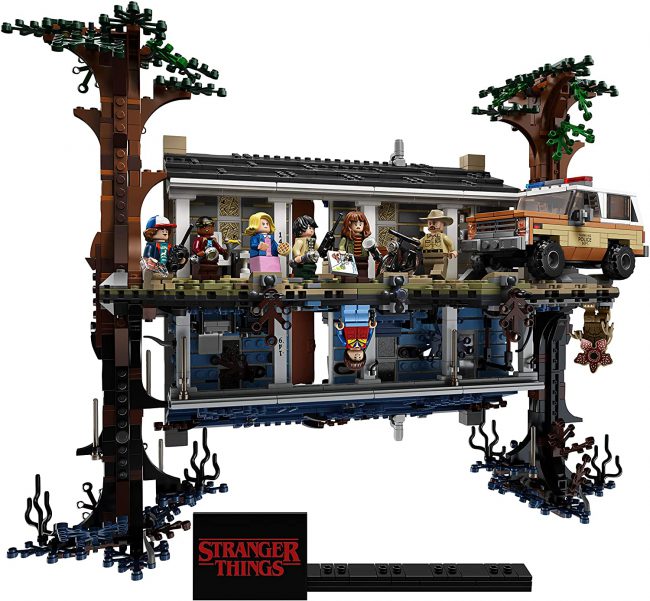 Combine yours and your teen's love of LEGO and Netflix's Stranger Things by building this incredibly detailed kit. With the $199.99 LEGO Stranger Things: The Upside Down, you can recreate the Byer's house and it's The Upside Down counterpart in a detailed, spooky tree-supported 3-D model that can be flipped to allow easy play in either dimension. The house is 17″ long, over 12″ tall, and 8″ deep; it's made of 2287 LEGO pieces. The Christmas lights over the alphabet on the wall of Joyce's living room actually light up, and Hopper's Blazer is even there! The kit comes with 8 Stranger Things characters: Eleven, Mike Wheeler, Lucas Sinclair, Dustin Henderson, Will Byers, Joyce Byers, Chief Jim Hopper, and — of course —the Demogorgon. I'm not sure why, but they didn't include Nancy Wheeler — even though she's one of the central characters, too! This one is on my wishlist, though, not gonna lie. 😀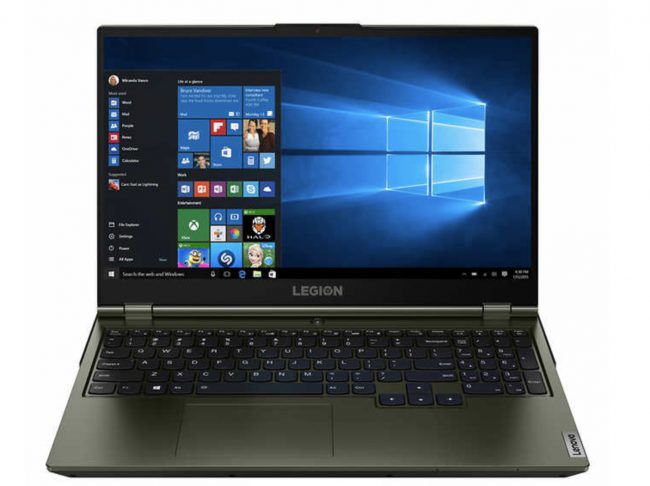 The Lenovo Legion 5 15.6″ Gaming Laptop features a 10th generation Intel Core i7-10750H Processor at 2.6GHz, Intel Wi-Fi 6 (2×2) + Bluetooth 5.0, 6GB NVIDIA GeForce GTX 1660Ti Graphics, and a 15.6″ Display with 144Hz Refresh Rate. It comes with a 1TB 7200RPM Hard Drive and a 512GB NVMe M.2 Solid State Drive, and 16GB DDR4 (2-DIMM) 2933MHz RAM; it runs Microsoft Windows 10 Home (64 bit). At $1199.99, the Lenovo Legion 5 15.6″ Gaming Laptop is the perfect beast for at-home learning and play.
Ravel Tails is a plush collectible with a DIY twist. Hidden inside is a collectible plush figure, which will be revealed when you unravel the ball of strings and yarn.  The neat thing about it is that the string and yarn can be used to make bracelets, charms, etc., so there are many surprises inside the box. At $9.97, Ravel Tails are targeted mainly at young girls, and Perry's six-year-old daughter was thrilled to unravel the yarn and discover a cute unicorn.
Flycatcher's $24.99 Smarty FLUTTER is ideal for kids aged two to four; it teaches preschoolers on-the-go as they fly through a room or a yard. Smart Technology identifies colors, and kidspeak conversation calls out feelings, helping kids recognize their own emotions. Fun missions teach right and left directions, shapes, and opposites. Motion sensors encourage active physical play. Over 150 random actions and reactions make the experience different every time a child plays; Smarty Flutter speaks in English and Spanish.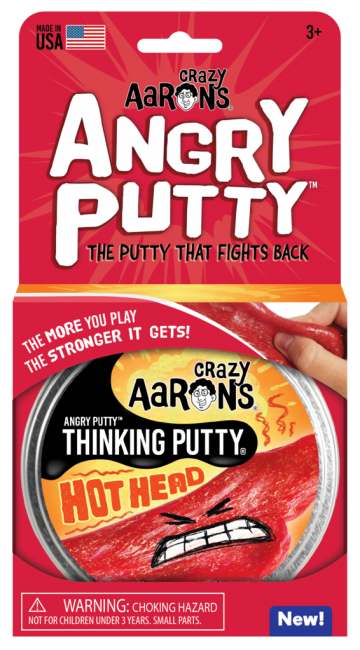 With Angry Putty, kids 3+ can turn their frustration into fun. The $9.99 Angry Putty comes in three "flavors," and each features a unique formula that builds resistance as they play; it absorbs their tension— getting tenser and tenser with each stretch—to leave kids feeling happy and relaxed.
If there's one thing I've noticed about my youngest grands, Camie and Kitty, It's that they love opening toys that have unknown contents. 5 Surprise starts as a ball that opens to reveal five sealed segments; inside each segment, there is a selection of five from hundreds of little toys and other items! Depending upon which type of set you get, your kids will be able to find and collect items such as sequin sparkles, sticky slime suckers, miniatures of popular brand items, gross monsters, transforming creatures, funky stationery, cute pets, and super rare surprises like LED watches! You can get 5 Surprises in sets of two starting for about $12, and there are many different types to choose from.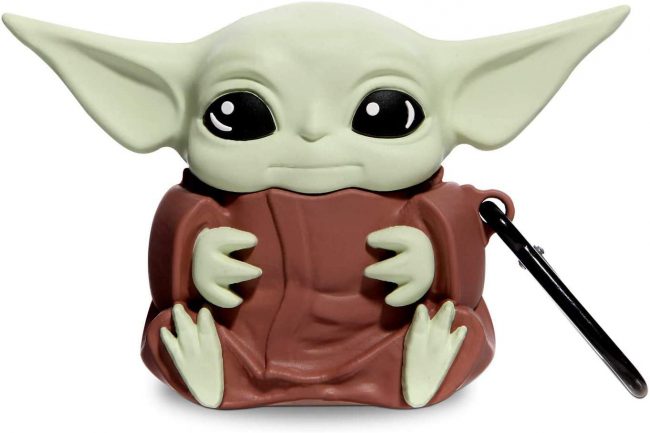 If your teen has a set of AirPods and they watch The Mandalorian, they're sure to love this cute little $17.99 AirPods case protector. I doubt it's official merchandise, but this cute little fellow who bears a striking resemblance to Baby Yoda will be sure to light someone's eyes up once pulled from their stocking.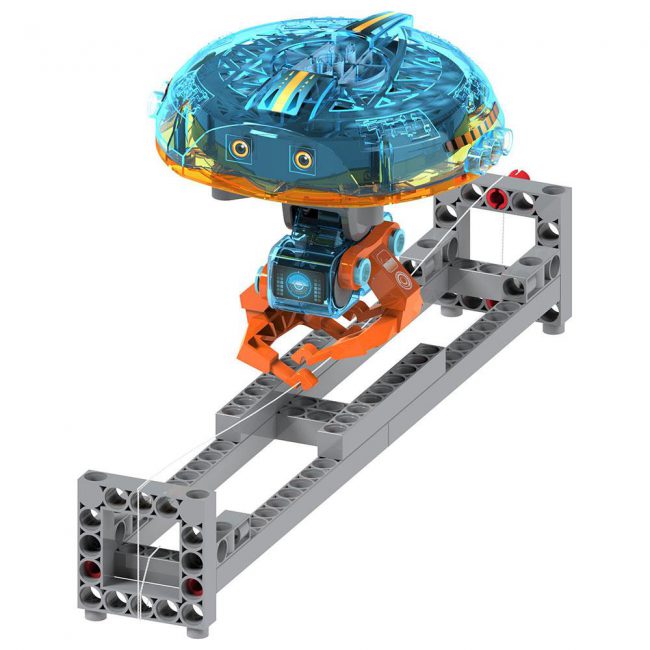 With the Amazing Tightrope-Walking Gyrobot, kids ages 6+ can explore the astonishing powers of the gyroscope by building a robot that walks, step by step, along a tightrope, using gyroscopic forces to keep its balance. They can also conduct eight experiments that demonstrate the physics behind the motorized gyroscope's amazing behaviors. Kids can experiment with getting the robot to walk on different surfaces, including a tightrope, on a solid tabletop, on a soft surface, and even on their arm! They can also experiment with the balancing behavior of the motorized gyroscope by itself, testing its ability to balance on its edge, on their finger, on a pole, and dangling from a string.
The $39.95 Amazing Tightrope-Walking Gyrobot kit includes parts to build the robot and experimental setups, including a frame for the tightrope. Kids will enjoy playing while also learning about the physics principles that keep the robot balanced, making it appear to defy gravity.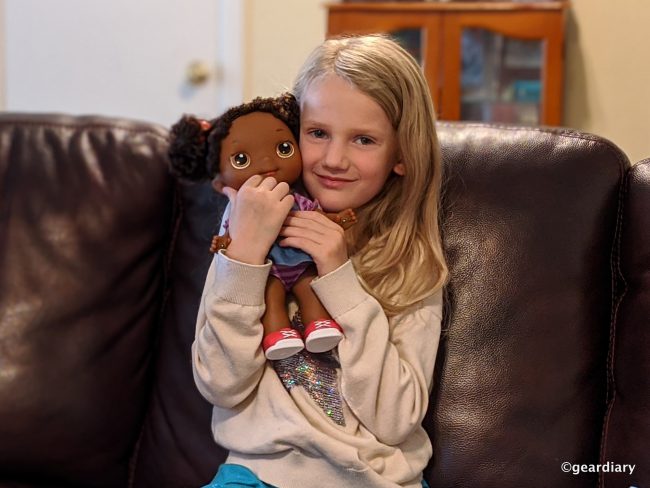 Camie got a chance to check out the $24.99 Lilly Tikes Sing-Along Ami doll, and it was love at first sight!
Ami comes with a doll-size teacup, saucer, two cookies, and her bunny doll. While that would be enough to guarantee a good time for an imaginative little girl who's playing with her, the 12″ doll also has fully articulated arms and legs, a turning head, brushable hair (she also comes with two hair clips), and changeable clothing so she can sit and be posed.
When both of her hands are held, Ami will sing her own version of "Ring Around the Rosie" and speak 10 unique phrases for tons of interactive play.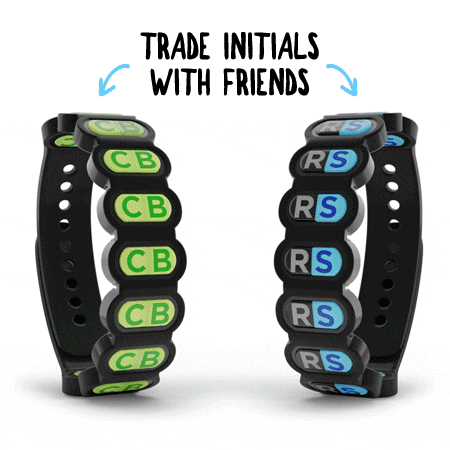 2020 has been hard on us all, but kids are really feeling the strain perhaps more than their parents. Schools have been shut down, team sports have been canceled, and friends haven't been able to gather together. Gather Friendship Bracelets are a tangible reminder to kids that they have friends and aren't alone, and wearing one offers them a reminder of the people who matter to them.
Each $24.99 bracelet has slots for ten sets of two initials, and they come with ten sets of your child's first and last name initials in the same color or in the two colors you select. The bracelets are water, shower, pool, ocean, and sweatproof, and they are light and comfortable for 24/7 wear.
If you and a group of your child's friends' or teammates' parents decide to work together on this, each child will end up with a bracelet that has ten sets of initials that can be traded with others in the group.
When your kids look at their friendship bracelets, they'll see their tribe, and right now, anything that makes them feel less isolated a very good thing.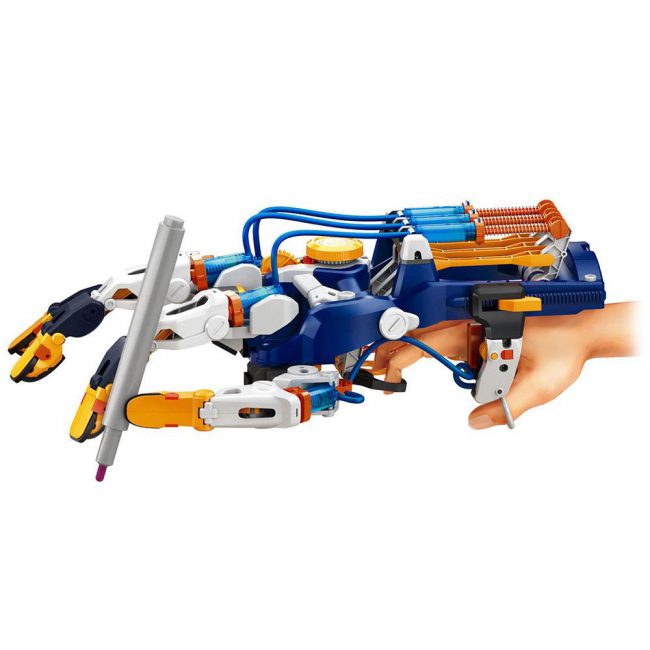 With the $39.95 Mega Cyborg Hand kit, kids 7+ can build their own big hydraulic hand! The kit includes over 200 pieces; kids can assemble the cyborg hand, fill the piston tubes with water, and adjust it to fit their own hand. The mechanical hand simulates the human hand movements, using hydraulic power for energy transmission without motors or electricity; the hand allows every finger joint to adjust to different angles for precision movement. Right- or left-handed kids can challenge themselves to configure the hand to grip various items like bottles, balls, pencils, small items — anything within reach!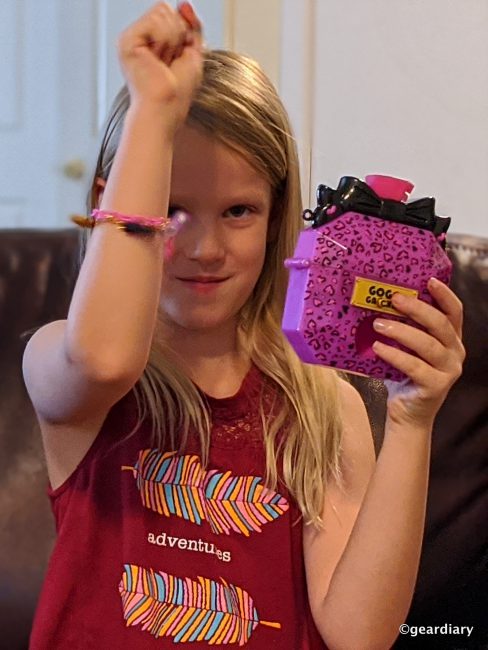 Kids love gumball machines and the surprises they dispense. GoGo Gachas act like a cute and collectible vending machine full of surprises and fun for your budding fashionista.
There are three versions available for $8.99 — the Purse Gacha, the Perfume Gacha, and the Disco Gacha — but which one you'll get when you order is part of the surprise. Each set comes with a charm bracelet, and when the button on the stylish "vending machine" is pressed, a "gumball" pops out with a charm inside.
Kitty got to try out the Perfume Gacha, and she had a lot of fun collecting the charms and assembling her new bracelet. There are three GoGo Gacha styles and a total of 24 different charms to collect.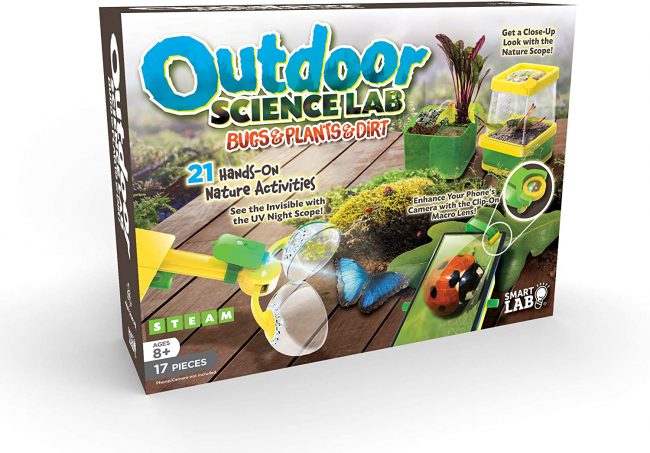 A finalist for the 2021 Toy of the Year Awards in the Outdoor Toys category, the $39.99 Outdoor Science Lab comes equipped with everything curious kids need to explore the wide world of science right outside their back door. This portable lab is packed with real science tools, hands-on activities, and special components that invite kids to identify, classify, measure, test, and analyze the natural world around them.
Perfect for stocking stuffers, SuperThings are ordinary, everyday objects with superpowers. This innovative line of action toys empowers kids to reach deep within and play out their superhero dreams. There are over 80 characters to collect with different levels of rarity. Keep an eye out for the rarer gold figurines; Camie thought she had hit the jackpot when she found one! Kitty had fun looking the characters up in the included catalog as she played with them.
Each superhero has a corresponding rival, such as Mr. C (an orange) versus Jack the Juicer (a juicer, of course). Kids can get caught up on the SuperThings adventure on YouTube; Series One and Two are now streaming.
At just $10.19 for the starter pack, kids can collect and play while building their imagination.
I was one of the original backers of Exploding Kittens on Kickstarter, and I've played this game many times with my grands.
Perfect for everyone age 7 and up, Exploding Kittens is a highly-strategic, kitty-powered version of Russian roulette; basically, if you draw an exploding kitten, you lose, and you are full of loser sad-sauce.
The game features cards illustrated by Matthew Inman, AKA The Oatmeal, and gameplay can get fast and furious! You can get the original edition for $19.99; it includes 56 cards and instructions, and there are expansion packs available that make it fun for kids to play with each other or with adults or for adults to play with other adults. It's a little bit twisted and a lot of fun!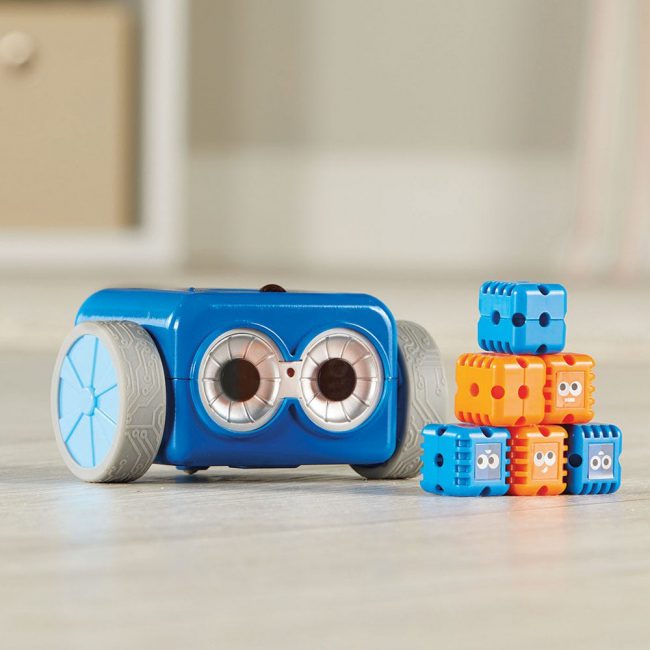 Botley 2.0 is a completely screen-free coding robot, and it is the successor to the 2019 Innovative Toy of the Year, Botley The Coding Robot. Kids will have fun creating simple sequences and learn cause and effect by guiding Botley through an obstacle course, playing a game of "Botley Says," or simply free-code around the house. At $69.99, Botley 2.0 is the perfect introduction for kids to learn basic computer programming through play, with more moves, more games, and a few hidden characters that kids can discover. There is also a Botley 2.0 Activity set, which sells for $84.99.
Kitty will have a Botley 2.0 to open on Christmas morning. She is a budding coder at 8, and I think she's going to love playing and learning with it!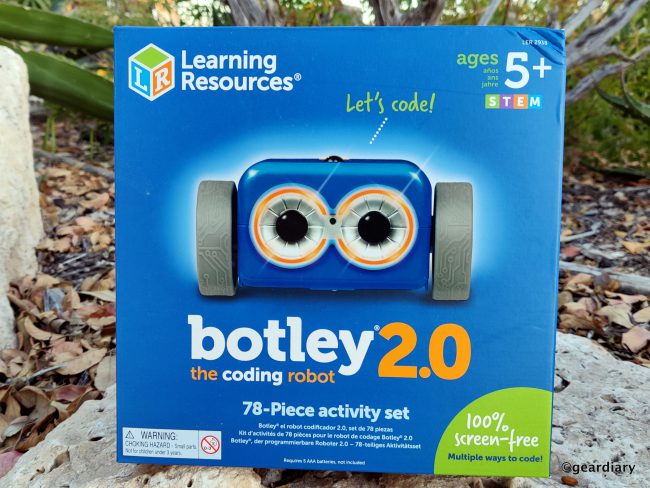 The $26.99 Long Haul Excavator Transport from Maxx Action is pretty much what it looks like, a truck cab with a trailer that hauls a construction excavator.  It's a great toy for Perry's three-year-old son, who's obsessed with trucks and construction vehicles.
The excavator's boom arm is operable and the treads are rubber and roll with the vehicle.  The long haul cab also has four buttons that make real truck sounds.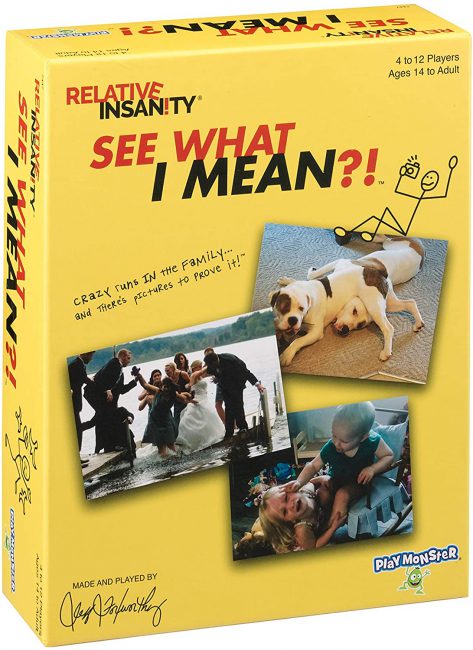 Families are crazy…and there's often photographic evidence…like now! Relative Insanity: See What I Mean?! features funny pictures that could be found in any family photo album or on anyone's phone —moments captured that remind us of just how weird and wacky our family members can be! Then, when you add Jeff Foxworthy style captions to the pictures, they get even funnier!
Suitable for players aged 14 and up, the Relative Insanity game includes 100 colorful photos, and you can add your own to the mix to customize your game night fun. To play, the Judge will display one of the hilarious Photo Cards. You'll roll the die to see if you'll caption it using a Punchline, What Happened Next, or What Would Granny Say? caption. Then everyone else chooses one of their Caption Cards to Play. The Judge will pick the funniest (Mom's Favorite ), second funniest (Middle Child. . . meh), and if it applies, a Black Sheep (a baaaaaaad caption choice).
Made for four to twelve players, Relative Insanity: See What I Mean?! Party Game sells for $19.82.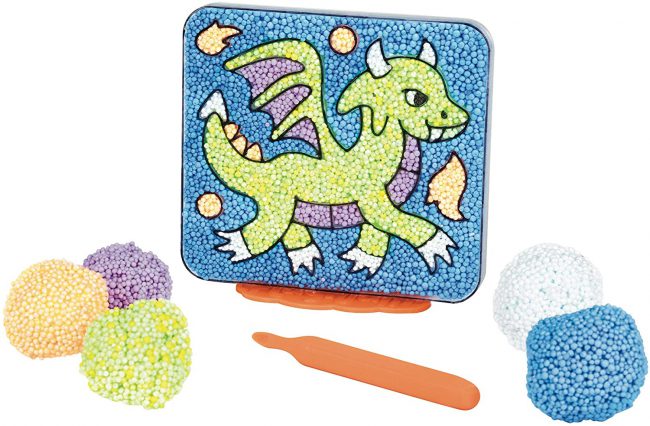 Each $7.99 Color by Playfoam kit includes a themed plastic canvas, five colors of Playfoam, a squisher tool, and a display stand.
Kids 5 and up will enjoy creating their own works of art with squishy Playfoam that never dries out, so it can be played with again and again. Your little ones can get creative in sensory play while building fine motor skills while using the included squisher tool to squish the different Playfoam colors into each section of their canvas. When their masterpiece is complete, they can show it off with the included stand for display, but when they are ready to create again, they can scoop out the Playfoam and start all over again.
The next generation of home video game consoles is here, and the Sony PlayStation 5 will be available in two different versions, one with an optical drive and one that's digital-only, where you can only download games.  The PS5 will feature 4K resolution and be able to play at 60 frames per second with raytracing that will make lighting, reflections, and more appear much more lifelike.
The PS5 also features Sony's new DualSense controller that's billed as one of Playstation's best controllers ever, with a realistic-feeling rumble and adaptive triggers.
We'll have a hands-on review coming your way soon, so stay tuned for that. The standard PS5 will retail for $499 while the digital version will retail for $399.
KIBO Home Edition introduces young children to coding and robotics, inspiring parents, children, and siblings to engage and collaborate. With KIBO, kids ages 4 to 7 can create, design, decorate, and bring their own robot to life. Kids build onto KIBO with familiar arts and crafts materials, engaging in imaginative play and storytelling that motivates and guides their learning. They can tell stories, choreograph dances, create a robotic vehicle to explore a cardboard town, create an animal habitat, and more.
With KIBO, kids create coding sequences using programming cards. They scan their sequence with the barcode scanner built into the robot body, press KIBO's button, and watch their creation go! KIBO uses scannable cards rather than an app or computer for a screen-free and physically active experience. Kids can also draw on KIBO's whiteboard faceplate with markers or attach the included paper "costumes" atop the robot. KIBO Home Edition starts at $149.99.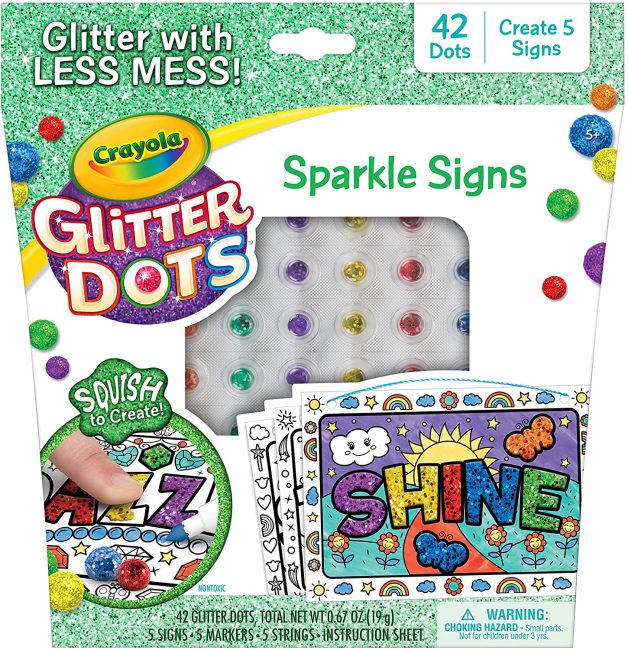 Kids love making things with glitter, but parents hate the massive clean-up; a great compromise is a Crayola Glitter Dots craft set. Made from an innovative, glitter-infused compound, these craft sets features 42 Glitter Dots in six vibrant colors that let creativity shine. Just squish, spread, and let them sparkle on one of the 5 Provided glitter signs, or use them as art glitter on most other surfaces.
Kids can make their designs dynamic by using the 5 washable Pip-Squeaks Skinnies markers to accent around each sign. All included art supplies are safe and non-toxic, making it a perfect gift for girls and boys ages 5 and up. There are quite a few different Glitter Dots craft sets available, and most retail for $9.99 or less.
•••••