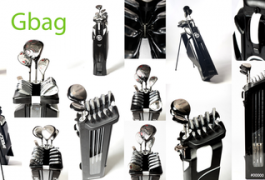 The golf bag is a standard part of any golfer's arsenal, but while there are loads of models they all serve the same basic purposes the same basic way. Now Gbag has launched on IndieGoGo and looks to change the way we think of the golf bag for good, using magnets and ultralight materials and a modular design!
The developers are saying that their reinvented golf bag uses new technology to revolutionize how golfers take their clubs along the course. It uses magnets to keep your clubs aligned, is ultra-light, has removable pockets so you can carry just what you need, a tripod system that is handle-triggered, can be carried like a backpack and more!
Here is their description:
Hybrid, lightweight, compact bag that can be carried, or used on push/pull carts and golf cars. New, high resistance materials, a revolutionary sorting system and a groundbreaking design.

Interchangeable pockets, custom colors, or a cart integrated without impacting the bag's footprint.. here are some of your future bag's benefits!
Please let us introduce you to Gbag, your new generation advanced-technology Bagolf bag.

Carefully thought-out, this bag will ensure that your clubs are 100% protected under all circumstances on the golf course.

Details – Unique patented design
- New lightweight materials
- Can be carried, or used on push/pull carts and golf cars
- Supports all Bagolf products, including Gcart push cart and Gpok pockets
- Magnetized-plate club divider system: Mygnet
- Separators between woods, irons, and putter
- Beverages kept handy
- User-facing pockets
- 360-carry system under the club-divider system
- 1 low carrying handle
- 14 club dividers + 1 umbrella / ball tube / ball picker divider
- Patented anti-jamming system: Gripstool
- New handle-triggered tripod system: Flexipod
- Invisible integrated tripod
- Tripod locking button
- Woods blocking system: Lockurn
- Left and right interchangeable containers: Gpok
- Waterproof & ventilated pockets
- Removable pouch for personal belongings
- 1 magnetized velvet-covered valuables pouch
- 1 magnetized tee & ball pouch
- 1 accessory pocket
- 1 large apparel pocket
- High quality zippers
- Phone, tee, divot repair toll, towel, glove pocket holder
- Strap system allowing to carry as with a backpack
The basic contribution level to get in on a GBag is $350, so it isn't cheap – but when you look at the website you will see that there is a lot going on with the product, and it is innovative and distinctive. You will not look like anyone else on the course!
Here is their IndieGogo project page. Check it out!
Here is their promo video: