I trace my history with portable digital devices back to the early days – I grabbed the HP95LX, the first real 'handheld computer' when it came out in 1991, and have had a myriad of devices including the Newton, as well as various Psion, Windows CE, Handheld PC, Palm, Pocket PC devices. More recently I have had a string of iPads as well as Android smartphone and tablet devices, and now I have an iPhone. For more than two decades there was one common characteristic on all of my favorite devices — a physical keyboard. I've had a few months with the iPhone 5, but was eager to see if the Nuu MiniKey combo case & keyboard would change me back to a physical keyboard guy.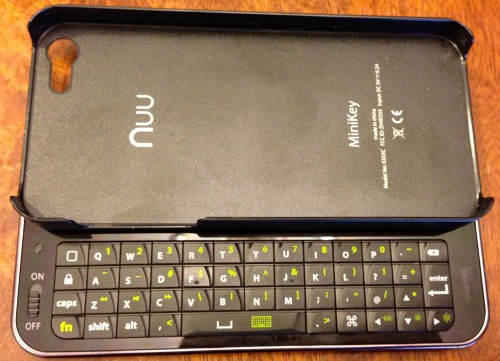 Here are some of the features:
Slide out Bluetooth QWERTY keyboard
Compatible with Verizon and AT&T iPhone 5 and Sprint iPhone 5
Keyboard short cuts using command keys and function key symbols
Back light for typing in poorly lit areas
Built-In rechargeable battery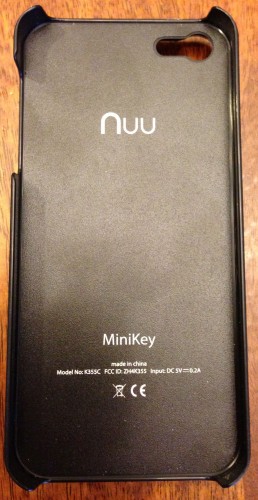 As I highlight in the review video there are only two questions that matter – is it any good, and will anyone want to use it? Let's tackle them in order!
Build Quality
In terms of the build quality, I was impressed by the solid and sturdy feel right out of the box. The MiniKey is a combined case and slider keyboard, which presents a host of challenges.
I could tell that the case was solid just from the feel of removing it from the plastic, and sliding the keyboard back and forth. There was enough flex in the corners to insert the phone without it having so much give that I worried about it loosening up over time.
It is worth noting that pretty much any case will add some heft to the iPhone, with a thin cover such as the one on the MiniKey adding less than most. However, once you add a sliding keyboard with a battery you know that there will be even more heft. So having the MiniKey only weight 3.2 ounces on top of the less than 4 ounces of the iPhone 5 means that the combined unit feels like compared to keyboard-based smartphones like the Droid or Droid 4.
Utility
The case is just a basic case, so I won't focus on that other than to say 'it works'.
As for the keyboard, it is a fairly standard setup if you are used to any of the Motorola Droid phones. The keys remind me more of the Droid Pro (slight taper towards the outside on each key) , but with the square layout of the original Droid with a much better feel similar to the Droid 4. There is just enough space on either end so your thumbs don't rest on keys all the time. The slider motion is smooth and natural, and despite hundreds of repeated openings and closings from top and side I never felt the slide catch or hesitate.

Setup and Connectivity
One thing I love about Bluetooth devices is the ease of connection – you go to the Bluetooth section of your iOS Settings, and after powering on and pushing the 'Connect' button the Nuu MiniKey appears on the list. To connect you tap the item on the list and are prompted with a number to type. Thereafter when powering on the MiniKey it will connect automatically to the iPhone.
Keyboard Experience
As with just about everything there are good and bad things to say about the Nuu MiniKey experience. On the good side the keys are large, well spaced, tapered for accuracy, and there is a switchable backlight. There are also special keys to lock the screen or go home, and there are also keys to toggle to the soft-keyboard when needed.

On the negative side, the overall feel of the keyboard is too flexible for my taste. This is a direct result of being part of a case and not a unified construction. This means that the only thing the keyboard is mounted to is the thin case, rather than the solid phone. While the keyboard is quite comfortable, this amount of flex makes it hard to regulate typing pressure like I would normally do on a PDA. This might sound odd, but I took some time and played around with my original Droid, HP200LX and Psion Revo … and I had no issue typing on any of them.
The other issue I had was the usability of the keyboard toggle. When I used my Droid 4, when I got a text or email and needed to reply, I would assess the nature of the reply. If a simple Yes or No or OK would suffice I would use the touchscreen, otherwise I would slide out the keyboard and start typing. But if I need to slide out the keyboard, switch it on, wait for the connection and THEN start typing … I quickly found myself not bothering.
The final niggle is true with all external keyboards – the excellent autocorrect gets disabled. These keys are too small for that, and it is something that doesn't happen on the Droid 4, as an example.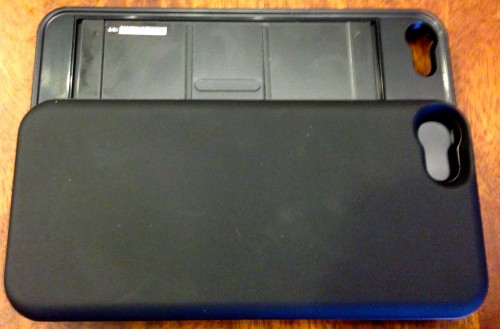 But Will Anyone CARE?
So we have a decent keyboard case with a solid hardware keyboard on the platform with the best autocorrect software keyboard. And we have me as a natural test case – I have favored hardware keyboards for more than two decades on portable electronics – and I carry my Logitech Bluetooth keyboard for my iPad everywhere I go. Yet I found myself quickly not using the MiniKey due to losing autocorrect and because of the inconvenience of switching on and off. I suppose I could leave it on all the time, but when I tried that I forgot and the battery drained overnight.
My bottom line – if an old 'keyboard only' stalwart can't be bothered using this, neither will anyone else. There are too many minor flaws and hassles for even those who want to try, and I think most people will just pass it by … which is sadly the correct decision.
MSRP: $79.99, $60.57 at Amazon.com
What I Like: Good build quality; strong backlight; great Home and Lock keys; simple and reliable connection
What Needs Improvement: Too much flex; need to power on to use makes it inconvenient; loss of autocorrect
Source: Manufacturer provided review sample
Here is the trailer:
Want More? Follow Us Here!