Shure's new SE846 Sound Isolating Earphones are a pricey proposition. Shipping in June, they will have a price tag of $1250. That makes them more than a bit pricey. For that price however you get a Quad High-Definition MicroDriver with a three-way system configuration for dedicated low, mid, and high frequency distribution. The SE846 feature a patent-pending design includes a groundbreaking low-pass filter, a true subwoofer that enables deep low-end performance without sacrificing clarity or detail. Sound quality, noise isolation, and a design that includes an optimized nozzle angle that's designed to rest comfortably in the ear, combine to make the SE846 Sound Isolating Earphones comfortable for long periods of use. This is aided by a lightweight design with a low profile shape. A detachable cable makes for easy replacement, something that is rather important since these headphones are anything but disposable.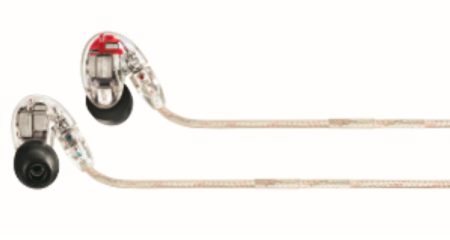 The earphones also features a customizable frequency response that allows for adjustable sound signatures. Options include balanced, warm, and bright options. This is a first for Shure. And in keeping with their premium price tag the Shure SE846 Sound Isolating Earphones include sleeves in multiple shapes and sizes, an additional detachable cable, and two carrying cases. Are they worth the price? We'll wait to see what the hands-on (or is it ears-on?) reviews have to say! You can learn more on the Shure website.
Want More? Follow Us Here!