Raina and I are setting up our newly remodeled home and thinking through how to be keep it organized. One challenge? With iPhones and iPads, laptops and more we're the epitome of the multi-device household. We want to avoid having a tangle of cables and wall adapters. That's where the Cove comes in. Cove is Griffin's "Elegant Charging Station."
This slideshow requires JavaScript.
Cove, available in three finishes, was Griffin's first-ever Indiegogo project and it was fully funded. As the company explains:
Cove, is a home recharging station with a clean, contemporary design that's at home in any decor. Powerful enough to charge up to five tablets and smartphones, Cove stores your devices as they charge, on built-in, easy-access shelves. A sliding door hides your devices, or doubles as a handy tablet stand.
Cove has 5 USB ports and each delivers 12W of power. At 16.8″ x 12.8″ x 7″, it isn't small. Yup, it takes up some serious space but, considering the fact that it replaced a tangled mess of cables and emerald adapters, the tradeoff is probably worth it. And, thanks to a 6′ power cord, you should be able to use it in a place it where it will be both effective and unobtrusive.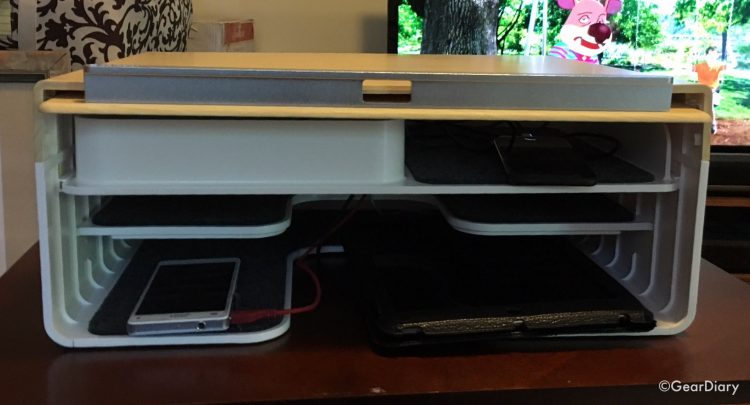 The best way to understand Cove is to think of a large box with shelves and a door that lowers in front of it to hide what is inside.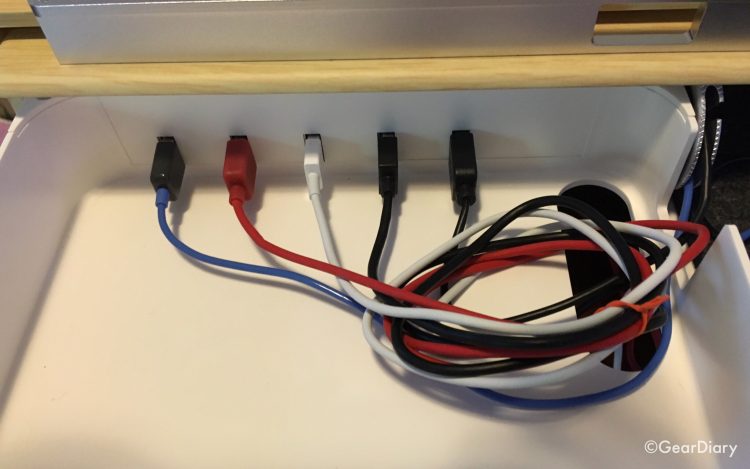 Add a multi-device charging brick and you have a great place to charge all your devices while enjoying a sleek and unassuming cabinet. And because the multi-device charging brick is a BYOC (bring your own cable) device you can use it with pretty much any USB cables and devices. (It is worth pointing out that Cove is wide enough to hold an iPad Pro. But, if you use the large iPad Pro with it an entire shelf will be used.)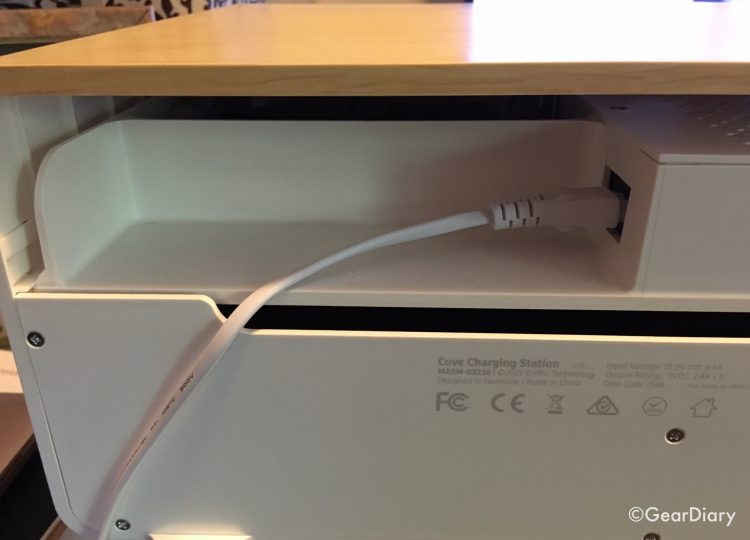 Set up is simple so there's no real learning curve when first using Cove. There is a spot in the back of the unit to insert the included 6′ cord and plug it into a wall outlet.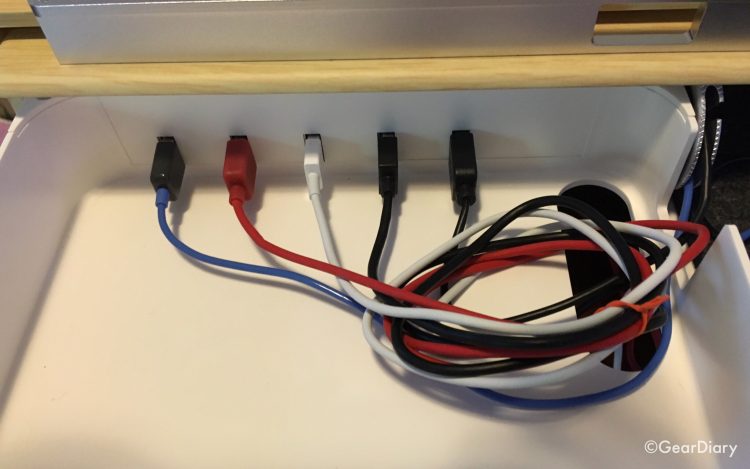 Lifting the cover and pulling out the upper shelf reveals the five USB ports into which you can plug your cables. From there you can choose where you want to run the cables and where you want the charging end to sit. For me, I wanted a Lightning cable and a microUSB cable in the lowest level of the Cove, the same on the second level and a Lightning cable at the uppermost level. This step up lets me charge an assortment of different devices at the same time.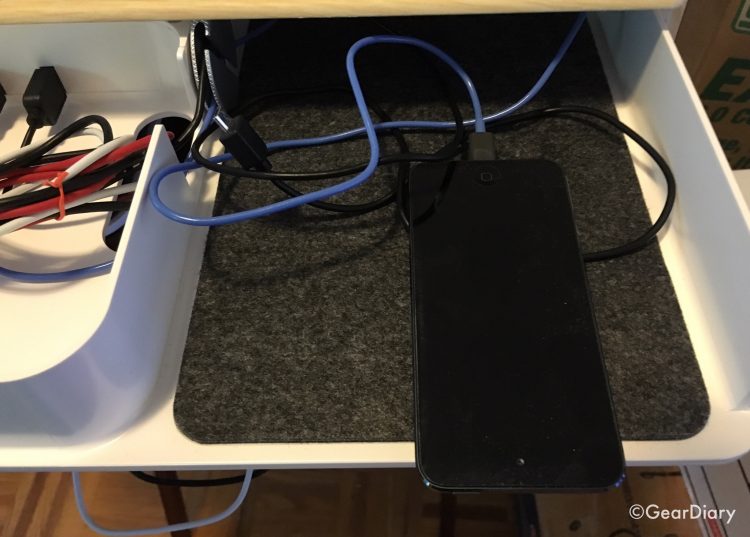 And, since each level has a soft material covering it, I can rest assured devices won't get banged or bruised.
Finally, Cove left you feed a cable through the front, lower lip of the cover which doubles as a stand.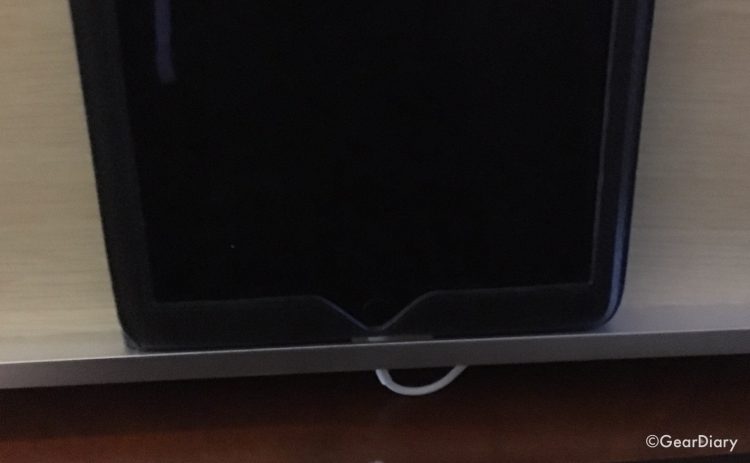 That means you can drop the lid, and not only have a smartphone or tablet stand on the outside but charge the device while it is in place. That's a nice bonus.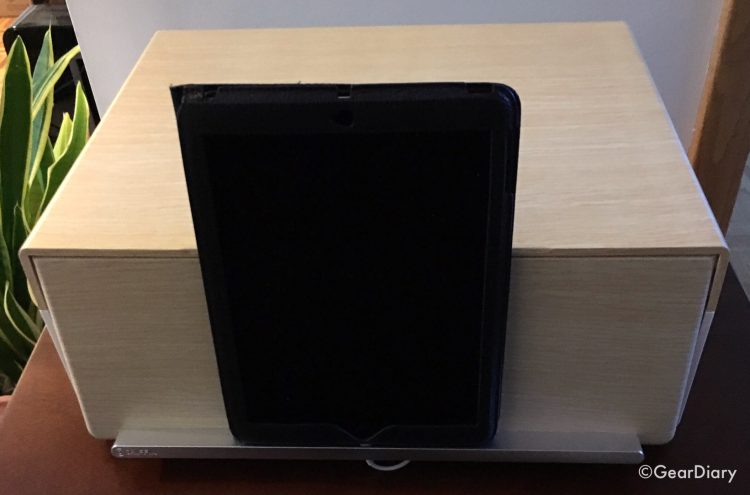 One of the biggest downsides with Cove is finding the right place for it. I'm not yet sure where that will be, but I have little doubt I will be using Cove going forward. A second downside is the price. At $250, Cove isn't exactly inexpensive. Then again, in a household with multiple devices the convenience, not to mention the clean lines, of Cove make it something worthy of serious consideration. Cove isn't priced to be an impulse buy. But if you are thoughtfully trying to create a good degree of organization in your home and once of your biggest challenges is your array of electronics, Cove is a good solution. Check it out here. Get it for about $215 here. [Affiliate link.]
Source: Manufacturer supplied review sample
What I Lke: Charges five devices at once; Fairly simply to set up; Available in three different finishes; Front doubles as an iPad or smartphone stand; Can work with an assortment of different USB cables
What Needs Improvement: Fairly large footprint; Pricey
Want More? Follow Us Here!