Olloclip burst onto the scene a few years ago, and they proved that while the iPhone's camera might be great, this accessory could make it even better. The company has since rolled out numerous iterations of their lenses and kept adapted to each new iPhone design. The Core Lens Set is designed to work with the Apple's latest and greatest.

The new Connect Lens System has a new design for attaching lenses to the phone that is more flexible than ever. It's rather unique, and, because it is substantially different from previous versions, comes with a bit of a learning curve. It's worth it and the design works equally well with both the front and the rear camera. It also comes with a lens holder that keeps the lens accessible and doubles as a wearable pendant stand that opens to create a pocket-sized tripod. That alone makes this new design worthy of note. After all, people turn to Olloclip to improve their iPhone-ography. Having a pocket-sized tripod with you all the time just makes sense.
The difference in design between the new Connect Lens System and the approach previously taken by the company should not be minimized. The old system had a hard plastic connector that snapped over the top of the iPhone. Various lenses, and Olloclip has rolled out more than a few, screwed into this plastic adapter. To change lenses, when it was possible, you unscrewed the lens and replaced it with a different one. At times, however, the lenses came in two pieces. By unscrewing the outermost lens you switched over to a different lens effect. The system worked well but, with the Connect Lens System, Olloclip makes the approach even more flexible. Yes, the system still has a hard plastic adapter that snaps over the top of the iPhone. It looks entirely different but functions in pretty much the same way.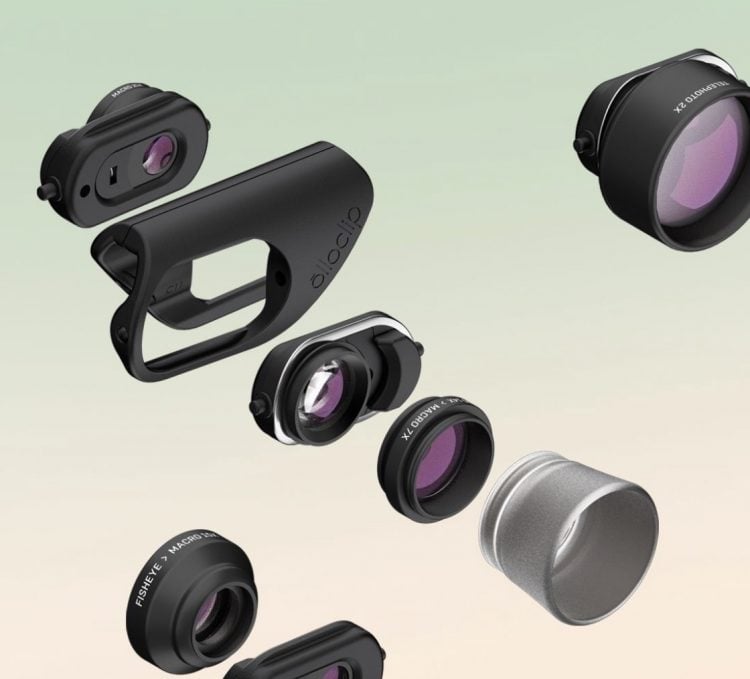 Connect Lens System: Interchangeable lens system quickly configures with other iPhone 7 Connect lenses. For the first time, there is a lens system that can be instantly adapted to your environment.
The difference between the old and the new approach becomes apparent when you look at HOW the lenses connect to the plastic adapter.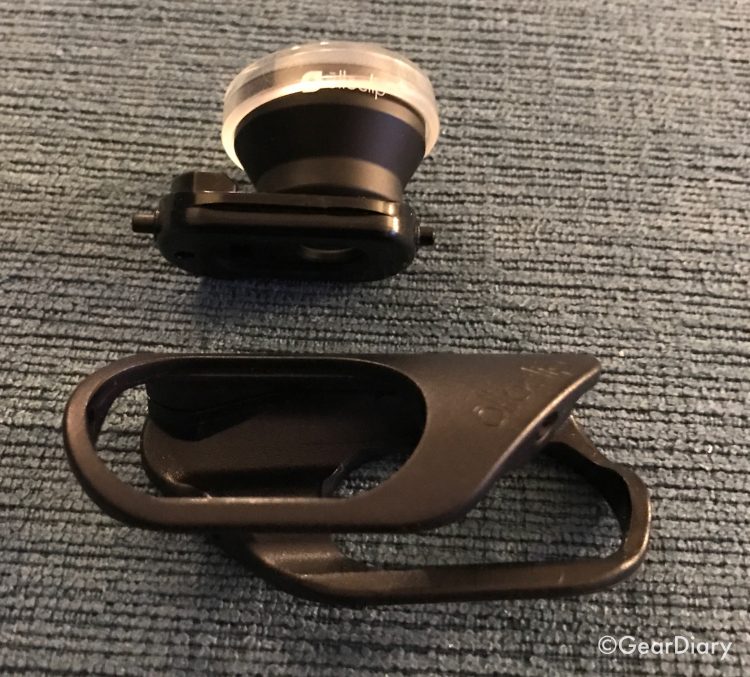 Each lens on the new system has an oval piece of plastic surrounding it. Pins protrude from each end. One is fixed while the other is spring-loaded and retractable. This allows the oval piece to fit into the cutout of the adapter while the spring-loaded pin is retracted. Then, when the spring-loaded pin is released, it locks into place. The advantage of this approach is twofold.
First, it means you can easily insert and remove a lens. (Once you get the hang of it — and it took me a few minutes — it only takes a second to insert and remove one.) Second, the lens is offset to one side of the plastic oval.
When the lens is inserted and toward the outer edge of the adapter it sits directly over the iPhone's main camera.
When it sits toward the center of the adapter and the adapter's front opening is used, it sits directly over the FaceTime camera. That means the new lens system works equally well with both iPhone cameras! How's that for flexibility?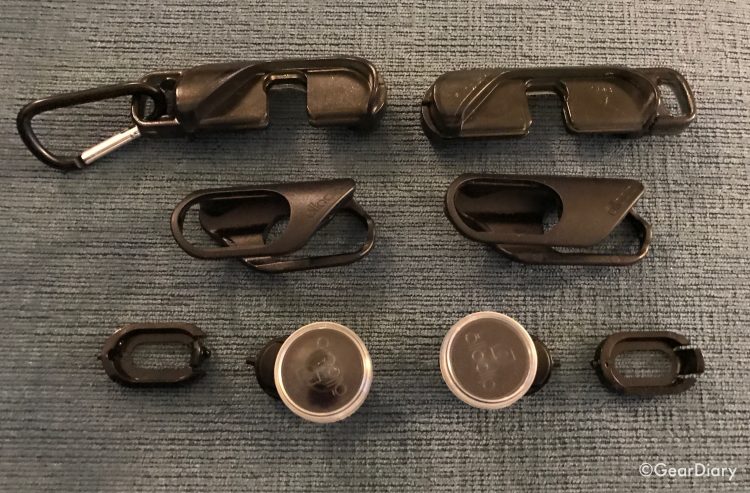 In fact, the company included both an adapter and a "case" for both the iPhone 7 and the iPhone 7 Plus. On the one hand, this is a bit wasteful — depending on your phone you will only use one or the other — but it means one purchase will work with either size phone.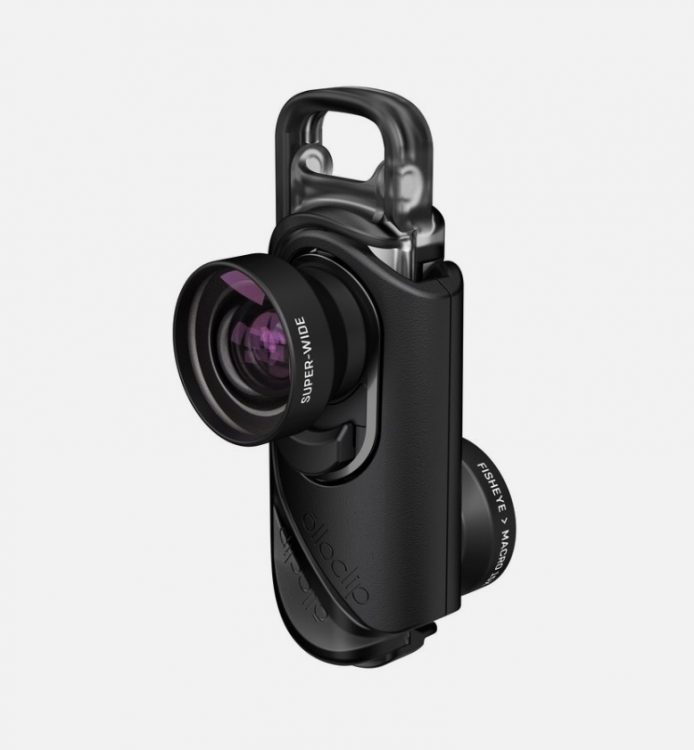 The new system has another trick up its sleeve. Olloclip includes a case into which the lens adapter snaps when you aren't using it. This keeps them safe and with you are all times. It all comes with a carabiner clip so you can keep the lenses safe, secure and close by.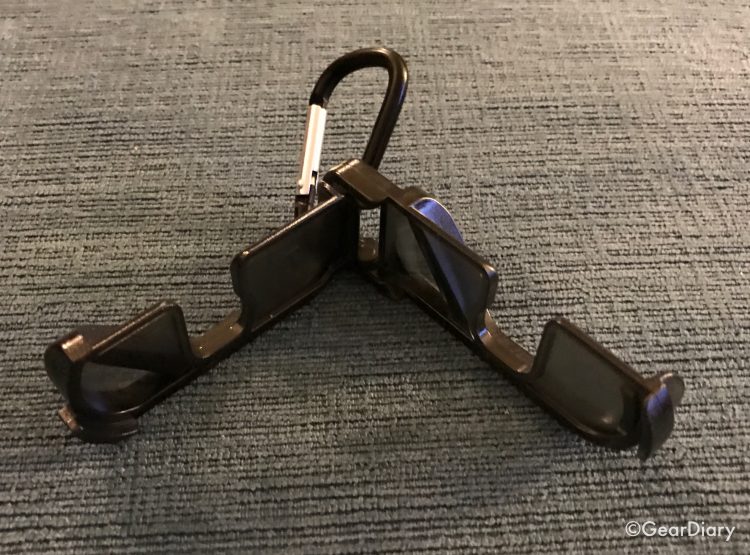 And, as if that wasn't enough, this piece of the system splits down the middle and has a hinge on one end.
Open it up and it becomes an iPhone stand. Yes, by keeping the Olloclip with you, you get better pictures AND always have a stand for your smartphone.
Sadly, the Core Lens Set doesn't work with the Olloclip Studio. This is a bit of a bummer because that case and its attachments are among my favorite iPhone 6 accessories. It allowed me to add a tripod mount, a finger loop for stability and a number of accessories via the cold shoe adapter. It's too bad the new lenses don't work with the Studio but I certainly understand the fact that the new iPhone lens design required major retooling. That's the cost of progress but I hope they release a Studio for this phone too.
So let's look at what the Core Lens Set offers. As Olloclip explains:
The all-new Core Lens Set delivers unmatched image quality, user experience and versatility with new improved optics! Fisheye, Super-Wide and Macro 15x lenses are combined to offer a diverse range of options for capturing what you want, when you want. Shoot, edit and share unique perspectives instantly and easily.
Features:
New improved optics! Premium multi-element coated glass optics deliver superior image quality
Easy-to-use, patented system attaches and aligns instantly with no extra parts needed
Selfie-ready to work seamlessly on both front and rear-facing cameras
Connect™ interchangeable lens system for creating the perfect set to match your adventure
Hinged base keeps the lens flush with the camera for improved optical performance
Screen protector friendly up to 0.5mm
Wearable Pendant Stand keeps the lens accessible and opens to create a pocket-sized tripod
Works with all camera apps and is even great for video, time-lapse, panoramas and 360° VR photos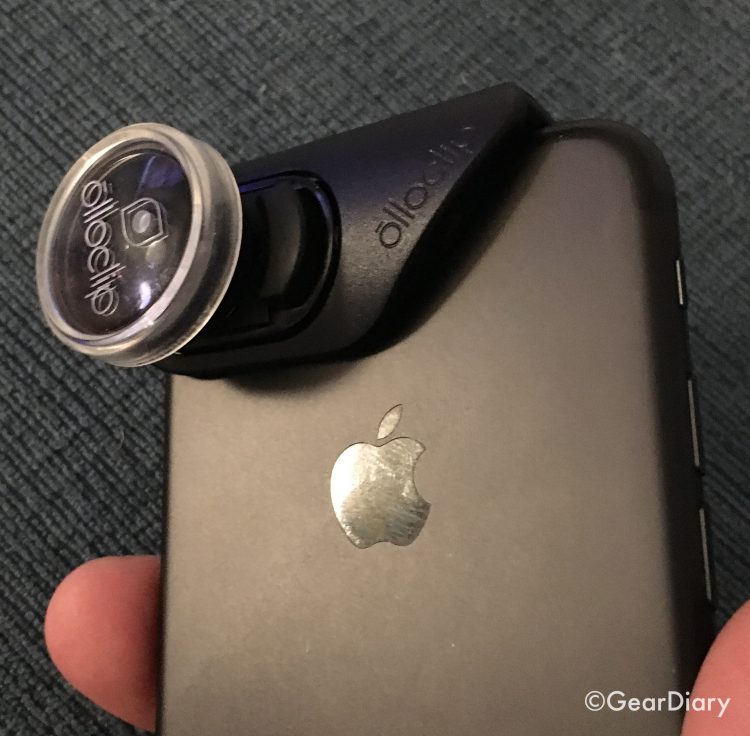 The Core Lens Kit is for the artistic iPhone-ographer. It includes:
A Fisheye Lens
Fisheye: Creative freedom through a unique near 180° spherical effect with endless possibilities.
I have to be honest, I don't get it. I don't understand why people think a fisheye photograph is particularly interesting. I don't love the distortion and I see no huge upside to it. Obviously, I'm in the minority and many love the approach and the company was more than happy to meet that challenge. Here is a picture taken without the lens in place:
And here is one once the lens is attached.
Verdict- If you like fisheye you will like it.
A Wide Angle
Super-Wide: Advanced 4-element lens with over 120° field-of-view to capture more landscapes and more friends.
This will be great when I am in Israel next week and, for example, am standing on the top of Masada and want to shoot pictures of the Dead Sea. (And I want to get pictures of the Dead Sea before it is gone. It is rapidly disappearing and I don't know how much of it will be left the next time I visitor. That, however, is a story for another time.)
When used inside the Wide Angle Lens lets you go from this…
To this…
A Macro Lens
Macro 15x: Transform your camera into a digital microscope with 15x magnification for the ultimate close-up.
Next up is the macro lens. The iPhone does a decent job of photographing small objects by letting you take a picture and then crop it to get closer. Still, there's nothing that will compare to a macro lens. Luckily the company has you covered here quite nicely. Here's a dime shot with my iPhone 7.
And here is a picture of the same dime taken when the Olloclip is in place.
Verdict: no contest.
Olloclip's new Core Lens Kit takes iPhone-ography to an entirely new level. The new attachment system takes a bit of an adjustment but it works well. You can use it with both the front and read camera, can switch lenses in seconds, can conveniently carry the lenses when they are not in use and, when you do, you will always have a stand available for your iPhone. The company says the optics of the lenses is also improved and… I believe them. If, like me, your iPhone is your only camera, this $99.99 accessory will take your photos to the next level.
Source: Manufacturer supplied review sample
What I Like: Excellent quality; Works with front and rear cameras; iPhone stand built into the design; Other lenses available; Easy to get on and take off
What Needs Improvement: Learning curve to understand the system; Does not work with Studio Case
Want More? Follow Us Here!