Breville's new Smart Oven Pizzaiolo is specially designed to make restaurant-quality pizza in your home kitchen; it's the first domestic countertop oven that reaches 750F, similar to a brick oven. Breville connected me with Dan Richer, chef and owner of Razza Pizza Artigianale, to give me a demonstration; I left impressed with both the oven and the chef.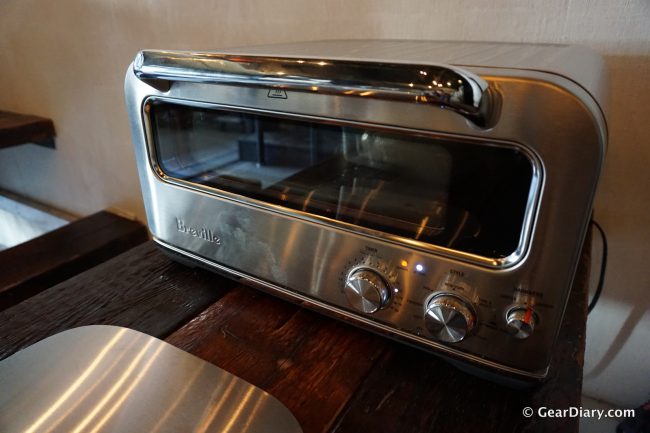 Dan Richer is a self-described craftsman. He works at his craft similarly to a carpenter to improve his product day by day. He does double-blind taste tests to decide which tomatoes to buy ignoring the brand names or whether they're imported or domestic. He uses a 50-point checklist that all of his pizzas have to adhere to before leaving his kitchen. He even makes his own mozzarella each day because he couldn't find one that met his high standards. You could say he's a perfectionist and you'd be correct. The proof is in the pizza at Razza Pizza Artigianale.
See my conversation with Dan in this video:
At Razza, they use a wood-fired oven to bake their bread and pizzas, which was custom-built to suit their needs. The team has been baking in it for years and has dialed it in to their exact specifications and knows exactly how each pizza will bake, which is what you need in a restaurant setting. Enter the $799.95 Breville Smart Oven Pizzaiolo. Breville included Dan in their testing because they know his passion for pizza is unrivaled. Dan has been baking with it since its prototype days, and he believes it's an excellent oven for the home pizza chef. Some of its benefits include high temperatures, the amount of control you have over the oven, the convenience, and the safety.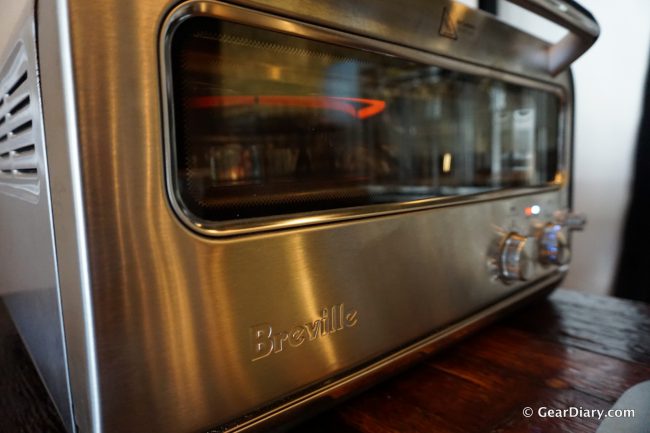 Breville's Element iQ system provides optimum cooking performance while the innovative cavity design utilizes sensors and temperature controllers to make sure your chosen pizza is cooked perfectly. The Smart oven Pizzaiolo uses three kinds of heat to mimic brick ovens: conductive heat, radiant heat, and convective heat.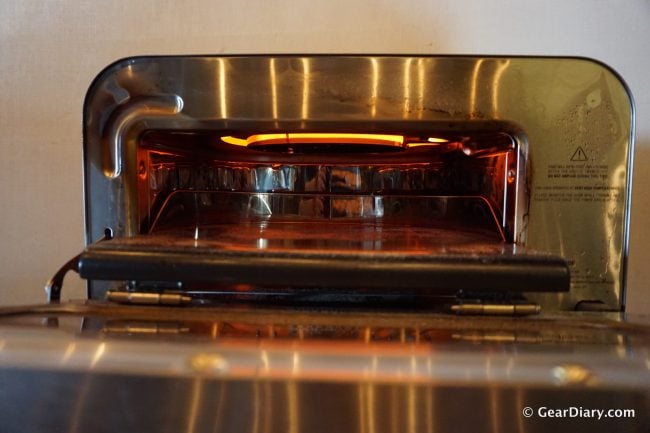 Conductive heat is used for the bottom of the pizza with heating elements below a natural cordierite stone to heat quickly and evenly to create the prefect char. Radiant heat is used for the top of the pizza, which allows you to not have to rotate the pizza to get the entire pizza cooked. Parabolic radiators maximize the efficiency of the top heating elements by reflecting the energy onto the crust. Convective heat is used to bake the center of the pizza. For Neapolitan pizzas, the deflector protects the inside of the pizza from the most intense heat, however for other pizza styles, the element switches to ensure that all toppings and cheese are evenly browned.
The Pizzaiolo has a number of preset pizza styles built-in so that you can simply choose your style from pizzas like "Wood fire," "Thin & Crispy," "Pan," or "Frozen." This automated functionality is nice for quick and easy pizzas, but if you're a professional like Dan, you'll want to put your oven into Manual Mode. In Manual mode, you can control the deck temperature and the top temperature individually to really dial in your perfect pizza. It will take some tinkering to figure out the best settings for your style of pizza, but I think this is the best way to go. Dan, the artisan that he is, threw away two perfectly good pizzas because they didn't meet his standards, while I was watching them with sadness and a growling stomach.
Once we dialed in the settings, the pizzas Dan made were, without hyperbole, some of the best I've ever had in my life. While most of this can be attributed to Dan's naturally fermented dough, his homemade tomato sauce, and mozzarella that's made on premises, I was fascinated with the way the oven settings could be tweaked in order to bake an amazing pizza that could have fooled any pizza snob into thinking he was eating a pizza straight from a wood-fired oven. The crust was charred beautifully, while the texture of the crumb was soft as a pillow and had a good chew. The top was perfectly cooked, while the bottom of the pizza was crispy so that the tip of the slice didn't sag under the weight of the tomato sauce, cheese, and olive oil.
The oven itself is made with double-pane glass, so you can see your pizza cooking (but it won't let too much heat escape) with multi-material insulation that encapsulates the cooking chamber. This makes the oven extremely safe to use in your home kitchen. As a pizza was cooking, I placed my hands on top of the oven and it was completely cool to the touch; I was shocked. The oven will be completely safe in a home kitchen, even if you have young kids.
The oven door is uniquely designed in that it's attached to the stone base of the oven, similar to a toaster oven in that way. However, what's different here is that when you close the oven, you see the stone base lift your pizza and get it very close to the heating elements above. This is what gets your pizza crispy and perfectly baked.
When looking at the details of this oven, you can tell that Breville took their time and put a lot of effort into the design of the Smart Oven Pizzaiolo. The design of the exterior is simple, stylish, and timeless, with just three control knobs protruding from a stainless steel body. Now I just need my own to be the centerpiece of my kitchen.
Thank you again to Dan Richer, who was the most gracious host. I appreciate you for taking the time out of your already full day to talk about life, pizza making, and the Pizzaiolo with me. You are truly an artist among chefs.
Check out some photos from the interior of Razza Pizza Artigianale in Jersey City, NJ:
The gorgeous unfinished walls inside the restaurant, left from removing the wallcovering from the theater lobby that was there previously
You can purchase your Breville Smart Oven Pizzaiolo directly from the manufacturer at Breville.com.
Source: The Breville Smart Oven Pizzaiolo was demonstrated to me by Chef Dan Richer
What I Like: Beautiful product design that would look great in any kitchen; Preset modes or manual mode for precision baking; Mimics a brick oven beautifully; Makes great pizza
What Needs Improvement: Slightly large if you are planning to keep on the countertop at all times
Want More? Follow Us Here!