If you struggle to fall asleep because your bed is too hot, too cold, too hard, or too soft, and if you and your partner can't seem to find a mattress that will work for both of you, maybe it's time to try something like the Sleep Number Climate360 Smart Bed. It's billed as the first-ever bed to actively cool, warm, and effortlessly respond to each sleeper. Although pricy, the Climate360 Smart Bed sounds brilliant.
As I mentioned when I wrote about Sleep Number's True Temp bedding, Kev and I went through three different mattresses — costing several thousands of dollars each — in less than ten years together because we couldn't find one that remained comfortable for longer than a few years.
Buying a Sleep Number i10 360 Smart Bed with an integrated base in January 2018 ended that vicious and costly mattress purchase cycle.
Please allow me to digress for just a moment.
With the Sleep Number i10 Smart Bed, we can set each side of our queen-sized bed to the exact firmness we prefer, and the mattress will automatically respond and adjust its firmness to our movements during the night.
Because the i10 360 is a smart bed, a SleepIQ report is generated for each of us every morning that details our night, including how long it took to fall asleep, how long we were restless or restful, and each time we exited the bed. Biometrics, including heart rate, heart rate variability, and breath rate, are measured, tracked, and shared with Google Fit.
The only option we didn't spring for when we ordered our bed was to get one of the FlexFit Bases that Sleep Number offers, which would have allowed us to raise the head and foot of the bed into various positions. If we had been buying a Split King or FlexTop King mattress, we would have definitely done this.
Side note: when you get the Split King or the FlexTop King with the FlexFit 3 Smart Base, the set-up is smart enough to recognize when someone is snoring, and it will gently raise the head on that side of the bed to help alleviate it. The FlexFit 3 Smart Base also offers foot warming and under-bed lighting.
Anyway, it seemed crazy to get a FlexFit Base for a queen-size bed that didn't have a FlexTop, and we were already spending almost $5,500 for the mattress and integrated base. We weren't sure if this mattress would last for more than three years or if it would end up on another bed in another bedroom while we tried something else.
Long story short, even though the queen-size bed didn't come with a split top option, we should have spent the extra $1499 for the FlexFit Base or $2399 for the FlexFit 3 Base.
To this day, that remains my only regret about our purchase.
And that brings us to the Sleep Number Climate360 Smart Bed.
Our Sleep Number i10 360 Smart Bed has Temperature Balancing, which goes a long way to absorb excess heat, passively releasing it as we cool down to help keep us comfortable.
Everything we love about our i10 360 Smart Bed is found in the Sleep Number Climate360 Smart Bed, but the Climate360 offers so much more!
Rather than passive heating and cooling, the Sleep Number Climate360 Smart Bed uses an evaporative core cooling process to pull heat out of the bed actively; it can also actively push warm air through the bed up to the sleep surface for gentle core warming.
The Climate360 is a bed that basically offers climate control without any bulky (and pricy) add-ons, and I am here for it.
You can schedule temperature settings through the SleepIQ app for core cooling, core warming, and foot warming, or create time-based routines for bedtime and when you wake up. If you'd rather play it by ear, you can set a preferred temperature, which will be maintained for up to ten hours.
I'm imagining winter; the foot warmer will automatically turn on before bedtime; if it is part of my sleep routine, the foot warmer will automatically shut off when the bed detects me or at a preset time. Sigh.
Unlike the separately sold bases for the i10 360 Smart Bed, the Sleep Number Climate360 Smart Bed includes a smart adjustable base. With it, you can pick any number of head and foot positions – including Zero Gravity — using the SleepIQ app on your smartphone.
And yes, the Sleep Number Climate360 Smart Bed will raise your partner's head to help alleviate snoring; if you get the queen size, both sides will move as one, but if you have the King or California King Split or FlexTop, you can lie flat as your partner's head is gently elevated. And as a favor to everyone, if you come to bed later than your partner, automatic under-bed lighting will keep you from stubbing your toe.
As you can likely imagine, all of this comes at a price; the Sleep Number Climate360 Smart Bed in Queen is $9,999, and the King-size beds start at $12,499.
But don't freak out!
Right now, Sleep Number is offering $2,000 off the Climate360 Smart Bed, which means you can get the entire set-up for $7,999 before tax and shipping.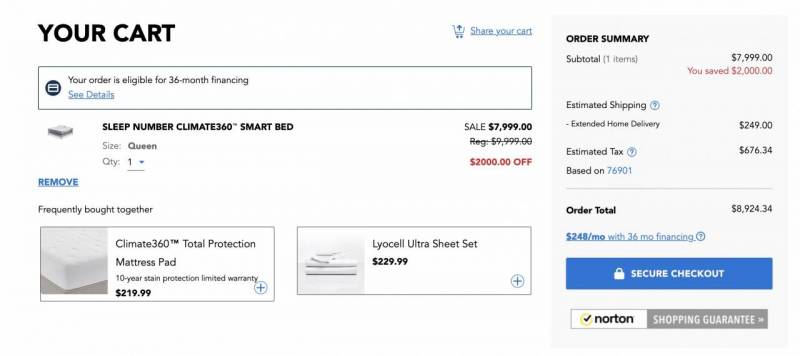 Even with $1300 in discounts, this is the price right now for the updated Sleep Number 360 i10 Smart Bed (the most recent version of ours) with the FlexFit 3 Smart Base and two DualTemp Individual Layers added, as they are necessary to get similar — but not the same — features as the Climate360.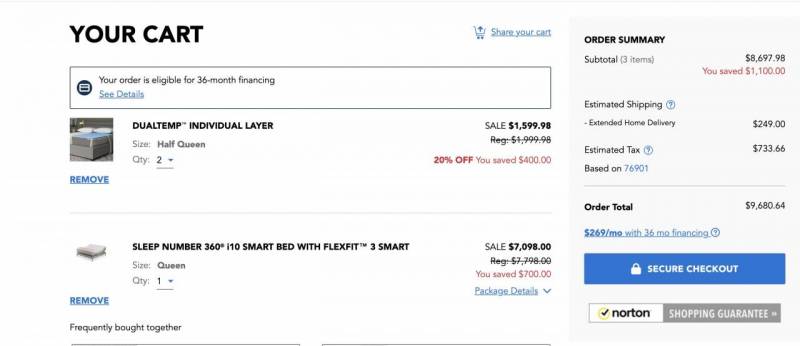 If a comfortable, temperature-regulated, deep night's sleep is something you are craving, take my word for it and go try out a Sleep Number Climate360 Smart Bed at a showroom near you. Or you can bite the bullet and order one for a 100-night in-home trial period in the privacy of your own home*. You can even get 36 months of interest-free financing if you're approved!
*You don't have anything to lose; Sleep Number just asks that you sleep on the bed for a month. If it doesn't rock your world, you can let them know before the end of the 100-night in-home trial, and they'll help you arrange a return or exchange.
You can learn more about the Sleep Number Climate360 Smart Bed here.