The PlayStation 4 specifications have been released after the initial February 20 announcement from Sony. Still no backwards compatibility…for any PlayStation 3 game, but services will be available to stream PS1, PS2 and PS3 games. One of my biggest questions was answered – the disc drive. Game format will be downloadable and optical disc. The "cloud"-like downloading trend made me wonder if the PS4 would even have a disc drive.
Another big one – No DualShock 3 controller support. The new DualShock 4 controller will have a special lightbar so the new PlayStation 4 camera can track the controller's 3D location. The Share button on the DualShock 4 controller will provide direct social media posting options and the PlayStation Move will be used with the PS4.
PlayStation Vita owners can rejoice. The handheld PlayStation Vita console will act as second device (similar to the current Wii U GamePad) where players can download games and even play them when away from the main PS4 console plus mobile/tablet device owners can complete similar action through the PlayStation App. Connected play with Internet connection has advantages, but Sony promises they have considered offline gameplay as well for the PS4.
Here are the PS4 specifications:
Game format
Optical disc, downloadable
Accessories
Motion controls – camera / six-axis, optical
Headset / microphone
PlayStation Move capability
Audio / video
Video outputs HDMI
Audio outputs 3.5mm stereo
Camera
Dual lens (approximately 183 grams)
Four channel microphone
85 degree field of view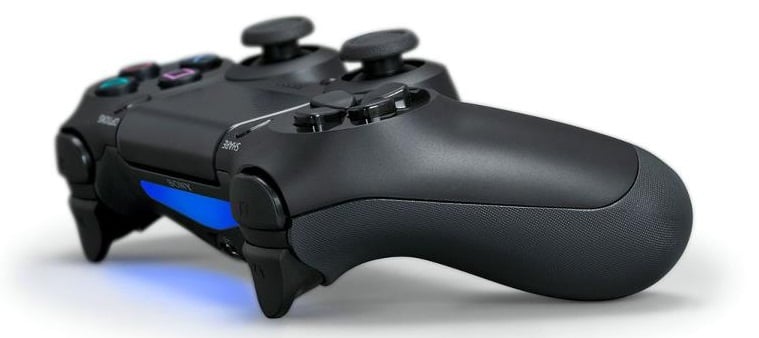 Controller
Wired and wireless controller type (approximately 210 grams)
Proprietary charging cable
Direction control D-pad and two thumb sticks
Built-in rumble support
Built-in lithium-ion rechargeable battery
Hardware
CPU – low power x86-64 AMD "Jaguar", eight cores
GPU – 1.84 TFLOPS, AMD Radeon graphics core next engine
System RAM 8192 MB
USB 3.0
Media
Audio playback
Video playback
Photo viewer
Networking / online service
Internet connectivity
WiFi 802.11 b, g, n
Ethernet 10/100/1000 [Gigabit]
Online features Multiplayer, Voice chat, Video chat, Store, Browser
Downloadable content Games, Game updates, TV shows, Movies
Game achievements
Friends list
Service fee
Storage
Hard drive system storage
Want More? Follow Us Here!