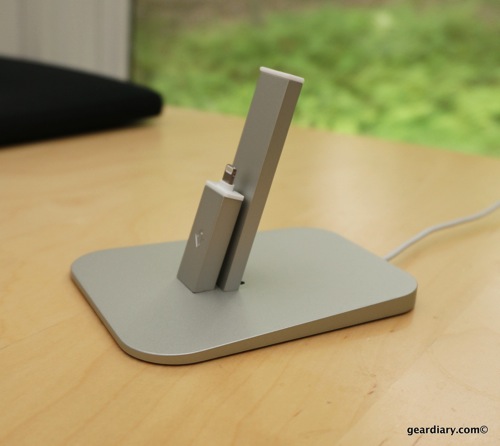 Twelve South only makes products for Apple devices, and their newest offering is a fantastic addition to their lineup. The HiRise is under $35 ,and it is a dock that works with both the iPhone 5 and the iPad mini. It also lets you use either device with most cases! Check it out here.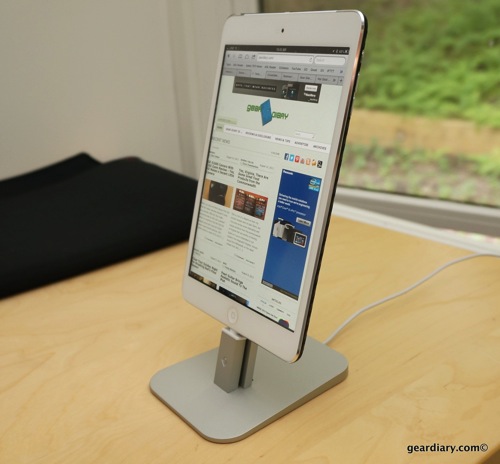 The HiRise is an elegant way to raise your iPhone 5 or iPad mini up off your desk or countertop, and it will securely hold, charge and, if so desired, sync with your computer. I love the look of the HiRise and it works exactly as promised. I do, however, have some concerns that translate to this dock being great for many people but not the right accessory for everyone. Here's why…
As I mention in the video, the HiRise comes dismantled and requires you to not only supply your own Lightning cable, but to put the dock together. It isn't complicated, but it does take a bit of thought to get it right. To be clear, the HiRise is designed for one of Apple's Lightning connectors. The opening at the top is perfectly sized for Apple's specification, which means many 3rd-party cables will be too thick to fit. They MIGHT work, but I would not bet on it.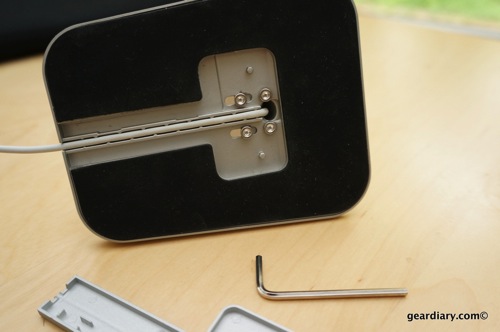 Then there is the fact that you need to think through which of the three included cable inserts you are going to want to use. Picking the "wrong" one won't make the HiRise unusable but, for example, if you use the shallowest insert thick cases like the LifeProof nuud we recently reviewed won't work. Then you will want to adjust the taller of the two upright pieces in such a manner that there is enough room for the phone, but it is tight enough that the larger upright can support the device. This will take a good deal of stress of the Lightning connector. That's a good thing, considering the fact that Judie's step-daughter had a connector snap off in her iPad mini last spring. Here's the company's setup video.
The process isn't difficult, but it did require a bit of finesse on my part to get it the way I wanted it to be.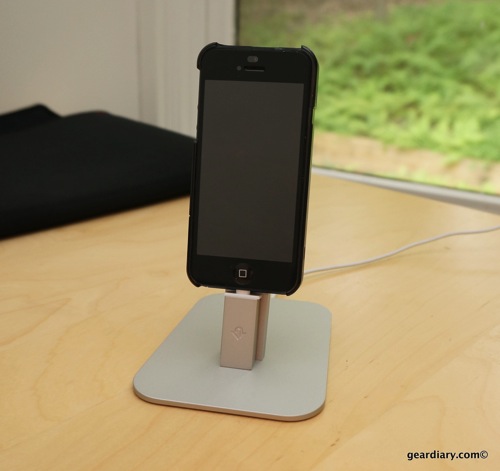 The hassle of setting up the stand is well worth it; the HiRise looks great and does exactly what it promises.
Place HiRise in your workspace to charge while your hands are free during calls and FaceTime chats. Unlike most other docks, HiRise doesn't block your speakers, mic or headphone ports. This vertical pedestal is small and beautiful enough to use anywhere in your home or office. It's the ultimate perch for keeping your iPhone 5 or iPad mini fully charged and ready to go.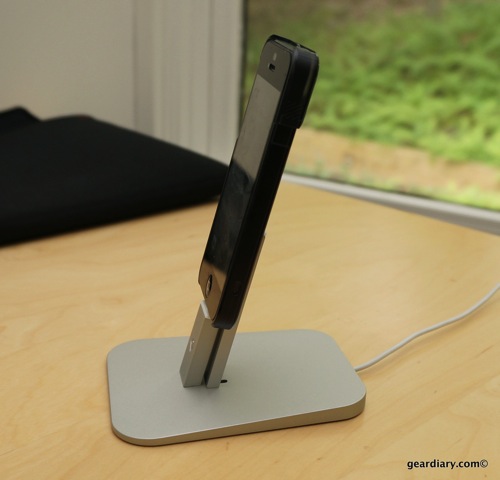 The stand leaves the microphone, speaker and 3.5mm headphone jack free, and it raises the device up and off the surface upon which it sits. Having spilled my drink on more devices than I want to recall, I love the fact that it means my iPhone or iPad is out of harms way. Better still, it is out of harms way with style.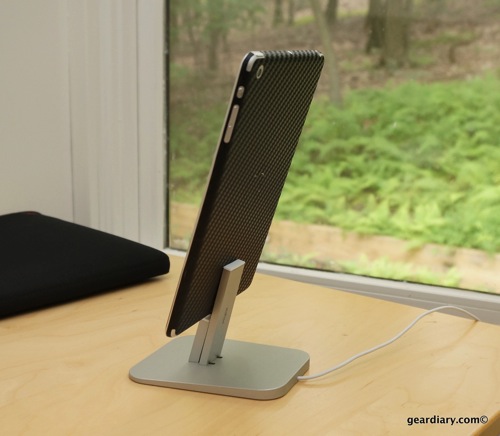 Here's the HiRise with my iPad mini. As you can see, it works just as well with the mini as it does with the iPhone 5. Thanks to the rear support, there is minimal stress on the lightning connector. And although the HiRise isn't all THAT high, it does raise the iPad just enough that viewing and FaceTime is more comfortable than if the tablet was sitting directly on my desk.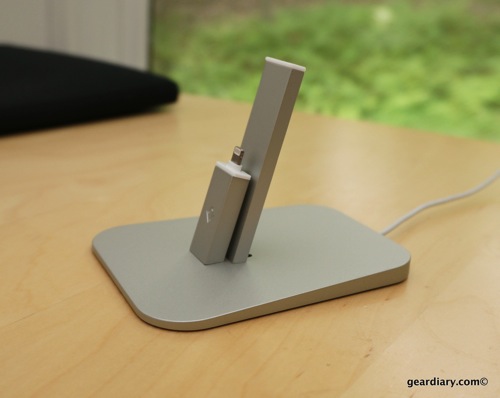 The video might come across as my being negative about the HiRise; I'm not. In fact, I really love this accessory, and I plan to purchase another one so I can have one at my desk at home and one at the office. Still, if you don't want to take the time to set up the dock, or you don't have an extra Lightning cable that you are willing to use with the HiRise, this may not be the best option. For everyone else though, this $35 dock is a winner. Order yours here.
MSRP: $34.99
What I Like: Elegant; Works with iPhone 5 and iPad mini both in and out of most cases; Raises the device up for viewing and FaceTime, Surprisingly reasonable price
What Needs Improvement: Requires you to supply the cable; Requires setup
Source: Manufacturer supplied review sample
Want More? Follow Us Here!