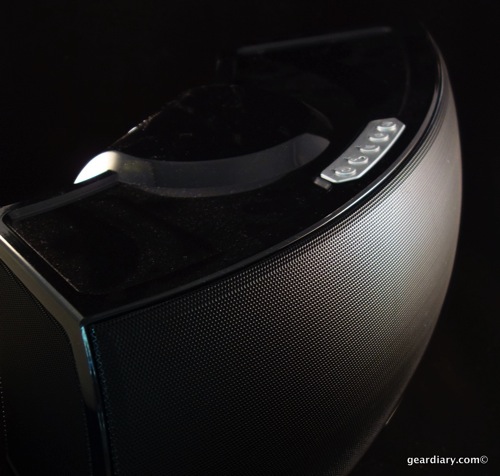 In part one of this two-part review, we looked at the philosophy behind and technology within the new Korus line of wireless speakers. In part 2 we'll be looking at the two speakers that were part of the initial launch of the line, as well as my thoughts on the speakers in specific and the line in general.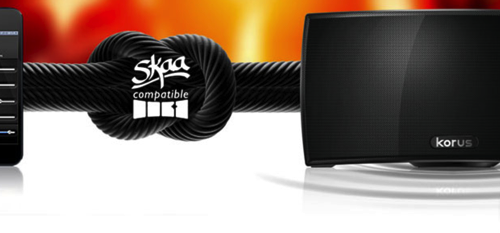 The Korus system, and it is a system, currently includes two speakers that look like wired or Bluetooth speakers but they have a vastly different technology inside that enables them to connect to your audio source and to each other. Powered by SKAA, a wireless audio protocol that provides "superior signal connections with near zero lag or delay", Korus offers impressive audio playback and precise audio synchronization when you are using a tablet or computer to watching videos or playing games.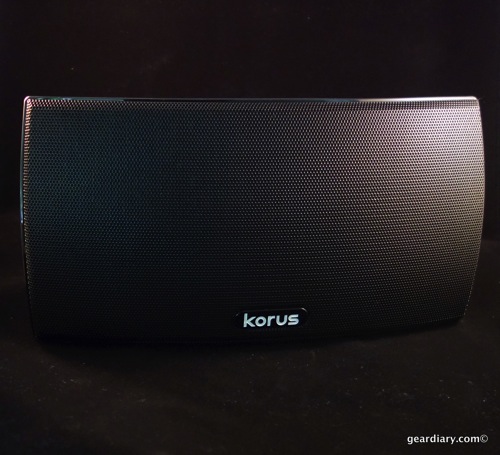 As we noted in part one of this review:
Korus' premium technology is based on SKAA, an improved wireless audio protocol that offers consistent and reliable signal connections without latency issues. Korus speakers with SKAA transmit superior sound quality up to 480Kbps (compared to 201Kbps as is typical for Bluetooth enabled devices). SKAA is transmitted on the 2.4GHZ ISM radio band and uses a patented Walking Frequency Diversity protocol that effectively detects conflicts and "hops" out of the way, preventing drops and pops. SKAA has a latency (lag time from a source device) of only 40ms (milliseconds) as opposed to 120ms typical for Bluetooth.
Let's look at the two speakers Korus currently offer.
Both the Korus V600 and the Korus V400 feature the same general design and controls.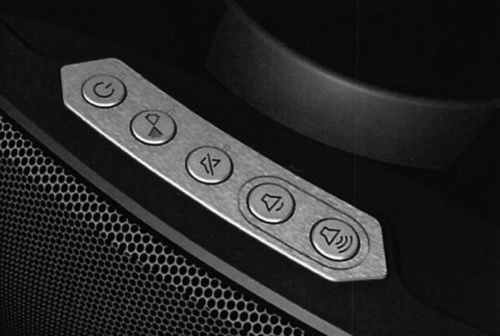 From left to right the buttons are: Power, Connect, Mute, Volume Down and Volume Up
In addition, three of the buttons – Power, Connect, and Mute – feature various functions that are each indicated by differing lighting patterns.
Power:
White: speaker is On
Amber: speaker is in lower power Standby mode
Connect:
White: the speaker is setup to search for and operate with Batons already configured with the speaker and stored in the speaker's Favorites list
Amber: the speaker is setup to search for and operate with the new Batons that have not been configured with the speaker
Red flash: the currently active Baton has been removed from the speaker's Favorites list
Off: the speaker is being used with a 3.5mm audio cable
Mute:
White flash: the speaker sound is Off
Off: the speaker sound is On
As noted in part one, key to the Korus system is the use of Batons (aka dongles) that connect to the 30-pin or Lightning connector on iOS devices or the USB port on a computer. Using the Batons is an entirely new gadget-language for most of us so it is worthwhile to take a few minutes and become familiar with the way a new Baton is connected and how they can be used to connect to multiple speakers simultaneously.
Using a New Baton:

The Connect button is used when adding a Baton to the speaker's Favorites list. With your new Baton inserted into your device, begin playing your music, video, or game. Then press the Connect button twice to search for a new Baton. When in search mode, the Connect button light turns amber. When the Baton connects with the speaker the light turns bright amber. Press and hold the Connect button to add the Baton to the speaker's Favorites list – the Connect button light turns bright white.

Switching between Multiple Batons:

The Connect button is also used to switch between configured Batons. With your Baton inserted into your device, begin playing your music, video, or game. Then press the Connect button once to search for the previously configured Baton. When the Baton is connected with the speaker, the Connect button light turns bright white.

NOTE: Press the Connect button four times to enable "Play AH" mode. The Connect button light turns red. The speaker will automatically connect with an active Baton stored in the speaker's Favorites list – eliminates the need to press the Connect button to switch between Batons. Press the Connect button again to disable "Play All" mode – its light turns bright white.

Pressing the Connect button six times will restore the speaker to its factory default state with its Favorites List of Batons cleared.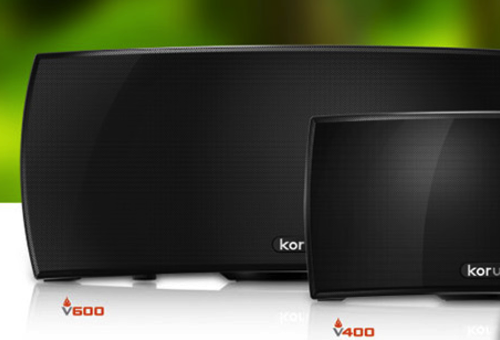 The Korus V600
This is the premier wireless home speaker in the Korus lineup. It is big, powerful, and it makes a statement. It is 17″ by 9″ by 7″, and it weighs 11 pounds. I would not call this a portable speaker; I would, however, call this a moveable speaker.
The integrated handle makes it easy to pick up and carry the speaker from one location to another and the ability to power it for up to 90 hours with 6 D batteries means it is a speaker you can take outside and enjoy on the desk, in your RV or at a picnic.
Thanks to the SKAA technology the speaker employs it will get a wireless range of up to 65 feet. And that is 65 feet indoors where there are walls and other obstructions. Outside it is possible you will see a range of up to 200 feet! Compare that the Bluetooth's 33 feet and you have something worth bragging about.
The 100 watt amplifier inside the speaker is also brag-worthy. It drives seven different speakers–one Bass driver, two Mid Bass drivers, two Front tweeters and two side-firing tweeters that "spread the aural love and provide excellent channel separation for a wide soundstage".
The sound from the V600 is HUGE. The speakers get so loud that I couldn't get it close to maximum output. (I'm committed to Gear Diary but not to the point of destroying my hearing. Putting the V600 at max volume would not be good for ones hearing health.) More importantly, the V600 sounds fantastic. When I pushed it to the louder side of things there was no distortion at all. It sounds GREAT!
Read about the V600 here.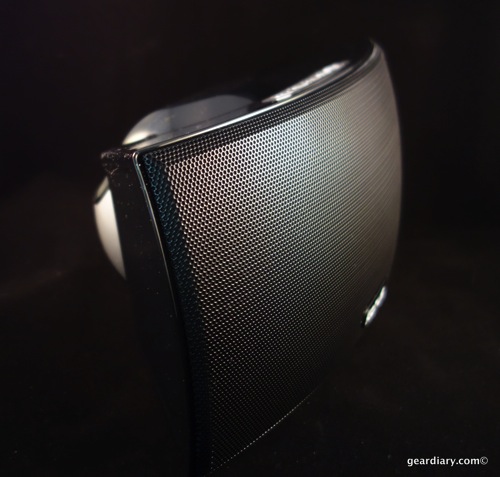 The Korus V400
Korus' V400 speaker is small, lighter and less expensive than the V600. It measures 11″ by 6″ by 5.5″ and weighs in at 4.4 pounds. It has the same design as its big brother and gets the same wireless range. Like the V600 it has a handle so you can easily move it from one room to another but, unlike the V600 it does not have the ability to run off of batteries. It is an interesting choice on Korus' part to have the larger of the two speakers run off batteries but not the smaller and left me scratching my head just a bit. I asked about the choice and it came down to two key factors. First, market research showed that people who would likely buy into the Korus system we more inclined to want a large, powerful speaker they could use on the deck. (I suspect that such people are more likely to also have a small Bluetooth speaker that costs $100-$150 so a battery operated V400 would be redundant.) In addition, the smaller space inside the V400 would have required too many compromises on the audio side of things had they tried to accommodate a battery compartment. The larger size of the V600 posed no such issue.
The V400 has four speakers- two full range drivers and two front tweeters and, like the V600, sounds great. As you might expect it doesn't get nearly as loud as the V600 but its sound is still substantial and is more than enough to fill a small to medium-sized room.
And while the V600 works well in a large space or outside and the V400 works fine in a small to medium size room, when two or more Korus speakers are wirelessly connected the result is amazing. I've has the V600 and V400 playing in tandem as I have been writing this review and I am completely blown away by the sound.
Read about the Korus V400 here.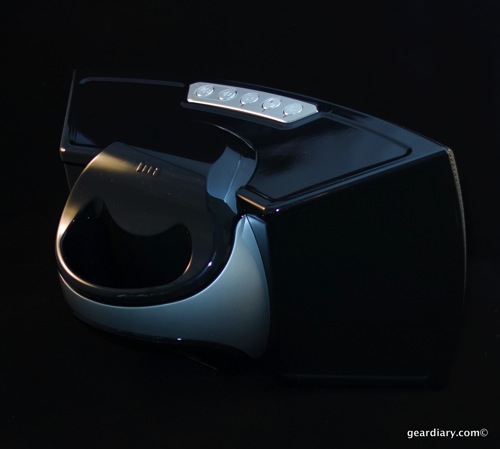 Key features include:
LiveStage acoustic design: Korus speakers are designed to create a multidimensional listening experience more accurate to the artist's intent and original recording. This yields a sound that is crystal clear and non-fatiguing. The curved design helps extend the sound field and create a wider listening zone able to fill large rooms or cover the backyard.

Designed to be portable and location friendly: With the built-in handle, the Korus V400 and V600 speakers can be easily moved around your home. Its rear-angled design fits neatly in corners. And the built-in handle allows for elegant cable management of any excess power cord.

Korus Volume Control App: Available for Free on the App Store, the Korus app allows you to independently control the volume of each speaker connected with a Baton – up to 4 speakers total per Baton. Or, you can adjust the volume of all speakers together.
All of this lead to my thoughts on the Korus system as a whole. Let me apologize in advance, because my experience with Korus requires me to be even more wordy than usual.
As you may know I am a huge fan of Sonos. I tried their PLAY:5 a few years ago and placed an order for three of the speakers within minutes of turning it on. I have since added to my system and, at this point, have a pretty healthy investment in Sonos here at home. I love the convenience, the way the speakers can be controlled from my iPhone, iPad, Mac or Android devices. I love how I can have different music in each room or the same music throughout the house. And I love the fact that while the initial system primarily worked by streaming music from the internet or from a shared network drive, an update now lets you stream audio that is resident on whichever mobile device you are using to control the system.
While Korus doesn't make a direct point of taking aim at Sonos the comparison is easy to make, and the intent is clear. Both companies offer multi-room audio experiences that, in some manner, rely on your mobile device, laptop, or computer.
Korus streams music from or through a mobile device or computer directly to the speakers. It is currently limited to iOS, OS X and Windows. Android is coming in the near future but the fragmentation of Android makes broadly implementing a Baton-reliant technology a challenge. Sonos mostly uses the mobile device or computer as the controller for music streamed from the web although native music can also be streamed to the speakers now.
Sonos now offers the PLAY:5, PLAY:3, PLAY 1, PLAYBAR and SUB. Korus currently offers just two speakers, the V400 and the V600. But Korus is brand new, and I have no doubt more speakers will be announced as the line matures. We'll be meeting with Korus at CES, and we expect to see at least one new product when we do.
Not surprisingly, the PLAY:5 and the V600 have the same base price of $399. Similarly the PLAY:3 and the V400 come in at $299 apiece. And while you need to purchase Batons to make the Korus system work as designed, you also need to either plug a PLAY:5 into your wireless network or purchase a Sonos Bridge. So, there too, there is a degree of parity.
Sonos has the edge over Korus, in that all you need to get the music flowing is a mobile device running the Sonos app while with Korus you need to plug in a Baton before you can get the music going. On the other hand, Sonos relies upon an available wireless network and there is a brief delay between launching the app and the music starting. The Korus system makes a direct connection between the mobile device and the speaker via the Baton, and the music begins instantly. I honestly never much thought about the lag with Sonos until I started using the Korus system but, once I did, it is really starting to bug me!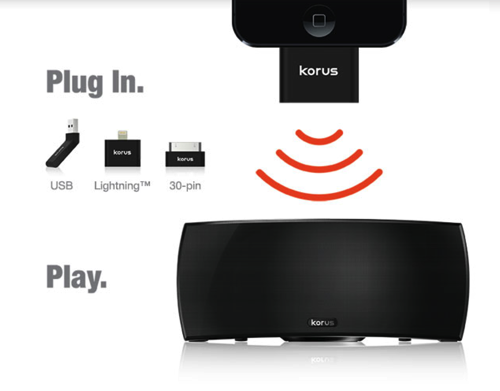 Perhaps the most visibly noticeable difference between the two systems is the need for Batons when using Korus, so let me address my thoughts about them.
I totally get the fact that they make possible a far better streaming experience than AirPlay or Bluetooth, but I have to admit that, initially, I hated them. I actually wrote an initial post that was more a rant than a review. In it, I talked about that fact that Korus can call the attachments "Batons", but they will always be "dongles" to me, and I hate dongles.
Dongles are a pain to use. Dongles get lost. Dongles cost more initially and even more when you need to replace them. And dongles need to be in hand to be of use. Think about this scenario: You are comfortable in bed and want to turn on some music. You remember that the dongle for your system is in the kitchen where you were using it earlier in the day. Suddenly, you are faced with a choice — get out of bed and grab the dongle, or start humming to yourself.
Sure, you might say, just buy extras and keep them in each room. That's all good and well, except for the fact that each dongle cost $50! And while purchasing a Korus bundle that includes a selection of dongles will help keep the Baton-tax down substantially, but buying additional Batons … or replacements for lost Batons … it will get pricey. As my grandmother would say… "OY!!"
And then there is the Baton-VS-Case dynamic. Don't even think about using a Baton if your iPhone is in a Lifeproof case. Any case that doesn't allow complete access to the Lightning connector with room to spare on either side simply won't work. In those situations, you'll need to pull your iPhone out of the case to get the music going. That kinda defeats the purpose of using a highly protective case doesn't it? As my grandmother would say… "OY VEY!!!" Okay, I don't ever recall my grandmother saying Oy Vey!!! but Yiddish was her first language, so she could have.
In other words, the whole Dongle … sorry — baton — thing left me cold, and I was all set to post a baton-twirling rant. Then a funny thing happened. I started using the V600 and the V400. Initially I used one or the other speaker. Each sounded great. Then I put them both in my home office, plugged them in and turned them on. I started music streaming from my iPhone to the V400. It sounded great in the small room. I then pushed the "Connect" button on the V600 and the same music started streaming from it too. So now I had two Korus units with a total of 11 different speakers working together in a small space. The sound was amazing. And when I switched from one song to another, or from iTunes to Spotify the speakers responded immediately; there was zero lag, and I was starting to be impressed.
I then pulled the Baton out of my iPhone and plugged it into the iPad mini. I fired up a video via Netflix, and I was blown away by the fact that the video was now matched by high-quality audio that completely surrounded me. The experience of watching video on the iPad was completely transformed by the Korus system. The same happened when I was playing a game. The quality audio coming from the Korus system was in perfect sync and transformed the experience.
And suddenly the Batons weren't all that unattractive an option. Apparently I'm not alone. During the development period, research was done into whether or not people would be willing to put up with the added inconvenience of using Batons if it meant great sound, no latency, and the ability to transfer ALL audio that would otherwise come from your mobile device or computer to high-quality speakers. The majority of respondents indicated they would opt for the Baton approach.
I also realized that, were I desperate to have the speakers available as AirPlay pleased I could use the 3.5mm Aux-In port and connect it to an AirPort Express.
Don't get me wrong, I still can't stand needing to plug something into my phone, tablet or computer to get the music going. And while I am an iPhone, iPad, Mac user I still don't love the fact that it is currently Apple-device specific. But the quality of the sound coming from the Korus system is so good and the system is so easy to use that it is a tradeoff I'm willing to make. That actually surprises me more than a bit! Add in the fact that the V600 can be run off of batteries, and you have the makings of a rather compelling addition to the current lineup of home audio system options.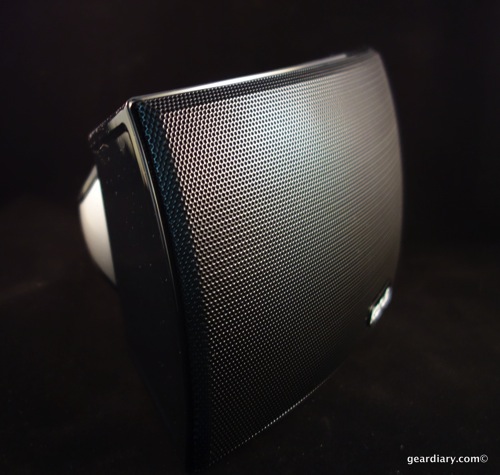 So it comes down to this: If you use an iOS device or a computer for your music, gaming and video, and are in the market for a new home audio system, then you need to check out Korus. It isn't the home audio solution for everyone but, by any standard, it is outstanding; it just might be the perfect system for you.
Learn more and order yours here.
MSRP:
V400 Bundle – $349.99
V600 Bundle – $449.99
What I Like: Amazing sound; Ability to use up to four speaker at the same time; Ability to direct any audio from your mobile device to your speakers; Zero lag when starting or changing audio
What Needs Improvement: The Batons make the magic happen, but … I still don't love them
Source: Manufacturer supplied review sample
Want More? Follow Us Here!