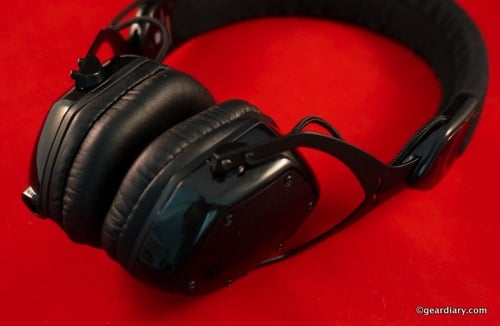 The V-Moda Crossfade M-100s stand out as one of the best pair of headphone I had the opportunity to review last year. I absolutely love the way they look, feel and, most importantly, sound. For those who prefer on-ear headphones, I recommend checking out their smaller siblings — the V-Moda M-80 on-ear headphones; they are bound to impress.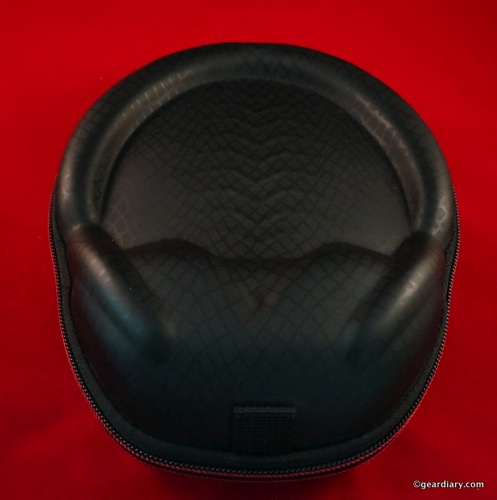 The V-Moda M-80 on-ear headphones have the same bold styling that make the M-100s stand out. Honestly you are either going to love or hate the way they look. Instead of trying to create a pair of on-ear headphones that are soft, colorful, style-focused V-Moda set out to create headphones that are bold, sharp, serious and mean business. They accomplished that and a lot more.
This bold, edgy style begins with the included case. The company describes it as being an "exoskeleton case". That is a pretty apt description for something that is molded to the shape of the headphones and does indeed look a bit skeleton-esque. I love the fact that the headphones, once inside, are not going to move around. The case holds them tightly and, thanks to the tough material from which it is made, keeps them safe when they are tossed into a gear bag.
What is perhaps most surprising is the fact that, while thinner, the case for the M-80s is actually smaller than the one for the M-100. This is simply because the M-100s fold into themselves to create a small, ball-like package while the M-80s do not fold at all. The case has to accommodate the headphones as they are. That's why the bottom of the case, the part where the ear cups sit, and the perimeter, the part where the band sits, are thicker than the center.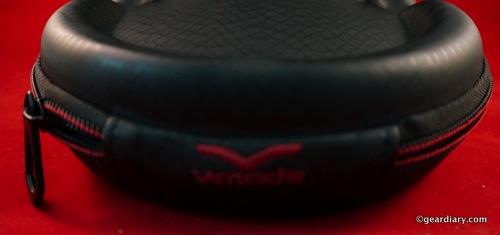 Here's a look at the V-Moda M-80 on-ear headphones on camera.
A great deal of thought went into every aspect of the M-80 on-ear headphones. As V-Moda explains:
Ultra-Compact Design & Travel Case: 53% Smaller Design: Rock M-80 as your "daily driver" for all your calls and music, it is half the size of its over-ear siblings so you can wear it all day long
Hear, There, Anywhere: Perfect for nearly any scenario, be it commuting, travel, gym, office or mobile music production
Form-Fitting Case: Store your headphones and gear in the compact hard-shell case that clips on the outside of your bag for quick access
V-STRAP System: Organize included cables via the V-STRAP systems inside the exoskeleton case, with extra room left over for your USB Flash Drive and Fader earplugs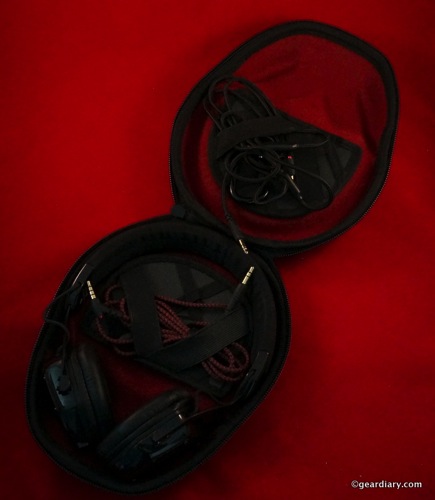 The M-80s ship with a great assortment of "extras". These not only add to the value of the headphones but speak to the company's commitment to offering great products that fall into the "premium" category without being overpriced. You get:
The Crossfade M-80s
The exoskeleton case
A carabiner
A 52″ Kevlar reinforced 1-button remote + mic cable
A Kevlar reinforced extended audio cable
Instant six-star support code
And for those who like stats, jargon and numbers the specs on the M-80s lay out in this way:
Type: On-Ear Supra-aural
Drivers: 40mm Dual-Diaphragm High-Fidelity Drivers (patent pending)
Frequency Response: 5 – 30,000 Hz
Sensitivity: 105 dB @ 1kHz 1mW
Impedance: 28.5?
Plug: 45 degree, 24k gold-plated 3.5 mm (1/8″) stereo
Weight: 200g (headphone only)
Okay enough with that. Let's dig into a closer look at the M-80 headphone package.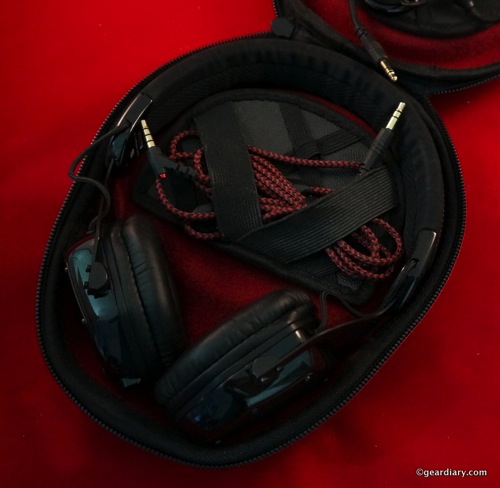 Inside the Exoskeleton case are straps the company refers to as its "V-STRAP System". It is designed to help keep the included cables organized while also offering "extra room left over for your USB Flash Drive and Fader earplugs". (I have and use V-Moda's Fader earplugs and swear by them!) I really love the fact that the open space within the case is used to keep things organized. It means there's no issue with keeping both of the included cables with the headphones and tucked out of the way. And while it may seem silly to highlight the inclusion of a few pieces of elastic stuck inside a headphone case, this is not something I have seen with other headphones and, as a result, it stands out.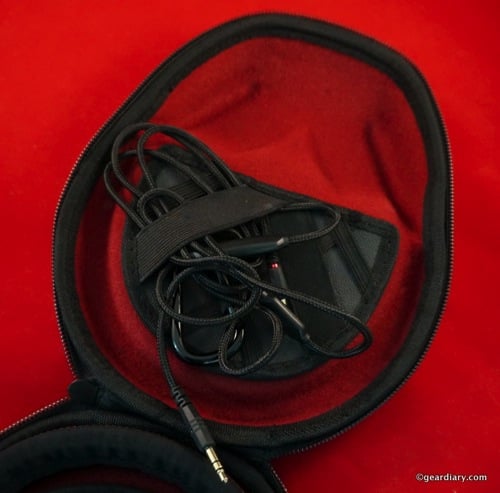 Here's a look at a more disorganized version of the V-STRAP System holding one of the two included cables.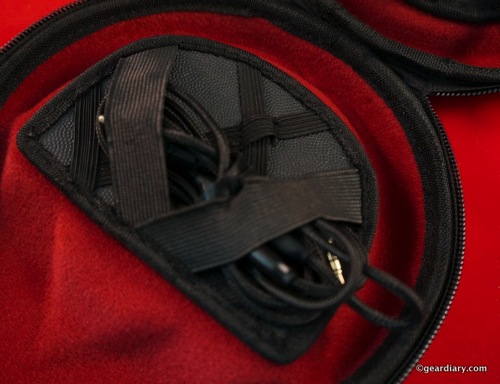 And here it is when things are a bit cleaned up.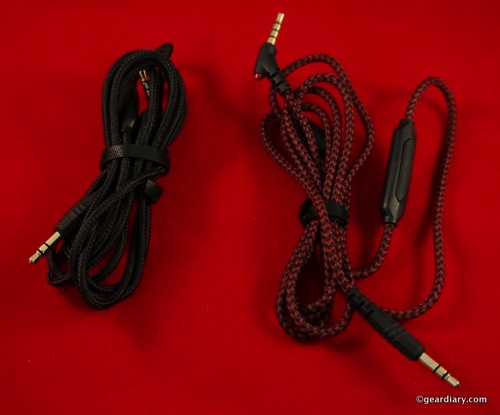 Let's talk about those cables. V-Moda saw fit to include not one but two different cables with the M-80 on-ear headphones. Perhaps more importantly, they made sure to include quality cables with the headphones that are a good match to the M-80's bold design. My review sample came with a SpeakEasy 1-Button Mic for Android. It is "specially tuned for voice recognition and calls in the noisiest environments, the 1-button control universally works with all 3.5mm smartphones and tablets including Android, Windows, Blackberry, Kindle and Apple". The website describes the inclusion of a second cable that is a straight shot from the audio source to the headphones. Mine, however, came with a three-button cable that is iOS compatible. I'm not sure why the switch was made but I am certainly happy to have both OS-specific cables. Both cables are Kevlar Reinforced and include a 45-degree plug can bend over 1 million times.
I am also pleased the M-80s are compatible with the V-Moda BoomPro Cable I reviewed here. It will "extend your functionality with a professional-grade boom mic for gaming, Skype or podcast/broadcast use". Definitely a worthwhile upgrade to either the M-80 or M-100 headphones, I love it and use it all the time.
My one regret in the cable department is the fact that the headphones only have an audio port on the left ear cup. I love when you can attach the cable to either side but unfortunately that is not the case with the M-80s.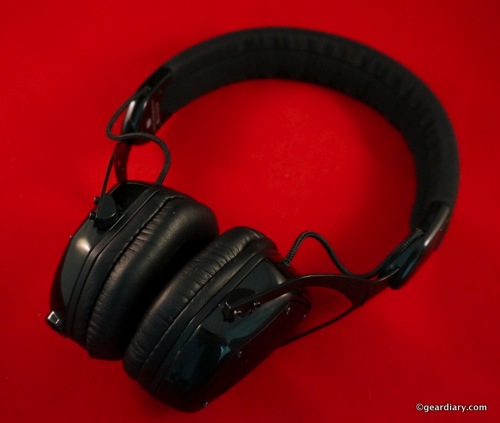 These headphones are tough! This is due, in part, to the use of a "Virtually Indestructible STEELFLEX Headband", a steel frame (it is amazing how many "premium" headphones are made form plastic) and Metal Shields that can be swapped and personalized. V-Moda tested the headphones to make sure they would survive 70+ drops on concrete from 6 feet (that is 10x industry standard). Not content to stop there they also made sure the band on the headphones would endure 10+ flattenings. I can't see doing a flat bend a single time let alone ten, but it is good to know the band is strong AND flexible.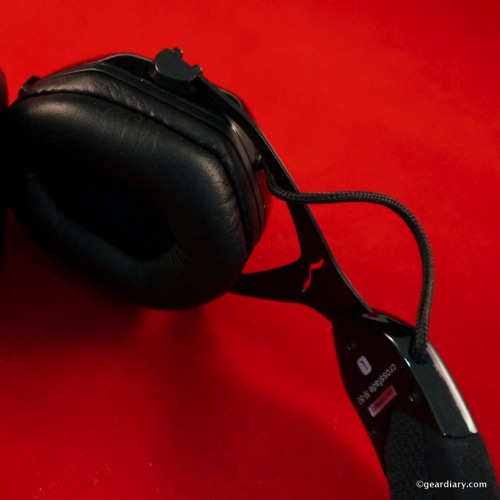 The toughness of the headphones is why V-Moda is confident enough to offer a 2-Year Warranty and an "Immortal Life Program" so that "in the unlikely event you run over your headphones with a tank, with the V-MODA Immortal Life Program, you get 50% off a replacement for a lifetime". They even offer a 60-day test drive guarantee. That's how much this company stands behind their products!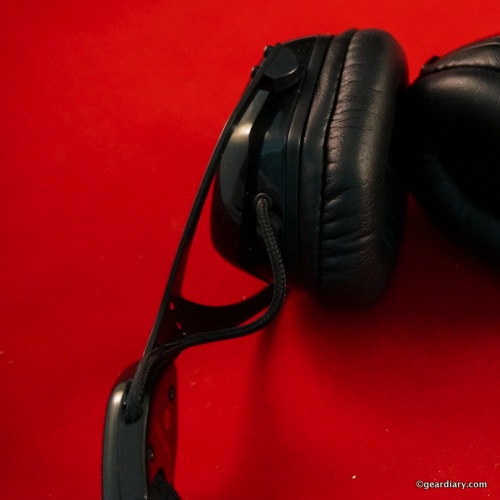 The M-80s may be small but each ear cup houses a 40mm Dual-Diaphragm Driver (with inner and outer rings that separate the bass from bleeding into the mids and highs. The company makes clear that they use more expensive drivers and components than peer headphones at the same price range. It shows. They go on to discuss the audio of the M-80s stating
Modern Audiophile Tuning: Fine-tuned by over 50 legendary producers, artists and DJs to be the perfect mobile headphone for auditioning, producing and mastering music on the go
Analog Noise Isolation: Naturally cut out the distractions of jet engines, crying babies and crowd noise
No Batteries or Artificial Processing: Powerful, pure sound without the two extra digital-to-analog conversions of battery-powered headphones that pollute the purity of your music
Minimal sound leakage: Immersive sound for you without bothering others view details
Consistent Driver Quality: The spectacular Crossfade sound is quality tested at 6 frequencies to maintain stricter consistency than the competition, often by an order of magnitude
All of that goes to say that V-Moda, a company started and run by musicians, is most concerned with creating headphones that sound great. I'm happy to say the V-Moda M-80s do just that. I love the way the company tuned the M-100s and the M-80s are clearly from the same company and ears. They offer a ton of bass without pumping it up artificially the way some "style-headphones" do. The mids and highs aren't quite as pronounced as some may like but it works for me, is on par with some of my other favorite headphones and makes for a nice listening experience. Because there are on-ear headphones they aren't quite as comfortable as the M-100s or some of the other over-the-ear headphones I will be reviewing in the coming weeks are. They don't offer the same degree of noise isolation as the M-100s either although I was actually surprised by how much they do offer. Switching between the M-80 and M-100s I found myself preferring the overall experience of the M-100s but not by as wide a margin as I expected. And because the M-80s are smaller and lighter I can see these as being preferable for someone who wants to take their headphones everywhere. Add in the fact that the M-80s are just $150 on V-Moda's website and they are a fantastic choice for anyone looking to pick up a quality pair of on-ear headphones. Check them out here.
Check out all of V-Moda's offerings here on our Amazon Affiliate Page
!
MSRP: $230 but currently listed for just $150 on the V-Moda website
What I Like: Tough and come with a great guarantee; Awesome case and cables included; Comfortable for on-ear headphones; Impressive sound; Look awesome
What Needs Improvement: Cable only attaches to one ear; Some ear fatigue after extended periods of listening
Source: Manufacturer supplied review sample
Want More? Follow Us Here!