My search for a case for the Sony Xperia Z2 led me to the Poetic FlipBook. I was initially skeptical. After all, the case has an MSRP of just $14.95. Still, for that price I figured it was worth checking it out. When the case arrived I was more than pleasantly surprised by what I discovered. Inexpensive doesn't mean cheap.
The case is a folio-style protective system that has a hard shell into which the phone is clipped and a soft, synthetic fabric case that surrounds the shell and the screen. It doesn't take too much pressure to get the Z2 into the shell but it does get a good hold on the phone once it is in place and I have no concern the phone will pop out on its own accord.
What most impresses me is the design of the polycarbonate shell. There are numerous ports and access points on the Xperia Z2- more than I have ever seen on a phone. These include the power button, the volume buttons, the 3.5mm headphone jack, the magnetic charging port, and the two sealed ports for the microSD card and the microSIM. In addition there are holes in one corner for those who want to use a lanyard and hold the phone even more securely. The Poetic FlipBook for Sony Xperia Z2 keeps every single port and button free and accessible yet still gets a good grip on the phone. That's a pretty good trick and takes a serious amount of engineering.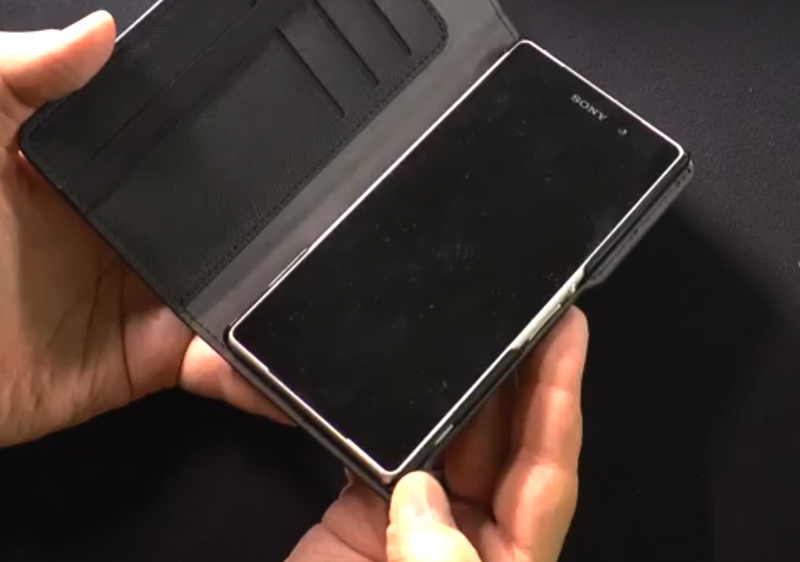 The folio portion of the case is a synthetic material that certainly doesn't look or feel like leather but doesn't have a cheap quality to it either. The interior portion is a combination of soft brushed material and the same "leather-like" material used on the exterior. Three credit card slots are cut into this interior space. Yes, this folio-style case also doubles as a wallet!
On the interior of the folio cover is an elastic band that stretches from the top of the case to the bottom. It is quite effective at keeping the cover securely held in place when the phone is not in use. In all this is an effective means of protecting your phone.
Poetic FlipBook for Sony Xperia Z2 Video Review
Features:
Flip-style case with shock-resistant polycarbonate shell
Stylish toothpick-grain textured synthetic leather front cover offers grip and comfort
Sturdy hard-back design provides easy snap-on installation and reliable drop protection
Soft microfiber interior lining for superb scratch and dust protection
This case isn't going to give you the luxury you would find with a far more expensive one but if you are looking for an inexpensive and effective way to protect your Sony Xperia Z2 it is definitely worth checking out. I spent $15 on this case and, after using it for the past few days, I can confidently say that it was money well spent… and then some…
You can
learn more here
.
MSRP: $14.95
What I Like: Good quality- especially for the price; Highly protective; All ports and buttons remain accessible; Doubles as a wallet
What Needs Improvement: Nice but not leather… Not even close
Source: Personal purchase of the Poetic FlipBook for Sony Xperia Z2
Want More? Follow Us Here!