The Star Wars Battlefront games released for PC and consoles back in 2004-5 were a big hit with fans, and the fun online play kept players engaged for several years. I also loved the PSP games Battlefront II, Renegade Squadron, and Elite Squadron. Now in time for the new Star Wars movie we're getting a new Star Wars Battlefront!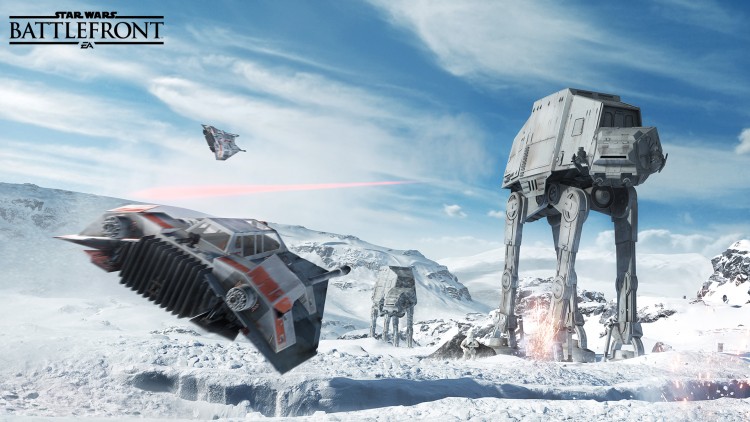 The trailer looks incredible both in terms of detail and the attention to delivering an experience that immerses you in the Star Wars universe.
"That became the vision for Star Wars Battlefront," DICE design director Niklas Fegraeus told the attendees on-hand. "It became to immerse players in an authentic Star Wars experience, creating their own Star Wars battles. So with that vision established, we flew over here to take it to Lucasfilm. Fortunately, they loved it. They loved it very, very much and what they did was even better. They opened up their sacred vaults to us. We got access to the holiest of the holy: the archives. The Death Star, all the props, and all the stuff we loved from the films."
Of course, since Star Wars: The Force Awakens releases a month after Battlefront's release, DICE is also being given special content related to it. The Battle of Jakku, the key battle with Imperial holdouts that takes place in the immediate aftermath of "Return of the Jedi," will be added to Battlefront as free DLC. In the expansion, players will see Jakku as it originally was, whereas in The Force Awakens we will see the aftermath decades later. As an added incentive to pre-order, you will get access to the Battle of Jakku a week early if you pre-order (December 1st vs. 8th).
Star Wars Battlefront releases on PC, Xbox One, and PlayStation 4 on November 17.
From YouTube:
Star Wars™ Battlefront™ goes on sale November 17th on PS4, PC and Xbox One.
The ominous thud of an AT-AT stomping down. Rebel forces firing blasters. Imperial speeder bikes zipping by. Intense dogfights between squadrons of X-wings and TIE fighters filling the skies. Immerse yourself in the epic Star WarsTM battles you've always dreamed of and create new heroic moments of your own in Star Wars™ Battlefront™. Explore additional content: http://starwars.ea.com/starwars/battl…
Subscribe to be the first to see more trailers and gameplay: http://bit.ly/1Ge7NQ1
Pre-Order And Get Additional Bonus Content Early: http://o.ea.com/37336
Check out the Star Wars Battlefront trailer:
Want More? Follow Us Here!