We recently took a look at the new Libratone ZIPP MINI. I was impressed with the design, the features and, especially, the sound. The ZIPP MINI is, as the name suggests, the smaller version of the Libratone ZIPP. That begs the question, what do you get for the extra $50 you'll pay for the regular ZIPP?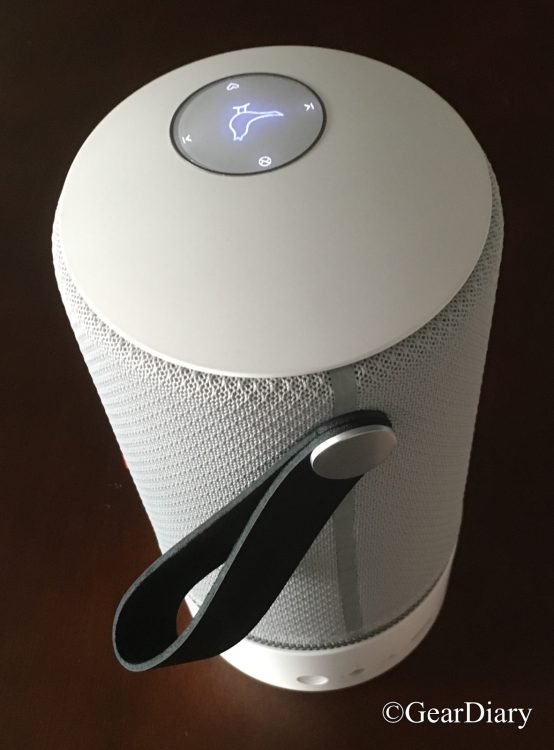 After all, one might expect a "mini" version of a product to be smaller, less expensive AND leave out some features and functionality found in the "full-size" version. Is that the case with the ZIPP when compared to the ZIPP MINI? The short answer is, "No!"
Yes, at 8.8″ high by 3.9″ wide and weighing 2.4lbs the ZIPP Mini is smaller and lighter than the ZIPP which is 10.3" high by 4.8" wide and weighs 3.3lbs. The ZIPP has a 4″ neodymium woofer, a two 1″ soft dome neodymium tweeter and two 4″ low-frequency radiators. The ZIPP MINI, by contrast, has a 3″ neodymium woofer, a 1″ soft dome neodymium tweeter and two 3.5″ low-frequency radiators. That's a bit of a difference but not earthshaking. The result is that, while the ZIPP MINI serves up watt total power across 2 DSP enhanced amplifier channels, the ZIPP puts out 100-watt total power across 3 DSP enhanced amplifier channels. So while the ZIPP MINI is no slouch, the ZIPP gives bigger, badder (as in better) sound and I'll kick some serious audio butt.
This slideshow requires JavaScript.
Other than these specs and the overall size difference between the two speakers everything else remains the same. Both speakers get up to 10 hours of play time.

Both speakers have a 3.5mm mini-jack, USB play in, USB charge out, WiFi dual band, Bluetooth 4.0, AirPlay for use with Apple devices, DLNA for use with Windows and Android and Spotify Connect. In other words, both the ZIPP and the ZIPP MINI offer the widest range of connection options we have seen.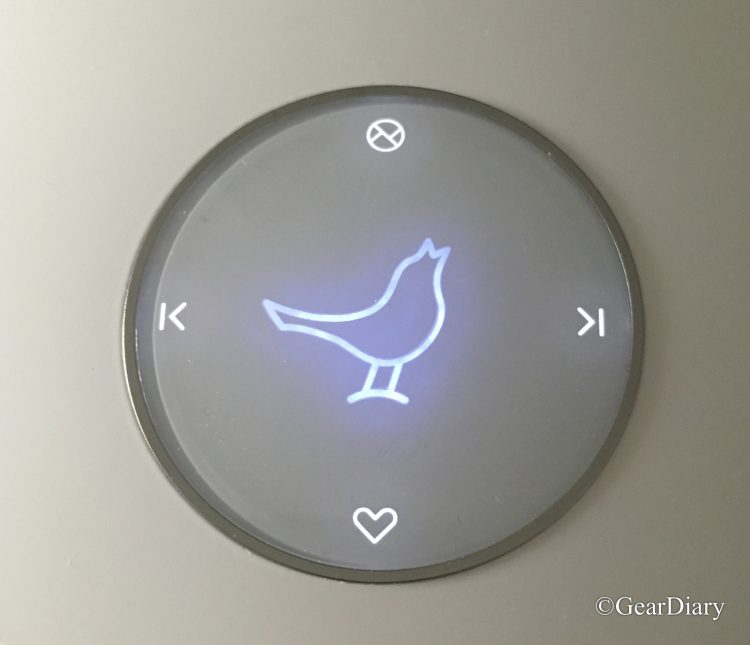 You can even silence the audio by waving your hand over the touch controls. That means you can enjoy your music from almost any source and any device and the sound you get is knock your socks off.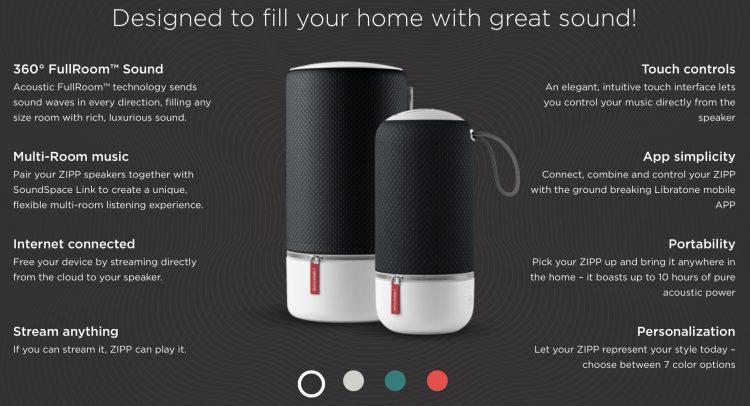 The setup and interface on the ZIPP are the same as on the ZIPP MINI so I'll refer you to our review of the ZIPP MINI for that. (Check it out!) Instead, I'll come back to the question with which I started this review of the Libratone ZIPP. Since the ZIPP MINI offers all the same connectivity and functionality of the larger ZIPP, is the latter device worth the extra $50 you'll spend? The answer is… It depends. If you are looking to purchase one Libratone ZIPP I would definitely get the more expensive and larger unit. After all, it not only sounds amazing but it kicks out some serious audio. If, however, you are looking to pick up a few of these, after all, you can pair up to 6 speakers per group and can have eight groups on any given wireless network, you might want to go for the ZIPP MINI. I get plenty loud and that $50 savings PER SPEAKER will add up pretty quickly.
360° FullRoom Sound- Submerse yourself in music: Acoustic technology radiates 360° sound to encircle you in rich, indulgent sound.
Multi-Room music- Listen how you want, wherever you want: Link up to 6 speakers via WiFi to create a larger, more inclusive sound experience. Or let everyone decide for themselves – with music in the kitchen, a podcast in the bedroom and Netflix in the living room. Control everything via the APP or touch control.
Stream anything- Play all your favorite content: Stream from all your favorite music apps and content sources including Apple Music, Spotify, Pandora, Netflix, and YouTube. If you can stream it, ZIPP can play it! Over WiFi or Bluetooth!
Internet connected- Free your music and devices: Easily play and control your Spotify music—and your 5 favorite Internet radio stations—directly from ZIPP without needing your device nearby. No more draining your device's battery or having your playlist interrupted by incoming calls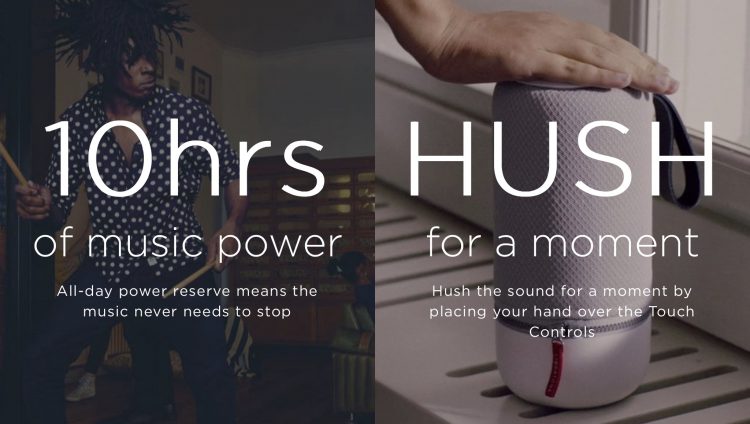 Touch controls: An elegant, intuitive touch interface makes using ZIPP easy and fun. You can even "Hush" the sound for a moment by placing your hand over the Touch Controls!
Portability- Your music is always with you: Use the leather handle to pick up your ZIPP and easily move it around your home. The rechargeable battery enables you to enjoy 10 hours of pure acoustic power. No access to WiFi? Then connect via Bluetooth. You're always connected
App Simplicity- Intuitive control at your fingertips: Easily control and configure your speaker. Link your speakers using SoundSpace Link, program your favorite internet radio stations, customize your speakers and more
I love the new Libratone ZIPP. The company gave the new model a sleeker design aesthetic and upped the game with the internals and connectivity in a way that makes this one of the best, if not the best, portable speakers on the market.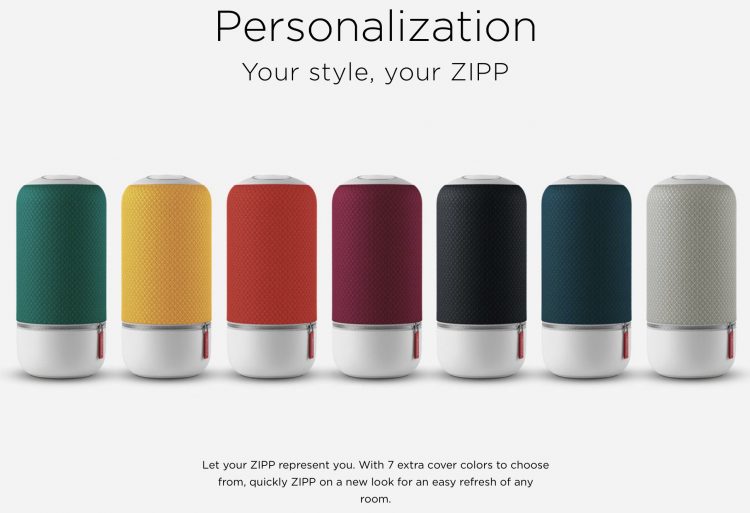 Add in the fact that you can purchase additional covers and change up the look of the speaker and you have a winner of a speaker. And it's still below the $300 price point. Check it out here.
Source: Manufacturer supplied review sample Of the Libratone ZIPP
What I Like: Sleek look; Changeable covers; More connectivity options than you will ever need or use; Gets LOUD; Sounds GREAT; Pushes out sound in 360 degrees; Battery runs up to 10 hours; Good price for what you get
What Needs Improvement: I would love if it were water-resistant
Want More? Follow Us Here!