When Logitech set out to create a new keyboard, they took nothing for granted. They used premium materials, designed the keys for comfortable, quick typing, added a host of useful specialty keys and then went a bit further. In this case, "further" means a special input dial that, over time, will become increasingly useful.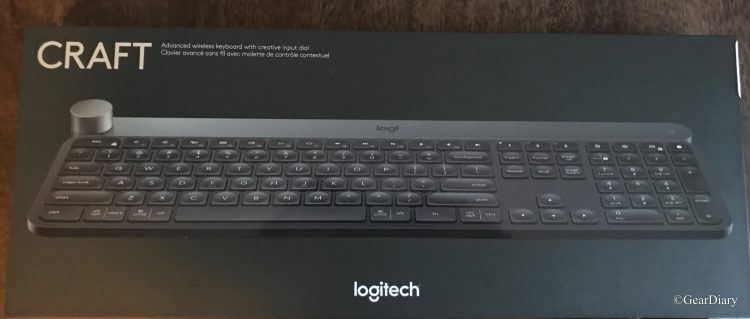 Set Up:
Inside the box were the Craft wireless keyboard, a unifying receiver, a charging cable, user documentation and warranty information. It is worth noting that Logitech has fully embraced the march of technology and kicked micro USB to the curb.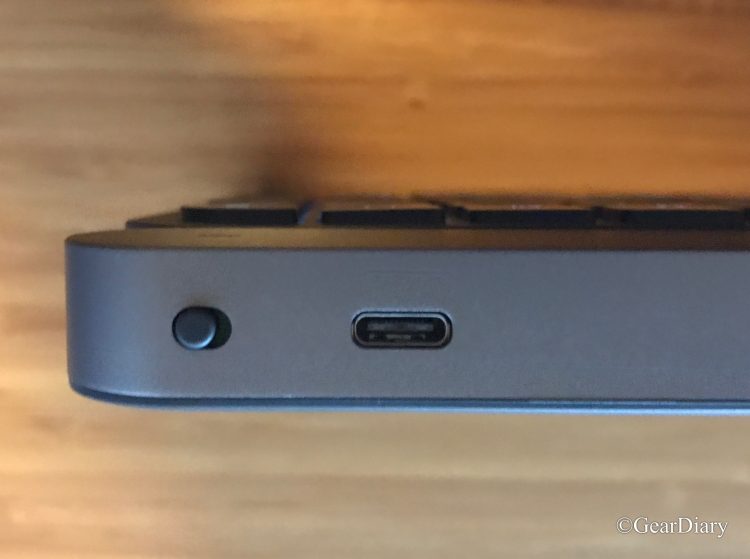 The charging port of the Craft is USB-C and so…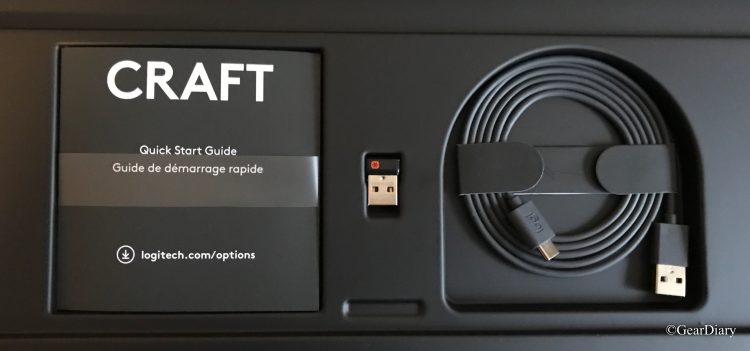 The included cable is USB-A to USB-C. The keyboard can connect over Bluetooth, in fact, it can be connected to three different devices and switch between them with the push of a button, but I opted to use the unifying receiver with my laptop. I plugged the small receiver into one of the USB ports on my Belkin Thunderbolt 3 Express Dock HD (read the review) and turned on the keyboard. They connected immediately, and I was good to go. It is, however, worth noting that if you have a computer like my MacBook Pro that only has USB-C connections, you will either need to connect over Bluetooth or use a dock like the one that turns my laptop into a desktop.
MULTI-DEVICE AND MULTI-OS: Pair Craft with up to three devices and easily switch between them at the touch of a button. Craft's dual layout is designed for both Mac and Windows users, and the experience has been optimized for both operating systems.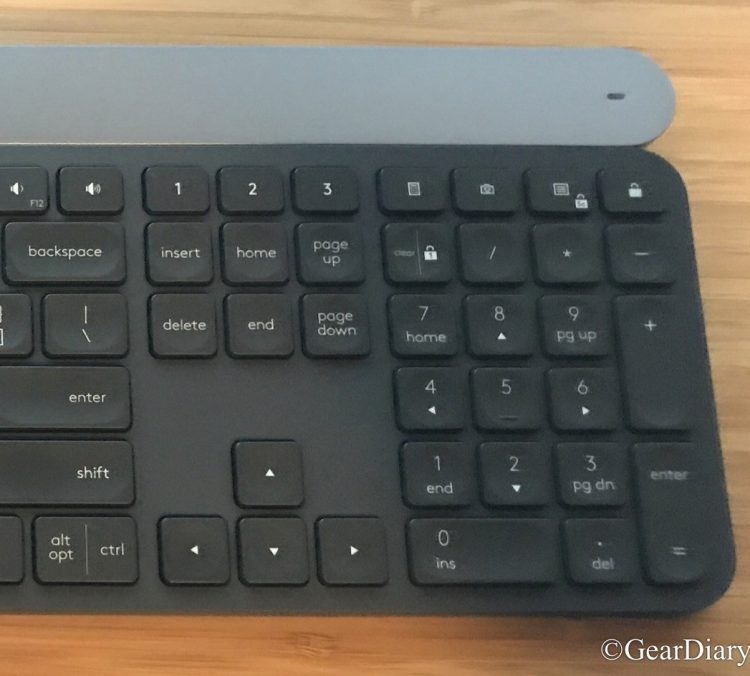 I then pressed and held one of the other quick switch keys (they are the 1,2,3 above the Insert, Home, and Page Up keys) and paired the keyboard to my iPad. Now, if I want to type on the iPad I simply push the "2" until it lights up. To switch back to my computer I push the "1." When it lights up the Craft is ready for work on my MacBook again.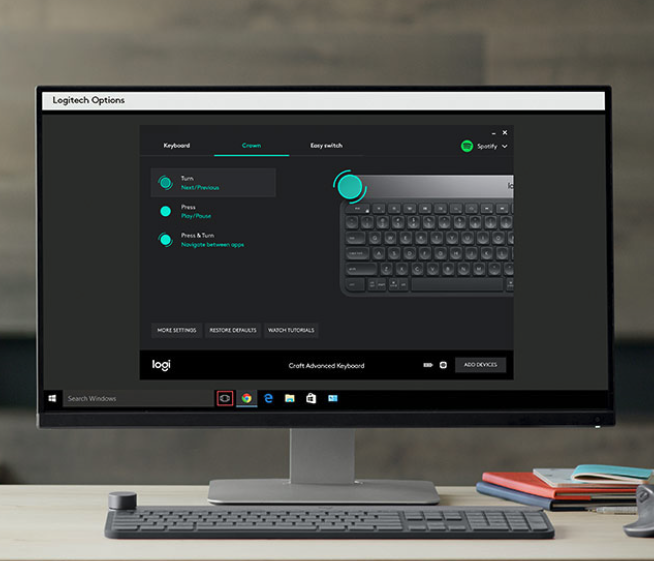 I then went to the Logitech site and download and installed the Logitech Options software. This software is not only used for setting up the Crown, but it also lets you create application specific functions. More on that in a bit.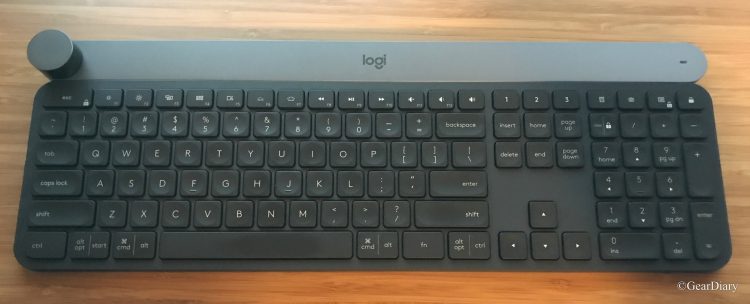 The Craft Keyboard:
The first thing I noticed when I pulled the Craft Keyboard out of the box was how heavy it is. The Craft keyboard measures 32mm x 430mm x 149mm and weighs 960g.Logitech went the extra mile when designing this keyboard and made it out of solid, premium materials. The next thing I noticed was how great it looks. I don't tend to be particularly enamored of keyboards, but this keyboard looks fantastic. I also noticed that it has a ton of keys. Yes, pretty much every specialty key you can think of is built into the Craft. I don't usually go for keyboards that have a dedicated key pad, but I think it is pretty great to have them, even if it does mean the keyboard is far longer than the Apple Bluetooth keyboards I tend to use.
Craft is a wireless keyboard with a premium typing experience and a versatile input dial that adapts to what you're making — keeping you focused and in your creative flow. The creative input dial adapts to the app you're using — giving you instant access to specific functions for the task at hand. The touch-sensitive control lets you feel your way through your creation — for a more efficient and immersive workflow.
Of course, the most noticeable thing about the Craft is the input dial at the upper left. We will get to that in a bit.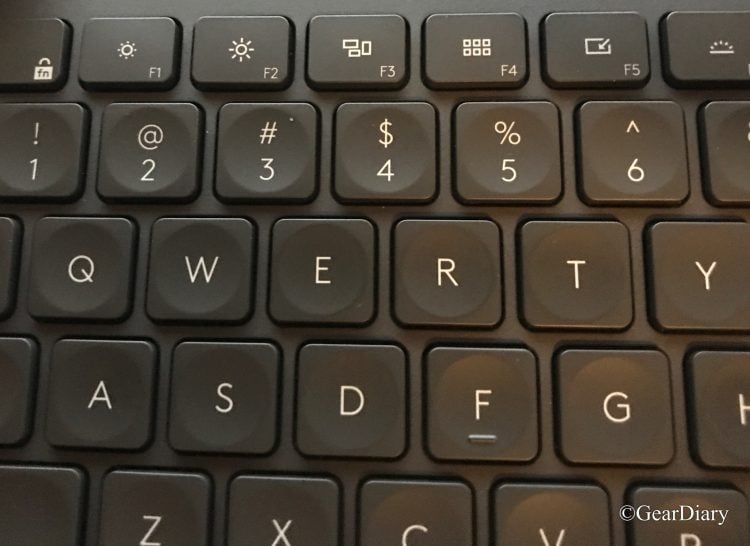 TYPE WITH EFFORTLESS PRECISION: Confidently type on a keyboard crafted for efficiency, stability, and precision.
The Craft is super solid. That is the first part of having a keyboard that is a pleasure to type on. When you type quickly, and with force, there is zero flex. Also, its weight means the keyboard doesn't move at all as you type. This too makes a difference. But there's more.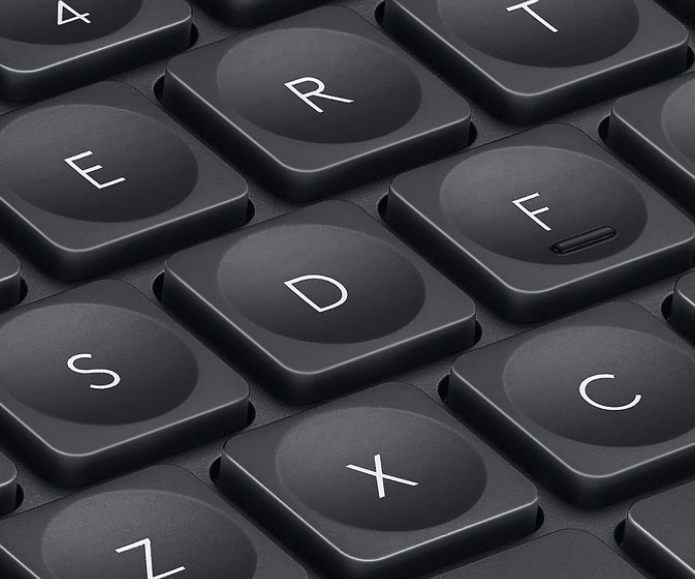 Logitech thought about what makes for a great typing experience and then built it into the Craft.
The unique spherical dishing of the keys matches the natural shape of your fingers, and their round edges provide feedback to your fingertips — no matter where they strike the key. Matte coating has been applied to every key so your fingers glide effortlessly over the surface.
The full-size keys have what the company refers to as " spherical key dishing." That means each key is a bit concave so your fingers can sit comfortably as you type. It adds to the accuracy as well. The "throw" of the keys is, for me at least, optimal. There is enough travel needed to activate.a key that you can type with precision but not so much that you need to "work" the keys. They are solid and stable, so you get a response you can feel from each key without the keyboard making much noise. In all, the experience of typing with the Craft is a pleasure.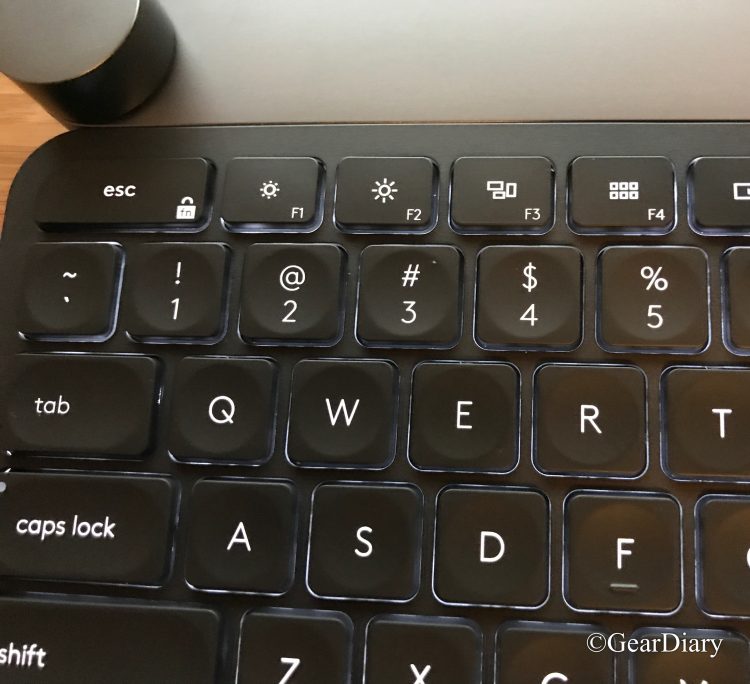 SMART ILLUMINATION: Craft breathes to life with a backlighting flourish when it turns on — and the keys light up the moment your hands approach.
The keys are, of course backlit. That isn't much of a surprise with a keyboard of this quality. What might be a surprise is just how smart the backlighting is. Not only do they adjust to the light conditions in the room- as the room gets darker the backlighting gets more powerful- but they also have sensors that turn the backlighting off when the keyboard is not in use and come on when they sense your hands coming closer to it.
This not only lets you forget about the need for backlighting- it is just there when you need it- but it also saves battery life. It is a small feature that reflects the fact that this $199 keyboard is a premium product.
The Standout Features:
I mentioned previously that the Logitech Options software adds some awesome productivity power to the keyboard. It does so in two ways. The first is the customizable specialty keys.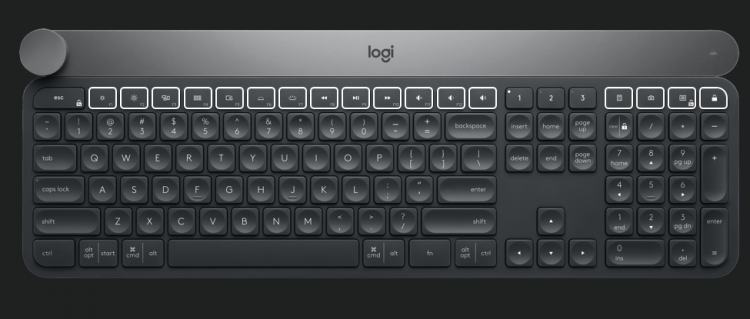 YOU'VE GOT OPTIONS: Personalize Craft in Logitech Options software. Assign the F-Keys for specific functions or custom shortcuts — and set the Global Controls of the Crown to control media, navigate tabs, and more.
This can be a huge timesaver. For example, I do all my writing in the application known as Scrivener. When I paste text into a document, I do so using a function that strips off the original formatting and matches the formatting in that document. Until know, this has meant going into the menu at the top of the screen each time. Now, thanks to the application-specific function keys, I have the F3 key set up to do the job with the press of a single button. It will take some time, but I expect that I will eventually create a series of different quick-key functionality for each of the main applications I use.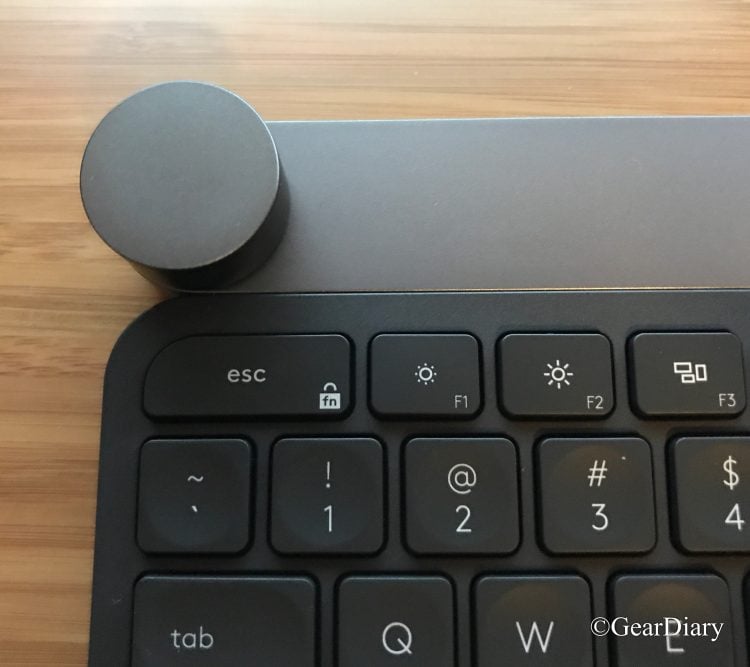 THE CROWN INPUT DIAL: Touch the Crown to instantly access context-specific functions, tap to change function, and turn to change the selected function's value.
At the upper left corner of the keyboard is a round nob known as the Crown. This input dial is one of the truly unique aspects of the keyboard. You can spin it, press it or spin as you press for additional functionality. Currently, the Crown on my keyboard adjusts the volume then I spin it left or right. It plays or pauses music when I press it. And if I press and then spin it while it is pressed it adjusts the screen brightness.
Like the function keys, however, the Crown is application specific and adapts to the app you are using so long as that app is supported. That's the good news. The bad news is that I do not use any of the apps that are currently supported.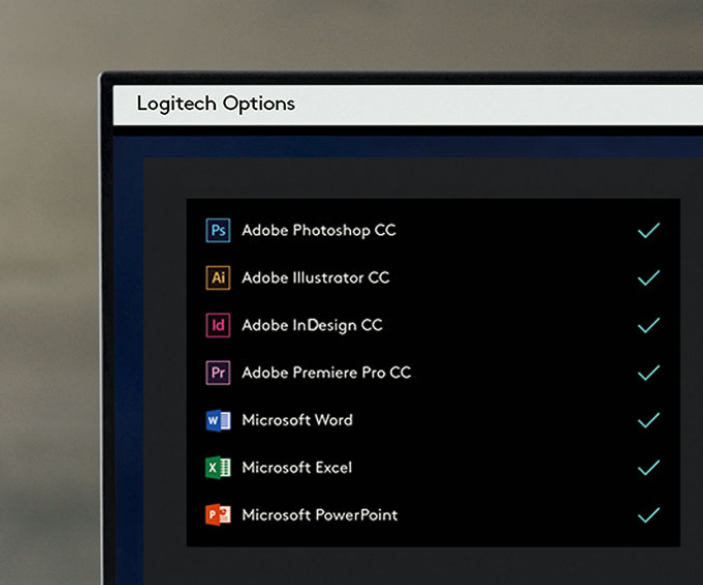 On a Mac, that list currently includes a few Adobe applications. If you are using Windows, it works with the same Adobe products as well as Microsoft PowerPoint, Microsoft Excel, and Microsoft Word. As they explain:
In Windows or macOS, adjust brightness in Adobe Photoshop CC, change stroke weight in Adobe Illustrator CC, and more with a turn of the dial. Windows users can also enlarge text in Microsoft PowerPoint®, instantly create charts in Microsoft Excel, and more.
Over time I expect more applications will begin working with the crown. I'm looking forward to that.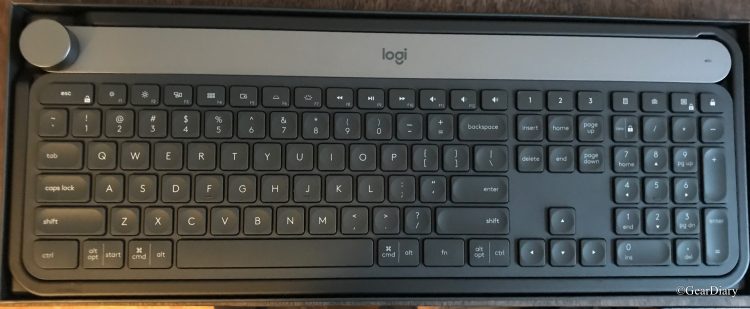 I'm a bit bummed the Crown doesn't do more than it does at this point but the fact that it puts music controls right where you need them is rather nice. The programmable function keys are, however, awesome and, once I get them all set up, will make using this keyboard even better. For now, however, I'm quite pleased with the typing experience using the Craft Keyboard. Moving from my Apple Bluetooth keyboard took a bit of getting used to but, once I was half way through this review, I felt right at home typing with it. The smart backlighting is a great benefit and once that I already appreciate. Finally, the fact that, with the press of a button I can switch form typing on my computer to typing on my iPad or iPhone is another benefit. I do move between devices rather frequently and being able to use the same keyboard for all of them is awesome. I'm a fan of the Logitech Craft Keyboard and, despite its rather prices MSRP of $199.99 I highly recommend it. Check it out here.
Source: Manufacturer supplied review sample of the Logitech Craft Keyboard
What I Like: Solid; Good looking; Comfortable key design for serious typing; Adaptive backlighting works quite well; With the Logitech software you can create all sorts of application-specific shortcuts
What Needs Improvement: At $199.99 it isn't inexpensive; Crown works with limited applications at this point; Setting up the application-specific smart keys takes time and patience
Want More? Follow Us Here!