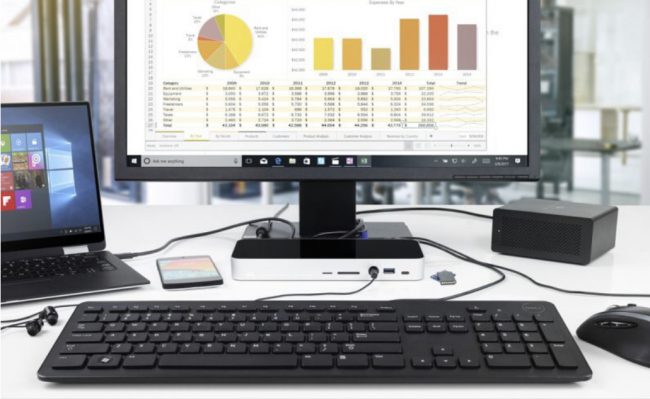 Some months ago I reviewed an OWC Thunderbolt 3 dock. It has twelve ports and does a tremendous job turning my laptop into a desktop. I was thinking about picking one up for my work iMac when I heard the company had released a fourteen port Thunderbolt Dock. I have one in hand for review, and boy am I impressed.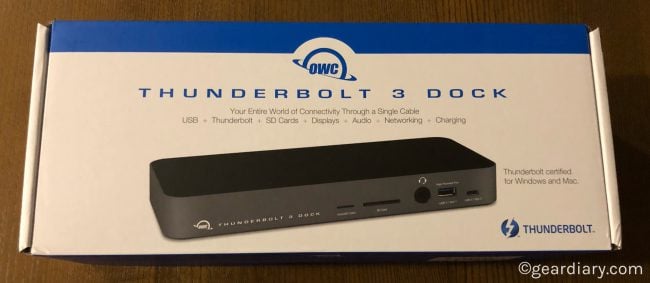 The design of the OWC 14 port Thunderbolt 3 Dock is much the same as the twelve port version. There are, however, a few key differences that, despite a slightly higher price, will likely make this a better choice for most people.
Connect. Work. Disconnect. Go.: The days of only working at your desk are gone. We're always on the move bouncing between our desks, meetings, and couches — often in a hurry. With a single connection to your notebook computer, the OWC Thunderbolt 3 Dock makes coming back to your desk to work and leaving your desk to run to a meeting, a much quicker endeavor.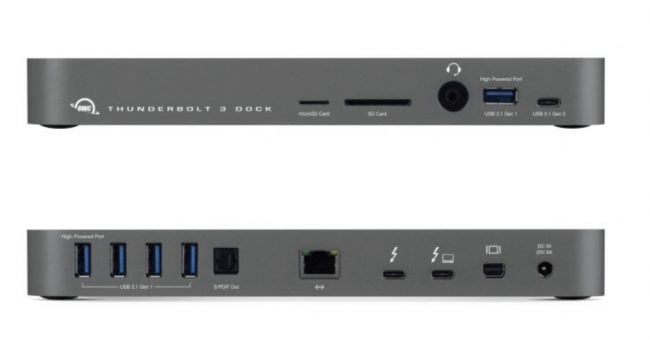 The OWC 14 Port Thunderbolt 3 Dock is made from metal and plastic. A metal band runs around the dock. It gives the device a bit of heft and a solid, classy appearance. The top and bottom are smooth plastic in a glossy black finish. It is a bit of a fingerprint magnet but, since you won't be handling it much once things are set up, that shouldn't be an issue.

On the front, there is a USB 3.1 Gen 1 port, a USB 3.1 Gen 2 port, a 3.5mm headphone input, an SD card slot and, unlike the slightly smaller version, a microSD card slot. That is enough connectivity on the front to keep you from needing the access the back once you have the device configured with your laptop or desktop.

On the back, there are four USB 3.1 Gen 1 ports, an Ethernet port, two USB-C ports, an optical audio port, a mini Display Port and an input for the included AC power adapter.
That's enough additional ports to make you forget the fact that Apple dropped pretty much every port from their current generation laptops. I think anyone considering an Apple laptop should factor in an additional few hundred dollars for a dock such as this when setting their budget for the purchase. Unless you always use your laptop on the go, it just doesn't make sense not to have a dock like this at your desk.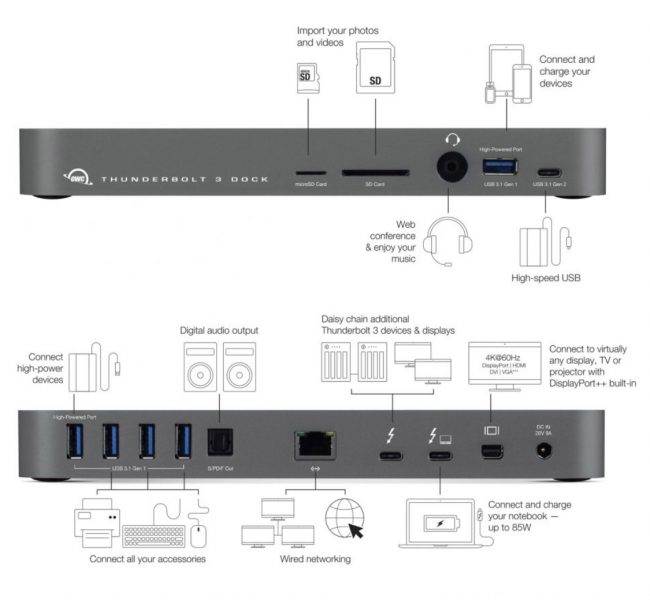 The right ports, right where you need them: With its 14 ports of connectivity thoughtfully placed, the OWC Thunderbolt 3 Dock delivers convenience while keeping desktops clutter-free. The dock's front is designed for the easy connection of your portable devices, headphones and media cards, while the rear features a multitude of ports for your daily accessories, so cables stay out of sight.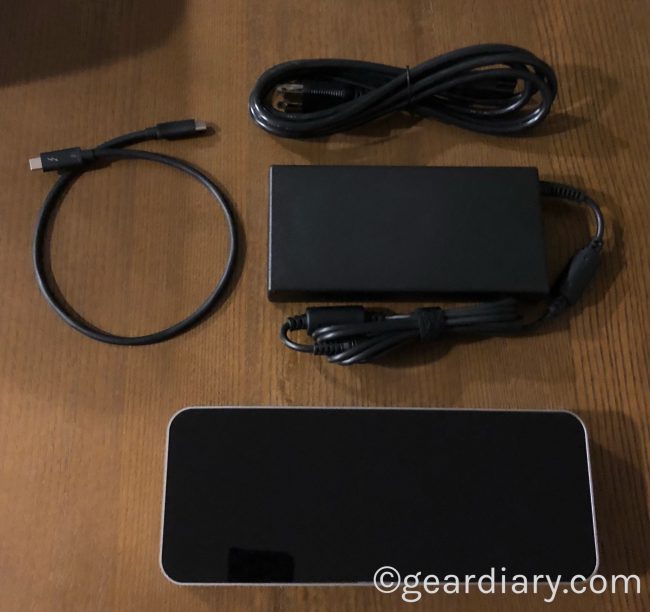 One key difference between this device and its slightly smaller one can be seen in the use of an 85-watt power adapter as compared to the 60-watt adapter found in the dock as mentioned earlier. This bit of extra juice means the dock can support the most power-hungry laptops along with pretty much any peripherals you throw at it.
Leave your power adapters in your bag! The OWC Thunderbolt 3 Dock provides 85 watts of power to your computer via the Thunderbolt 3 connection and has multiple, high-power USB ports to charge your mobile devices. The days of searching for your power adapter are officially over.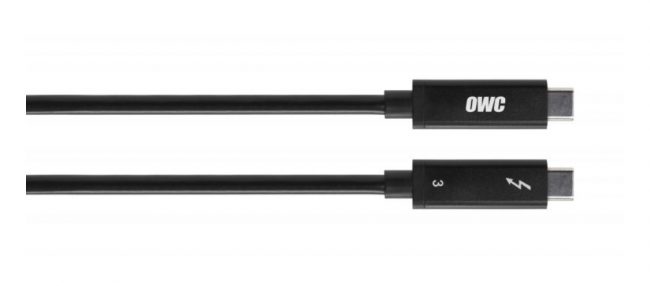 OWC includes a short, Thunderbolt 3 cable with the dock. It is ideal for connecting your laptop since; odds are, your laptop will sit on or next to the dock. If, however, you need a longer cable be aware that you will have to go out and buy it yourself. Also, if you do make such a purchase, make sure you get a USB-C to USB-C cable that can handle the data this dock will throw at it. After all, it makes no sense to purchase a state-of-the-art dock if you are going to cripple it with anemic cables. The company recommends their OWC Premium Thunderbolt 3 (USB-C) Cable but, so long as a cable is compatible, anyone will do.
I love the 12 port version of this dock. It serves me well every day. It isn't all that different from the one I have been using, but I have had times when I need to offload files from a microSD card and ended up scrambling to find a full-size SD card adapter, so the inclusion of a microSD card reader on the front is a welcome addition. I do appreciate the fact that OWC maintained the same industrial design. The low profile and sleek design work well without calling too much attention to itself. As the company notes:
Thoughtful design – inside and out: Carefully chosen ports and functionality bring a new world of possibilities to your desktop, but we've also worked to ensure the OWC Thunderbolt 3 Dock is built to last. A seamless design wrapped in a single piece of aluminum brings a rugged exterior to endure your day-to-day while maintaining a stylish design that complements any workspace.
The OWC 14 Port Thunderbolt 3 Dock comes with a 2-year limited warranty. I have had no issues with my 12 port dock, so I don't expect to have any here, but it is good to know the company stands behind its products.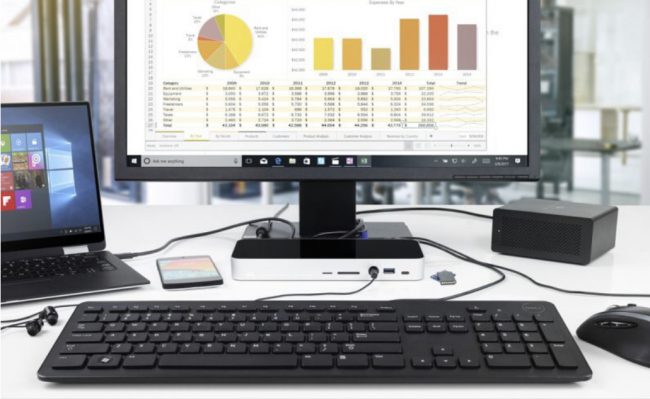 As I mentioned, I have been using the 12 port version of this dock since I reviewed it. It does the job and turns my 13" MacBook Pro into a fantastic desktop computer that can drive two large monitors. I have been looking for expansion ports for the iMac that sits on my desk at work and was about to purchase an additional 12 port dock. This new 14 port dock is even better, and I will likely be using it with my laptop and taking the 12 port dock to my office. After all, having the extra power and ports on the dock connected to the computer I use the majority of the time makes sense. More than that, however, the addition of a USB-C port at the front of the dock makes sense because more and more devices, including my new iPad Pro, employ USB-C. If you have or are about to get, a new MacBook or a Windows computer with limited ports, you need one of these. You can choose between the 12 and the 14 port version but, in my opinion, if you are already going to the expense of purchasing a dock, why not spend a few extra dollars a and get this $299 version since it offers the most power and flexibility. Check it out here.
Source: Manufacturer supplies review system
What I Like: Well built and solid; Ports aplenty; Powerful wall adapter delivers enough juice to charge your laptop and pretty much any peripheral connected to the dock; Includes a short USB-C cable.
What Needs Improvement: Included USB-C cable is relatively short; Pricey