When Qi Wireless charging finally appeared on phones, there were (at least initially) a limited number of available chargers. That's changed. There are more offerings than ever, and many of them deliver a full charge in far less time than ever. Then there is the SanDisk Ixpand Wireless Charger Sync. It's a wireless charger and a solid-state backup device.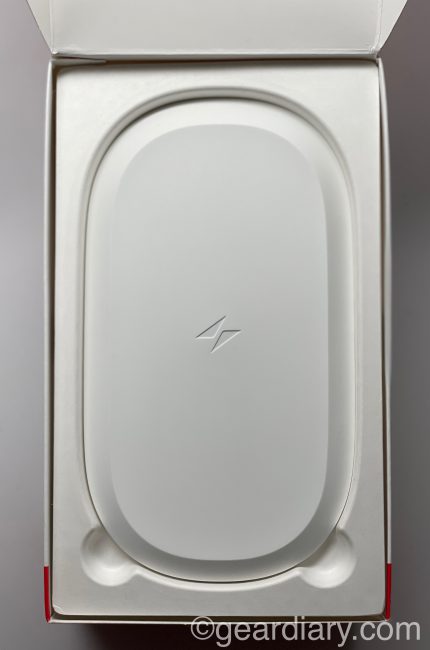 An oval measuring 7.93″ long by 3.95" wide by 0.77″ thick, the SanDisk Ixpand Wireless Charger Sync is made from white plastic. It has a low profile and is doesn't draw attention to itself. At the same time, it doesn't have the refined look and feel we have seen in other wireless chargers.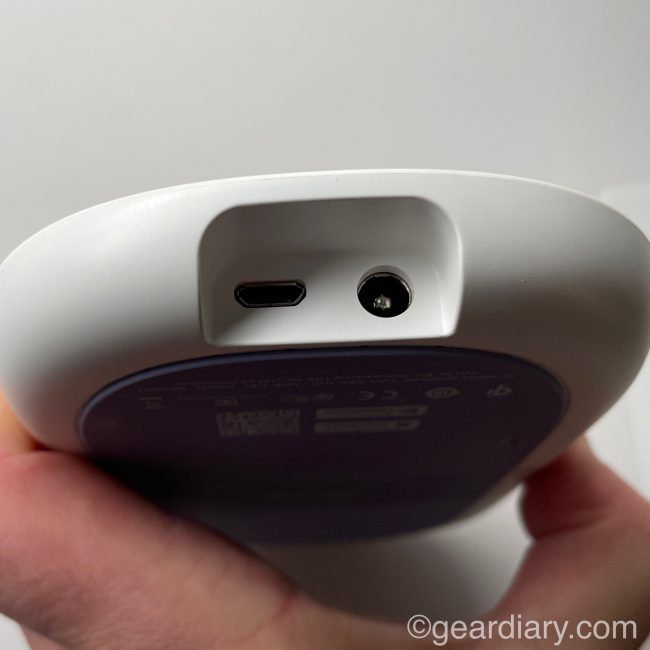 Inside the box, you get the Ixpand charger, a power adapter with a 6' cable, and a Quickstart guide.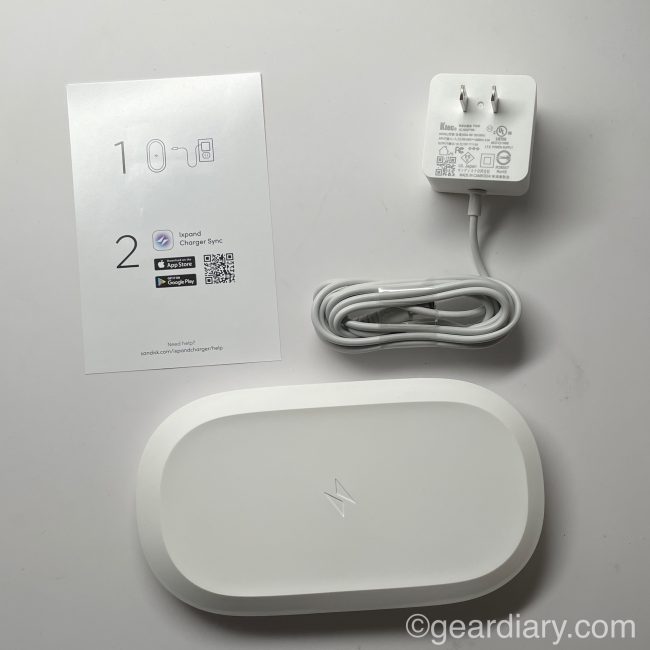 The SanDisk Ixpand Wireless Charger Sync isn't just a charger, but let's explore that aspect of this device first.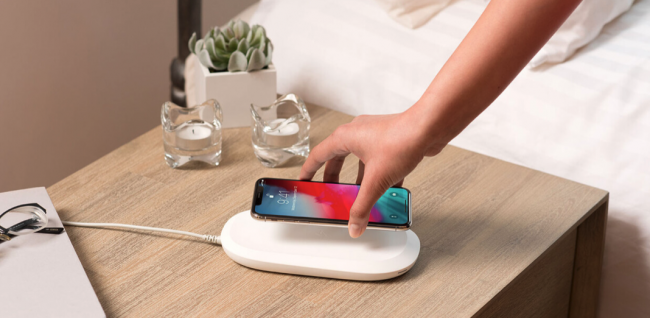 The Ixpand Wireless Charger Sync has a slight curve to its surface that is just about the same size as my iPhone 12 Pro. It has built-in foreign object detection, overcharging protection, and adaptive charging to help make sure your phone's battery is not only fully charged when you need it to be, but the charger also protects your phone's battery from damage while delivering optimal performance.
As we have seen with most other wireless chargers, the SanDisk Ixpand Wireless Charger Sync can charge phones even when they are in a protective case so long as the case is made from rubber, plastic, or TPU and is less than 3mm thick. As you might expect, cases with magnetic or metallic attachments may interfere with the charging or prevent it entirely.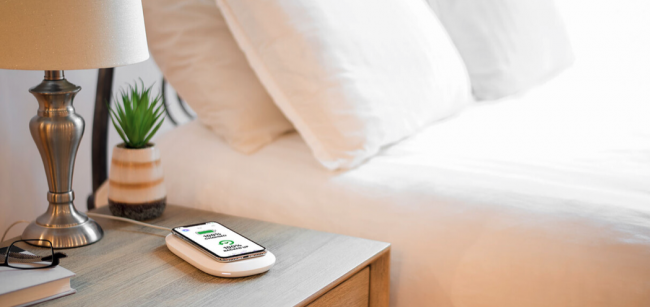 All of this would make the Ixpand Wireless Charger Sync a decent Qi wireless charger, even though it maxes out at just 10W at a time when we finally see more powerful wireless chargers come to market.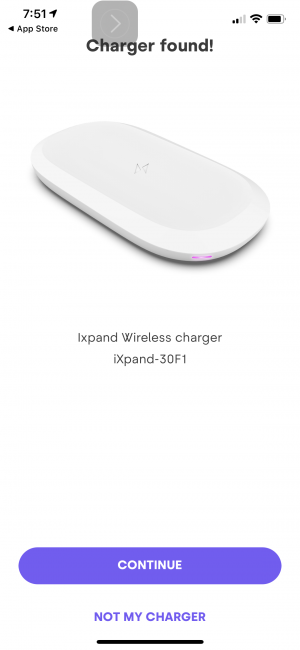 But with an MSRP starting at $99.99, you would be crazy to opt for this wireless charger over any number of others that are less expensive, ones that might also offer faster charging. That, of course, assumes that this is only a wireless charger. But the SanDisk Ixpand Wireless Charger Sync isn't just a wireless charger; it has storage built-in as well as the software necessary to automatically backup your phone. Yes, you read that right.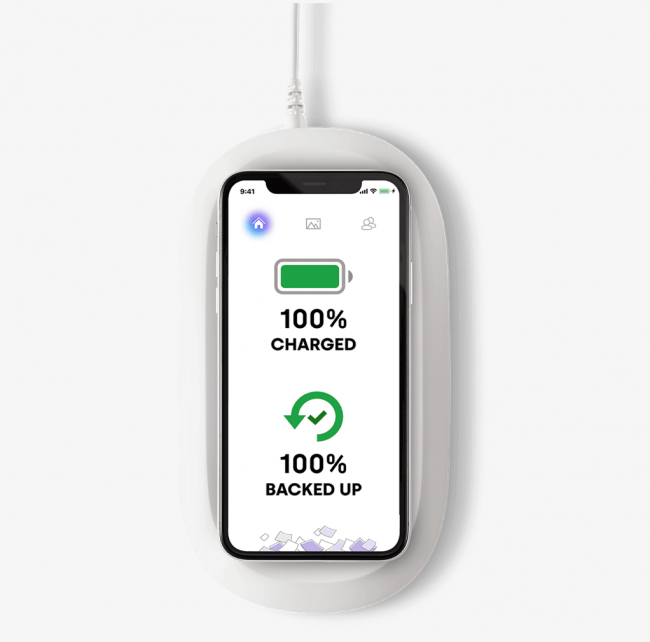 The Ixpand Wireless Charger Sync charges and backs-up your smartphone. As the company explains,
The 10W Ixpand Wireless Charger Sync supports fast wireless charging for Qi- compatible iPhone, Samsung, and other smartphones while automatically backing up2 photos and videos in full resolution right onto the charger. Delivers up to 10W of power.
Available in 64GB, 128GB, and 256GB; I was sent the 256GB version for review.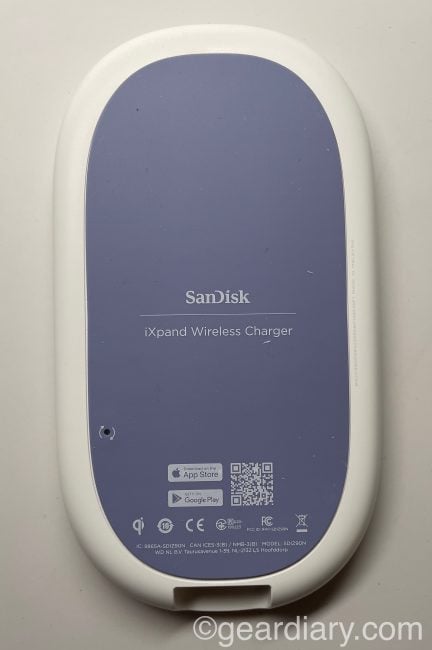 Setting up the SanDisk Ixpand Wireless Charger Sync
To use the backup feature, you'll need to first download and launch the free SanDisk Ixpand Charge app from the iTunes App Store or Google Play Store. The first time you launch the app, it will walk you through the setup process. It isn't complicated and, more than anything else, requires you to connect the Ixpand Wireless Charger Sync to your phone via WiFi.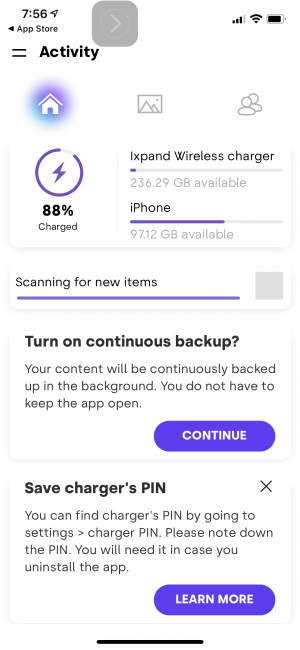 Once the initial setup is completed, the process of backing up your phone is automatic and doesn't require anything from you. From then on, whenever you charge your phone, the SanDisk Ixpand Wireless Charger Sync will also back up your photos — and you don't need to change your behavior one bit!
Once your phone has been backed up, you can free space the mobile device, knowing that your backed up items are still available on the Ixpand Wireless Charger Sync.
This little gadget has one more trick up its sleeve, though. If you purchase one of the versions with a larger capacity, you can create different profiles for each member of your household and back them all up.
I've been using the SanDisk Ixpand Wireless Charger Sync for a few weeks, and it definitely works as promised. As the app warns, the initial sync process can take quite some time if you already have many photos and videos. To address this, the app switches between charging and syncing over the course of the first few days. From there, it simply works as promised.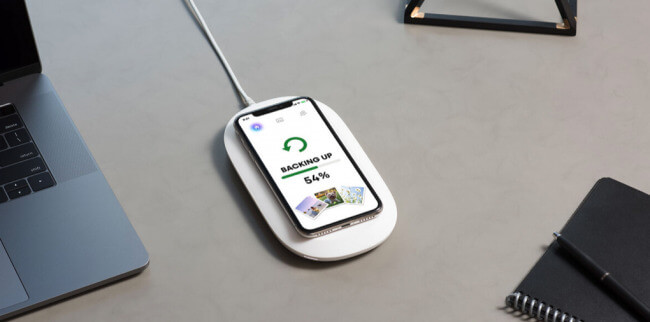 But why, you might be wondering, would you want something like this if you are already backing your phone up to the cloud? The answer is quite simple — redundancy.
Phones can be replaced. Content purchased from Google Play or iTunes can be downloaded to a new device. Photos and videos, however, are precious. I don't know about you, but I want to make sure I have them available for years to come. Knowing my photos and videos are backed up to the cloud and backed up to physical media that I have in hand without my even having to think about it gives me peace of mind. Is it worth the price? If you want to wake up to a fully charged and backed-up phone, then I would say it is!
Features:
Backs up every time you charge: You charge your phone every day. Now your photos are backed up too. No new routines or habits. It's that simple.
Free up space on your phone: Need extra space? Delete photos and videos from your phone, knowing they are backed up in full resolution on your charger.
Comes with a high-efficiency power plug: The included high-efficiency power plug with 6-foot (1.8m) cable gives you fast, convenient charging right out of the box.
Personal backups for everyone at home: The charger supports personal backup profiles for each user so that you can share the SanDisk Ixpand Wireless Charger Sync with others in your family.
Designed for worry-free charging: Foreign object detection, overcharging protection and adaptive charging help protect your phone battery, keeping it at optimal performance.
Phone case-friendly: Charges through most rubber/plastic/TPU cases less than 3mm thick. (Magnetic or metal attachments will prevent charging.)
Compatible phones: iPhone 8/8 Plus and newer, Samsung Galaxy S6 and newer, Galaxy Note 5 and newer, Google Pixel 3 and any other Qi-compatible phone.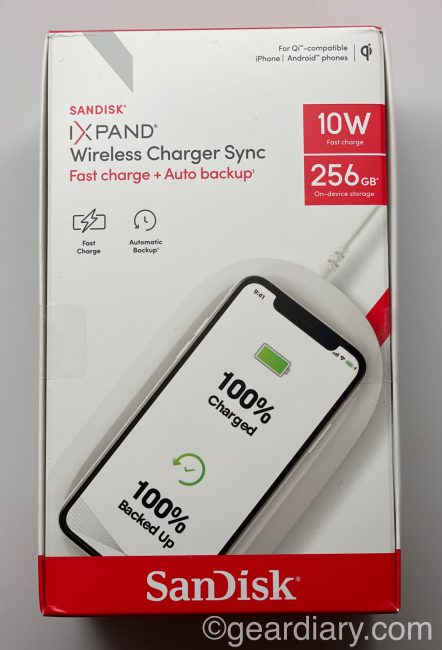 The SanDisk Ixpand Wireless Charger Sync is a creative solution for those who want to take advantage of their phone's wireless charging prowess and want automatic backups of their photos. It isn't the fastest charger on the market or the most refined, but it does exactly what it says and does so automatically after a brief setup process. If you treasure your photos, you'll want one of these.
The SanDisk Ixpand Wireless Charger Sync sells at $99.99 for the 64GB version, $129.99 for the 128GB version, and $199.99 for the 256GB version. It is available directly from the manufacturer and other retailers, including Amazon [affiliate link].
Source: Manufacturer supplied review sample
What I Like: Available in three different capacities; Charges phones that have Qi-wireless charging functionality; Backup automatically after the initial setup
What Needs Improvement: Not the most aesthetically pleasing or refined design we have seen; Charging speed tops out at 10W; You can get a separate wireless charger and backup device for less, but they won't backup automatically
Want More? Follow Us Here!