The Lowdown
I haven't stopped talking about how great Quiet Punch is since I received it, and I doubt I will anytime soon. It ticks every box: it's affordable, simple, built sturdily, and will absolutely be a tool to help and maintain fitness. If you're incorporating boxing into your home gym, it's a must-have!
Pros
Fits in multiple doorway sizes
Collapses down small for easy portability and storage
Sturdy
 Doesn't budge during workouts
No subscription required
Comes with everything you need in one bundle
Very affordable
SUPER FUN
Cons
A way to remove the sensor for easier charging would be great
I am a big fan of working out at home. It's pretty easy to build a decent home gym for yourself, even in a small space, but the one thing you really can't do well in small spaces is boxing. I had pretty much given up on trying to incorporate regular cardio boxing into my routines, but then I got to test the Quiet Punch. And now I'm in love.
Before we even get to why the Quiet Punch is brilliant, we need to talk about boxing as exercise.
The thing with boxing is that it's an incredible cardio workout. You can throw in all sorts of variety of movements AND take any frustrations out on the bag, making it a fantastic way to burn off physical and mental energy. The downside is that boxing is a really tough one to do if you don't have a lot of space.
A 70-pound heavy bag is not something you can just toss on a hook in the corner — you need to either carefully secure it to the proper beams or doorways that can support the weight, or you need to buy a rack to hold it and provide the proper counterweight on the rack so it doesn't tip over!
I even tried using bungee cords to secure my heavy bag to a chair and propped it in a corner, which … the less said about this precarious setup, the better.
So Quiet Punch has a very different solution. The kit is made of two telescoping bars that can mount in doorways from 28″ to 36″ and a punching pad that hooks onto the bars with bungee cords and hooks.
It weighs 4 pounds, can collapse down into just two small bars and a throw pillow-sized pad, and takes all of 10 seconds to secure when you want to use it.
Here's what Quiet Punch is not: it's not a heavy bag, so you're not going to be throwing complex undercuts or serious kicks at this thing. If that's what you do with your boxing workouts, you probably still need a heavy bag.
However, if boxing workouts mean throwing jabs and crosses and working up a serious sweat, I seriously cannot say enough about what a great product Quiet Punch is.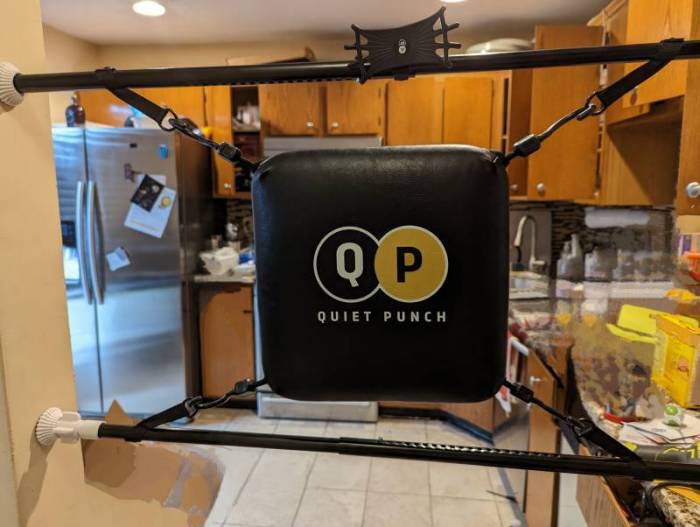 There's a metal push lock that sets the general length of the bar, and then you can precision-fit it with dials — if you've fitted a doorway with a baby gate or put a shower curtain up in a bathroom, you have a sense of what I mean.
There are grippy pads on the ends, and Quiet Punch does include heavier-duty pads for very slippery surfaces.
I found the regular grip to be more than adequate. I am not a small person, and I have a fair bit of muscle in my upper body. On more than one occasion, I threw a punch at the Quiet Punch that visibly moved the pad and bungee cords back a fair bit, but the bars did not budge even a millimeter from my doorway.
And yet, when I was done working out, it just took a few twists, and I could access the kitchen without limboing.
Quiet Punch is a good size for jabs and crosses. The QP logo in the middle makes for an excellent target, and there's something very satisfying about hitting the Q or P dead-on with a solid THWACK.
I played with mounting it higher and lower in the doorway and had an absolute blast every single time. Quiet Punch even includes a rubbery holder for a cell phone, so you can easily mount your phone above your pad for easy tracking and viewing.
There are two different forms of Quiet Punch. It's $140 for just the punching hardware, and it's $190 for the hardware and a Bluetooth tracker that senses your punches and tracks them for you in the companion app for Android and iOS.
Best of all, THERE IS NO SUBSCRIPTION.
The punch tracker will work for as long as the app is supported, and your only cost is what you paid for the bundle.
This makes the bundle with the sensor a really attractive option, in my opinion. You're not tied to having to follow Quiet Punch's workouts or paying them extra just to use the tracker; you can choose to freestyle any workout you want and just track your punches.
And if you're scratching your head wondering if almost $200 is a good deal, here's a comparison.
Everlast makes a freestanding punching bag that you can get from Amazon for $139. You then need to fill the base, either with water or sand, and you'll need about four feet of square space to accommodate the setup. Hope you like where you've put it because you're probably never going to move it.
Again, when you consider the space savings and logistical headaches that go away when you use a Quiet Punch, the value really becomes clear.
The sensor works pretty well, and while I was concerned it would be a bit of a gimmick, I found it actually keeps me really honest on my punches.
If I half-assed a punch, it wouldn't be registered by the sensor, meaning I had to make sure I actually followed through with each hit instead of lazily waving my arm at the pad.
It's easy to get sloppy when you're tired, but when I saw a few punches that didn't register, it was a good wake-up call to realign my body and make sure I had good form. It was also an indicator of "hey, if I'm so tired I'm not punching this properly, I need to stop and reset before I get hurt."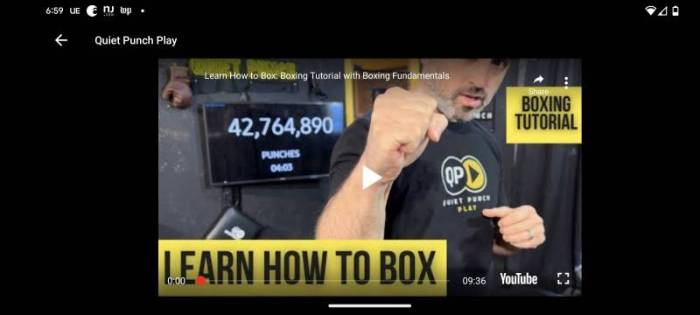 Quiet Punch's app has a slew of on-demand videos showing you different workouts you can follow, as well as leaderboards and other ways to compete and track your progress.
I played around with them a bit but didn't really follow any of their workouts because I didn't want to overdo it and mess up my separate workouts as a result. However, my trainer was thrilled to hear about the Quiet Punch, and she's incorporated it into a few of the high-intensity interval workouts we do.
Previously, she would occasionally have me air box to keep moving, but there's definitely a higher intensity when you're really hitting something!
You can use gloves with Quiet Punch, but I also found that bare hands were fine. Obviously, it depends on your comfort level as well as how hard you're hitting! It also lives up to its name, as I doubt anyone outside of the room could hear you, no matter how hard you whaled on it.
And, again, because Quiet Punch is so small, you can throw this in a bag and take it with you anywhere, making it super portable!
If I had to point out any flaws, it's that the sensor has to get screwed onto the bag. It's not a huge deal, but it would be really nice if there were an easier way to detach it for charging. Instead, you either need to remove the bag from the bars or unscrew the sensor and then charge it via micro USB.
But that's seriously a very minor quibble on what is otherwise one of my new favorite pieces of fitness equipment!
I haven't stopped talking about how great Quiet Punch is since I received it, and I doubt I will anytime soon. It ticks every box: it's affordable, simple, built sturdily, and will absolutely be a tool to help and maintain fitness. If you're incorporating boxing into your home gym, it's a must-have!
Source: Manufacturer provided review sample
What I Liked: Fits in multiple doorway sizes; Collapses down small for easy portability and storage; Sturdy; Doesn't budge during workouts; No subscription required; Comes with everything you need in one bundle; Very affordable; SUPER FUN
What Needs Improvement: A way to remove the sensor for easier charging would be great