Don't let this happen to you…
"Elana do you know where the Harman Karden NC headphones I'm reviewing are?"
"Where did you last use them?"
"If I knew that I wouldn't be searching for them… Oh, got 'em!"
"Where were they? Buried under the pile on your desk?"
Yes, there is an advantage to keeping your headphones hung up and close by the way they are when you use the Just Mobile's HeadStand. It prevents them from getting lost under a pile of papers. It keeps them safe and protected from someone who might sit on them after yo accidentally left them on a chair. And there is the added benefit that your stylish headphones look great hanging from the HeadStand. Just Mobile describes the HeadStand as "The high-design headphone hanger [that] is the perfect place to hang your high-design headphones."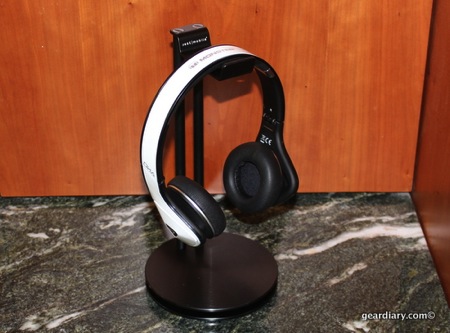 The aluminium desktop stand keeps your headphones on display and within reach while offering the added benefit of cable storage hidden in the dual-layered aluminium base. It keeps your desk neat and tidy and shows off headphones like these White Tuxedo Monster DNA headphones. We reviewed the silver HeadStand and are now back to look at the even cooler, even classier black version. Check them out.
When I first saw the HeadStand I thought, "Why?" Then I started using them with various headphones I was reviewing, and I changed my "Why?" to "Wow!" The Headstand showcases and protects your headphones with style. I'm a fan, and I think they make a great gift for your music-loving mother or father.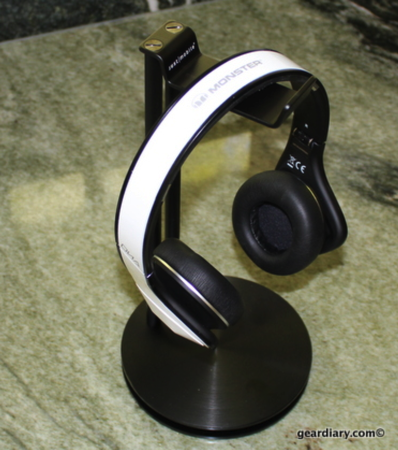 I'm a fan and you will be too. Learn more here on the product page. It has an MSRP of $49.95 but is $5 less here through our Amazon Affiliate Store.
MSRP: $49.95
What I Like: Stylish; Well made; Simple to put together; Does exactly what it promises
What Needs Improvement: One trick pony (two if you take into consideration the fact that you can also hang a bunch of bananas from it
Source: Manufacturer supplied review sample
Want More? Follow Us Here!