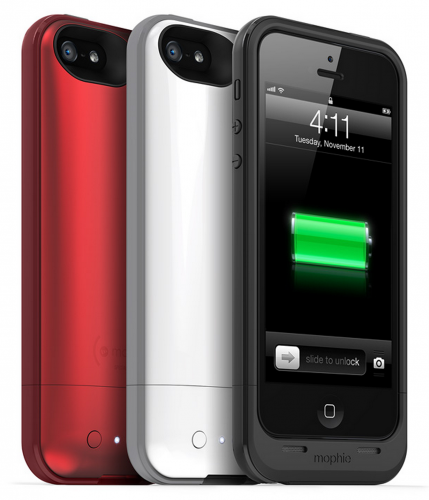 If you have an iPhone 5, then you already know that there are times when the battery can be just a little bit lacking. Mophie has long been one of our preferred ways to keep our iPhones going, and with this latest addition to their power arsenal — the mophie juice pack plus — things just got a little bit better for us iPhone users. How so? It packs enough juice to double the iPhone 5's battery life with one charge, and there is no need to slip your phone in and out of its case to charge, because the mophie juice pack plus *is* your phone's case.
"We've been pushing our engineering and design process to release a family of battery solutions for the iPhone 5 with solid protection and sleek design," said Ross Howe, vice president, marketing at mophie. "We know mophie fans use their iPhone for every aspect of their life, from business and entertainment to travel and social media and mophie offers solutions for every level of demand that users put on their device."
If you have an insane schedule that keeps you out and about for hours on end, then you'll definitely benefit from the mophie juice pack plus's 2100mAh battery — which adds 120% extra battery life. We can all use that. right?
You can get yours on the mophie.com site for $119.95 starting today (right now, go!), and it is available in monochromatic soft touch black, glossy white and metallic red (in collaboration with Product (RED)).
Here are the features that should make your purchase decision much easier …
Longest Battery Life to Date—Featuring a 2100mAh battery, the juice pack plus provides an added 120 percent of extra battery to do more with their iPhone 5
Up to 10 additional hours talk time on 3G
Up to 12 additional hours internet use on Wi-Fi, 10 on 3G
Up to 50 hours additional audio playback
Up to 12 hours video playback
Lightning Pass Through—Simple lightning pass-through enables users to charge the iPhone 5 and juice pack together with the included micro USB cable
Listening Made Easy—With the movement of the headphone jack to the bottom of the device, we've included an earphone adaptor to keep on your earphones at all times for convenient listening, anytime, anywhere
On Demand Charging—The flip of a switch allows for users to toggle between charging and standby, allowing the user to benefit from the battery when needed
LED Battery Indicator—A discreet LED light panel tells you exactly how much "juice" is available in the case at the push of a button, and blinks for 30-seconds when lightning cable is connected
Fast Charge—Charging output has been upgraded from .5A to 1A which delivers a faster charge to your iPhone 5
Yes, please! =)
This slideshow requires JavaScript.
Want More? Follow Us Here!