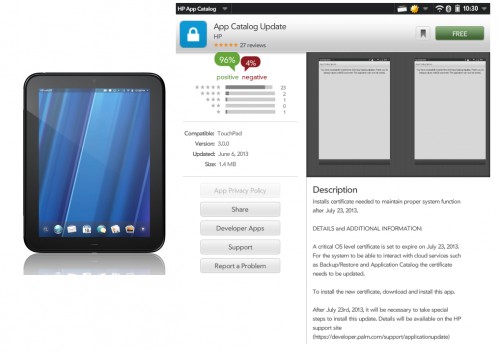 I own an HP Touchpad, and I have to admit, it's still one of the most enjoyable tablet OSes I've used to date. I've tweaked some of the software and hardware with Preware, set up dual-booting with CyanogenMod 9, and its been fun doing all this. However, it was revealed that one of the key certificates governing HP WebOS cloud services, particularly those items relating to HP App Catalog and cloud backups, was set to expire on July 23, 2013. Were that to occur, access to WebOS catalog apps, app purchase history and device cloud backup would almost certainly fail, leaving a large number of WebOS phones and tablets orphaned.
Fear not, for those users of WebOS devices like me, rejoice! HP late yesterday released a root certificate patch via their App Catalog ("App Catalog Update") for WebOS versions 2.1 and up. Expiration dates are now pushed off until 2037, so barring any apocalyptic scenarios currently in media vogue, I may not have to give up my Touchpad until after I retire. However, for those currently in possession of a WebOS device, I strongly urge you to update your devices before July 23. For those using WebOS 2.1 or newer, simply fire up Software Manager and you should see a prompt for an update, and once done, HP App Catalog should list its new version as 5.0.3500. Older WebOS versions may need to go into App Catalog and manually install the app "HP App Catalog". Happy Updating!
Want More? Follow Us Here!