Two years ago guitarist Mary Halvorson stepped back from her ever-expanding group projects and released an album called Thumbscrew with what I called a 'trio of equals'. Now the group is back and ready to release their next album in a few weeks, called Convallaria. And from the preview track, it sounds great.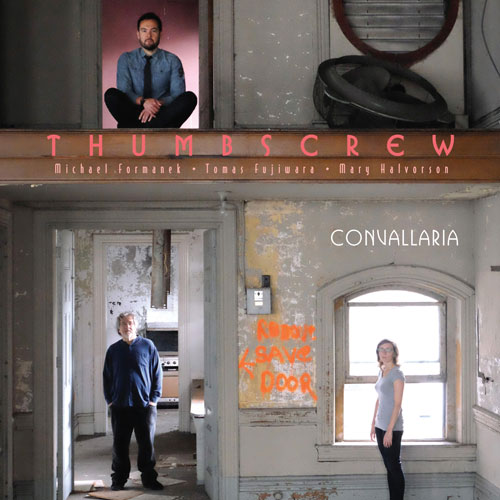 Here is a snippet from my review of the original release:
With Thumbscrew you get Halvorson in a very comfortable trio setting, with Michael Formanek on bass and Tomas Fujiwara on drums. Fujiwara and Halvorson worked together on Living By Lanterns (on my 'Best of 2012' list), and began working with Formanek by accident and have continued ever since.

Thumbscrew is a 'trio of equals'. Of the nine songs, each member contributes three compositions. Initially it is hard to distinguish the songs, but pretty soon you start to get a feel for what is fully through-composed (Halvorson), what is wildly open (Formanek) and what falls between (Fujiwara).

The songs range from flowing and melodic to harsh and abrasive; 'Cheap Knock Off' is a funky tune with complex melody and rhythmic structure that flow over a groove that is as elusive as it is captivating. The trio is so full of energy that it often spills over as Halvorson's solos warp out and distort.
Once again the compositional duties are split up, with Halvorson and Fujiwara penning three tracks and Formanek composing five.
The process was very different this time – the trio was part of a Jazz Residency program that allowed them two full weeks of immersion into the music and compositional process, with the results feeling even more collaborative on every level. From their notes:
Featuring veteran bass master Michael Formanek, protean guitarist Mary Halvorson, and indefatigably resourceful drummer Tomas Fujiwara, Thumbscrew spent two weeks honing the tunes on Convallaria at City of Asylum, an artist residency program in Pittsburgh originally launched as a refuge for writers in exile. In recent years City of Asylum has expanded its purview to include musicians, establishing the BNY Mellon Jazz Residency that in June/July 2015 hosted Thumbscrew. For Thumbscrew, the opportunity for intensive, undistracted collaboration yielded a particularly striking body of music, even by the standards of these prodigious players.

Already closely bonded by extensive collaborations in a variety of overlapping ensembles, the powerhouse triumvirate got to spend the kind of concentrated time together that's "almost unheard of these days," says Formanek. "I've done some composition residencies working on my own. But we were all there together, working on music every day, trying things out. I miss that from my younger days."

"It was amazing," agrees Halvorson. "Everyone's so busy. Even with my own band it can be like pulling teeth to get one rehearsal together. For two weeks we played every day and worked on all the new music. It really helped us to take the band to the next level."
Here is the song 'Sampsonian Rhythms', composed by Michael Formanek:
Pre-order Convallaria at Bandcamp, iTunes, Amazon or Wayside music
Want More? Follow Us Here!